I first tasted burnt Basque cheesecake long before it became world-famous. Now it even has its own hashtag on Instagram! This easy burnt Basque cheesecake recipe comes from the Devour Tours cookbook and is based on the original version served at La Viña in San Sebastián.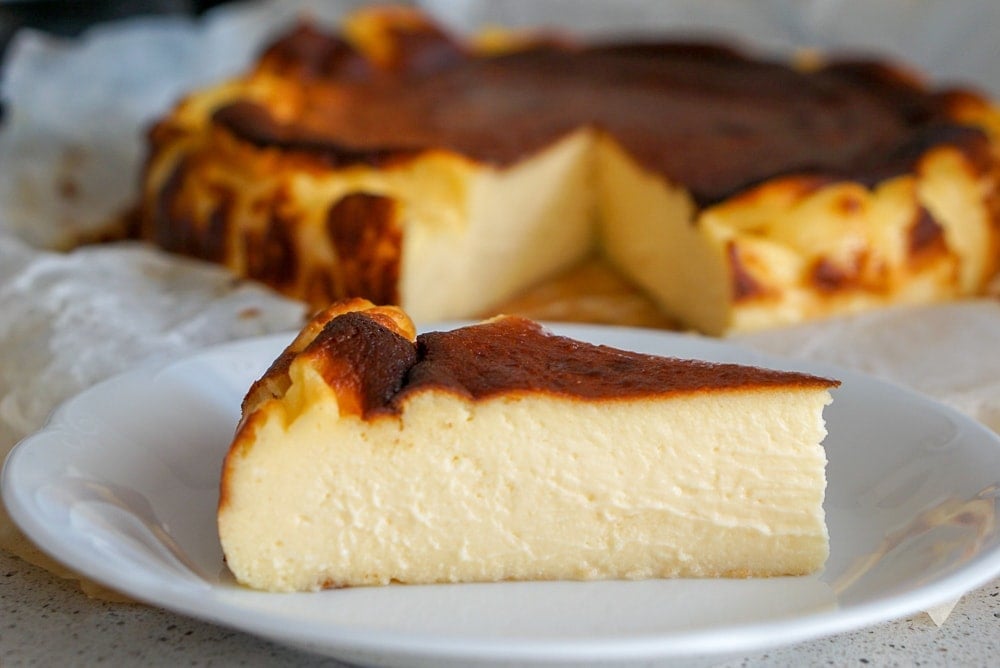 About ten years ago I explored San Sebastían for the first time. I was armed with a handful of pintxos bars recommendations, but no one had said anything about dessert! When I passed by La Viña (which wasn't on my list) I was drawn in by the smell of baking, and when I saw the towers of freshly baked cheesecakes in front of me I knew it was something I had to try.
It was love at first bite, creamy, eggy… delicious! It was unlike any cheesecake I'd ever tried before.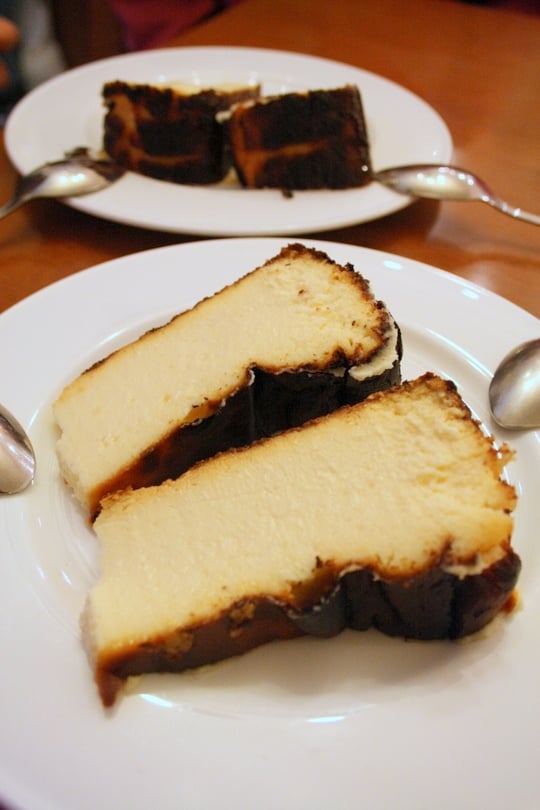 Over the past ten years the burnt Basque cheesecake has become a worldwide phenomenon and the La Viña cheesecake recipe has been republished many times. It's an easy (though decadent) recipe, well worth the time (and the calories)!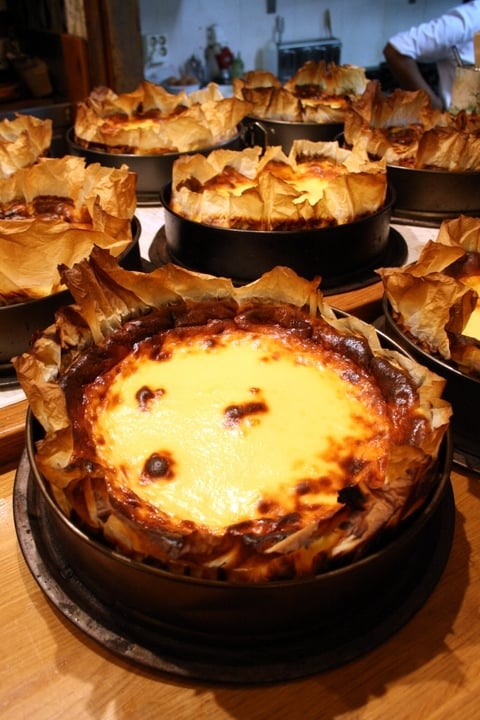 My tour company, Devour Tours, has included La Viña on our San Sebastian food tours for many years, and when we all had to shut down due to Covid-19 we figured we'd share their incredible recipe in our digital cookbook, Recipes from the Devour Tours Kitchen.
I've decided to share it here as well, in hopes of contributing to your own happy baking (and eating!) memories, especially during these tough times.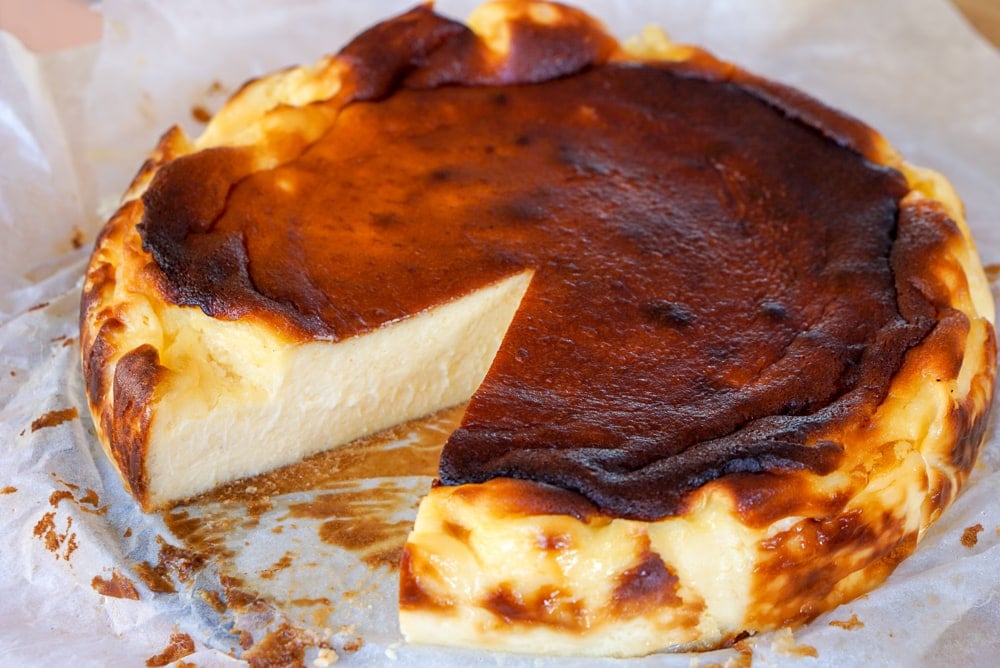 If you enjoy the recipe and are able to support our cookbook project – have a look! There are many more excellent recipes waiting.
Onto the cheesecake…!
La Viña's Burnt Basque Cheesecake Recipe
Burnt Basque Cheesecake Recipe
This easy burnt Basque cheesecake recipe comes from the Devour Tours cookbook and is based on the original version served at La Viña in San Sebastián.
Ingredients
1

kg

2.2 lbs Philadelphia cream cheese (you can also sub any other cream cheese, such as mascarpone)

7

eggs

400

g

2 cups sugar (for a slightly less sweet cheesecake use only 300-350g (1.5 to 1.75 cups)

1

tablespoon

of flour

200

ml

6.5 fl oz or 4/5 cup heavy cream
Instructions
Preheat the oven to 410°F (210°C).

Using an electric mixer, whisk or a metal spoon (the classic La Viña way!) combine all the ingredients in a large bowl until smooth and creamy.

Line a 10 inch (25 cm) springform pan or round baking pan with enough wax or parchment paper that it extends past the edges of the pan. This will help you remove the cheesecake from the pan later on, and will prevent it from sticking. You can use a smaller pan for a higher cheesecake but may need to bake longer so that the center isn't too runny.

Bake on the center rack for 35-50 minutes. The cake will rise quite a bit but don't worry -- it will settle when it's out of the oven. I like my cheesecake just cooked through, so I generally bake 40 minutes and if it isn't quite burnt enough on top I turn the heat up for another minute or two, being careful it doesn't burn too much! If you like the center very runny, remove at 35 minutes.

When the cake is brown and almost burnt looking, turn the oven off. The center shouldn't be completely set. It will wiggle a lot when you move the pan (like Jello!)

Let it start to cool gradually by leaving it out on the counter. After an hour or so, move the cake to the fridge to cool completely.

After a few hours, your cheesecake should be chilled enough to cut. Don't remove the cake from the parchment paper until it's ready to be cut, plated, and devoured (as it can start to lose its shape).

Enjoy with a sweet glass of Pedro Jimenez sherry -- just like on our tours!
Nutrition
Calories:
765.72
kcal
Carbohydrates:
56.77
g
Protein:
12.86
g
Fat:
55.72
g
Saturated Fat:
31.08
g
Cholesterol:
314.97
mg
Sodium:
465.94
mg
Potassium:
244.38
mg
Sugar:
54.09
g
Vitamin A:
2254.15
IU
Vitamin C:
0.15
mg
Calcium:
160.31
mg
Iron:
1.22
mg
Did You Make This Recipe?
Tag @spanishsabores on Instagram and share your results!
Have you been to San Sebastian to try burnt Basque cheesecake? How did this recipe compare?
Pin me!