My favorite dipping sauce in the entire world is called salsa romesco -- romesco sauce -- a traditional Catalan sauce made with roasted tomatoes, garlic, ñora peppers, almonds, and hazelnuts. There are as many different salsa romesco recipes as there are cooks, and plenty of people claim that their romesco sauce recipe is the very best.
I've joined that group of people, as I truly believe that this romesco sauce recipe is the perfect combination of quick, easy, and delicious! Here in Spain romesco sauce is usually served as a dipping sauce with grilled vegetables (I served it this way for Christmas dinner this year). It's especially popular in January and February, as people host big calçotadas -- barbecues celebrating a delicious and local spring onion called the calçot.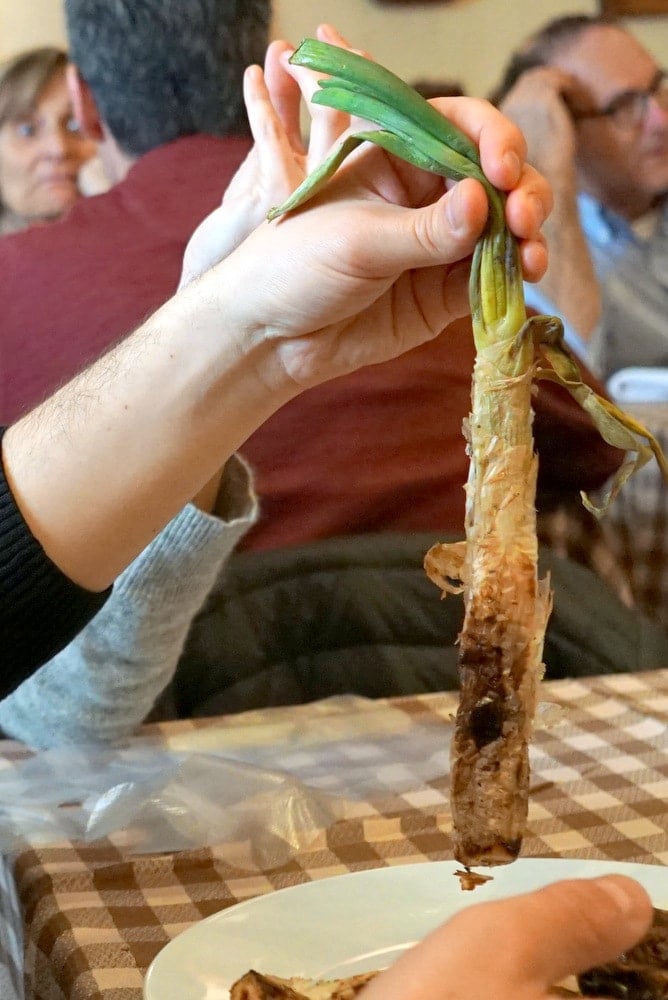 Read all about Catalan calçotadas here!
While many consider the dipping sauce for calçots to be a romesco sauce, others say it's a totally different thing called salsa calçots. In my opinion, it's pretty similar-- and totally delicious.
Here is my version of a quick and easy romesco sauce recipe. It may not be a five-minute sauce by any means, but trust me-- every step is worth it!
Authentic & Easy Romesco Sauce Recipe - (Salsa Romesco)
This delicious and easy romesco sauce recipe results in my all-time favorite dipping sauce! Nutty and delicious, it's a must-try!
Print (images optional)
Pin
Rate
Ingredients
3

dried ñora peppers

if you don't have dried ñoras you can substitute another small, sweet and slightly smokey dried pepper

2

slices

of white bread

while cheap commercial white bread will work, I always try for something a bit more hearty, like a country white bread

1

head of garlic

5

ripe plum tomatoes

2

+ Tablespoons vinegar

sherry vinegar or red wine vinegar

25

raw

peeled and untoasted hazelnuts

25

raw

peeled and untoasted Marcona almonds (substitute other almonds if you can't find Marcona)

1

cup

extra virgin olive oil

Ground Cayenne pepper to taste

optional, not traditional
Instructions
Hydrate the ñoras the day prior by placing in water (or boil 15 minutes to do this quickly-- not quite the same but it works!), remove the stem and all seeds

Dry the bread out a few hours in advance (if possible), then toast in the toaster until golden brown. Let cool, remove crusts and cut into smaller cubes.

Roast the head of garlic and plum tomatoes (pierced at the bottom with a couple of slits) for about 35 minutes at 400°F (200°C) -- drizzle with olive oil before putting in the oven

Then roast the nuts on a baking sheet for about 5 minutes, moving them around every couple of minutes (keep a close eye on them-- stop when they're golden and fragrant and do not let them burn!)

Let everything cool down and then mix everything (the tomatoes, peeled roasted garlic cloves, rehydrated peppers, toasted white bread cubes, vinegar, roasted nuts, and olive oil) together in a blender until uniform (not too smooth)

Add more vinegar, salt, and cayenne (if you wish) to taste.

Enjoy the sauce with roasted vegetables, or on a sandwich.
Nutrition
Calories:
226.56
kcal
|
Carbohydrates:
8.01
g
|
Protein:
0.8
g
|
Fat:
21.83
g
|
Saturated Fat:
3.03
g
|
Sodium:
27.2
mg
|
Potassium:
84.71
mg
|
Fiber:
0.57
g
|
Sugar:
5.25
g
|
Vitamin A:
275.1
IU
|
Vitamin C:
5.15
mg
|
Calcium:
16.1
mg
|
Iron:
0.39
mg
Have you tried a romesco sauce recipe before? How was it different? What are your favorite sauces?
Other traditional Catalan recipes: