Located on picturesque Lake Geneva (Lac Léman to the locals), Lausanne is not only a beautiful and vibrant Swiss city, but it's also a fantastic destination for foodies.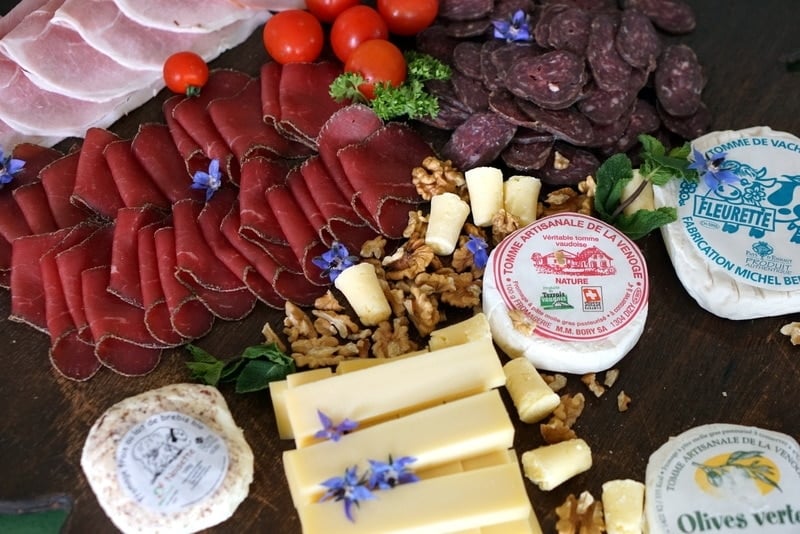 Savvy visitors know Lausanne as a delicious destination famous for chocolate, wine, and cheese. I ate my way through this quaint city on a recent weekend escape -- here's what you have to taste if you visit Lausanne!
Top 7 Swiss Foods to Try in Lausanne
Cheese
Swiss cheeses are a must-try in Lausanne; enter into any gourmet shop and you'll be greeted by the usual suspects (think Gruyère, Emmental, and Raclette) but also a lot of local cheeses that are a delightful surprise to any cheese lover.
Cured Meats
I never expected Switzerland to give Spain a run for its money when it comes to cured meats, but gorgeous platters were on offer at most local restaurants. Perfect with a crisp glass of the local wine and a loaf of hearty bread, we ordered an incredible cured meat and cheese platter at Lausanne's La Ferme Vaudoise, a shop specializing in food local to the region.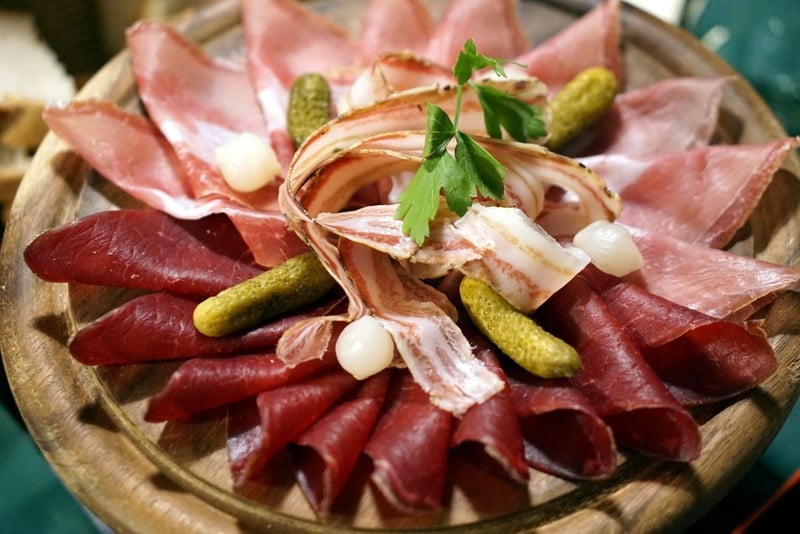 Fondue
You can't visit Lausanne without partaking in the art of the fondue. I had never tried real Swiss fondue before visiting Lausanne, and I was not disappointed! Local cheese is mixed with garlic, white wine and a touch of cornstarch to keep it from separating. Each person gets some hearty bread, which you rip into small pieces and spear onto your skewer. Next, you dip and swirl, allowing the cheese to cling to your bread and become the best bite you can imagine.
Swiss Meringues
When I was a child, my mom often bought swiss style meringues from a Swedish bakery. I always enjoyed them but wondered if this tasty pastry was really served in Switzerland. Turns out it most definitely is, and we enjoyed gorgeous meringues topped with freshly whipped cream at La Pinte Besson, Lausanne's most traditional restaurant.
Fresh Berries
You'd have to go to the Lausanne market to really enjoy the variety of fresh berries available, but if visiting Lausanne in summer, there is no better snack! While walking through the gorgeous Saturday farmer's market I saw all sorts of berries -- many of which I've never even tasted. From bright red currants to plump blackberries and green gooseberries, I wished I'd had a local kitchen to bring it all home!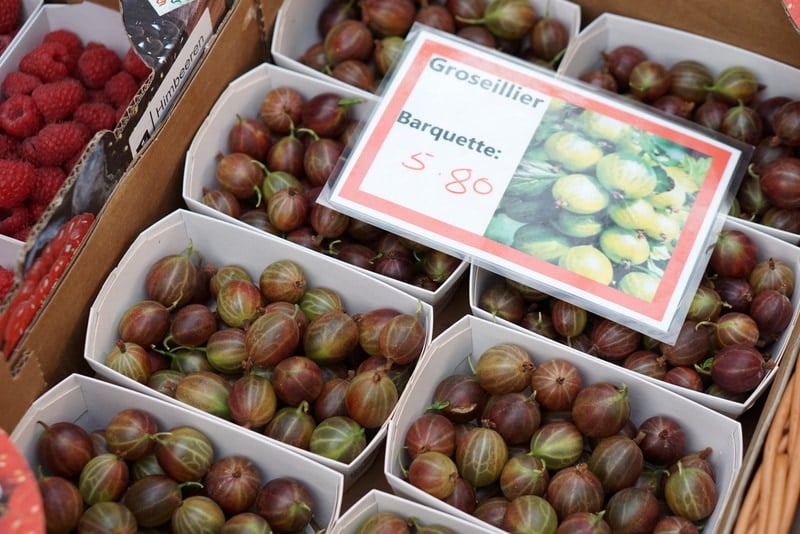 Chocolate
Many people think of Switzerland and chocolate, Lindt being a brand that really put the country on the map with its many retail stores. But I didn't know that milk chocolate was actually invented in Switzerland, thanks to pharmacist Henri Nestle and that Nestle is actually still a Swiss company! I learned this and much more in a chocolate workshop at L'Espace Chocolat, one of the many small shops in Lausanne offering artisanal chocolates and more.
Wine
Not a food, per se, but certainly something you must try when visiting Lausanne is the local wine. Mainly made from the Chasselas grape, the crisp and steely white wines of the famous Lavaux region are barely seen outside of the region (they export only 2% - and almost all to Germany). It was a luxury to taste these special wines, as wine lovers come from all around the world to see the UNESCO protected Lavaux heritage vines. If you're a wine lover, don't miss their open cellars event next June (2019).
Lausanne is a great city for food, wine, and nature. To see more about my trip from Madrid, visit this article: 6 Reasons to Visit Lausanne
Have you visited Switzerland? What did you eat? Are there any other Swiss foods to try in Lausanne? Let me know!
Visit the Lausanne tourism website for more food and wine tips on visiting Lausanne, things to do in Lausanne and where to eat in Lausanne - it's a great resource!