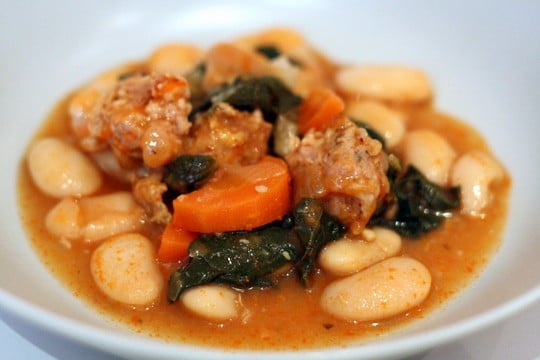 Last night I needed a home cooked meal. December is always a month filled with Christmas dinners and holiday lunches, and added to my normal food tour schedule, I realized I'd eaten out 7 days in a row (often multiple time per day). As delicious as some of those meals were, I needed a break from dining out. Into the kitchen it was!
But just because I got the urge to cook didn't mean I suddenly had time to make a feast. So I pulled out a classic recipe that I used to make once a week when I lived in the US: Chorizo and White Bean Stew with Spinach. It is a quick meal, and uses canned ingredients. Here in Spain the quality of canned goods is quite high– but if you have the time, fresh stuff will likely be even more delicious!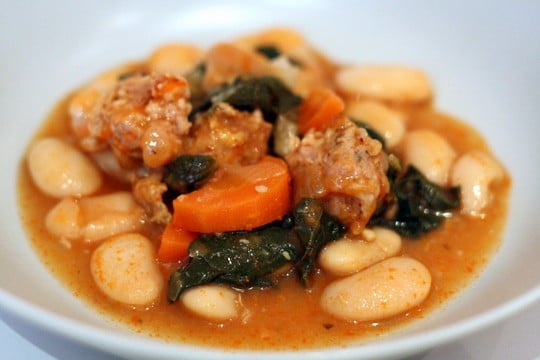 Chorizo and White Bean Stew with Spinach
This hearty chorizo and white bean stew with spinach makes a quick and easy winter meal.
Ingredients
2

cans/jars of large white beans

alubias extras

1

can diced tomatoes

or a freshly diced medium tomato

1

spoonful of tomato paste

3

cups

chicken stock

1

carrot

thick dice

3

cloves

of garlic

diced

1

tablespoon

butter

2

tablespoons

extra virgin olive oil

1/4

cup

white wine

1

yellow onion

diced

4

links of fresh chorizo

or other Spanish sausage, cut into chunks

1

piece

about 2 inches of semi-cured chorizo

4-6

cups

of washed fresh spinach

1

teaspoon

ground cayenne pepper

1

teaspoon

thyme

1

teaspoon

oregano
Instructions
Rinse and drain the beans and set aside.

Warm the butter and oil over a medium heat and add the onions.

Sauté the onion for about 10 minutes, until just browning.

Add the diced garlic and sauté another minute.

Add the fresh chorizo and let the chunks brown on each side.

Add the carrot, herbs, semi cured chorizo, and cayenne pepper and mix.

Add the white wine and allow to reduce for one minute.

Add the tomato paste followed by the chopped tomatoes and simmer two minutes.

Add the 3 cups of chicken stock and bring to a simmer.

Allow to simmer 15 minutes uncovered.

Add in the fresh spinach and beans and cover for 10 minutes.

Enjoy!
Nutrition
Calories:
529.69
kcal
Carbohydrates:
47.78
g
Protein:
28.62
g
Fat:
24.05
g
Saturated Fat:
7.17
g
Cholesterol:
43.31
mg
Sodium:
1128.41
mg
Potassium:
1313.75
mg
Fiber:
10.5
g
Sugar:
7.43
g
Vitamin A:
5905.78
IU
Vitamin C:
19.98
mg
Calcium:
195.48
mg
Iron:
7.98
mg
The chorizo and white bean stew was absolutely delicious and we enjoyed the meal almost more than any we'd eaten out lately. It was definitely motivation to get back into the kitchen!
What's your go-to recipe for a quick and hearty meal?