There are countless riads (B&Bs) in Marrakech and each looks more beautiful and charming than the next! Luckily, we stumbled upon Riad Romance-- drawn in by the excellent reviews and mentions of true family-run hospitality.
The reviews were right-- owners Samira and Youness are lovely and hospitable hosts, and run a beautiful and welcoming riad right in the heart of the old-town, hidden away (literally) down a narrow alleyway.
When you enter, it's like an oasis-- a small pool and lounge area, only a handful of rooms scattered around the patio.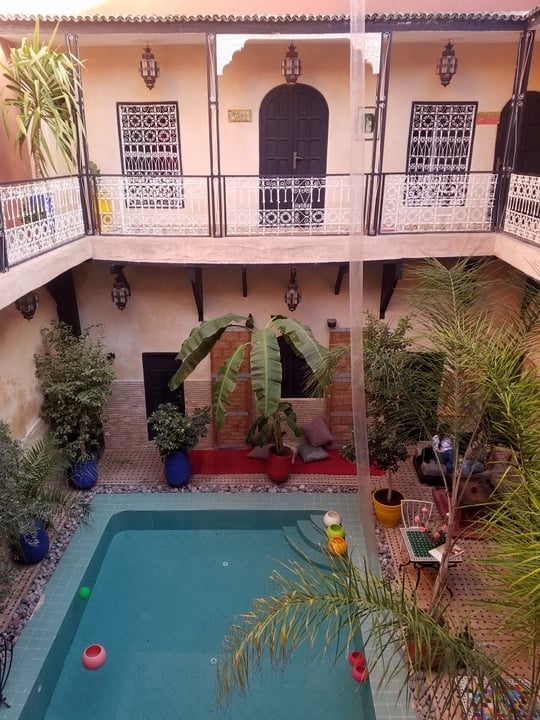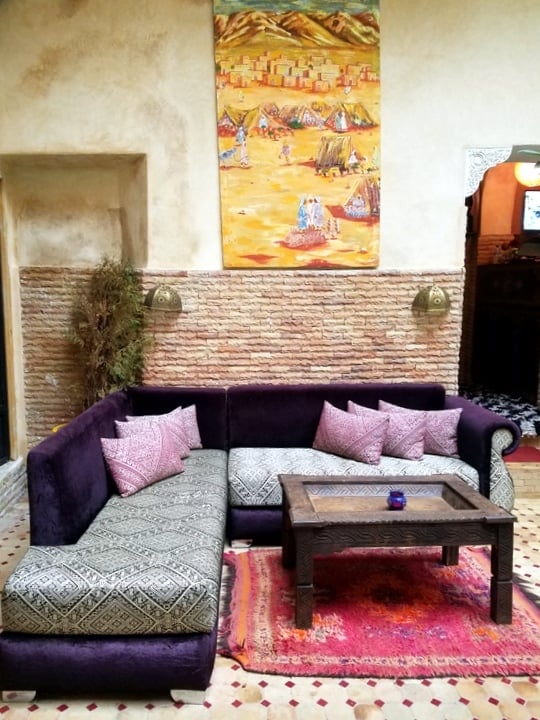 History
A very new riad, Samira and Youness partnered up only a couple of years ago to achieve their dream. Their background wasn't in running riads-- but Youness grew up working in the nearby spice market and later in restaurants (where he met Samira) so he has plenty of experience in customer service and knows the city inside and out!
Rooms and Amenities
We were in the lovely Trixie room, a large room and ensuite. While we were mainly out discovering the city, the room was super comfortable (the bed was awesome!) and we also had a small living space with chairs to sink into after a day of sightseeing.
Downstairs there is a pool (though it was a bit too cold for a dip in February!), and plenty of tables to relax around on the patio. There is also a small rooftop space with lounge chairs (where breakfast is served) and also a small restaurant.
Location
The riad is VERY hidden-- that's why they recommend you book a taxi with them from the airport (€30). But it is very close to the main square (only about a 10-minute walk) and close to various museums and monuments. If you can get your bearings and remember how to get back, it's the perfect location!
Our stay
Welcomed by Samira's smile, followed by mint tea and cookies, we knew from the start it would be a great stay. We appreciated the personal care they showed us as guests, from arranging the taxi from the airport to a private guide the next day. The dinner was great (and accommodated Ale's vegetarian request) and breakfasts were awesome. On our last day, we left before breakfast began and they prepared it for us early. They also give their guests a cell phone, for calling them in case we get lost or need any advice when out! We didn't end up using it during our short stay, but it was really nice to know it was there!
For Foodies
The riad offers dinner by request, and it is highly recommended. We chose to dine there on our first night and enjoyed a delicious three-course meal.
Breakfast was also excellent-- and a ton of food! Each morning we started the day with freshly squeezed juice, a seasonal fruit platter, yogurt, Moroccan pancakes, fresh bread and jams, and eggs. As I said-- a lot of food, but the perfect way to start a day of sightseeing.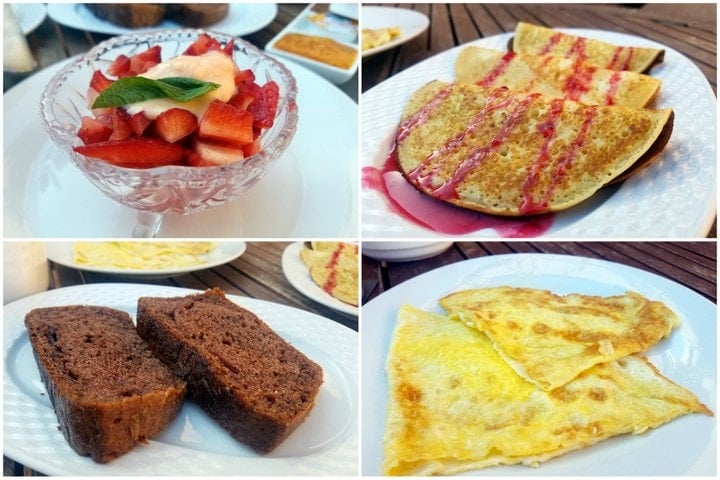 We really enjoyed our stay at Riad Romance and would recommend it to anyone looking for a romantic hotel in Marrakech! It's three stars but has a lot of personal touches that make it extra special. It's tiny-- so book in advance!
Where have you stayed in Marrakech? Any suggestions for next time?