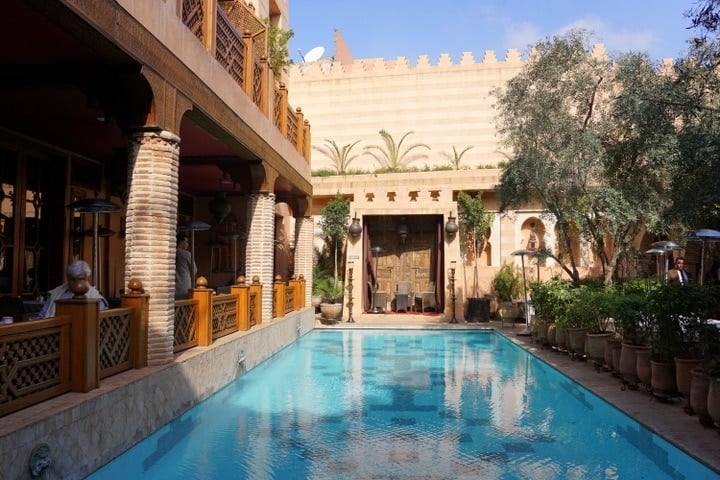 When searching for hotels and riads in Marrakech, I had no idea how many amazing places the city has to offer! Narrowing things down was next to impossible, as every place looked better than the next. But, by some twist of fate, we ended up spending our last night in Marrakech at the fabulous Le Maison Arabe Hotel-- one of the city's most historic locations, and home to the first restaurant in the old-town that catered to foreigners.
Le Maison Arabe - Worth a Visit!
History
Le Maison Arabe's fascinating story begins in 1946 and remains a cornerstone of Marrakech's vibrant history.
Contrary to what you'd think today, it didn't start out as a luxurious hotel. It began as Marrakech's first restaurant that catered specifically to foreigners. At that time Marrakech was a popular place that attracted plenty of visitors from abroad, but most were intimidated by local cuisine.
To solve that problem, two French women, mother and daughter Hélène and Suzy Sébillon-Larochette, decided to make the most of the fact that World War II had left them stranded in Marrakech. With Pasha Thami El Glaoui's support, the two women opened their restaurant right in the middle of the buzzing Marrakech medina.
They learned to cook authentic dishes from the Pasha's own dadas (female Moroccan cooks). Guests over the years included Winston Churchill, Charles de Gaulle, and Jackie Kennedy.
Hotel
It went on to become a small 10 room hotel until, in 1994, Italian aristocrat Fabrizio Ruspoli took over and transformed it into the boutique 26 room property it is today. When Le Maison Arabe reopened in 1998 it was one of Marrakech's only boutique riad hotels-- now there are hundreds! But this is still without a doubt one of the best and most luxurious riads in Marrakech.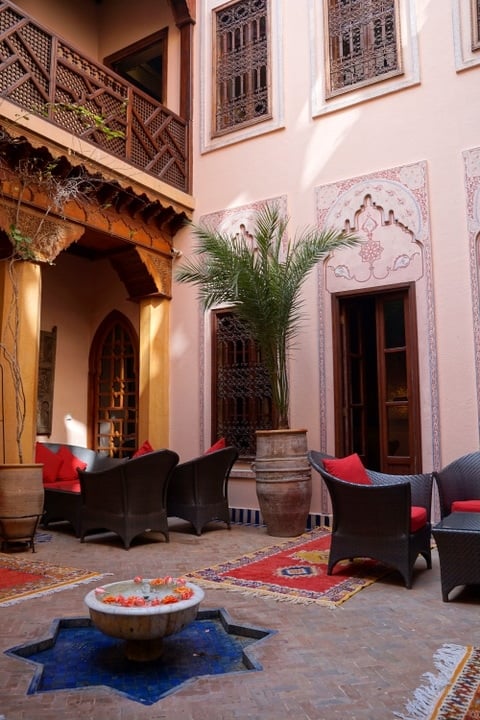 Le Maison Arabe is the type of magical property that has not overlooked a single detail. The service, while outstanding, was still down to earth and friendly-- something I really appreciate. For me, there's nothing worse than pretension when it comes to luxury hotels.
Rooms and Amenities
Our room was number 245, a spacious Junior Suite. Amenities included a huge bathroom (with both a rain head shower and a large bathtub), an enormous bed, and a living area that led out to a spacious terrace overlooking the pool and patio area. The decoration was superb, from the art on the walls to the handmade Moroccan rugs.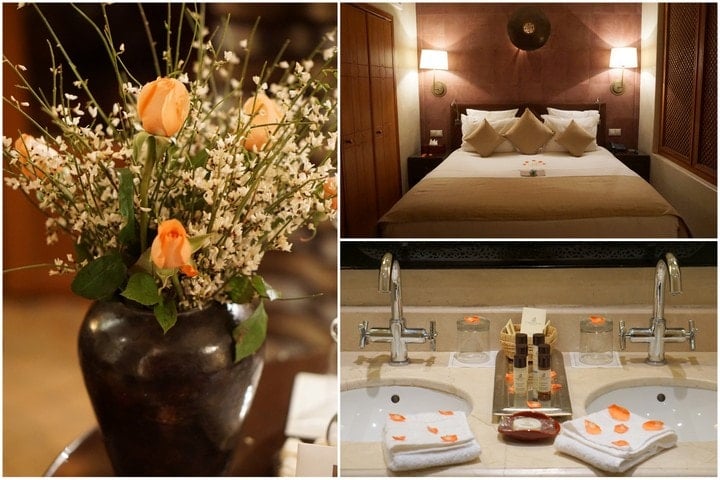 What I loved most about Le Maison Arabe was its strong sense of place-- there wasn't a second that went by when I didn't know exactly where I was!
A welcome gift included a complimentary half bottle of Moroccan wine-- a nice touch and much appreciated after our long journey back from the Sahara Desert.
I also couldn't believe how soundproof the room was-- we didn't hear a thing from the restaurant or patio (where live music was playing!)-- making it the perfect place to relax.
Le Maison Arabe also features two restaurants, a full spa (next time!), a boutique shop, many common spaces to relax or have afternoon tea, a jazz bar, a wine bar... and I'm sure I'm missing something!
Location
Located right in the heart of the medina, La Maison Arabe is perfect for exploring Marrakech. We were able to walk to the souks (only about a 5-minute walk) and the main Jemaa el Fna square (about 10 minutes) as well as the new town (about 20 minutes) where you'll find the modern and trendy Gueliz district, filled with modern boutiques and cafés. The Majorelle Gardens are only about a 20-minute walk as well (or a very inexpensive taxi ride).
See also: Eating Marrakech with Marrakech Food Tours
For Foodies
The hotel features a jazz bar and two restaurants, the traditional Le Maison Arabe Moroccan restaurant (the most historic in Marrakech!) and a more international menu at the Les Trois Saveurs restaurant. Since the traditional restaurant was only serving a multi-course meal, we opted to have dinner at the poolside restaurant-- after a cocktail in the jazz bar.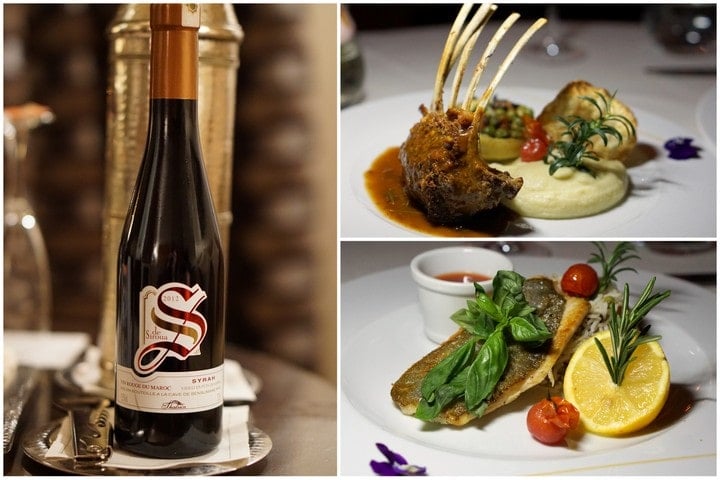 We enjoyed our dishes, a sort of Moroccan fusion (we also ordered a delicious and traditional pastela-- a sweet and savory pastry stuffed with chicken spiced with cinnamon and covered with powdered sugar). The ambiance was second to none, with live music, candlelight, and excellent service.
Breakfast was an impressive buffet and there was also a fantastic Moroccan crepes and egg station. It was one of the best hotel breakfasts I've ever had! Fresh salads, smoked salmon, spiced deviled eggs, fresh fruit juices, pastries, omelets and three types of Moroccan crepes-- I was in heaven!
I would go back to Le Maison Arabe Hotel in a heartbeat. It was honestly one of the best hotels I've ever stayed in (up there with Cas Xorc in Mallorca!).
You can see more information and rates (there are great deals in the low season!) here: Le Maison Arabe Hotel
What's the best hotel you've ever stayed in?