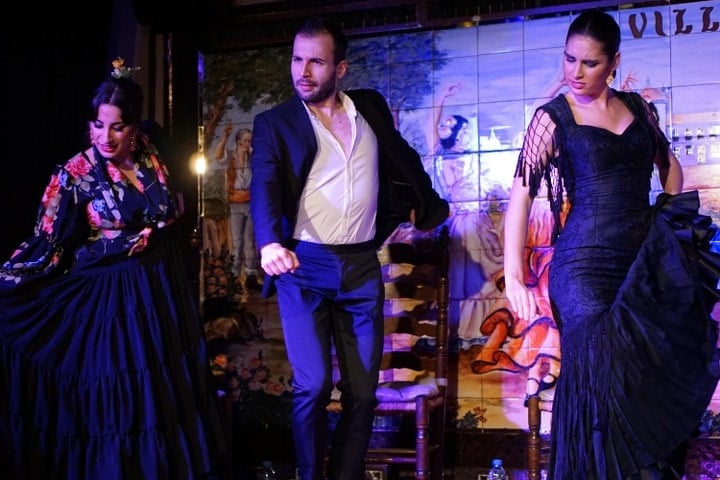 Seeing flamenco in Spain is something many tourists debate-- but I'm here to tell you that I think it is an absolute must, especially in Madrid!
I still remember the first time I saw flamenco in Spain. I was 20 years old, and despite having danced all my life (tap, jazz and ballet), I knew next to nothing about this Spanish art form. I found myself sitting in a damp cave waiting for the show to begin, sangria in hand. The space was small-- only about fifteen spectators, and four performers.
A young woman with blonde dreadlocks began to sing and her voice was so deep and raspy that I was immediately taken aback. Where was the polka dot dress? The castanets and fans? Why did this woman sound like she'd been smoking since the age of six?
As the show continued, I was hypnotized by this voice, and the guitars that accompanied it. It was soulful, sad and passionate. When they were joined by the dancer I felt a spark of electricity as a dramatic faced woman took the stage. She wasn't classically beautiful-- but she was strong. It seemed at times that she was dancing so hard that she couldn't possibly continue, but she always did.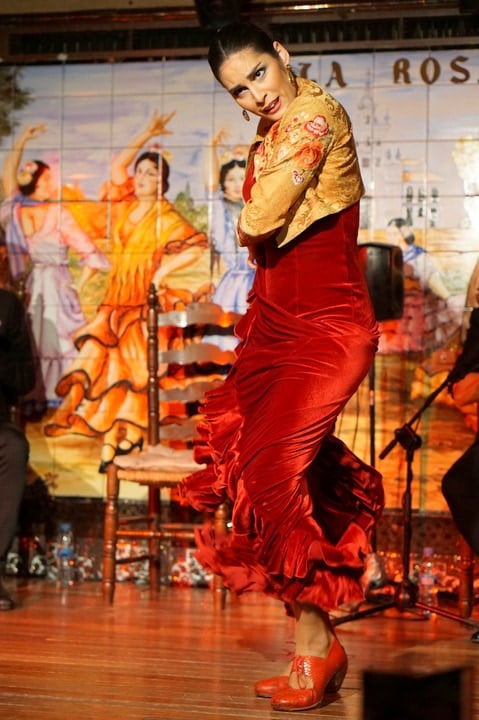 I left that night absolutely hooked on flamenco-- and ready for the next show.
Since moving to Spain in 2009 I've seen countless flamenco shows. I truly believe that seeing a flamenco show in Spain is an absolute must (at least if you're passing through Madrid or Andalusia on the trip).
And the best place to see a flamenco show in Spain? It's debatable (the cave in Granada was pretty cool!) but many would agree that it's right here in Madrid.
Flamenco in Madrid
Little is known about flamenco's precise origins, but it's agreed that it comes from southern Spain (whether Cadiz, Seville or Granada is hotly debated). So why see flamenco in Madrid? Well, like any big capital city, Madrid is where flamenco performers go to make their name. The city is home to excellent flamenco tablaos, and the best flamenco dancers in the world constantly make the rounds (in between traveling internationally to dance-- flamenco is very popular in countries like Venezuela and Japan).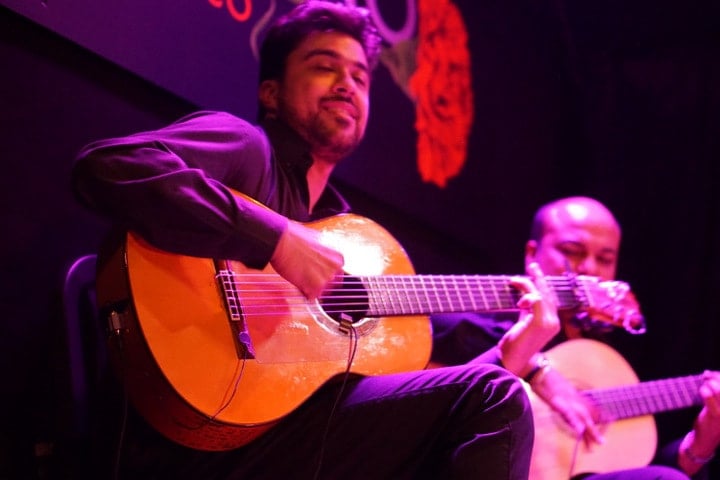 Where to See Flamenco in Madrid
Madrid is home to some wonderful flamenco tablaos, and each venue offers their unique take on this art form. Here are my personal favorites:
Cardamomo
Recommended by the New York Times, Cardamomo puts on a wonderful show. The intimate venue used to be a club where flamenco dancers and musicians would hang out and drink (and inevitably end up singing flamenco and playing the guitar) until the early hours of the night. Cardamomo is definitely one of the best flamenco shows in Madrid, and it's where my company Devour Spain brings guests for our popular Tapas and Flamenco Tour.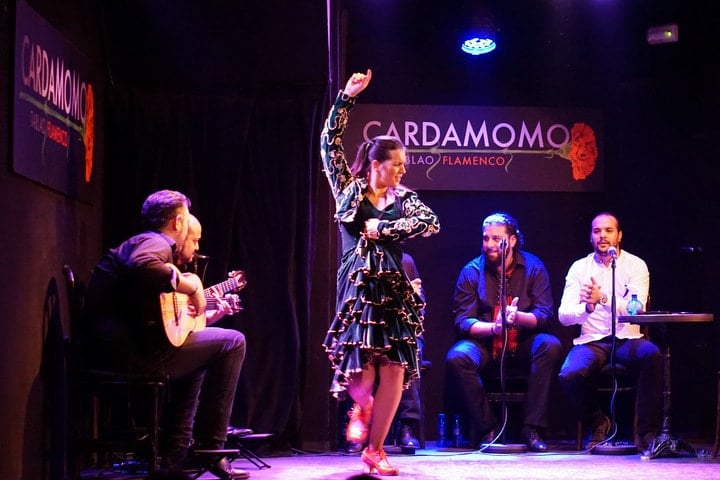 Address: Calle Echegaray, 15
Eat nearby: Right next door you'll find a former Hemingway haunt, La Venencia, serving nothing but dry Spanish sherry and a handful of tapas.
Casa Patas
A classic Madrid flamenco institution, Casa Patas is worth a visit if only to have a drink at its atmospheric bar, watching the flamenco aficionados filter in and out. This show attracts some of Spain's top performers, and Casa Patas also has a flamenco dance school above where people come to train from all over the world.
Address: Calle de los Cañizares, 10
Eat nearby: For rustic Spanish home cooking, try La Sanabresa, a typical casa de comidas with an extensive menu.
Cafetín la Quimera
This off-the-beaten-path flamenco show in Madrid is located in the Ventas neighborhood, near the Madrid bull ring. It's worth a taxi ride from the center to see their passionate dancers perform.
Address: Calle de Sancho Dávila, 34
Eat nearby: El Rincón de Jaén is an Andalusian style tapas bar. Order a beer at the bar and you'll get a free tapa of boiled shrimp!
Corral de la Morería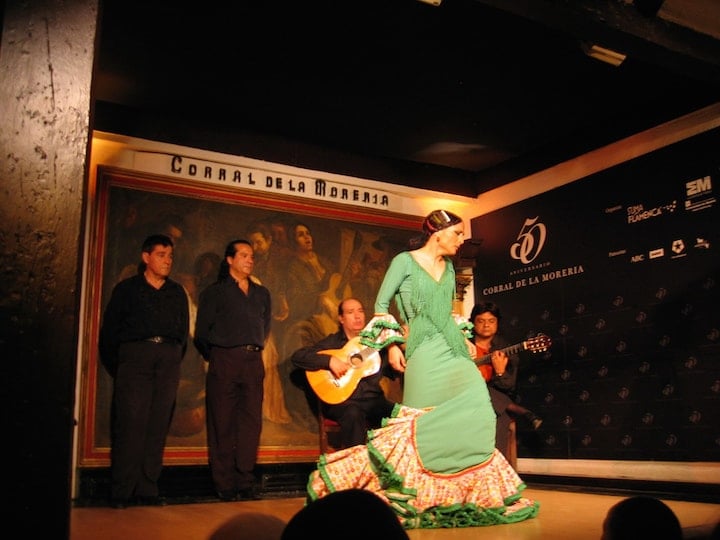 Another wonderful show near the Madrid basilica and Royal Palace, this tablao is known for offering a variety of dinner options with the show. Perfect if you want it all in one place!
Note: I've never tried the food, so can't speak for its quality!
Address: Calle de la Moreria, 17
Eat nearby: El Anciano Rey de los Vinos is one of the palace area's best Spanish bars and restaurants. Try their signature sweet moscatel wine, and enjoy tapas in their beautiful bar area. We also stop here for their signature dish on our Ultimate Spanish Cuisine Tour!
Café de Chinitas
One of my top recommendations for families, this lovely flamenco show is great fun-- and the dancers often interact a bit with the audience. A full menu is also available, and the venue has an extensive Spanish wine list.
Address: Calle Torija, 7
Eat Nearby: Owned by the same family, Taberna la Bola is famous for Madrid's signature stew, the cocido madrileño. Come hungry for this delicious feast!
Villa Rosa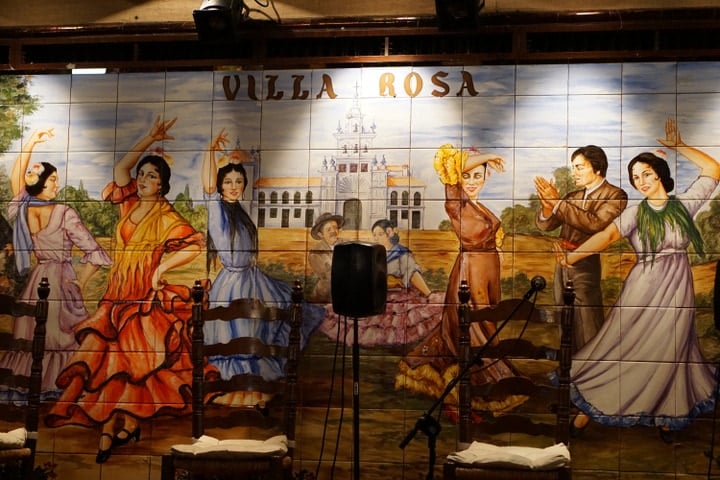 Located in the Literary Quarter (the heart of Madrid's flamenco scene), the nearly 100-year-old tiles in Villa Rosa are incredibly beautiful. The show start times vary, as do the dancers, and the space is quite large so arrive early to get good seats!
Address: Plaza de Sta Ana, 15
Eat Nearby: Try the tapas at Taberna del Chato, washed down with a glass of Spanish wine.
Flamenco Bars in Madrid
If you prefer to head to a flamenco themed bar (where, who knows, maybe a local flamenco artist will break out in song), here are some options for flamenco bars in Madrid:
El Callejón de Madrid
Owned by a well known flamenco family, this narrow bar is filled with photographs of the flamenco greats. It's almost a guarantee that the performers will be here after their shows at the nearby tablaos (like Cardamomo or Villa Rosa) so head on over if you'd like a closer look!
Address: Calle de Manuel Fernández y González, 5
El Burladero
This bull-fighting themed bar is another legendary place where flamenco dancers go to hang out after performing. Perfect for an extra dose of flamenco culture.
Address: Calle Echegaray, 19
Casa Patas
As mentioned earlier, this legendary flamenco venue also has a full bar open to the public. If you come around midnight (when the show lets out) it's filled with flamenco performers!
Address: Calle de los Cañizares, 10
Flamenco and Tapas Tour in Madrid
If you are looking to get a full flamenco and food experience, I'd personally recommend Devour Spain's Evening Tapas and Flamenco Tour. Of course I am biased-- I helped design it!
The tour is a wonderful, immersive experience from start to finish, and gives you a behind the scenes look at both tapas and flamenco. It begins in the Literary Quarter, the heart of Madrid's flamenco scene, and takes you to a quirky nearby bar to start with some traditional Madrid tapas and drinks. You learn all about Madrid's tapas traditions, and some tips for exploring Madrid's food scene like a local.
Then it's off for a bit of a look at the Literary neighborhood, where (depending on the day of the week) you might stop to meet a flamenco shoemaker, a flamenco guitar maker or visit one of the most famous flamenco schools in the world!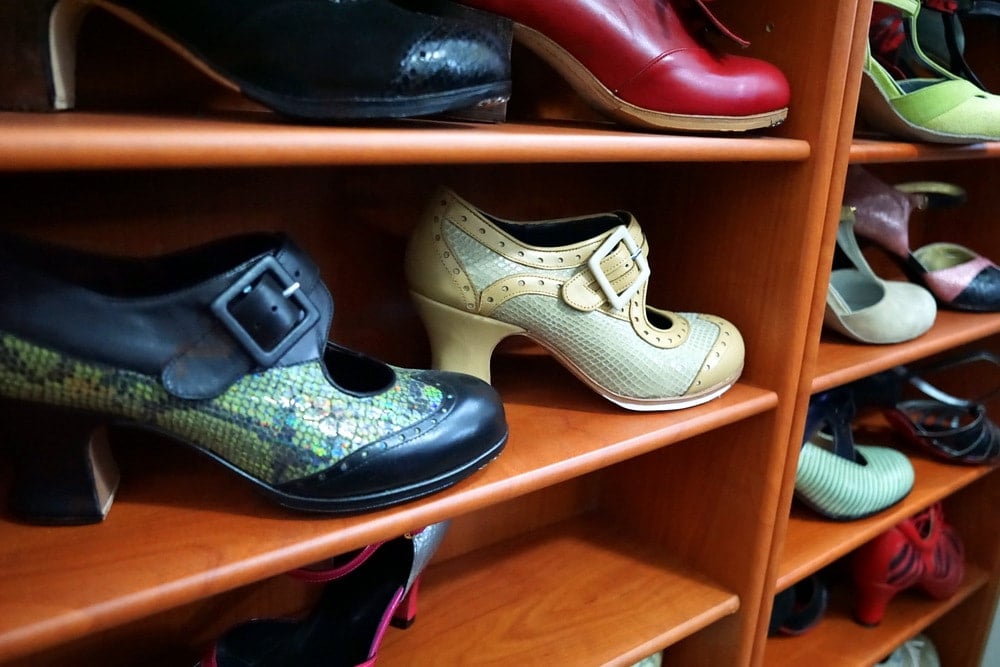 Next you'll head to another tapas bar, to try some of Madrid's best cheeses and cured meats, while you learn about Spain's booming wine industry. As you nibble here, you'll get (my favorite part of the tour) a real explanation of what flamenco is and where it comes from (and what you're about to see at the show). Putting flamenco in context is invaluable (and super interesting), and makes the show come alive even more.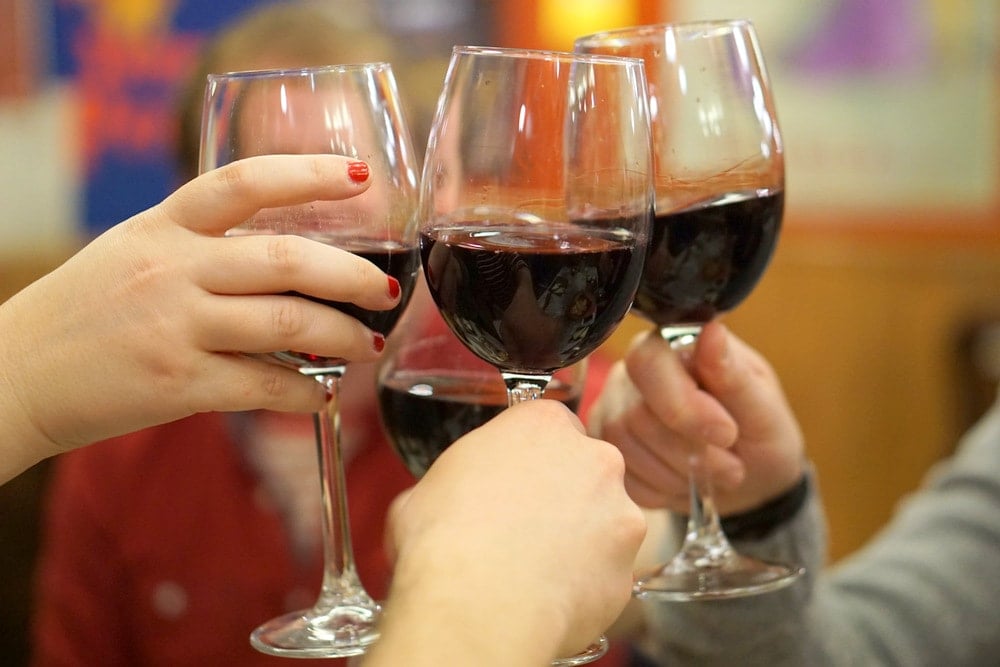 At 8pm you'll head over to see the show at Cardamomo, one of the best places to see flamenco in Spain. The dancers, singers, and guitarists are incredible, a whirlwind of energy and passion.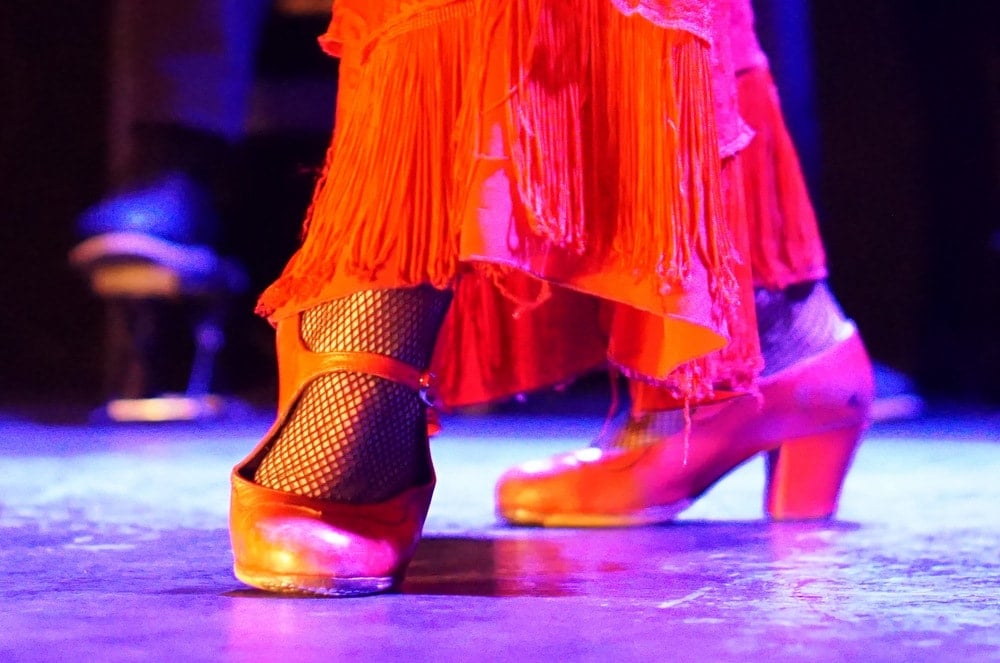 When the show finishes you'll be able to ask any lingering questions (there will be plenty, I'm sure!) and then you'll head off to feast on more tapas and wine over the next hour or so, ending with a bit of Spanish dessert.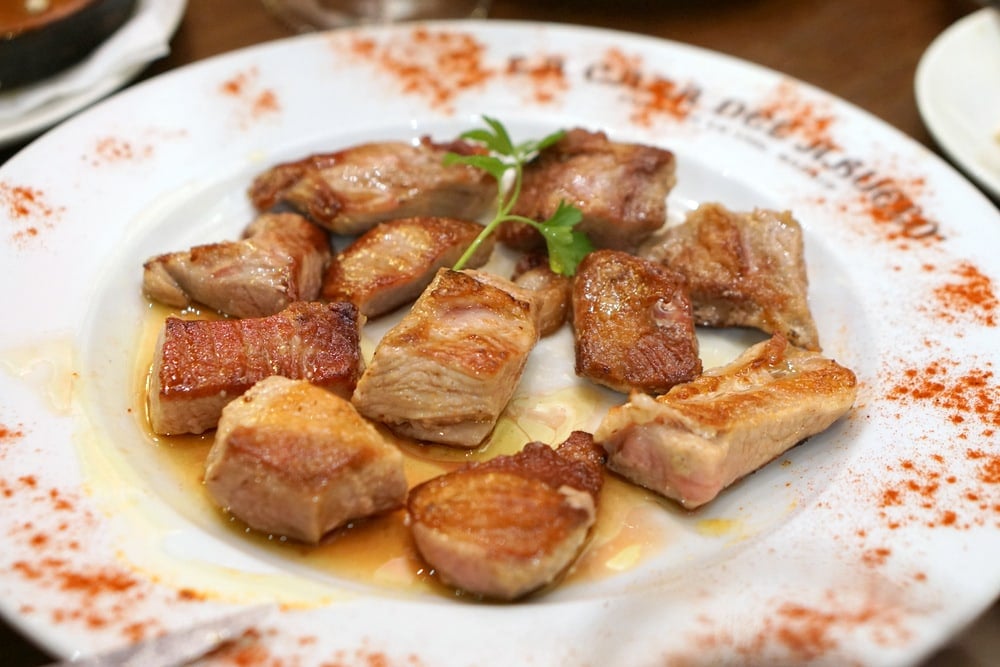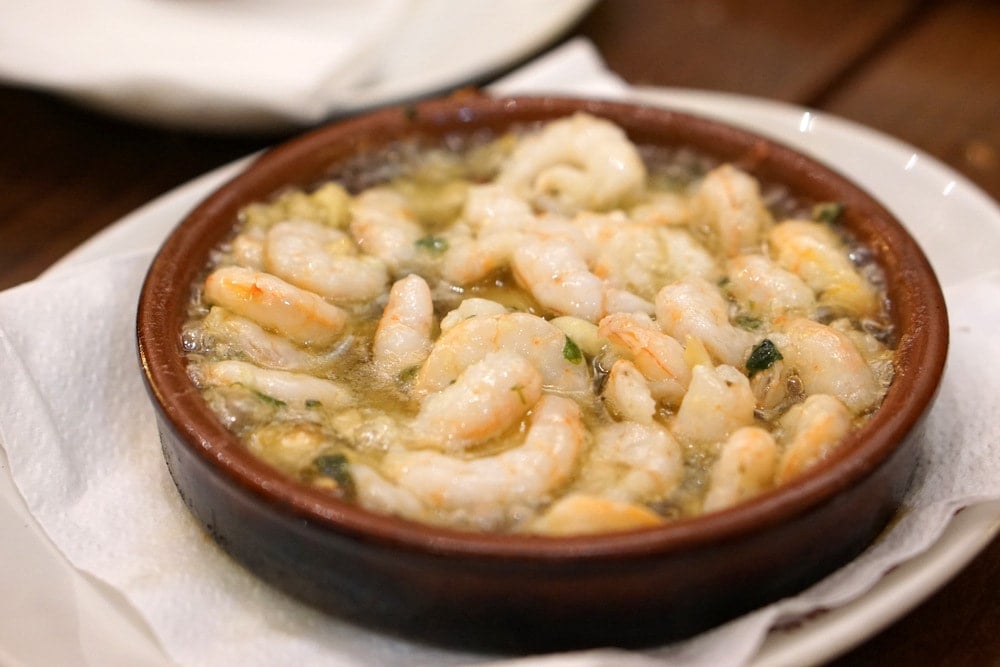 I love all of the tours I've helped plan (they're my babies!), but I'm especially proud of this one. I think it's because there is a something slightly academic about it (but don't worry, it's still LOTS of fun-- as any tour including 6 glasses of wine should be!).
You can find out more information here: Evening Tapas and Flamenco Tour
Taking Flamenco Classes in Madrid
If you've already fallen in love with flamenco and are ready to learn how to dance it, you're in luck. Madrid has plenty of options for taking a flamenco class.
Tip: In Madrid for a bachelorette party? Why not try a flamenco class with the bride to be?
My top recommendation would be stopping by the Amor de Dios Flamenco School. It's probably the most famous school in the world and is where many very talented flamenco dancers perfect their art. There are plenty of classes available (though mainly in Spanish), for both beginners and more advanced students.
See More: You can find more flamenco class options here.
I would truly encourage everyone who visits Spain and has an interest in Spanish culture and art to see a flamenco show. Do your research and find a show that looks right for you (because, as you can imagine, there are definitely plenty of tourist traps out there). I highly recommend seeing a show in Madrid, but have also seen some nice shows in Andalusia (in Seville and Granada). If you like the first one, you can always book a second! Each tablao and group of dancers will have their own style nearly every show I've seen is partly improvised, so even at the same venue, no two nights are alike!
For more in-depth articles on Spanish flamenco, my friend Yolanda writes a wonderful blog called The Flamenco Guide.
Have you seen flamenco before? What did you think? Do you have any other questions about seeing flamenco in Madrid?