In honor of her first wedding anniversary, and my almost second, I bring you a look at the typical wedding food in Spain by fellow Spain blogger Kaley Hendrickson. Although not everyone does the same (we had tapas style wedding, changing up the whole concept!), Kaley tells us about the typical wedding fare.  
I grew up going to weddings with dry chicken and mushy green beans. To drink we had tea and powdered lemonade. The best part was, of course, the cake. Cake has never failed me, and since no frosting could ever be too sweet for me, I could always eat mine and my mother's too.
But then I moved to Spain. Mario and I had been dating for eight months when his good friends invited us to their wedding. The warnings and advice from his family started coming at a fairly consistent pace: I mustn't eat too much lunch. There would be a lot of food, so I should pace myself. Drinks too. But I was ready. Bring it on!
What I saw and ate was an eye-opening experience for me. The food was high quality, delicious, and abundant. It just kept coming—and I kept eating! Since that time, though, I've learned a bit about what constitutes a "typical"wedding meal in Spain.
Here's the rundown:
El cóctel
No, this isn't—as I first thought—a specialty drink, but a cocktail party with all sorts of appetizers, beer, wine, and soft drinks. Cured meats, like chorizo and salchichón, are common, as is jamón. You might see croquettes, small rolls of meat/fish fried in breadcrumbs, which are easy to keep popping into your mouth. Everything is small and bite-sized, as you have to balance your drink, your purse, and your food!
El entrante
Some couples choose to skip this. However, it is typical to have an appetizer, un entrante, before the real eating begins. This varies greatly, from salads to a mushroom puff pastry to soup. We chose a puff pastry filled with wild asparagus and salmon with a hollandaise sauce.
El pescado
It is somewhat likely that you'll encounter fish in your appetizer, but that doesn't always count. The fish is not served simply (grilled) either. Since this is a wedding, things must be taken up a notch. You might have monkfish with clams, turbot in a mustard sauce, or hake stuffed with crab sauce and shrimp. Because most everyone likes hake, I've eaten it at a few weddings, which was the exact reason my mother-in-law suggested we skip it. Thus, we ended up choosing a baked turbot served with vegetables, remarkably simple for the occasion.
El sorbete
This was the weirdest one for me! I didn't understand the need to have a palate cleanser when not drinking wine—but I rolled with it. There are all sorts of sorbets, including gin-tonic flavored ones, but I always stick with the classic: fruit. The best ones I've had have been lemon and mango.
La carne
Since you're not already stuffed, how about some good red meat? Serving a steak can be tricky (since everyone likes theirs cooked differently), but most people won't reject a good solomillo. Both times I've eaten this tenderloin steak at a wedding, I've thoroughly enjoyed it—but mine was cooked to my liking! Others had theirs over- or undercooked. Since we were married in Castilla y León, we chose lechazo, which is a roast suckling lamb for which Castilla y León is famous. If you've never had it before, it is a strong-tasting meat, but its preparation is unique to the region.
El Postre
Ah, finally: the cake. Not so fast! In Spain, many couples still traditionally cut the cake, but they do not eat it! (This happened at our wedding—my father is still asking where that cake went.) There is usually a more elaborate dessert the couple wants to serve from a three-chocolate dessert to a special convent cake. Such desserts are almost always artfully presented on the plate. Don't eat the garnish!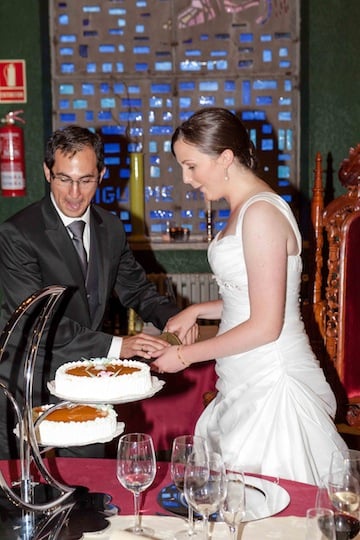 El Cava
Self explanatory. Time to pop open a bottle of bubbly and toast to your marriage (and your overly-stuffed belly).
Coffee, Liqueurs, Etc.
Just when you thought it was over, they'll be bringing out the coffee and liqueurs. You can order café sólo, café cortado, or café con leche. Then there are the liqueurs, which are served in tiny shot glasses, but are not meant to be taken as a shot. Perhaps you'd like some orujo, a pomace brandy. Maybe some pacharán, a sloe-flavored liqueur, or is something herbal more your style? There's a liqueur for everyone—just speak up and make your wishes known!
Full yet? Sleepy from the all the food and beverages? Don't worry, there are still several hours of dancing, cubatas (mixed drinks) and merriment making to be had!
Have you ever been to a Spanish wedding? What did you eat?
All photos by Kaley Hendrickson and María Benítez