By far one of the most exciting parts of getting married in Spain was being able to have my immediate family there with me to share my special day. It would not have been the same without them. All together, 12 of my family members were able to make the trip-- my mom, dad, brother, sister, niece, 2 sets of aunt and uncle, cousin and best friend. It was exciting to greet them in the tiny Jerez de la Frontera Airport dividing them between various cars we had either rented or borrowed for the day.
I love showing off Spain to visitors, and despite having a lot going on with last minute wedding details, I was not going to let the opportunity to play tour guide pass me by. I planned a full itinerary for my family, left them a welcome package with maps, brochures and suggested restaurants, and planned to spend as much time with them as possible in the 10 days they were there.
The first night Ale and I surprised them with a huge paella and welcome party at their rental house. We hired a private chef who was absolutely fantastic and prepared a delicious, authentic paella as day turned to night. My family was exhausted, but thrilled to try homemade Spanish food prepared by my mother-in-law, and typical pastries from El Puerto de Santa María.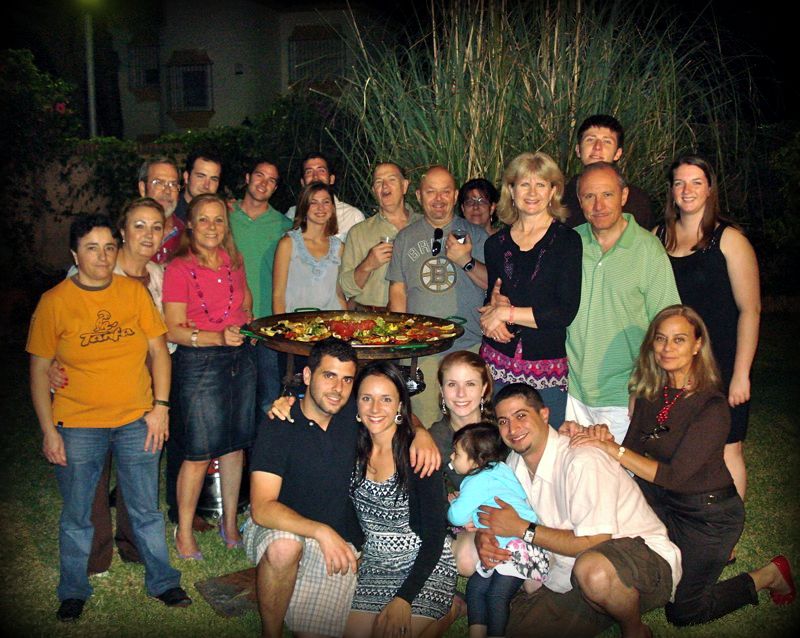 In the days leading up to the big day we didn't venture far-- but then again we didn't have to. El Puerto is an amazing town once you get to know it. We were all staying in Valdelagrana, right on the beach, which allowed us to work on our tans and eat tapas on the boardwalk-- a proper beach vacation!
I'll save the details of the wedding for the next post, but I will say it was fantastic, and my family had a great time. My 2-year-old niece did cry throughout the ceremony (as in blood curdling screams!) but other than that everything was wonderful. My mom and dad surprised us all by staying far longer than the other adults and my best friend somehow managed to communicate with all of Ale's friends-- whether they spoke English or not!
Photo: María Benitez
Post wedding it was time for some tourism. We decided on Cadiz, Seville, and Jerez and spent one day in each place. Spain's great train system helped us get around without any problems.
Highlights included an incredible seafood lunch in Cadiz, showing them the impressive Seville cathedral, and sipping sherry at a legendary sherry bar in Jerez.
Overall, despite any extra stress or anxiety having 12 very different people under my control in a foreign country may have caused, I wouldn't trade it for the world. Having my family in Spain was extremely special and really, really fun. I can't wait for the day that they return for a visit, although they'll have to do without the wedding next time!
Last Time: The Planning Of My Spanish Wedding
Next Time: Getting Ready on Wedding Day
Have you ever had your family visit you in your "adopted" country? How was the experience?