Cantabrian Style Cheesecake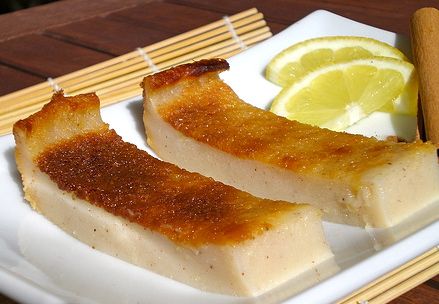 Having never been the biggest fan of cheesecake, upon trying the Spanish dessert Quesada Pasiega I was astounded to be blown away by one of the best tasting cakes I've tried in a very long time. A mix between a light, fluffy cheesecake and a creamy ricotta pie, Quesada Pasiega just may be my new favorite Spanish dessert! Unfortunately, being a famous Cantabrian sweet, I don't know where to find it here in Madrid. That leaves only one solution– making it at home!
I found a recipe at one of the Spanish blogs I frequent: Cocina Para Urbanitas. Begoña is from Logroño in La Rioja, the Spanish capital of gastronomy for 2012! Her recipe was simple, and while her picture didn't look exactly like the cheesecake I'd tried, I decided to give it a try with only a few adaptations.
Recipe for Cantabrian Cheesecake (Quesada Pasiega)
Adapted from: Receta de Quesada Casera Fácil
Ingredients:
200 grams (a little under 8 ounces) of ricotta cheese
2 eggs
70 grams (5 T) of unsalted butter (at room temperature)
1 cup sugar
1 cup flour
2 cups whole milk
2 teaspoons lemon zest
1 teaspoon vanilla extract
Small pinch of salt
Instructions:
Preheat the oven to 350°F (180°C)
Cream the butter and sugar and whisk in the eggs and vanilla.
Beat well and add in the ricotta cheese and pinch of salt.
Finally, beat in the milk and then, little by little, the flour.
Stir in the lemon zest.
Pour the mixture into a 9×13 inch baking dish and bake for between 35 and 45 minutes.
The quesada is ready when slightly browned and a toothpick comes out clean.
Let the cheesecake cool for at least 15 minutes to set. Enjoy on its own or with a bit of your favorite jam.
I guarantee you that this cheesecake recipe is a keeper– easy, delicious, and impressive. I'll be in the states on Wednesday and I've already requested that my mom buy some ricotta so that I can wow them with my Spanish pastry skills. A slice of Cantabrian Style Spanish Cheesecake might just be the star at my sister's post wedding brunch! I'll let you know…
Do you guys have any super simple but still delightfully delicious Spanish recipes?
Please share!