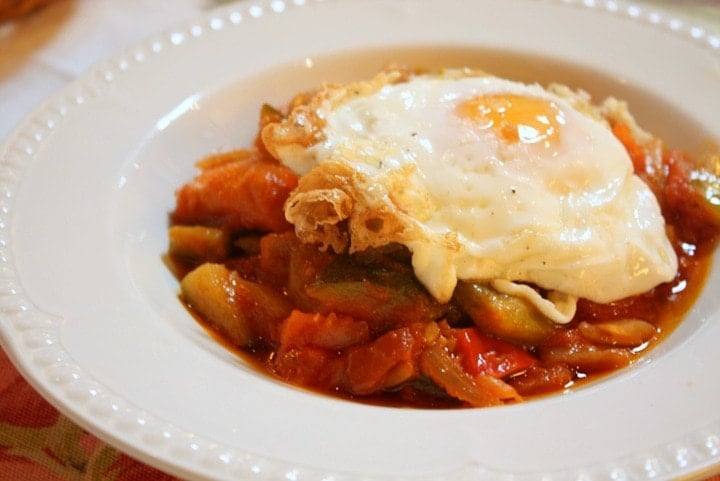 Pisto is basically the Spanish version of ratatouille (stewed vegetables), and it's one of my husband's favorite dishes. It sounds remarkably simple, but like most simple dishes in Spain there are excellent versions and terrible ones. The trick, as usual, is the quality of your produce and of your extra virgen olive oil, as well as the care you take while slowly stewing the vegetables.
This pisto recipe cooks each vegetable separately, which is more work, but ultimately worth it. You can experiment with it as a one pan meal, but doing it this way guarantees that each vegetable with be perfectly cooked.
Ingredients
3

small zucchini

diced

2

medium red bell peppers

diced

2

medium green bell peppers

diced

4

medium onions

diced

3

small purple eggplants

peeled and diced

2

pounds

of ripe tomatoes

the better your tomatoes, the better your pisto!, peeled and diced

5

cloves

of garlic

diced

A pinch of thyme

rosemary and (optionally) fresh oregano

1

teaspoon

of cumin

1

teaspoon

of refined sugar

substitute honey or brown sugar for a more natural take

Salt and pepper to taste

A couple of dried cayenne peppers-- optional

and not traditional!

Extra virgin olive oil

Optional: Fried eggs

Optional: Manchego cheese

or any cured raw sheep's milk cheese
Instructions
Peels and dice the vegetables as indicated, and layer the eggplant on paper towels then sprinkle with kosher salt. Let them sit at least 10 minutes.

Put two different frying pans on a medium heat and add a splash of olive oil to each.

Add the diced onions to one of the pans, with a pinch of salt. Sauté over a medium-low heat until they start to turn transparent, then cover the pan and allow them to poach (you don't want them to brown). Once fully cooked, reserve in a large bowl.

In the meantime, add the peppers to the other pan and sauté over a medium high heat until starting to brown. Lower to medium and cover for about 10 minutes. Once cooked through reserve along with the onions.

Rinse the salt off of the eggplant in a mesh strainer.

Follow the same steps as the peppers to cook the zucchini and eggplant (in separate pans). You want to start cooking them on medium high, and once starting to brown lower the heat and cover until tender (stirring a few times so they don't stick). Then reserve along with the other vegetables, mixing to make all the flavors combine.

Add all of the spices to the bowl of vegetables and mix well.

Next, add a bit more oil to one of the pans if necessary, and add the diced garlic (and the dried cayenne peppers if using). Sauté over medium heat until starting to fry. Then add the peeled and diced tomato to the pan. Cook over a medium low heat for about 20 minutes, stirring frequently, until you have tomato sauce. Add the sugar, and adjust for salt.

Now, in a large frying pan, mix the previously cooked veggies with the tomato sauce.

Mix everything well, and cook for 10 minutes over a medium heat. Adjust for salt and spices, and enjoy!
Optional Additions: The most famous pisto dishes in Spain are pisto con huevo (pisto with a fried egg on top) or pisto Manchego (pisto with sliced Manchego cheese on top). Both are great ways to enjoy your pisto as a meal, or you can serve as is as a side dish for fish or meat.
Nutrition
Calories:
268.33
kcal
|
Carbohydrates:
52.68
g
|
Protein:
9.78
g
|
Fat:
5.56
g
|
Saturated Fat:
0.89
g
|
Sodium:
112.77
mg
|
Potassium:
2122.04
mg
|
Fiber:
18.71
g
|
Sugar:
31.4
g
|
Vitamin A:
4345.31
IU
|
Vitamin C:
198.07
mg
|
Calcium:
123.97
mg
|
Iron:
3.03
mg
What do you think? Will you be trying my Spanish pisto recipe soon?
Pin me!