This popular Spanish torrijas recipe has gotten me my fair share of compliments throughout the years! There may be as many torrijas recipes as people in Spain, but this one is a keeper.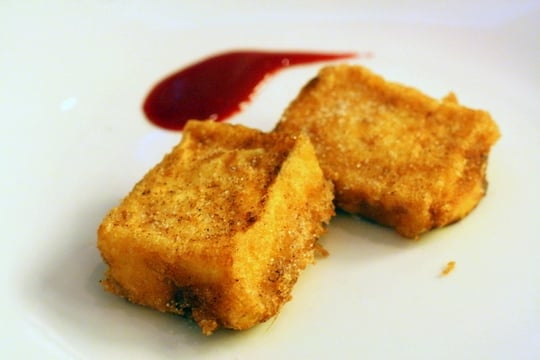 I first heard about torrijas from a student I was teaching my first year in Spain. He was also a food and wine enthusiast (and a professional bartender) and he taught me a lot about Spanish cuisine. I asked him about Spanish Easter traditions other than the important Semana Santa processions, and he told me about some traditional Easter sweets.
What are torrijas?
When I heard French toast and honey I was intrigued. It sounded so good! I soon learned that torrijas are actually made a variety of different ways. Some people use sweet red wine, others use milk, and some add different liquors. Torrijas are often topped with cinnamon and sugar, but others are covered with honey, and some are simply left alone!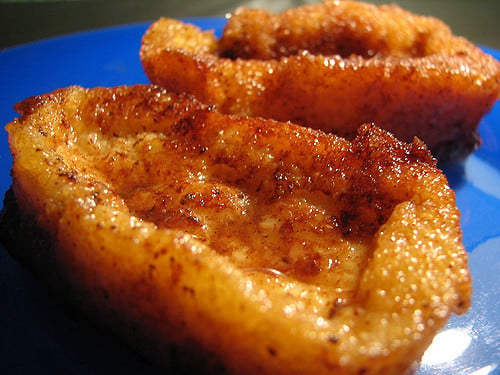 Obviously, I started sampling torrijas as soon as possible. In Seville, most of the versions that I tried were thick and sweet, slightly eggy, covered in honey, and always served cold. They were a delicious treat I would enjoy with my afternoon coffee. Here in Madrid I've also tried a few torrijas recipes this Easter season, one made with a bit of sweet red wine and another covered with milk and cinnamon. Both were delicious.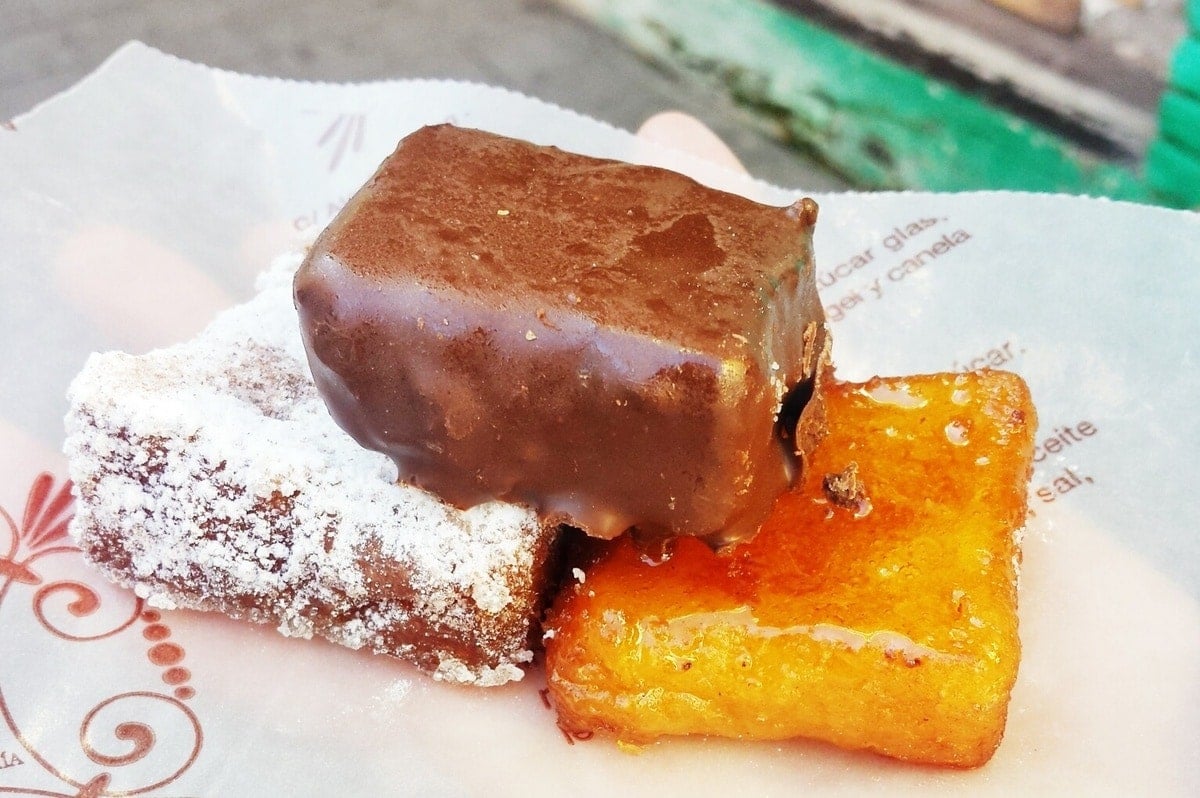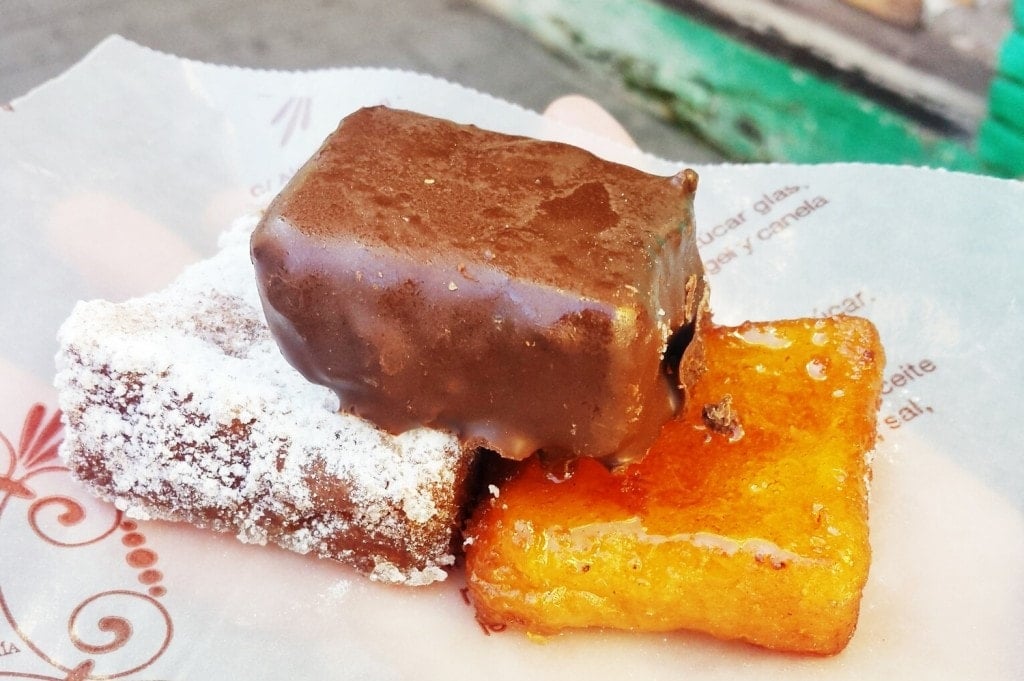 The following is a torrijas recipe I came across on a Spanish recipe blog I often read: Mercado Calabajío. I tried it the other day and the torrijas came out perfectly. I took their suggestion and used some cardamom seeds, which really add something special.
Whether or not you would consider torrijas a Spanish version of French toast isn't important—these are a delicious snack or dessert either way!
Spanish Torrijas Recipe – Easter French Toast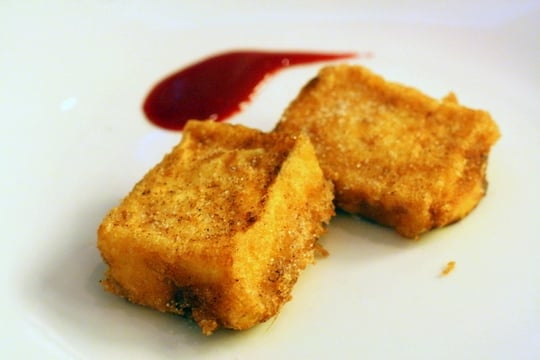 Torrijas: Spanish Style French Toast with Cinnamon and Honey
Torrijas are a delicious Spanish style French toast that is typical around Easter. Here's my favorite torrijas recipe!
Ingredients
4

large eggs

1

liter

about a quart of whole milk

1

cup

of sugar

2

teaspoons

of cinnamon

3

tablespoons

of honey

Good quality Extra Virgin Olive Oil

1

tablespoon

of lemon zest

1

teaspoon

of cardamom seeds

A thick bar of slightly stale French bread

or other, basically what you'd normally use to make a thick French toast
Instructions
Bring the liter of milk, ½ cup of sugar, lemon peel, and cardamom seeds to a slow boil.

Cut the bread in thick slices.

When the milk mixture has been cooking for about 15 minutes, turn off the heat and soak the slices of bread in this mixture. Be careful not to completely wet them to the point that they will break apart, but try to get them to absorb as much milk as possible.

Let the slices of wet bread rest and cool (some liquid may be lost).

Beat the eggs in a shallow bowl and dip the slices in the egg mixture. In the meantime, heat up about ½ an inch of the olive oil in a deep, heavy pan on medium-high heat.

Fry the slices two by two, flipping them halfway so that both sides are nice and crisp.

Let the French toast rest on paper towels to absorb excess oil. In another bowl mix the remaining sugar (1/2 cup) with the cinnamon.

Cover the slices in the cinnamon sugar mixture and reserve.

Finally, make the syrup. Take the remaining cinnamon and sugar from coating the torrijas and add it to a medium-sized pot. Add a bit more sugar to completely cover the bottom of the pot if necessary.

Add 2 cups of warm water to the sugar and bring it to a boil.

Add the honey (you can add more or less depending on preference).

Allow the syrup to simmer for about 30 minutes until it reduces to the right consistency. It won't be a very thick syrup, but it shouldn't be too watery.

Take the syrup off of the heat and after about 15 minutes spoon it over the French toast. The torrijas should be completely soaked in the syrup. Allow them to completely cool before putting them into the refrigerator.

Refrigerate the torrijas for at least 4 hours, but preferably overnight.

Enjoy within two or three days for best quality! (I doubt they'll last that long anyway!)
Nutrition
Calories:
541.61
kcal
Carbohydrates:
88.74
g
Protein:
16.88
g
Fat:
14.13
g
Saturated Fat:
5
g
Cholesterol:
125.79
mg
Sodium:
456.35
mg
Potassium:
345.81
mg
Fiber:
2.15
g
Sugar:
52.18
g
Vitamin A:
428.4
IU
Vitamin C:
1.29
mg
Calcium:
240.77
mg
Iron:
3.13
mg
So what do you think—are torrijas a Spanish style French toast or something completely different? If you've tried a torrijas recipe, do you prefer them with milk, wine, or honey?
More delicious Spanish dessert recipes!
Pin me!