Today David is preparing for the Spanish holidays with his roscón de reyes recipe! This popular Spanish kings' cake starts making an appearance in pastry shop windows around this time of year (mid-November), and is the perfect snack alongside a thick cup of Spanish hot chocolate!
If you've ever visited Spain around the holidays, then you've probably seen a roscón de reyes.
These crown-shaped Kings' cakes fill the windows of pastry shops every winter, and small children rub their hands with glee just waiting to bite into one. If they're lucky, they'll even break a tooth on a ceramic figurine of tiny baby Jesus hidden inside the cake!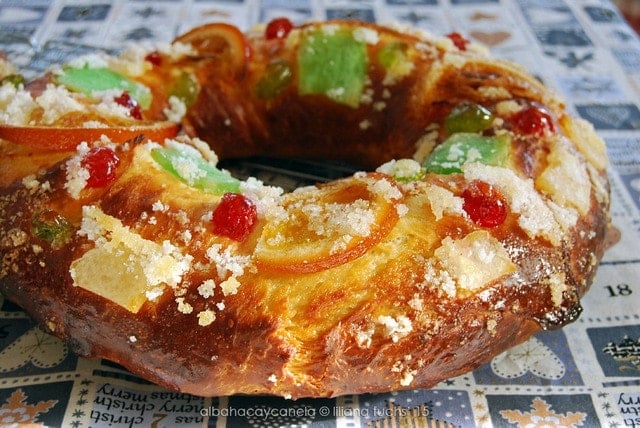 The Three Kings' Day (el día de los Reyes Magos) celebrates the Epiphany on January 6th, and is the real Christmas Day (celebration wise) for most Spaniards.
This is the day that families get together for a huge feast, unwrap presents (brought by the Three Wise Men/Kings), and head out to watch a parade of elaborately-decorated floats. And the prize part of the feast is the roscón de reyes, or Kings' Cake.
Read more: Celebrating Three Kings Day in Spain
This once-a-year dessert is made of an oval-shaped sweet yeasted bread, similar to brioche. It can be served plain, but most often you'll see it sliced in half and sandwiching a layer of sweet whipped cream-- perhaps even with chocolate whipped cream.
The bread itself is topped with candied fruits, dried dates, and anything else sweet and colorful! When it's put together, the cake is said to represent the crowns worn by the Three Kings who visited the baby Jesus in the manger.
And the tiny toy Jesus I mentioned before?
When a family sits down to eat a roscón, everyone is hoping to find the toy in their slice. Whoever nearly cracks a molar on a ceramic Christ gets good luck for the entire year! But if you're the one who ends up crunching on a dried fava bean instead, it's your job to buy the cake next Christmas.
Where did the Kings' Cake come from?
They say that this whacky tradition dates back to the Romans celebrating the winter solstice. In a celebration they called Saturnalia, a similar cake would be served, and the partygoer who found a hidden treat inside would be dubbed the king of the festival and treated like royalty.
As Christendom spread across Europe, the cake caught on. Now you can find this formerly pagan cake on the Christmas tables of families throughout Spain, France, and Latin America!
These can be hard to find outside of Spanish-speaking countries, so why not try making your own this Christmas?
They're surprisingly simple to make, and are always a fun thing to bring out at the end of a meal. You can see my roscón de reyes recipe below! And if you're interested in learning more about the weird history of this particular cake, you check out my post on the history of the Roscón de reyes.

A note: my recipe doesn't include the whipped cream filling (I find it makes the cake far too heavy!). But if you'd like to add it, just wait for the cake to cool, slice it into two halves horizontally, and add the fresh whipped cream. Enjoy!
And to truly put this recipe over the edge you'll need to make this easy Spanish hot chocolate recipe to serve with your roscón. It's the perfect combination!
Roscón de Reyes (Kings' Cake) Recipe
Roscón de Reyes Recipe (Spanish Christmas Cake)
This classic cake is a traditional Christmas dessert in Spain and Latin America. It's easy to make, and a fun game to play; find the hidden toy in your slice for good luck all year!
Print (images optional)
Pin
Rate
Ingredients
4

cups

plain flour

½

teaspoon

of salt

1

ounce

dry baker's yeast

⅓

cup

milk

lukewarm

⅓

cup

water

lukewarm

6

tablespoons

butter

at room temperature

6

tablespoons

sugar

Rind of 1 large orange

grated

2

large eggs

1

tablespoon

brandy or rum

1

egg white

2

cups

assorted candied fruit

chopped in different sizes
Instructions
Sift the flour and salt into a large mixing bowl, and make a well in the middle.

In a smaller bowl, dissolve the yeast into the lukewarm milk and water. Once the yeast is completely dissolved, pour the mixture into the well of the flour.

Scrape in just enough flour from around the well to create a thick batter, sprinkle some extra flour on top, and cover with a kitchen towel. Leave the bowl in a warm place for around 15 minutes, or until the batter is doughy and sponge-like.

Meanwhile, in another medium mixing bowl, use an electric beater to combine the butter and sugar until creamy.

Once the dough is appropriately spongy, add the eggs, brandy, orange rind, and a splash of water to it. Mix well, until the dough is elastic and a bit sticky.

Add the butter and sugar mixture to the dough and mix until smooth.

Shape the dough into a ball and cover in oiled plastic wrap. Keeping it in the large mixing bowl, cover it once more with a kitchen towel and leave in a warm place away from draft. As the dough proves, it will double in size. This can take anywhere between 1 to 2 hours depending on the strength of the yeast culture.

While the dough rises, grease a large baking sheet for later use.

Once the dough has doubled in size, remove the plastic wrap. Punch down the dough and place it on a lightly floured countertop or cutting board.

You need to knead the dough for two or three minutes, and then roll it into a large rectangle; roughly 2 feet by ½ a foot.

Next, roll the dough inwards from the long edge to create a sausage shape. Bring the ends together to create the iconic donut, and place on the baking sheet. Want to add the bean or a ceramic toy? Do it now by poking it withing the dough.

Wrap the dough once more with plastic wrap and leave in a warm place for roughly one hour to again double in size.

Preheat the oven to 180°C (350°F).

Once the dough has risen, lightly beat the remaining egg white and brush it across the top. Cover the cake in the assorted dried fruits, pushing gently so they do not fall off of the cake while it is baking.

Bake for 30 minutes or until golden. Cool on the rack before serving.
Nutrition
Calories:
390.62
kcal
|
Carbohydrates:
83.13
g
|
Protein:
8.44
g
|
Fat:
2.11
g
|
Saturated Fat:
0.7
g
|
Cholesterol:
34.54
mg
|
Sodium:
177.1
mg
|
Potassium:
120.49
mg
|
Fiber:
4.25
g
|
Sugar:
30.89
g
|
Vitamin A:
111.51
IU
|
Vitamin C:
2.5
mg
|
Calcium:
96.51
mg
|
Iron:
3.63
mg
What's your go-to Christmas dessert? I'd love to know (and try it myself!) so tell me in the comments below.