Thinking about a vacation to Fuerteventura?
Spain's Canary Islands are popular vacation destinations for both international tourists and Spaniards alike. Many vacationers head directly to the largest of the Canary Islands, Tenerife. But as beautiful and appealing as Tenerife may be, there are other options worth checking out, especially for the famously delicious Canarian food!
Fuerteventura is the second largest of the Canary Islands and is a great place to visit. Offering true Canarian specialties, many locals swear that it is the best island to feed a hungry appetite! So check out the flights to Fuerteventura already and get ready to eat your way through the trip.
But what should you order in Fuerteventura? Don't worry, we have the answers. We've asked our Canarian friends for their favorite dishes in Fuerteventura and here are their opinions of the best local bites and the islanders' favorite Canarian dishes. Please leave us a comment if you have another one to add!
5 Typical Canarian Foods in Fuerteventura
1. Papas Arrugadas
A Canarian staple and a delicious snack in Fuerteventura, papas arrugadas (wrinkled potatoes) are a starchy and addicting appetizer or side dish that has become famous all over Spain. The trick is boiling the small potatoes (with the skin on) in heavily salted water. Then, the potatoes are baked in the oven until nice and wrinkly and super soft on the inside. They are served with our next star of Canarian cuisine, mojo picón.
2. Mojo Picón
Mojo picón, or simply mojo, is Fuerteventura and the rest of the Canary Islands signature sauce. Served with papas arrugadas, meats and vegetables, this versatile sauce really tastes good on just about anything. It is made with olive oil, garlic, paprika, cumin, and vinegar.
3. Puchero Canario
This Canarian stew is popular in homes all around the island of Fuerteventura. It is a delicious mix of meat, vegetables, and garbanzo beans and its ingredients may include beef, chorizo, chicken, pork, chickpeas, corn, carrots, potatoes, cabbage, onion and garlic-- only to name some of the possibilities!
4. Majorero Cheese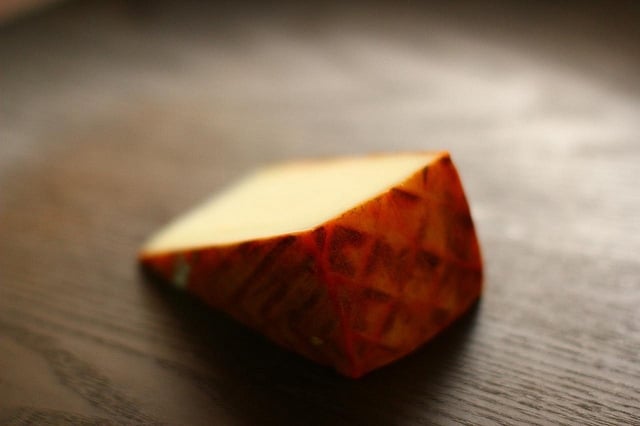 Regions all over Spain are known for their cheeses, and the Canary Islands are no exception. In Fuerteventura you can find the delicious Majorero cheese, a firm goat milk cheese that is unique to the area. Try it matched with crisp pear and a nice white wine for the perfect per dinner appetizer.
5. Gofio
More an ingredient than an actual food, gofio is ground cornmeal that can be cooked in a variety of ways. Try it served with fresh island fish and a delicious sauce, or a sweet version with condensed milk or fruit. People usually either love it or hate it, but it's definitely worth a try on your next visit to Fuerteventura.
Have you ever been to the Canary Islands? Which Canarian food would you like to try?
Photo Credits: alexhealing, naotakem, martinwcox, jlastras, Mumumío, Secret Tenerife