Rome is a city that lives on tourism -- and with that reality comes a lot of tourist traps. If you want to eat well in Rome one of the best things to do is take a Rome food tour.
The seven best food tours in Rome take you off the beaten path and into some of Rome's most charming local neighborhoods and small eateries. They focus on quality over quantity, authentic Roman food and wine, and, in most cases, meeting the people behind the food!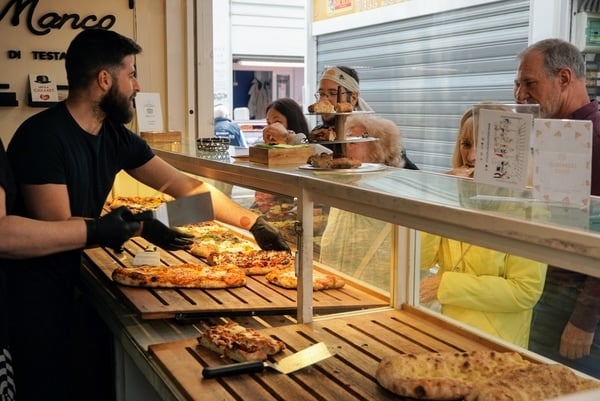 Some of the tours below are organized tours that take place in small groups (as food tours should!) and others are self-guided routes I've put together after a lot of research. There are pros and cons to each approach, and you'll likely spend more money on some of the self-guided tours, as you won't get the small portions that organized food tours provide. But, on your own, you do have more flexibility to change the route in the moment, order more, or stop when full!
Read More: The top 12 foods to try in Rome
Full disclosure: I own Devour Tours, mentioned in two of the routes below. It's because of this that I've tried so many food tours in Rome and truly feel that you cannot go wrong with anything on this list!
7 Best Food Tours in Rome - A Route for Every Foodie
1. The Classic Rome Neighborhood Food Tour
The quintessential Rome food tour is a daytime tour in one of Rome's non-touristy neighborhoods. Testaccio is the perfect place, as it's located right outside the city center and known among Romans as one of the city's best foodie neighborhoods. It's also home to one of Rome's top local food markets (Mercato di Testaccio), which is a must-visit for food lovers regardless of the tour you choose!
How to take this Rome food tour
Devour Tours offers a morning Testaccio Neighborhood Food and Market Tour that I can confidently call one of the best food tours in Rome. When we created this tour we pledged to include only small, owner-operated tasting stops where the owners would be present. And we achieved it! The result is a truly off-the-beaten-path, intimate experience where you'll learn about Roman cuisine and taste some of the best homemade food in the city.
The food tour includes around seven stops over the course of 3.5 hours. Highlights for me were the Roman breakfast sandwich (not what you'll be expecting!), amazing pizza al taglio with seasonal toppings, burrata (of course!), trying three of Rome's famous pasta dishes, and the best gelato of my visits to Rome-- ever!
This is THE Rome food tour to take if you are short on time or can only do one of the tours on this list. See people's reviews here, and book this tour here.
More information: Testaccio Rome Food Tour
2. The Roman Pizza Tour
The first of my self-guided tours in Rome is a pizza tour that will check the boxes on some of Rome's best slices. Not only that-- you'll try different styles of pizza in Rome, such as the famous pizza al taglio (pizza by the slice), pizza tonda (round Roman-style pizza), and even Neopolitan style pizza (not native to Rome, of course, but still worth eating!).
How to take this Roman pizza tour
My tip is to bookmark all of the locations below on a Google Map. Then, depending on how long you'll be in Rome, try to check a few off each day. If time is short, however, you can go hardcore. Choose 4-6 of the places below and do a pizza crawl. You may need to round up some friends to share! If you need to hop across town from one tasting to the next, I recommend the app Free Now (a taxi app) which (as of 2019) ensures you won't be overcharged by taxi drivers.
Top spots for a Rome pizza tour
Bonci Pizzarium: World-famous pizza maker Gabriele Bonci's gourmet takeout spot has redefined Rome's pizza al taglio scene. Via della Meloria, 43
Antico Forno Roscioli: For nearly 50 years, this beloved family-run bakery has been serving up some of Rome's best pizza by the slice to hungry locals. Their secret: Fresh dough, handmade every morning. Via dei Chiavari, 34
Casa Manco in Mercato Testaccio: Topped with fresh, seasonal ingredients, the pizza al taglio has helped this stall become a go-to in the Testaccio Market. Box 22, Nuovo Mercato di Testaccio Via Aldo Manunzio, snc
Ai Marmi: Prefer to sit down and enjoy your pizza rather than grabbing a slice to go? This Trastevere institution is a must: it's no-frills, packed with locals and serves the best pizza this side of the Tiber. Viale di Trastevere, 53
Da Remo: This Testaccio favorite is rarely seen without a line during peak hours, but their crispy, thin-crust pizzas are well worth the wait. Piazza di Santa Maria Liberatrice, 44
Pizzeria Emma: A joint effort between a local husband-and-wife team and the Roscioli family (the crust is made with their famous dough!), this centrally located gem of a pizzeria places ensures that every single ingredient is the best quality possible—and it shows. Via del Monte della Farina, 28
Farinè La Pizza: This place has boiled the art of pizza making down to a science, with long fermentation and no chemical additives. They also have a great selection of wine and craft beers. Via degli Aurunci, 6
See also: The pizza lover's guide to Rome
3. The Evening Food & Wine Tour in Rome
While many Rome food tours take place during the day (when the markets and delis are open) another great option is an evening food tour in Rome. This is perfect if your days are full of sightseeing and you prefer a social dining experience at night.
The Trastevere by Night: Food and Wine Tasting Experience is a food tour focused around the best of Rome's evening food and wine scene. Taking place in the magical Trastevere neighborhood, this tour is a progressive dining experience where you'll have dinner and wine across five locations!
A peek at this tour
I took this tour recently and took lots of photos - here's what we did!
You'll begin with a classic Italian aperitif stop at one of the neighborhood's best wine bars. Here you'll learn all about prosecco, Italy's famous sparkling wine. What makes this wine different than champagne? What should you serve it with? All will be revealed!
Next up is a typical Roman cocktail in a traditional hole-in-the-wall. This no-frills place is a Trastevere institution and no food and wine lover could miss it when in the area.
Now it's time for antipasti, another classic Italian tradition of starting a meal with appetizers -- think bruschetta, fried zucchini blossoms, and cold salads. Here we paired our food with two delicious Italian white wines and discovered a bit more about Italy's many different wine regions.
An evening food tour in Rome has to include a good trattoria, so next up is a classic spot that's been running for decades. Here we tasted homemade pasta dishes paired with red wines, as Italian waiters buzzed about!
And as any great food tour in Rome should, our evening ended with delicious homemade gelato. Trastevere is filled with a lot of mediocre gelato and chains -- but the place we went prides themselves on being one location only! This place makes their gelato daily and uses more than the required ratio of ingredients -- resulting in dense gelatos that taste exactly like their main ingredient!
More information: Trastevere Evening Food & Wine Tour
4. The Rome Cooking Experience
If you have the time in Rome to take a cooking class, you should! The only thing better than eating all of this delicious food in Rome is being able to recreate it at home after your trip. Rome is filled with cooking class options and I've tried many. But one of the very best is called Cook With us in Rome.
Hosted by Gianni and Cesare in their cooking studio in the historic center, they accommodate dietary requirements, kids, and offer seasonal dishes-- a sign of true passion over profits for me!
More information: Cook With us in Rome
5. The Roman Pasta Tour
And if you don't want to get your hands dirty in the kitchen but you do want to try all of the pasta -- here's my self-guided pasta tour in Rome. This would be impossible to do if you're traveling alone (unless you break it up over the course of a few days) and even with two people it's probably a multi-day affair. But, it's worth it to taste some of the best plates of pasta in the city!
Top spots for a Rome pasta tour
Da Enzo al 29: Named after Enzo, the charismatic late owner who put this place on the map, this is the kind of trattoria where you'll feel at home from the moment you walk through the door. Via dei Vascellari, 29
Felice a Testaccio: A legendary local institution serving up some of the best traditional cucina romana in town. Reservations recommended. Via Mastro Giorgio, 29
La Tavernaccia da Bruno: Finding a worthwhile place to eat in touristy Trastevere can be challenging, but this place does everything right: exceptional service, a fabulous wine list, and—of course—perfect pasta. Via Giovanni da Castel Bolognese, 63
Velavevodetto: Picking the best cacio e pepe in Rome is a tall order, but Velavevodetto's is definitely a contender for the top spot—it's peppery, creamy and cooked to perfection. Via di Monte Testaccio, 97
Osteria Trattoria da Fortunata: This place checks all the boxes of a dreamy typical Italian restaurant. Come for the intimate, idyllic setting just steps away from Campo de' Fiori, stay for the mouthwatering homemade pasta dishes. Piazza della Cancelleria, 87
L'Arcangelo: This is the place to come for an authentic Roman carbonara you'll be dreaming about long after you've taken the last bite. The secret: using only yolks for the sauce, rather than whole eggs. Via Giuseppe Gioachino Belli, 59
Osteria degli Amici: Run by two Roman friends who wanted to bring back the classic Roman tavern atmosphere, this is the kind of place that feels absolutely timeless. They do a pretty fantastic amatriciana, too. Via Nicola Zabaglia, 25
See also: 10 Pasta Dishes to Eat in Rome Before you Die
6. The Winery Day Trip from Rome
Another excellent Rome food tour experience is actually getting out of the city and into the countryside! Lazio is filled with some great options for wine tourism. If you have the opportunity to take a winery day trip from Rome I'd highly recommend it.
One great option is Cantina del Tufaio, an idyllic family-run vineyard just 30 kilometers outside of Rome. They truly respect the winemaking process here, doing everything manually rather than mechanically as much as possible to preserve the quality of the grapes and vines. The 90-minute tour of the estate culminates in a tasting set inside a secret cave.
Another excellent winery near Rome, Casale del Giglio, is a testament to the long, rich history of winemaking in the region. Though the winery itself is quite new, it was constructed on the site of a city dating back to the ninth century BC, whose ruins suggest that its former inhabitants also cultivated grapes for wine! A visit to the winery today includes a look back at the area's fascinating past as well as an introduction to their modern winemaking process—as well as a tasting, of course!
7. The Rome Gelato Tour
And, finally, the gelato lover's tour of Rome. Depending on how much of a sweet tooth you have, you may need to break this up over a few days. My stops here are consolidated to the Trastevere and Testaccio neighborhoods, though of course there is great gelato elsewhere in the city! But these places can be mixed and matched and done over the course of a few hours -- maybe with a pasta stop in between! I recommend walking between these stops, as there is plenty to see and you'll need to make room for the next gelato!
My must-try gelato spots in Rome
Brivido Gelateria: Slow-churned, handmade gelato is the star of the show here. Flavors vary by season to ensure freshness of the ingredients, and a great selection of vegan options is always available. Via Giovanni Battista Bodoni, 62
Otaleg: This award-winning gelateria consistently draws crowds of locals for their inventive flavors and well-done classics (their pistachio gelato is the best in town!). Via di S. Cosimato, 14a
Fiordiluna: Located on a charming vine-covered street in Trastevere, this place prides itself on its all-natural approach to gelato making. Via della Lungaretta, 96
Bar San Calisto: Though it doesn't advertise itself as a gelateria, but this is truly a hidden gem if there ever was one. Don't forget to have a spritz while you're there, either. Piazza di San Calisto, 3
Panna & Co: This Testaccio favorite has flavors you won't find anywhere else, in addition to fabulous service and a beautiful shop. Via Marmorata, 115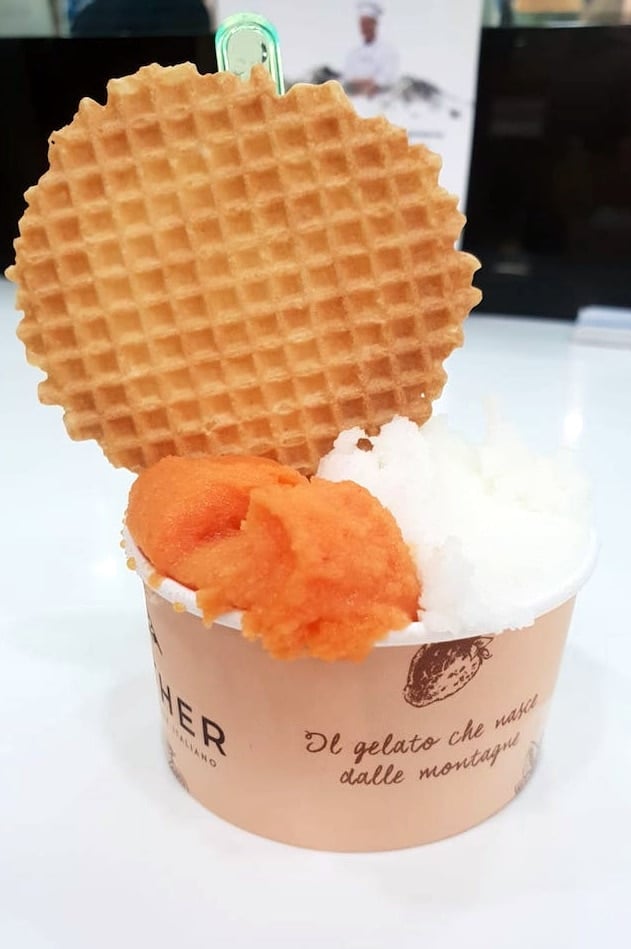 Hungry yet? These seven best food tours in Rome will satisfy any craving, and give you a great idea of what Rome offers gastronomically. Which one are you going to try first?
Pin me!