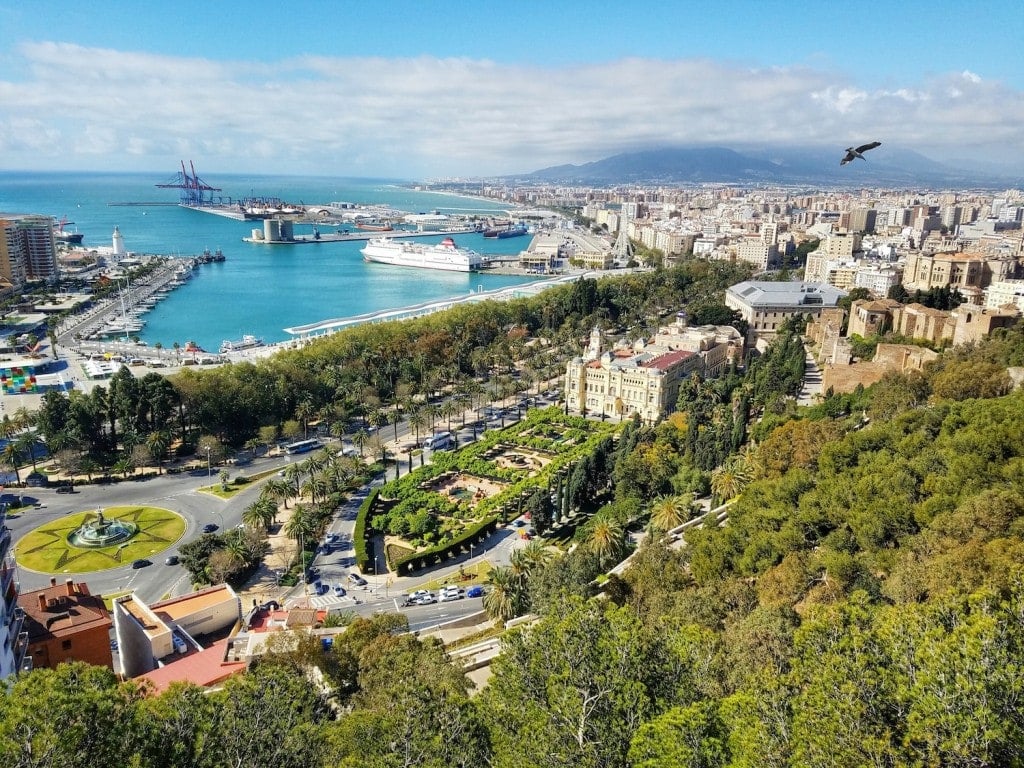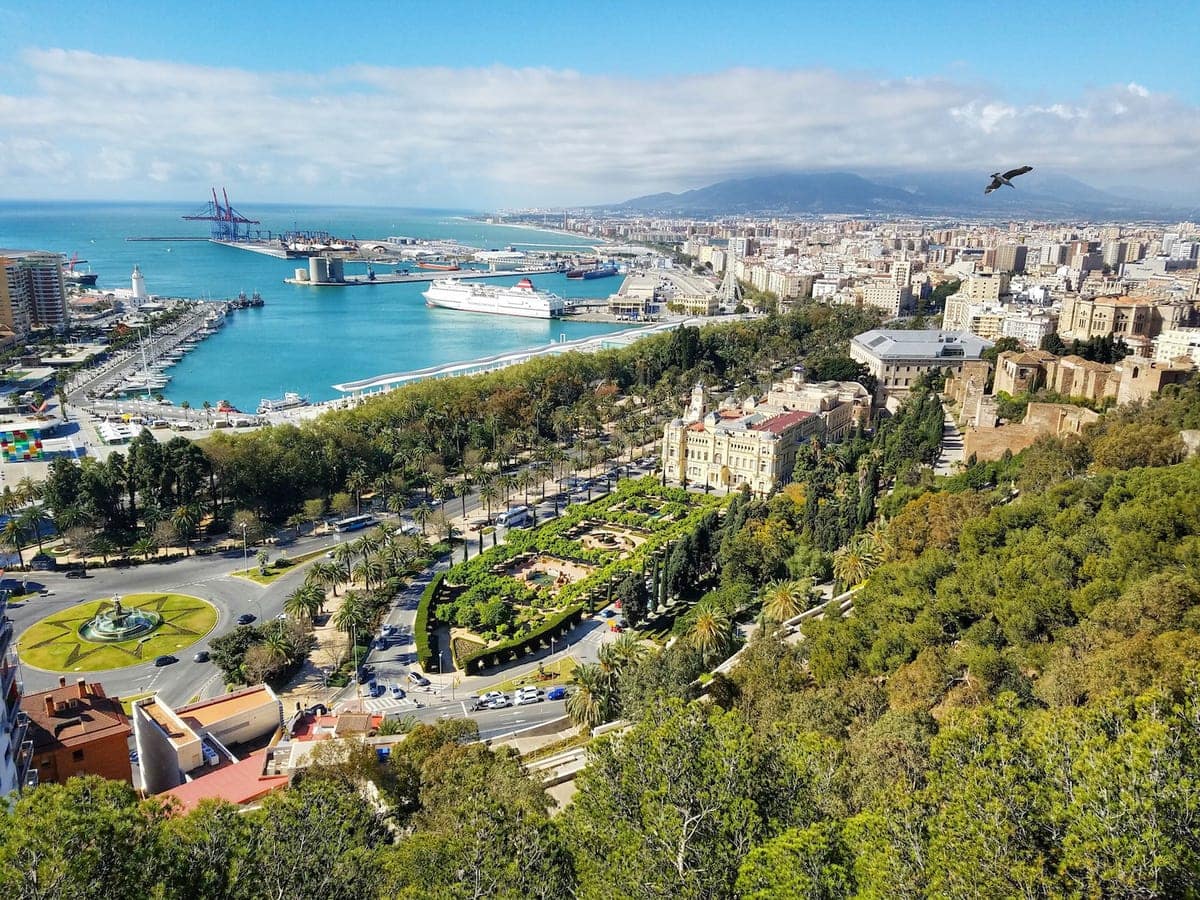 The first time I visited Malaga in 2007 was the first time I ate at a true tourist trap. I'd never remember where it was now (hopefully it closed down!), but I even have a blurry picture of our "tapas sampler" to prove it. Luckily, my work has been bringing me to Malaga over the past few years and I'm happy to say that I've stayed far away from tourist traps, and instead discovered some of the city's best eats.
For many years, Malaga was known as an airport city; a place to rest your head for a night or two before heading onwards to more glamorous destinations like Marbella. Luckily, this is the Malaga of the past. Today's Malaga is one of the most beautiful, clean, cultured and delicious cities in all of Spain! What changed? I'd say it was a mix of huge financial investment and the passion of the local Malagueños themselves, warm and friendly people who never stopped believing in their amazing city.
Over the past year and a half, I was involved in the careful planning of the newest Devour Spain food tour, the Tastes, Tapas and Traditions of Malaga Food Tour. Like all of the tours I help design, it visits small, family run businesses with stories to tell and tastes delicious food and wine while discovering the city.
After so much time and planning, it was an incredible feeling to attend the first tour! I truly felt like a mother watching her baby go off on its own! Luckily, my "baby" was ready-- the tour was excellent, something I am truly proud of.
What is a Devour Malaga Food Tour?
We wanted to achieve a tour route that would give people with limited time (especially cruisers who may only have a half day to see Malaga!) a "super dose" of all that Malaga has to offer. For me, this meant amazing food, meeting locals, visiting the Atarazanas Market (one of my favorite markets in all of Spain), tasting plenty of wine (Malaga's wine scene is pretty amazing), and (of course) tasting the region's specialty tapas, included fried anchovies, which are the symbol of the city! And, of course, I also wanted to tell the story of the city of Malaga, a 2,000+-year-old story that is filled with vibrant cultures and history!
It was a tall order, and that's why it took over a year to plan this 4-hour experience. But it was worth the wait! Here's a peek at the first tour!
A Traditional Malaga Breakfast
The tour begins with a rundown of the unique Spanish eating schedule over a delicious Malaga breakfast. In my opinion, the breakfasts in Andalusia are the best in all of Spain, and this one is just right: toast with freshly crushed tomato and extra virgin olive oil, café con leche, and piping hot homemade churros (called tejeringos in Malaga)!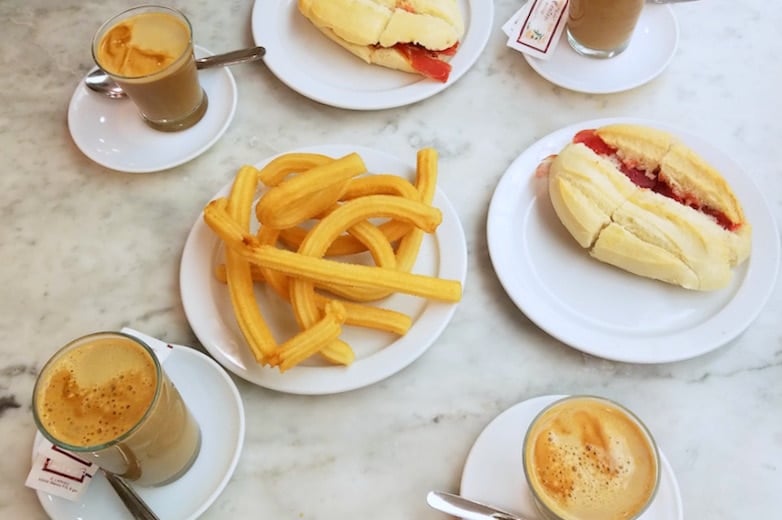 After breakfast and on the way to the local market, the tour brings you through highlights of the city's historic center, explaining traditions such as the famous August fair, and the some of the city's most famous residents.
The Incredible Malaga Market
No visit to Malaga is complete without stopping by the colorful Atarazanas Market for a market tour. I almost cry every time I go in here because I'm so envious I don't live nearby. There is no market in Madrid that compares (in my opinion!). The variety of fruit and vegetables and also of fish and seafood is incredible.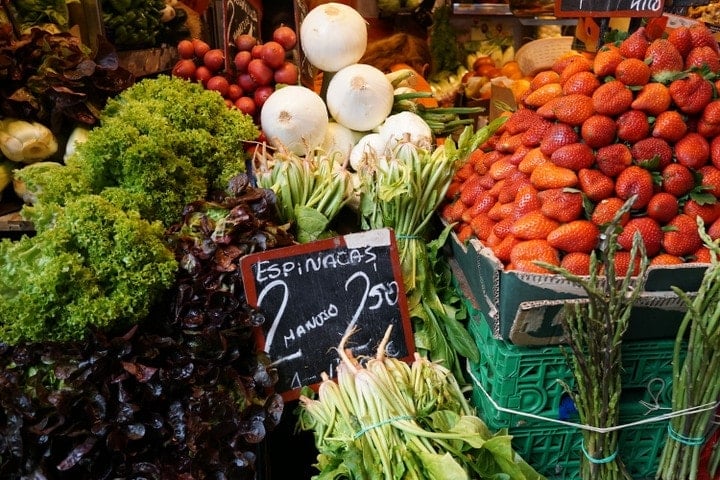 During one of our work trips I impulsively bought so many fruits and veggies that I could barely carry all of the bags (my co-workers think I'm crazy!). At the market, we visit a few different family-run stalls to learn about their local products, and we taste delicious "made-in-Malaga" cured meats, cheeses, hams, olives, almonds and even raisins!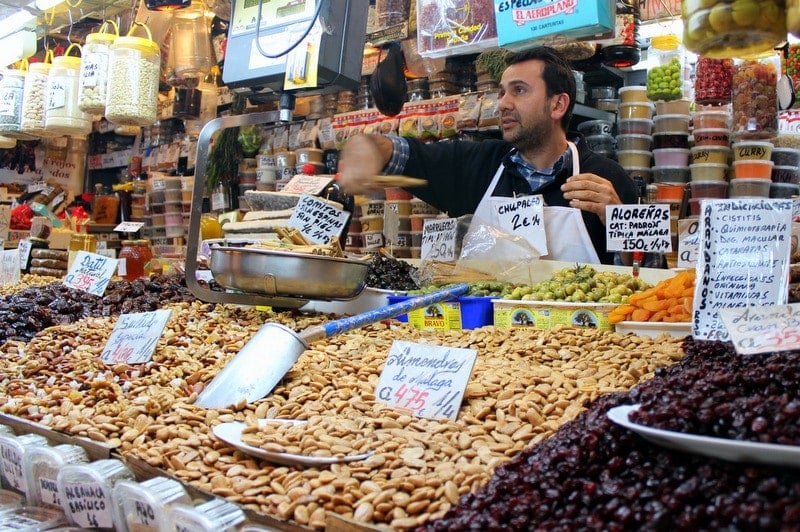 Malaga Sweet Wine
Did you know that Malaga is one of the world's oldest wine regions? The sweet wines of Malaga are a must try in this city. I usually don't love sweet wines, but Malaga sweet wines are a whole other story. There are so many to taste that I promise there is one for everyone!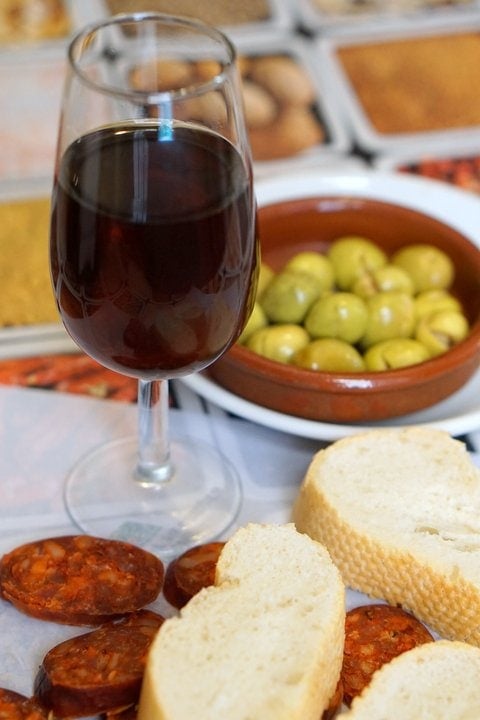 Semana Santa: A Malaga Tradition
After breakfast, market snacks and sweet wine, we headed onwards and passed by plenty more of Malaga's gorgeous city center. One of the oldest and most compact city centers in Spain, there is history and beauty all around you. We talked about Semana Santa, or Easter Week, one of the city's most important traditions.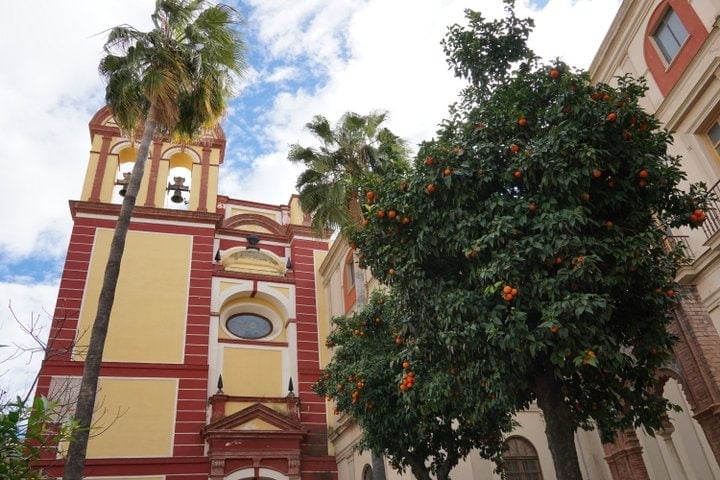 Malaga Wine Tasting
A food tour in Malaga wouldn't be complete without a Malaga wine tasting. Although we had already tried the famous sweet Malaga wine, we now focused on dry Malaga wines from the up and coming wine region called DO Sierras de Malaga. Our Malaga wine tasting featured a dry white made with the fragrant moscatel grape, and two dry reds-- one young and one barrel-aged. They were all delicious and the lovely shopkeeper, Jose, is a true character who kept us laughing the whole time.
Best Malaga Tapas Bar
The last stop of our tour was an incredible hole-in-the-wall Malaga tapas bar. It's one of my favorite tapas bar in all of Spain (if not my favorite). Yes-- it is THAT GOOD! Here we tasted some of Malaga's famous fried boquerones (anchovies) and they were to die for! We also tasted about four additional tapas with another glass of wine and ended with one of the most delicious homemade Spanish desserts you can imagine.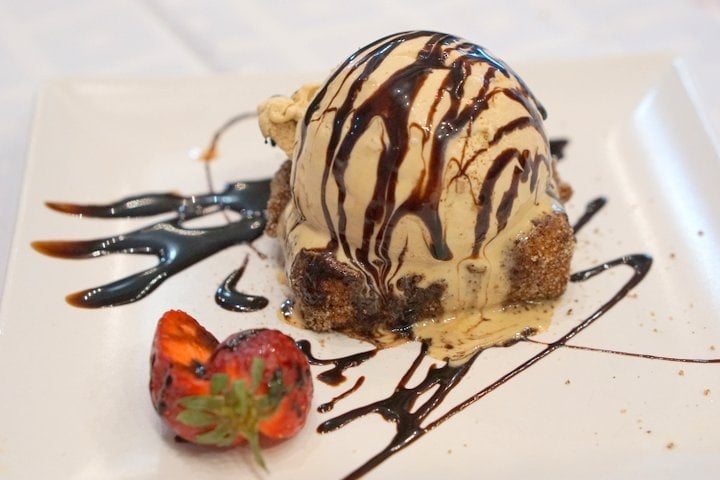 Due to the small family run businesses that we partner with, the route I took won't always be the exact route on offer. But we do guarantee a wonderful, high-quality experience. We will soon be launching an evening version of the tour as well, which will be a more tapas focused experience since the market closes in the evenings!
I learned a lot through the experience of planning our Malaga food tours. I think the most important lesson was not to settle on something until it's ready-- but at the same time don't give up! I'll admit that there were days I did want to give up on planning this food tour in Malaga- it was really difficult to find great, family-run places in the city center that fit the timing and the route we had in mind. But we made it through the ups and downs, and now I just hope that if you are visiting Malaga you will come and join us on a food tour or tapas tour!
The Tastes, Tapas & Traditions of Malaga Food Tour runs Tuesday-Saturday at 10:30 am. Tickets must be purchased in advance.