New year, new tour
Expanding Madrid Food Tour has been stressful at times (interviews, paperwork, Spanish and American taxes), but it has also been a blast. Our newest tour launched last weekend and we are so excited to share it with the world. I'm confident it is the best tapas tour in Madrid-- at least for my taste!
The story of how this tour began is kind of funny, and a tribute to today's interconnected world. After giving a Signature Tour one day, I posted a collage of the food we'd tried on the Spanish Sabores Facebook page. Pictured in the collage were mollejas (sweetbreads), a Madrid delicacy that few are daring enough to try. A commenter by the name of James asked me if they were indeed mollejas, and I was intrigued.  Someone who knew what Madrid style sweetbreads looked like had to be an interesting guy!
So I stalked James.
Okay, I didn't really stalk him, but I did click around to find out all I could about him. It turned out that he is a very talented freelance travel and food writer living in Madrid. After reading some of his wonderful recent articles about Madrid Craft Beer and Spain's Cathedral of Trash (which I'm dying to visit by the way!), I was hooked-- I would convince James to be a guide.
As it turned out, he didn't need much convincing, as he'd been toying with the idea for awhile. Due to his busy morning schedule he wasn't available for our Signature Tours, so I proposed that he use his strengths and design something of his own. A month or so later, the Madrid Tapas & History Tour was born.
A different kind of tapas tour
Combining James' love of history, art for storytelling, and immense knowledge of food and wine, our Tapas & History Tour is a fantastic option for combining your interest in history and passion for food all in one evening, making it hands down the best tapas tour in Madrid!
Ale and I tested out James' tour before the holidays. I'll admit I was a bit unsure of what to expect. Perhaps I'd been wrong about James and would have to tell him his tour wasn't up to par...
Not the case. In fact, I had to keep reminding myself that I was analyzing the tour and not only taking it because I was having so much fun. I learned so much about Madrid-- fun stories and quirky facts that made the evening more enjoyable. The bars James has chosen to include are also excellent, and offer a great variety of my personal favorites like savory mojama (cured Spanish tuna) and sharp cabrales cheese.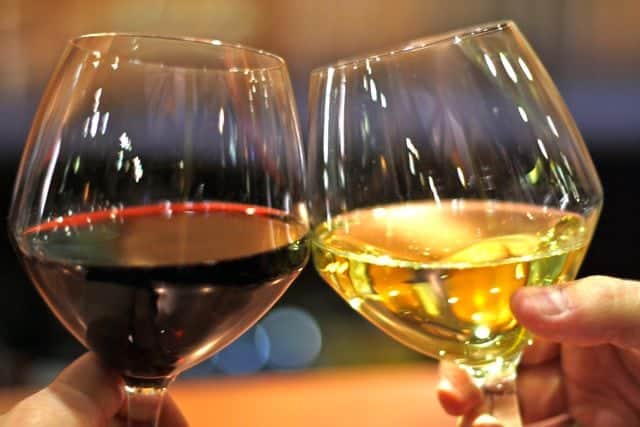 I am so proud of James and his tour and I am thrilled to be able to offer it on Madrid Food Tour. I hadn't planned to offer a "typical" tapas tour-- basically a bar crawl with snacks-- because it isn't the type of tour we are going for (not that it wouldn't be a blast!). But combining high quality tapas with excellent wines and a super knowledgeable guide makes for a totally different kind of tapas tour in Madrid, one that I would sign up for in an instant.
Not just for tourists!
Not only for tourists, James' tour is fit for Madrid residents and Spaniards alike. More than a month later Alejandro is still talking about the tour; he was so impressed. I know that the day James decides to offer the tour in Spanish Ale would be happy to take his parents on it, and when my parents come to visit they'll certainly be signed up too!
If you are looking for a unique tapas tour in Madrid that offers the best quality food and wine in town, consider Tapas & History. Perfect for travelers, newbies to Madrid, and even lifelong residents, let James lead you on the best tapas tour in Madrid!