Melissa recently joined our newest Lisbon food tour, read all about her experience eating her way through the city below!
If you're anything like me, a food tour in Lisbon is pretty much the ideal travel activity. Considering how much I love Portuguese cuisine and culture, I can't imagine anything better than exploring this city through its most iconic dishes. Luckily, I recently had the opportunity to participate in one of Devour Tours' first Lisbon food tours—and the experience did not disappoint.
What I Learned on My First Food Tour in Lisbon
On the morning of the tour, we met at one of the city's most famous squares and set out on a mission to sample Lisbon's best bites. Over the next few hours an expert guide, Ellis Dixon, led our small group of travelers through the city center, stopping at eight different eateries. We ate, drank, and learned a whole lot about Portuguese history. But I also learned a few lessons of my own. If you're thinking of taking a food tour in Lisbon, pay close attention... they might come in handy!
1. No substitutions necessary
When in doubt, trust your tour guide. The people at Devour know what they're talking about. If they recommend that you drink your coffee black or put mustard on your bifana, do it! A food tour is all about trying new things and having an authentic experience, so put aside your preconceived notions and open your mind—and your palate.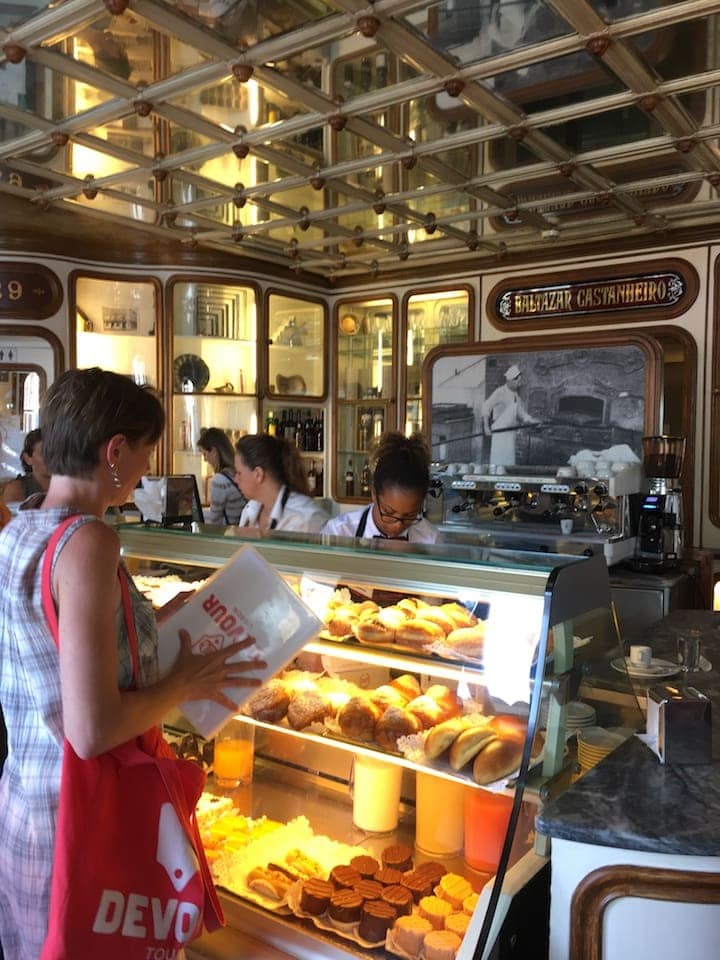 Of course, if you have any allergies or dietary restrictions, the tour can be adapted to meet your needs. But if you can eat absolutely anything, don't take it for granted. Try that spicy sauce, those canned sardines, and whatever else they put in front of you. I guarantee that you'll be pleasantly surprised, and you might even discover a new food obsession (I'm looking at you, mussels in tomato sauce).
2. The only rule is, there are no rules
This is closely related to the previous lesson. You might have certain ideas in your head about how to eat "properly." But most of those rules are culturally constructed—which means they don't apply everywhere. And I'm here to tell you that life is too short to follow rules about eating, no matter where they come from. This is especially true on a Lisbon food tour.
To fully enjoy any foreign eating experience, you need to throw all rules out the window, even if it's just for one morning. Think you can't drink alcohol before noon? Have a shot of ginjinha after breakfast and see if it changes your mind. Does combining savory and sweet make you cringe? Try a sugary pastry and a bite of cured ham, followed by a piece of chocolate and a pork sandwich. I bet you won't be cringing for long.
3. Local connections are essential
We all know that awkward feeling of being an intrusive tourist, treading on territory where you don't belong. It's hard to have an authentic experience without breaking down the barrier between visitors and locals—but this food tour was designed to do just that. Ellis had clearly cultivated relationships with the local vendors we visited, addressing them by name and chatting in Portuguese.
This made the whole food tour experience so much more comfortable and interesting. It also reinforced the fact that in order to understand a place, you have to get to know its people. You may not be able to do this during a short vacation, but you can have the next best thing by joining a tour that values local connections above all else.
4. Cultural context counts
An essential aspect of enjoying any destination is understanding its history and current situation. For that very reason, Devour Lisbon makes an effort to teach you about this city's identity. In between samples, we stopped at various significant sites to learn about the most important events in Lisbon's past. Ellis gave us a crash course in the local history, and related each thing we ate to the greater cultural context.
This made for a much richer experience, leaving us not only full and satisfied, but also more informed and aware. After all, food doesn't exist in a vacuum. It both reflects and affects the cultural context of the community that consumes it. So if you want to fully experience a culture, try the local delicacies—and if you want to fully appreciate those delicacies, familiarize yourself with the culture.
5. Authentic experiences don't always go as planned
This lesson was illustrated when we reached one of our last stops as the lunch rush was in full swing, and there was no room for a large group. Instead of fretting, Ellis led us to another stop first, where we sampled some of the best canned seafood I've ever eaten. We returned to the initial place a bit later, once the crowds had died down, and devoured several plates of heavenly bacalhau à Brás; totally worth the wait. There were plenty of less traditional spaces nearby with plenty of room, but Devour's mission to support authentic, family-run doesn't sacrifice on quality!
Just as the same rules don't always apply in Lisbon, not everything is going to run on the schedule you expect. Even with a clear itinerary planned out, you always have to be ready to react to unexpected circumstances—and this goes for food tours too. The most authentic experiences are often also the most unpredictable. So let down your guard, go with the flow, and be ready to adapt to each situation.
6. No-frills food reigns supreme
I'm a big believer in the theory that the less fancy a place looks, the better the food will taste. And if I needed any more proof, I got it on this food tour. Exhibit A: The nondescript neighborhood café in Chiado where we tasted what might be Lisbon's best bifana (marinated pork sandwich). I probably would never have gone in the door if it hadn't been for the guidance of Ellis. And I certainly wouldn't have sampled the special sauce, hidden inside an unlabeled plastic bottle.
Exhibit B was the aforementioned lunch spot that was overflowing with locals. Tucked into a quiet street in Cais do Sodré, it was the kind of place I wouldn't give a second look from the sidewalk. These are the local secrets that I live for: exquisite cuisine in the most unassuming of settings. In other words, never judge a book by its cover—or a restaurant by its shabby facade.
7. Always eat the last bite
At the beginning of the tour, I was worried about filling up too fast. I politely declined the last bite of pastry, thinking I needed to save as much room as possible. But after a bit of encouragement from Ellis, I went for it. As it turned out, I needn't have worried; the tour was perfectly planned to provide just the right amount of food, with enough time to digest in between stops.
By the second-to-last stop, I had truly learned my lesson. I devoured every last thing on the table, from the delicious cured cheese to the freshly baked bread and seasoned olives. Of course, it's always nice to offer that final bite to your fellow diners. But if they refuse? Go for it. It would be a shame to let even the tiniest morsel of Portuguese food go to waste.
If you're ready to learn some lessons of your own, book a food tour in Lisbon with Devour Tours. I took the daytime Tastes & Traditions Tour and I can personally promise that you won't regret it!
Planning a Trip to Lisbon? Don't miss these guides: