Today Lindsey shares tips for a free self guided pintxos tour in San Sebastian. This 5 stop tour is a local experience that every foodie in San Sebastian should try!
Anyone who's ever eaten in San Sebastian knows why this charming Basque city is considered one of the world's top foodie destinations. There's something about the blend of traditional Basque recipes and avant-garde, innovative cooking techniques that just works.
But the great thing about San Sebastian is that you don't have to spend a ton of money to enjoy said fabulous food. Sure, the city is home to the greatest concentration of Michelin-starred restaurants in the world. On the other hand, it also has hundreds of pintxos bars serving up delicious, high-quality bites that any traveler could fit into their budget. However, if you're not familiar with the city, picking out the best of the best dining options can be a challenge.
That's where this free self-guided tapas (pintxos up here!) tour in San Sebastian comes in. Check out this route that takes you to five of the most essential eateries in two incredible neighborhoods, where you'll devour delicious bite after delicious bite.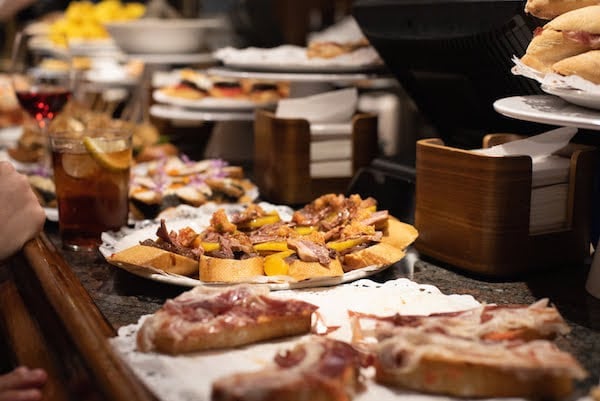 The Perfect Self-Guided Pintxos Tour in San Sebastian
A quick note before you start devouring: Basque cuisine is very seasonal. There are many dishes that are only available in certain months due to those ingredients being in season. Even though your favorite bites may not be available year-round as a result, at the end of the day, it's a good thing—nobody wants to eat a dish made from out-of-season produce!
1. Zazpi: Modern & Miniature
Start off your self-guided tapas tour of San Sebastian in the city center. Despite its name, this area actually isn't the most visited part of San Sebastian—that would be the Old Town, which you'll explore later on. For now, enjoy the authentic vibes and local atmosphere in Centro.
Zazpi is the talk of the town around here, and for good reason. Founded by acclaimed chef Paul Arrillaga—whose resume includes an impressive list of some of the best restaurants in the Basque Country—this place specializes in miniature cuisine.
The classics here are what put Zazpi on the map. Two year-round favorites are the slow-cooked egg with ham, potatoes and truffles; and salt cod with tripe in a tomato and red pepper sauce. However, they're also known for their seasonal a la carte specialties, like red tuna with tomato water and chiles as well as grilled oysters with borage and algae.
Average price per pintxo: €4.45
2. Espiga: A Traditional Favorite
Bar La Espiga (San Martzial Kalea, 48) has been open since 1928, and not much has changed in all these years. Still run today by the grandchildren of its founder, this neighborhood institution is known among locals for its high quality dishes, excellent service and fair prices.
Just like Zazpi, they offer several delicious options year-round. Here, you can count on favorites like chorrera (battered fried egg, cheese and ham) and delicia (anchovy, boiled egg, vinaigrette and mayo) no matter when you visit. But keep an eye out for seasonal favorites, too. The fried artichoke with homemade pesto is a popular choice in the spring.
Average price per pintxo: €2.10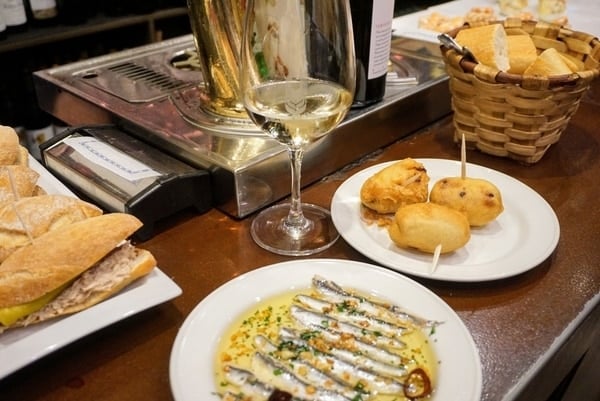 3. A Fuego Negro: Contemporary, Experimental Dishes
For the next part of this self-guided tapas tour in San Sebastian, you'll make your way into the Old Town. After leaving La Espiga, walk a little ways along the beach and through lovely Alderdi Eder Park to get to your next stop: A Fuego Negro.
This place is considered to be one of the best experimental pintxos bar in San Sebastian. It's very Basque and very modern at the same time—a perfect combination that can be hard to nail down.
Go ahead and order a "brownie" here—don't worry, we're not digging into dessert just yet! This inventive dish looks like a brownie with whipped cream, but is actually oxtail press with turnip foam. Another great option is the Mackobe with "txips," which is a miniature kobe beef burger with potato chips.
Average price per pintxo: €3.90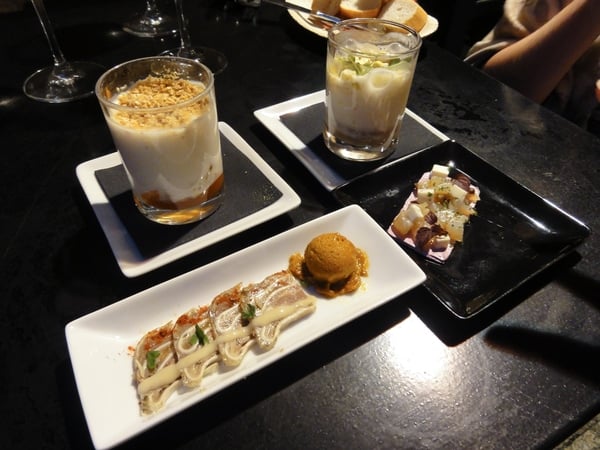 4. Ganbara: Classic & Homestyle
It might be hard to find a spot at the always-crowded bar at Ganbara. Try anyway—the incredible cooked-to-perfection classic dishes at this family-run spot are well worth it.
Here, you can't go wrong with the spider crab tart or the wild mushroom omelette. Both are exquisitely prepared and offer an innovative twist on Basque cuisine while staying true to its humble roots.
Average price per pintxo: €4.35
5. Astelena: Traditional Meets Modern
To finish up your self-guided tapas tour of San Sebastian, make your way to Astelena. This place uses very traditional ingredients to create contemporary, innovative dishes that are redefining local cuisine. The restaurant itself is classy and sophisticated yet unpretentious, making it the perfect place to enjoy a relaxing meal in style.
Just about anything you order here will be excellent, but two standouts are the Iberian game steak tartare and the foie mi-cuit on toast with corn paste.
Average price per pintxo: €4.75
Craving more pintxos?
Devour San Sebastian with a local food expert!
If you follow these tips, a self-guided pintxos tour in San Sebastian can be a great way to start exploring the city on your own. But at the end of the day, there's no substitute for visiting the city's best bars and restaurants with someone who knows this iconic foodie destination like the back of their hand. Especially when some of the prettiest looking pintxos spots are well disguised tourist traps!
Join Devour San Sebastian for a foodie experience in either of the two neighborhoods visited in the route above, and you'll be well on your way to feeling like a local at even the most crowded of pintxos bars! The Ultimate Pintxos & Wine Tour will take you through the Old Town, while the Pintxos Like a Local: Centro Neighborhood Pintxos Tour gives you a look at an off-the-beaten-path neighborhood locals love.
More San Sebastian Travel Guides
Pin me!