As self-guided tours of Madrid become more and more popular, here is a self-guided tapas tour of Madrid that will not disappoint!
With culinary influences pouring in from every corner of Spain and beyond, Madrid is a foodie paradise if there ever was one.
Throw in the fact that the sights along an average street in the capital—whether they be grand, glorious buildings, or charmingly quaint homes and shops—are enough to take your breath away.
Madrid is clearly a city best discovered on foot. It's easy to indulge in a self-guided tapas tour of Madrid. But in between bites you will need to keep your eyes peeled for the most impressive sights. Otherwise, you'll never know what you're looking at—that unassuming building you didn't give a second glance could have been an 18th-century palace, for all you know.
And, of course, without a little bit of prior research, it's easy to fall into the tourist traps and eat plenty of mediocre food along the way. This route for a self-guided tapas tour of Madrid will help get you started. With some help from the talented, passionate team at Devour Madrid, I've put together a route that combines the best of all worlds—food, history, and culture—that will take you further than the typical sights that everyone visiting the city wants to check off their lists.
The only rule: start hungry!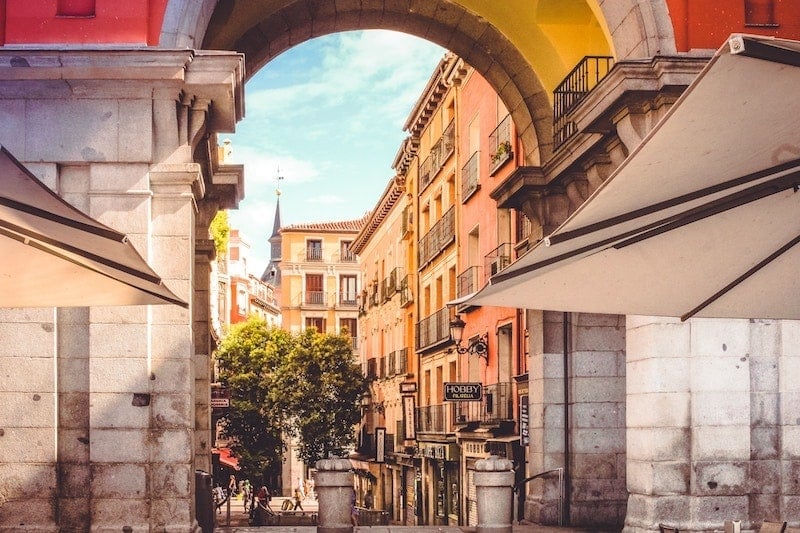 The Ultimate Self-Guided Tapas Tour of Madrid
1. A no-frills spot with Madrid's most famous sandwich
The route for our self-guided tapas tour of Madrid starts nearby what many might consider the city's top destination for foodies. We won't go inside, though. The San Miguel Market (Plaza de San Miguel, s/n) has its merits, but it's not exactly part of the hidden Madrid this route aims to discover.
Instead, turn around and enter the elegant Plaza Mayor. In the far corner down a tiny cobblestone side street (Calle de Botoneras) you'll find La Campana. This humble bar is one of Madrid's most famous sandwich shops. It's famous for serving a fantastic bocadillo de calamares (calamari sandwich).
From the moment you go inside, you'll feel as if you've been whisked to another world far from the tourist heaven that is the iron-wrought marketplace only steps away—a place where Spanish abuelos pop in for a beer at any time of day and where the family-like team that runs the show will treat you like a long-lost friend from the moment you enter.
Recommendation: Join the cohort of locals propping up the bar and order an ice-cold caña and bocadillo de calamares. One can easily be shared if you want to save space for the rest of the route!
Estimated price: Around €6–10 for a sandwich and drink or two, depending on if you share the sandwich.
2. Good wine & good vibes
Once you've devoured your bocadillo, venture back out to the sunny Plaza de San Miguel (where the market is) and head north up Calle Santiago. From there, it's only a quick two-minute walk to Taberneros (Calle de Santiago, 9), one of Madrid's top wine bars (and really, what's a self-guided tapas tour of Madrid without at least one really good glass of Spanish vino?).
Recommendation: With more than 300 references from around Spain and the globe available in their cellar, you're spoiled for choice at Taberneros. However, here in Spain, we tend to drink locally, and you can't go wrong with a glass from Madrid's very own denominación de origen.
Estimated price: A tumbler of wine starts at just €1, but you likely won't pay more than €3 for a glass.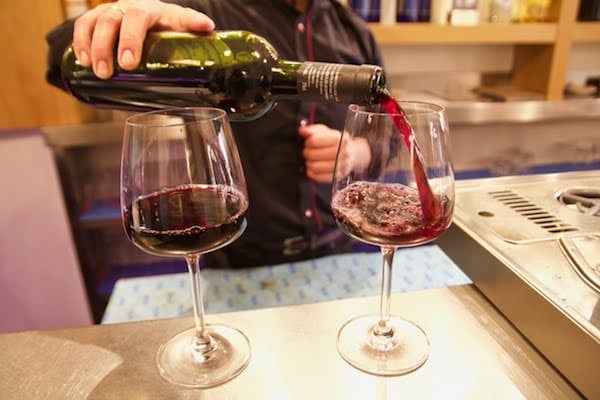 See also: Amy's roundup of the top wine bars in Madrid
Just around the corner from Taberneros, you'll come to the Iglesia de Santiago (Calle de Santiago, 24). Yes, Spain has a lot of churches, but this one deserves some special attention.
It serves as the starting point for the Camino de Santiago pilgrimage route from Madrid, which takes intrepid trekkers 358 miles (577 km) northwest of the capital to the sacred city of Santiago de Compostela in Galicia. This self-guided tapas tour in Madrid doesn't involve nearly as much walking, but it's still interesting to get a look at where the journey begins right here in the capital.
4. A glimpse of royalty
After marveling at the church, head just a little ways west until you come across one of my personal favorite sights in all of Madrid. No matter how many times I see the stunning, grandiose Royal Palace (Calle de Bailén, s/n), it never fails to impress. While Spain's royal family doesn't actually live there, the sophisticated 18th-century structure is one of Madrid's most breathtaking.
Just south of the palace is the equally stunning Almudena Cathedral (Calle de Bailén, 10), a gorgeous remnant from Madrid's Hapsburg days.
What's especially interesting about this enormous church—Spain's national cathedral—is that it's nowhere near as old as you might expect. Planning for its construction only started in the late 19th century, and due to setbacks ranging from the Spanish Civil War to a revamped architecture committee, it wasn't completed until 1993.
Still, it manages to hold its own against the hundreds of churches and cathedrals throughout Spain that are centuries older, and absolutely deserves a spot on your itinerary.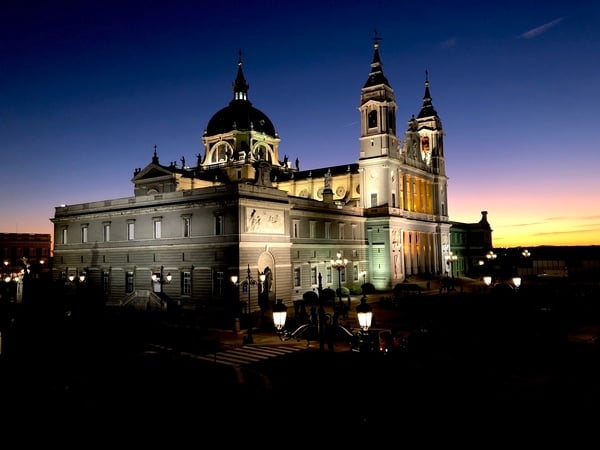 5. Picture-perfect views
Once you've been sufficiently awestruck by the palace and the cathedral, keep heading south along Calle Bailén. Take your time as you enjoy this stretch of the route (I promise there are more tapas coming soon!). There's no shame in stopping to take a picture or several (or two...or several) of the sweeping views from the Viaducto de Segovia bridge, where you can see Calle Segovia itself, the Manzanares river, Casa de Campo park, and the westernmost stretches of the city.
6. Drinks with a side of tradition
Every May, the San Isidro Festival takes over Madrid in the form of massive street festivals, traditional music and dancing, and plenty of typical sweets. If you can't make it during the festival itself, get a taste for it at Vistillas (Calle de la Morería, 15), one of the most emblematic spots in Madrid for a drink during the San Isidro festivities.
Recommendation: Keep it simple with a beer, and grab a spot out on the terrace for unparalleled views across the Guadarrama mountains as you enjoy it.
Estimated price: From €1.50 depending on brand and size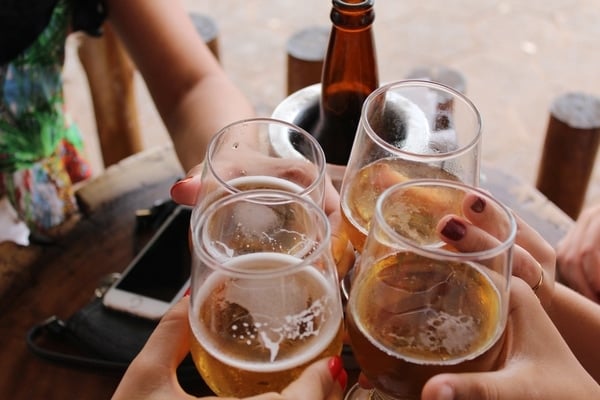 7. A living artistic masterpiece
It can be hard to leave the spectacular views from the Vistillas terrace, but more of Madrid's stunning architecture awaits.
Once you finish your drink, make your way to the Basilica de San Francisco el Grande (Calle San Buenaventura, 1), a true work of art (and not just because it houses an impressive collection of works by Goya).
This church boasts the third-largest dome in the Christian world, and you don't need to be an architecture aficionado to admire the stunning attention to detail that went into its 18th-century façade.
8. Cheese paradise
Northern neighbor France may get most of the credit when it comes to cheese, but here in Spain, we're rightly proud of our own queso as well. There's no better place to experience this gastronomic jewel than Cultivo (Calle del Conde Duque, 15), home to a curated selection of artisanal cheeses from all over the world, but mainly from Spain.
Recommendation: Everyone knows (and loves) Manchego, but try expanding your horizons with a different Spanish cheese. Mahón is one of my favorites, and Basque idiazabal is a great choice as well.
Estimated price: €7–8 for ¼ kilo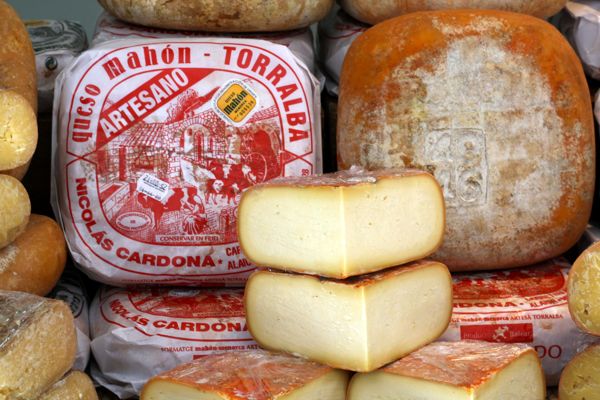 9. Some well-deserved carbs
This particular stretch of our self-guided tapas tour of Madrid is a match made in heaven. Madrid's top bakery, Obrador San Francisco (Carrera de San Francisco, 14), is right next to Cultivo. This is the place to get the best artisanal bread in town, which is well-deserved after all the walking you've been doing.
Recommendation: Their baguettes are locally famous and a perfect choice at any time of day, but if you're craving something sweet, go with one of their fabulous cinnamon rolls.
Estimated price: €2 or less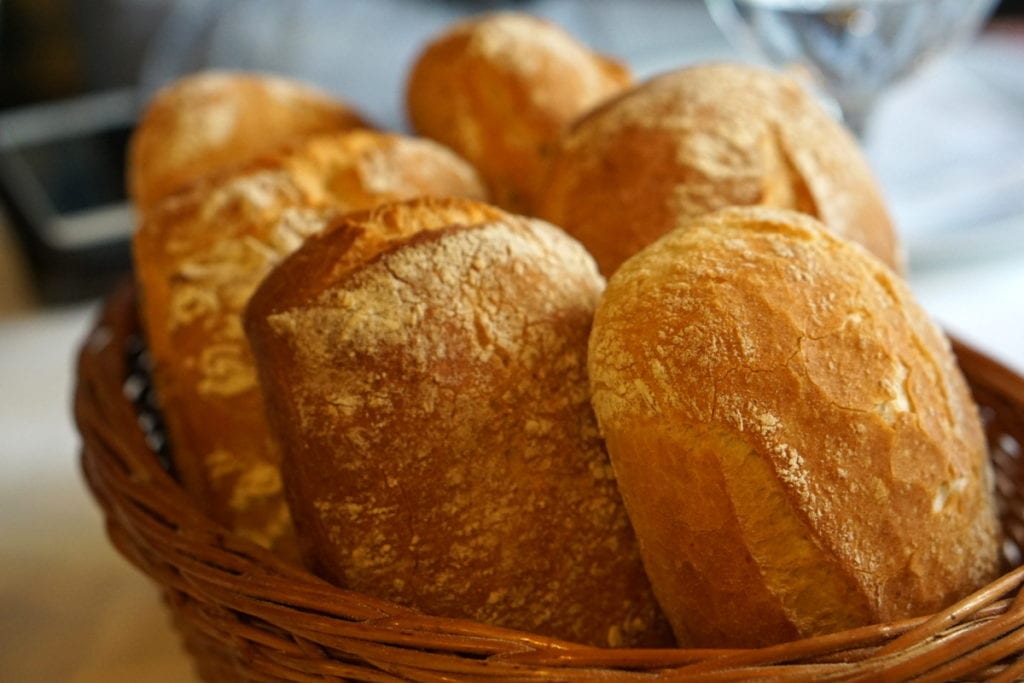 See Also: Our complete Madrid food guide for dozens of recommendations of where and what to eat!
10. La Latina tapas crawl
Your self-guided tapas tour of Madrid has come to an end, and there's no better place to cap things off than in the city's most famous tapas district. La Latina is positively teeming with lively bars, making it a perfect spot to finish your route.
Recommendations: Tapas bars in La Latina are a dime a dozen, but some truly shine. Head to one of the following spots for a meal to remember.
Sanlucar (Calle de San Isidro Labrador, 14)
Juana La Loca (Plaza de Puerta de Moros, 4)
Casa Gerardo (Calle Calatrava, 21)
Casa Lucas (Cava Baja, 30)
El Almendro (Calle del Almendro, s/n)
Want more foodie fun?
A self-guided tapas tour of Madrid is a good way to start, but for the ultimate gastronomic experience, Devour Madrid's Tapas, Taverns & History Tour is calling your name.
While you'll definitely eat your fill of tasty local bites, food is only part of the fun—you'll also get an up-close look at the past and present of this fascinating city with your new local friend (AKA your expert guide).
Pin me!