When a friend emailed me out of the blue, telling me she was working at a B&B in a tiny mountain town in Granada's Las Alpujarras, I was immediately nostalgic for the magical area I'd come to know 6 years prior while studying in Granada city. My friend wanted put me in touch with a British expat named Anne Hunt to tell me about her project-- I was intrigued. Anne is a lovely British woman who used to work in the busy event planning industry. Ready for a career change, she bought a 400 year old house in Ferreirola, a picturesque town of 38 people, and has restored it as a 10 room bed and breakfast. It all sounds a little Under the Tuscan Sun and, of course, I was dying to see it for myself.
Anne invited us to Casa Ana to spend a few days and learn about her project. In exchange, we talked about social media, a new avenue she is taking to promote the B&B. After a few nights at Casa Ana, it was hard to leave-- here's why!
Las Alpujarras
It had been six years since I'd visited the stunning Alpujarras, the white village studded mountains only a short drive from Granada capital. I'd been there as a college student and still vividly remembered the twisty roads, beautiful towns, an incredible artisan chocolate shop, colorful local carpets, and the typical Plato Alpujarreño (I think it might have been the first time I tried migas, another typical Spanish dish).
It was also the first time I visited a ham factory, where we took a detailed tour through the different curation rooms. It might have been here where I fell in love with Spanish jamón; as classmate after classmate abandoned the tour "because of the smell", I stayed strong, fascinated by the process.
With those strong memories all I needed to plan a trip to Las Alpujarras was a reason to go. Staying at Casa Ana seemed like a pretty good reason to me!
Casa Ana
Located in the tiny town of Ferreirola, Casa Ana is a gorgeous B&B with views of the mountains. When owner Anne first visited Las Alpujarras, she fell in love. Once she decided to buy a small property, she didn't exactly start searching-- Casa Ana kind of came to her. A friend had mentioned her idea to purchase property among the locals, and it just so happened that in Ferreirola there was a family looking to sell their family's land. But due to the level of emotional attachment, it had to be to the right buyer. Luckily, Anne passed the test, and soon enough the future Casa Ana was hers! Overgrown and falling apart, the work began in 2006, and finishing touches are always being made.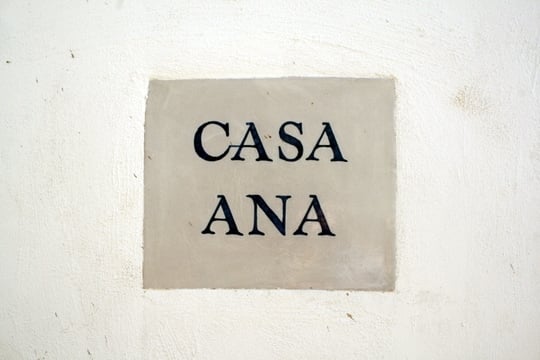 Anne has completely redone the property, making it into a peaceful oasis with minimalist, but comfortable rooms. With beautiful embroidered bed spreads, heated floors, and a rain shower nozzle, you're guaranteed a good night's sleep!
This is a place to escape, so you won't find TVs or radios, but there is internet in most of the rooms and the common spaces. Although with the stunning view from the B&B's many patios, why you'd want to spend time indoors is beyond me!
Breakfast
Included with your stay at Casa Ana is a lovely breakfast of toast, eggs, jams and honey, fresh fruit, freshly squeezed orange juice, and coffee or tea. It was a great way to start the day.
La Taha
The town of Ferreirola is tiny, and a part of the often overlooked (but gorgeous) La Taha villages. You're best bet is to visit by car to be able to pop over to other towns like Pampaneira (home to the famous chocolate shop I still remembered). You'll also need it to grab dinner-- unless you don't mind walking to the next village! It's only about 15 minutes away, but the car came in handy.
During the day we relaxed and went on one short hike, my absolute favorite part of the trip. It was so renewing to be outside, surrounded by nature. We hiked through the mountains to neighboring villages, where we stopped for a wonderful home cooked lunch in the small town of Portugos.
As we were hiking a little black cat started following us. We were ready to take him home, but when we arrived to cross the village he stayed behind.
Las Alpujarras were exactly how I remembered them, and are a place I hope to return to soon. Casa Ana couldn't be a better place to explore the mountains, and Anne is a wonderful host.  
Casa Ana
[mappress mapid="30"]