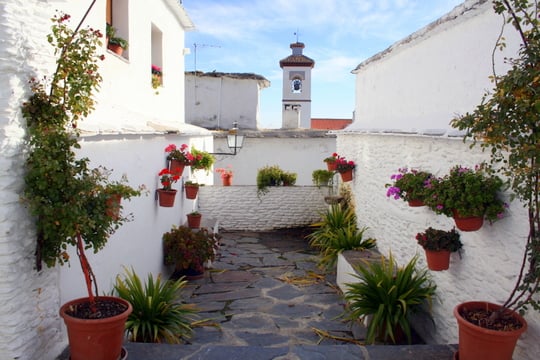 White washed homes, pointy chimneys, stray cats in the sun... Las Alpujarras is a place of beauty and serenity. It is extremely picturesque, in the same way that some of the world's most famous (and touristy) cities are. But this place isn't very visited in comparison to places like Santorini or Capri, making it the perfect place for some true relaxation and authentic Spanish charm.
Make your way into these magical hills, where you are free to explore the small villages, enjoy nature, and eat the hearty foods of the locals. I can't recommend visiting Las Alpujarras enough, hopefully these pictures do it justice!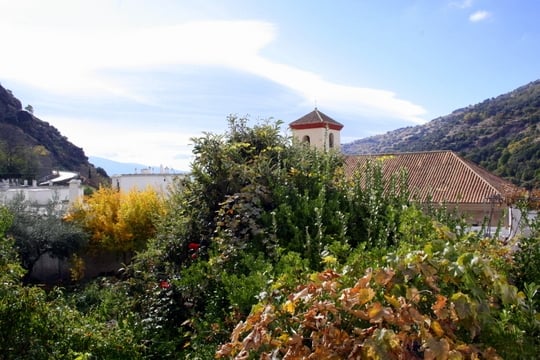 We hiked through the towns of Ferreirola, Atalbeitar, and Portugos while staying at the lovely Casa Ana. Along the hike we were impressed by the beauty that constantly surrounded us. The forest was green and colorful, despite being so late in the season, and each little village had its own charm.
Walking the streets of Portugos, I felt like we were hidden away from the world. We saw people's front doors wide open, and snuck a glimpse at family life. We were taunted by the smell of delicious stews simmering away, and at one point had a run in with a group of children racing home from school. This felt like a place that had escaped from the rest of the world, and it didn't seem like such a bad thing.
Las Alpujarras is home to some of the cutest kittens I've ever seen. We came close to adopting many times, but they honestly looked too happy to take away from freedom!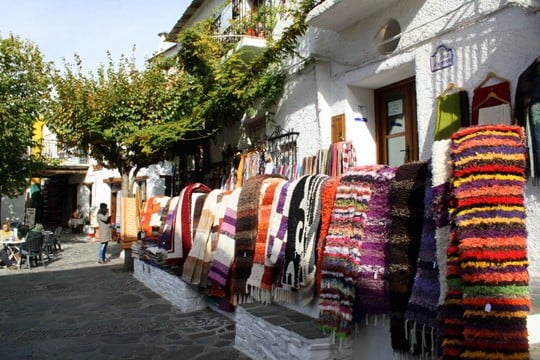 We traveled by car to the more touristy village of Pampaneira, a place I still remembered from many years ago. The pristine town center and colorful souvenir shops are well worth your time, and we had a fantastic lunch at Casa Julio.
As I walked up and down the many hills of each village, I didn't get as tired as expected. A mix of crisp mountain air and the exhilarating feeling of truly being outdoors does wonders for stamina!
I'm pretty sure we crossed onto private property quite a few times throughout the hike. But it was worth it for memories like this one, the horses grazed away, barely flinching as we got closer and closer.
Everywhere we looked, there was something decorative. Whether it was bright red peppers strung from window to window, or a simple plant like this one, the people of Las Alpujarras take very obvious pride in their property.
Memories of this place will last a long time, and hopefully I won't let another ten years pass before going back! Las Alpujarras is still a largely unexplored Spanish mountain destination, and the late fall is a beautiful (and even less crowded) time to visit. Get there soon!