Il Convento dei Fiori di Seta
The Silk Flower Nunnery Hotel in Bologna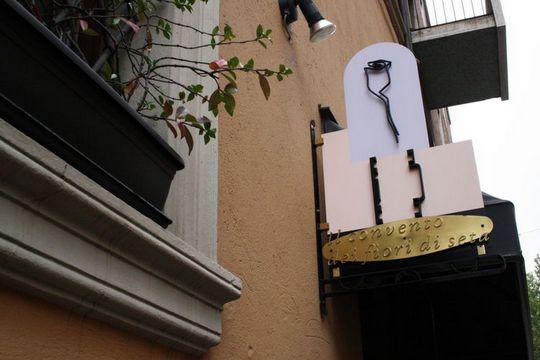 The best hotel experiences are enjoyed when we stop thinking of the hotel as simply a place to rest our heads after a long day. They happen when we make an effort to get to know a staff member, or when we find out about the history of the room in which we are sleeping. Unfortunately, many times our rooms don't have much history (or at least not a history we wish to know!) and the staff isn't always the friendliest. But on our recent trip to Bologna, we had great luck with our hotels and want to share our experiences.
Il Convento dei Fiori di Seta is a small boutique hotel located in the center of Bologna. When we found out that it was available for our stay we considered ourselves very lucky, as their ten unique rooms are always in high demand.
History
For a long time I thought that the hotel was called "The Mushroom Flower Convent" because in Spanish, seta means mushroom. But, upon arrival, I quickly realized my error. In Italian seta means silk (silk is seda in Spanish!). The Silk Flower Nunnery sounds so much better! 
With a name like that, you know that you are definitely staying in quite a historical site. I was curious about the convent-- what on earth did it have to do with silk flowers? Luckily, the hotel anticipates these questions and gives all guests a lovely brochure explaining the hotel's fascinating history.
We soon learned that we were staying in a 15th century convent that got its name based on the fact that the nuns who lived there supposedly raised silk worms and made intricate silk flowers, which they would then sell to raise money for charitable causes. This detail was not easily forgotten, as our room key dangled from a beautiful silk flower, always reminding me of the history of our surroundings.
Design
Il Convento dei Fiori di Seta is a gorgeous hotel full of small details and plenty of history. The parlor is scattered with historic artifacts and has a gorgeous painted ceiling. It is the perfect place to curl up with a book while enjoying a glass of wine from their cozy wine bar. You could also try a Spritz, Bologna's signature mixed drink, upstairs in their intimate lounge or (if it isn't too cold) you can venture outside to their terrace.
Our room was on the bottom floor and was small but very charming, with a large and comfortable bed and enormous bathroom. We loved the brick ceiling and the gorgeous lamp that dangled from it. We truly felt like we were sleeping in a convent-- albeit a very stylish one!
Service
The staff members at the hotel were also extremely nice and accommodating. They provided us with an early breakfast every morning, as our schedule started at 7:00 a.m.! They also gave us some snacks with our drinks during our aperitif each night, and when we were physically exhausted on our last night they ordered us pizzas and set them up as room service. Ale was so happy when they wheeled the cart into our room!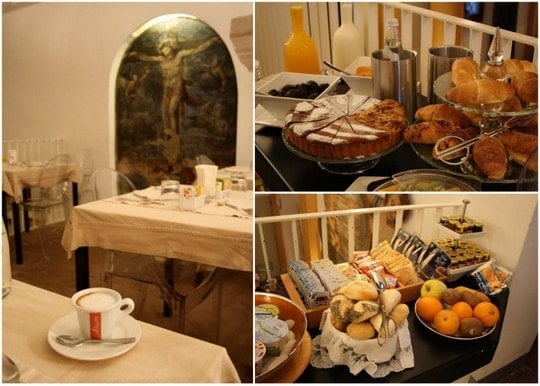 Location
The location of Il Convento dei Fiori di Seta is truly ideal. It is a five minute walk from the heart of the historical center of Bologna, and located practically next door to one of the best gelato shops in the city, La Sorbetteria Castiglione. It was also next door to a small supermarket where Ale and I bought a few products (like tomato paste and arborio rice) to bring back to Spain.
Overall, Il Convento dei Fiori di Seta was a wonderful hotel choice for our romantic weekend in Bologna. It made a great base for moving around the city, and was also the perfect place to relax and enjoy its 15th century history and our gorgeous surroundings. The staff was excellent, and we would return again without a doubt.
Have you ever stayed in a hotel with an interesting history? Where?
We were complimentary guests of Il Convento dei Fiori di Seta for a part of our stay, but it was so enjoyable that we stayed longer at our own expense!