Tasting the Best of Bologna with Golosa Italia Culinary Factory Tours
For those of you who write, you might know how it is to have writer's block, to be afraid to write a story or article because the experience was multisensory, simply beyond words. That is how I feel about describing our tour with Martina and Audrey of the Bologna food tour company Golosa Italia. I can honestly say that it was one of the best tours I have ever taken in my life, and I think that everyone who is lucky enough to visit Bologna must sign up.
I contacted various companies about a Bologna food tour, but when Martina responded it was clear that she was passionate about the food, the producers and the client– something that not all of the responses implied. We signed up for a full day's tour that would visit a Parmesan cheese factory, a balsamic vinegar factory, a small village known for truffles, and a food market in Bologna. It would be a long, twelve hour day, but we hoped it would be worth it to experience the regional specialties straight from their sources. In the end, it was beyond worth it, a truly unforgettable experience. Here is an overview of what we did (each part will eventually link to a full length article about every delicious stop on the tour):
Buongiorno!
Bright and early (at 7:30 a.m.) Martina and Audrey picked us up from our hotel in Bologna and we started our drive through the picturesque Italian countryside. We chatted about food and life in Italy, and how a German (Martina) and an American (Audrey) ended up as Bologna food and wine experts!
Our first taste of the real Parmesan.
About an hour later, after a gorgeous drive through the mountains of Emilia Romagna, we arrived at a very special Parmesan cheese factory. We got to see the owners making the day's fresh ricotta cheese, still warm as they scooped it into its containers. We later observed the intricate process of moving the enormous wheels of Parmesan, and even went downstairs to take a look at the curation process. I've been to many cheese factories over the past few years, but this one was incredible. The quiet dedication and passion of the two men working was inspiring. Martina told us that they work that way each and every day of the year, Christmas morning included, with the only exception being a short, two week vacation for each of the men. We appreciated this insider's look so much– and we hadn't even tasted the cheese yet!
The perfect picnic.
After we left the factory we stopped in front of a lovely old church for a morning picnic. Audrey had brought a lovely Moscato wine from her husband's wine estate, and we paired it with the still warm ricotta, three different aged Parmesan cheeses, and some of the best grapes and figs I've ever had. I was in heaven and it was only 10:30 in the morning!
Discovering Tigelle.
Unfortunately, the weather wasn't on its best behavior on what could have been a lovely day, but we made the most of it and to warm up we stopped in a nearby village for a piping hot cappuccino and tigelle-– flat round breads (similar to English muffins) that were a specialty at the village café. We ate the warm tigelle with pesto Modenese— an incredibly delicious spread of lard, rosemary, salt and garlic.
The truffle town!
Our next stop was a small town known for truffles. Unfortunately, being a Monday the most famous shop was closed. But, luckily, a small cheese shop and deli was open and we were able to purchase some more Parmesan cheese and an incredible black truffle spread that we've been using since returning as a sauce for pasta or risotto.
Lunchtime bliss.
Although we weren't exactly starving, it was 1:00– Italian lunch time. We wound our way up the mountain to a nondescript roadside restaurant. We entered and saw soccer memorabilia decorating the casual dining room, as well as canned goods for sale featuring (what else but) truffles. The only other patrons were local laborers, a sure sign that this meal was going to be epic.
It wasn't a good year for truffles in the region, and the restaurant only had white truffles (the expensive ones!) to offer. A sprinkle of the white truffle added to any dish would increase its cost by ten to fifteen euros our waitress explained. Yikes! But that is what we came for, and of course we ordered a fresh tagliatelle pasta with white truffle on top. I'd been dreaming about the moment for years.
We paired our food with a red lambrusco, which, who knew, can actually be quite dry and delicious when you know what to ask for. Soon enough our plates had arrived. It was the moment to taste my first real Italian truffles– and white truffles at that!
This is when words fail to explain the overall amazingness of the day. The truffles, as expected, were incredible. Delicate, flavorful, and just heavenly to smell, eat, and savor. But the lasagna we'd ordered was also to die for– stuffed with ham and cheese and made with fresh pasta, it was the best lasagna I've ever had!
Already on cloud nine, I'd forgotten that these were only the first courses! We were already stuffed, so we had to pass on secondi, and dessert would have to wait a well. We opted for a (maybe not so traditional but absolutely delicious) espresso with a shot of Amaretto di Saronno (almond liquor). We left smiling and wishing we could return again and again.
Time to taste the real balsamic too.
Everyone was silent when we headed back to the car. We peacefully made our way back down the mountain and carried on to the balsamic vinegar factory.
We arrived at the balsamic factory where we were treated to an in-depth tour about the production of one of the area's best products, their "black gold". I'll save all of the details for its own post, but let me just say, the process is impressive. Then we had a tasting. It was incredible how the flavor of each vinegar changed so much depending on the type of wood it had stayed in the longest. My favorites were the vinegars from the cherry and the chestnut woods, and we just had to buy a bottle of the 12 year aged cherry wood balsamic, a 3.8 ounce bottle for about 50€ was (believe it or not) a fantastic price! The next level (aged at least 25 years) went for almost double that. Believe me when I tell you that this vinegar is so good that you will want to savor it drop by drop on a plastic spoon like we did at the tasting. I honestly don't know if I'll be able to use it with anything– maybe a really nice steak or some parmesan cheese…
Back to Bologna.
As we made our way back to Bologna we were thrilled at our food filled day with Golosa Italia. But we still had more to come. Martina was nice enough to take us on a condensed version of the Bologna market tour, where we walked around the central food shops and purchased some charcuterie to taste at a local legend of a restaurant, Osteria del Sole, where we bring the food and they provide the wine (genious, right?).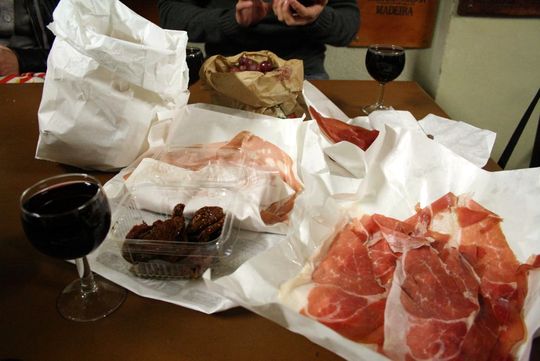 At nearly 8:00 p.m. we said goodbye to Martina, exhausted and satisfied, and still glowing with the fulfilling experiences of our dream come true food day.
Is Golosa Italia really the best food tour in Bologna?
Well, until I've taken them all to compare, I can't say for sure, but I would be willing to bet that it is. You see, Martina limits her groups to seven people at the very most (and the majority of groups are smaller) which is a huge factor in the experience. Even with seven people you still have the ability to visit small, quaint places and to actually talk to the guide and use her as the amazing resource that she is. Another important factor in choosing Golosa Italia is the fact that I guarantee you they choose the very best culinary factories and that they are truly passionate people creating beautiful and delicious food. There are no annoying demonstrations on the tour, no commercial videos or sales pitches– you simply see the people working and feel their passion for their products.
I'd say that Golosa Italia is a food tour company for real "foodies" not just people who like watching the Food Network in their free time. It's a food tour for people who don't even watch much TV because they are actually out food shopping, eating in a new restaurant, or cooking up something delicious in their kitchen. This tour is for passionate people, curious people, and respectful people, who understand that traditions like these will only be preserved by well informed consumers.
If you are visiting Bologna do yourself a big favor and spend a day with Martina or someone from the Golosa Italia team. It will be money well spent on a unique experience and memories that will last a lifetime (if only the cheese and vinegar we bought would too!).
You can find out more about Golosa Italia at their website, blog, or facebook page. To read more about traveling in Italy check out TravelRepublic.co.uk.
Check back for an in-depth post about each stop on the tour!
What would be your favorite stop on this delicious Bologna food tour?
Ale and I were guests of Golosa Italia and the factories mentioned above. All opinions of our incredible food filled day are our own.