One of the first sauces I've learned in culinary school in Spain is salsa de tomate — a classic Spanish tomato sauce recipe. What makes Spanish tomato sauce different than other versions is the use of onions and carrots– and also a sneaky sprinkle of flour.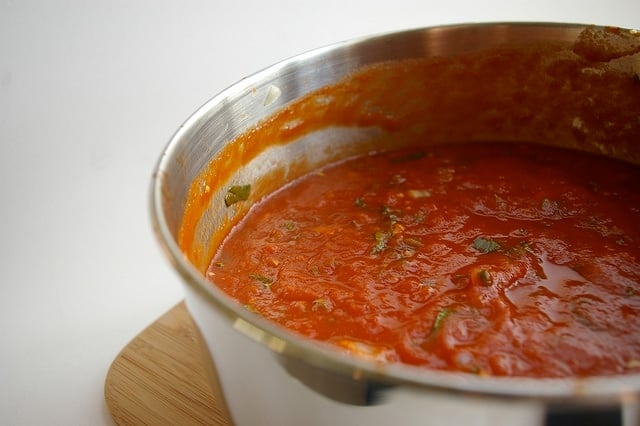 I'll be honest– I was skeptical. I come from an Italian American family where making tomato sauce from our garden's gorgeous tomatoes was a ritual each summer. And there were no onions, carrots (or, heaven forbid– flour!) in my family's version.
But my culinary school teacher explained the reason behind the ingredients in this version of Spanish tomato sauce. The onion and carrot add sweetness to the sauce, which balances out the acidic tomatoes. The flour– just a bit– is cooked down and thickens the sauce. I was worried the sauce would end up tasting like flour, but assure you, it didn't!
While this Spanish tomato sauce recipe is not what I am used to making, I really like it. It's the perfect sauce to keep on hand for a variety of dishes, including pollo con tomate.
What's your favorite tomato sauce recipe? Leave me a comment below!
Easy Spanish Tomato Sauce Recipe (Salsa de Tomate)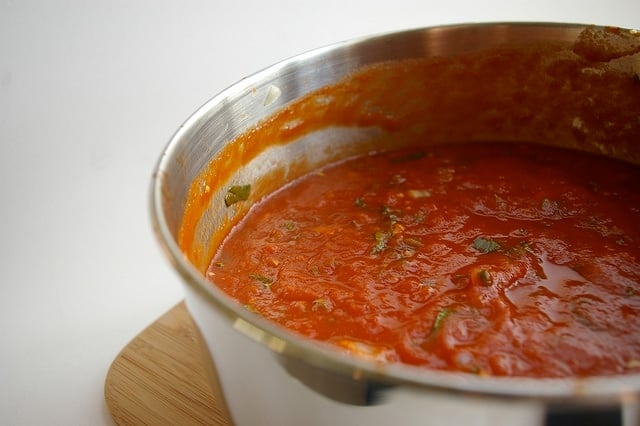 Spanish Tomato Sauce Recipe (Salsa de Tomate)
This Spanish tomato sauce recipe is straight from my culinary school in Spain! Easy and delicious.
Ingredients
1

kilo

about 2 1/4 lbs of ripe plum tomatoes, peeled and with the pulp and seeds removed, diced

100

grams

about 1/4 lb of pancetta, diced (or a ham bone)

50

ml

about 3 Tablespoons extra virgin olive oil

100

grams

onion

about 1 medium onion, diced

100

grams

carrot

about 2 large carrots, diced

25

grams

about 2 Tablespoons flour

80

grams

about 1/3 Cup tomato paste

1/2

liter

about 2 1/4 Cups water

2

cloves

of garlic

skin left on and smashed

Bay leafs

Salt

pepper, and sugar to taste
Instructions
Heat the olive oil and add the pancetta or ham bone, cook slowly without browning

Add the diced carrot and onion, and sauté over medium heat until cooked through (but not browned)

Sprinkle the flour and stir, not allowing the flour to burn or take on color, but cooking it for a couple of minutes

Add the tomato paste, the diced tomatoes, water, garlic cloves, and bay leaves

Add salt and pepper, and a bit of sugar if the tomatoes are very acidic

Simmer slowly for about an hour, skimming if necessary

Strain through a colander and add salt and pepper as needed
Nutrition
Calories:
1015.59
kcal
Carbohydrates:
44.27
g
Protein:
88.51
g
Fat:
52.32
g
Saturated Fat:
12.01
g
Cholesterol:
1198
mg
Sodium:
1062.81
mg
Potassium:
1967.6
mg
Fiber:
4.46
g
Sugar:
9.42
g
Vitamin A:
9183.67
IU
Vitamin C:
40.27
mg
Calcium:
222.84
mg
Iron:
6.15
mg
More delicious Spanish sauces:
What's your favorite tomato sauce recipe? Any tips for the perfect sauce?