My introduction to Spanish alioli was during a warm summer evening while dining out with friends on one of Madrid's terrazas. My group of friends – a mix of Colombians, Spaniards, and Americans – had ordered patatas bravas, Spanish-style fried potatoes smothered in two dipping sauces: a spicy red bravas sauce and a white alioli. For this American, a red dipping sauce was not a foreign concept (who doesn't love ketchup?). But the white sauce sparked my curiosity.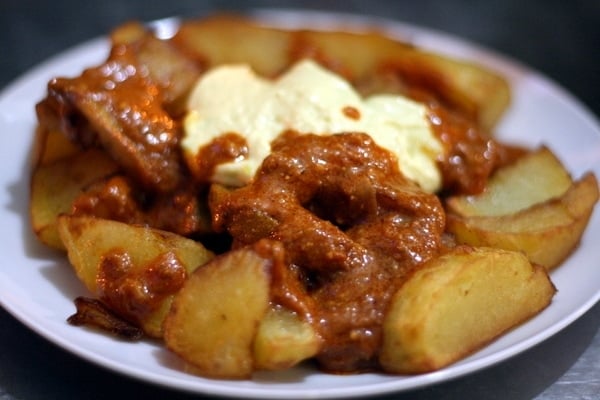 "What's that?" I asked.
"A-li-o-li," my Spanish friend pronounced the name slowly, making sure that I could understand each syllable. I learned that in Spain, the Catalan name for this homemade garlic mayonnaise sauce (alioli) is the most popular way to say it, where al means garlic, and oli means to olive oil. We often call this Spanish sauce aioli in English.
I proceeded to ask her what it was and how it tasted, but she insisted I try it myself to form my own opinion. The smooth texture reminded me of mayonnaise, but the punch of garlic made it the most flavorful mayonnaise sauce I had ever tried.
Now back in the United States, I enjoy making this simple Spanish alioli recipe for friends and family who are eager for a taste of Spain.
Tip: My Spanish alioli recipe (homemade garlic mayonnaise) is a great crowd pleaser at house parties. Use it as a dip for finger foods ranging from raw vegetables to shrimp!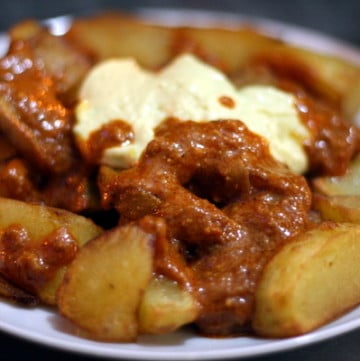 Easy Spanish Alioli Recipe: Homemade Garlic Mayonnaise
Try this easy and delicious Spanish alioli recipe for an unforgettable homemade garlic mayonnaise. Perfect for fish dishes, raw vegetables, and more!
Print (images optional)
Pin
Rate
Ingredients
3-4

garlic cloves

⅔

– ¾ cup of olive oil

1

egg yolk

Salt to taste

1

teaspoon

of natural lemon juice
Instructions
Peel and mince the garlic cloves.

Place the minced garlic into the mortar. Using the pestle, begin to pound the minced garlic until it is well-mashed.

Separate the egg yolk from the egg white. Incorporate the egg yolk and salt into the bowl with the mashed garlic. Stir well. Discard the egg white.

Very slowly, and adding only a little bit at a time, begin to incorporate the oil while mixing the garlic, egg yolk, and oil constantly. This is the step that requires patience! Be sure to go slowly so that the garlic and oil have a chance to blend well.

Once the mixture begins to thicken, incorporate the lemon juice. The resulting texture should be a creamy, smooth mayonnaise.

Refrigerate the mixture, which should last a few days.

Tip: If you do not have a mortar and pestle or are pressed for time, combine all ingredients in a small- or medium-sized bowl, and let the hand mixer do the work. Keep the hand mixer steady and pressed to the bottom of the bowl at first, and slowly let it come up to fluff the mixture as the mixture thickens.
Nutrition
Calories:
9.8
kcal
|
Carbohydrates:
0.5
g
|
Protein:
0.43
g
|
Fat:
0.69
g
|
Saturated Fat:
0.23
g
|
Cholesterol:
24.41
mg
|
Sodium:
37.62
mg
|
Potassium:
4.51
mg
|
Sugar:
0.04
g
|
Vitamin A:
32.45
IU
|
Vitamin C:
0.59
mg
|
Calcium:
4.94
mg
|
Iron:
0.06
mg
This Spanish alioli recipe is easy and delicious. Try it the next time you make baked potatoes, or spread it on a sandwich for an extra kick!
More Spanish sauce recipes:
Have you ever tried Spanish alioli mayonnaise? What is your favorite condiment?
Pin me!