Alcalá de Henares was full of surprises. At only 30 minutes from the center of Madrid, it boasts picturesque sightseeing, delicious free tapas, and some of the best pastries I've tried in all of Spain.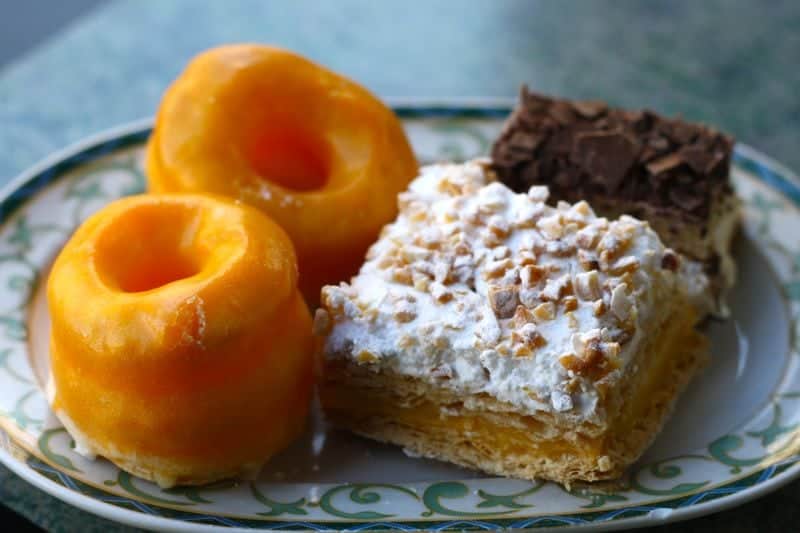 And I've tried a lot of Spanish pastries! In my experiences a lot of smaller towns have typical pastries. Prior to visiting Alcalá de Henares, I had usually found that the smaller the town the better the pastry. Some of my favorites so far have been the flaky Torta Inglesa in Carmona and the crispy Tejas del Puerto de Santa María.
Alcalá de Henares is not a small town-- it has a population of around 200,000 people. But its historic center (a UNESCO World Heritage Sight) feels like any gorgeous Spanish pueblo. Perhaps because of its size and historical importance it has developed a renowned selection of pastries that any sweet toothed tourist would be crazy to miss!
Here's what you need to try (and where!):
Almendras de Alcalá
Alcalá de Henares has a long history of preparing caramelized almonds (almendras garrapiñadas) with recipes dating back to the 1700s. In addition to these addictive sugary snacks most bakeries offer chocolate covered almonds as well. Whatever your preference, you won't be disappointed-- they are all top quality!
Where? Convento de San Diego (San Diego Convent) where the cloistered nuns sell you these delicious sweets thorough a small door (you'll never see the nuns in person!) Callejon Santa María, 1 
Rosquillas de Alcalá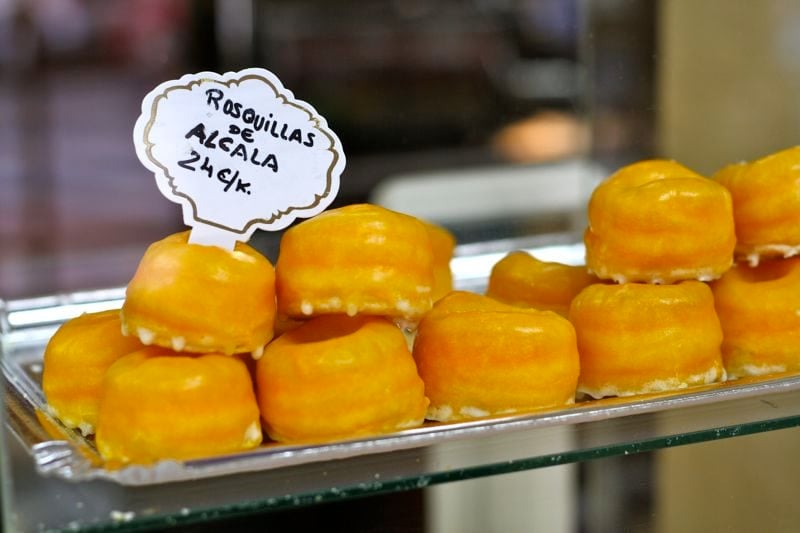 These delicious yellow rings are quite possibly one of Spain's most addictive sweets. Light and airy hojaldre (puff pastry) is bathed in creamy yellow egg yolk and a sugary glaze. Biting into one is like tasting the lightest and juiciest glazed donut you'll ever try. Try just one Rosquilla de Alcalá and you'll be hooked for life!
Where? Pastelería Lupe is one of Alcalá's best... and good enough for royalty too! Read about how Lupe herself makes sweets for Princess Letizia (article in Spanish). I happened upon this bakery by chance and knew it had to be famous after tasting my first rosquilla! We made two stops in the same day-- and brought some pastries home too! There are two locations: Calle Cervantes, 12 & Calle Sebastián de la Plaza, 2
Costrada
This just might be the perfect pastry. It consists of layers of flaky puff pastry and sweet cream filling covered in soft meringue and finally topped with crushed sugared almonds. Every bite makes you happy to be in Alcalá!
Where? Costrada is said to have originated from the famous Salinas Bakery in La Plaza de Cervantes and it looked excellent in their window display. We tried it at Lupe's (we wanted to sit down) and it was amazing!
 Hojaldre con Mermelada
Another pastry with flaky hojaldre and delicious homemade marmalade.
Flores de Hojaldre
These flower shaped sweets made of puff pastry and dusted with sugar might not be my first choice, but they are popular with people who aren't quite as sweet obsessed as I am. I've heard that they go great with coffee!
Other sweets from Alcalá that we didn't try (this time) were their famous Tejas (I just couldn't imagine anything better than the Tejas in El Puerto!) and Torrijas. If anyone samples these let us know how they are!
If you are anything like me and enjoy a good pastry with your cup of coffee, don't miss Alcalá de Henares. I promise you it'll be a highlight on any pastry tour of Spain!
What is your favorite Spanish pastry?