Not every girl is lucky enough to marry a guy whose hometown is a gorgeous, historic beach city.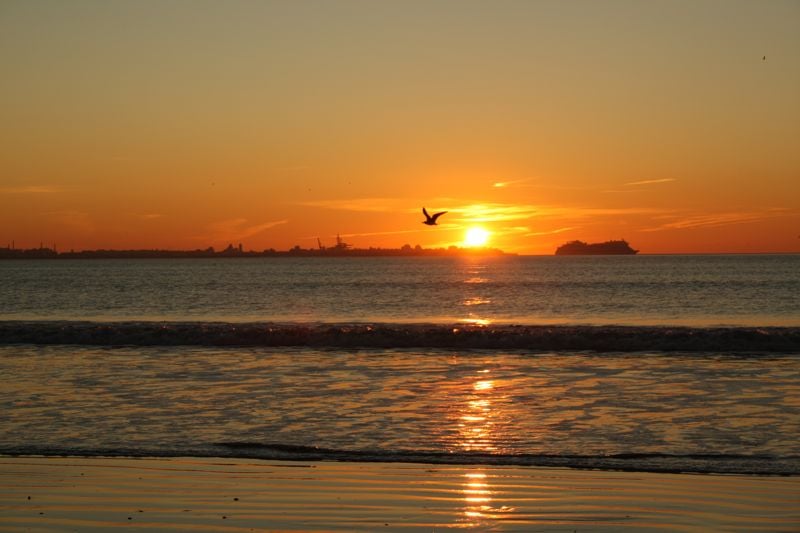 Luckily, I was. El Puerto de Santa María, Ale's hometown, is located in the region (AKA autonomous community) of Andalucía and in the province of Cadiz. When I first arrived here two Christmases ago I wasn't sure how to feel about it. I remember it being super windy and very old looking. It isn't as quaint as Cadiz, as gorgeous as Seville, or as fun as Granada. But after two years of spending weekends here throughout the school year and a month each summer, I find myself loving El Puerto more and more. Here is why:
It has a castle!
I had been to El Puerto de Santa María various time before knowing this. The city has various parts and Ale's family doesn't live in the historic center, but rather in one of the beach neighborhoods called Valdelagrana. His neighborhood is gorgeous, filled with people's summer homes and condos, but the historic center is really cool too. One day we were walking around when I caught a glimpse of this castle and started to freak out... "You have a castle?!" I asked Ale. "Oh yeah" he replied. "I guess we do." Oh Spaniards!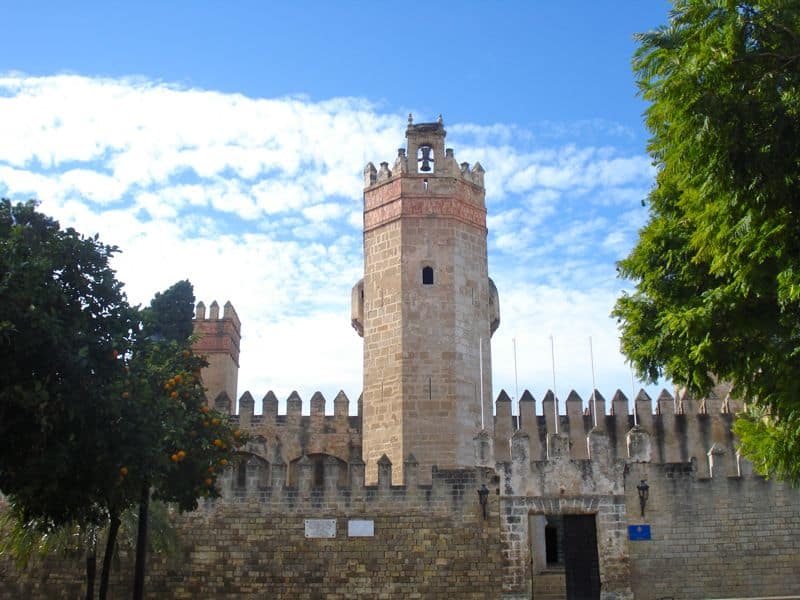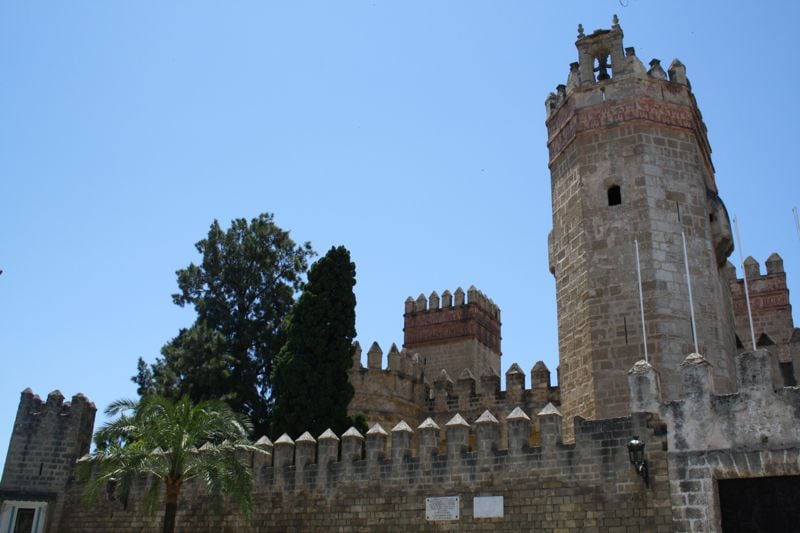 Beautiful bird families (storks?) live atop El Puerto's churches.
I've seen these birds living on top of churches in many Spanish towns and it never ceases to amaze me. They are so pretty and look so regal in their big nests atop gorgeous, old buildings. Does anyone know what type of bird they are?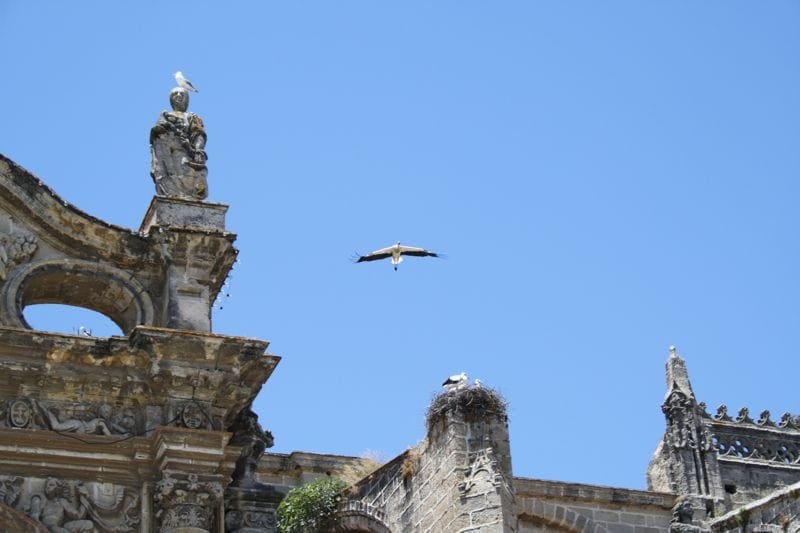 The Famous Port
El Puerto de Santa María is, as its name suggests, a port city and it is famous for being the port from which Christopher Columbus set sail for the second time on his way to the Americas. The port is still functioning and is filled with small fishing boats and some larger cargo ships. There are some nice bars such as La Cristalera where you can have a drink and look out on the water.  You can also catch the ferry to Cadiz for a lovely 30 minute sail across the bay.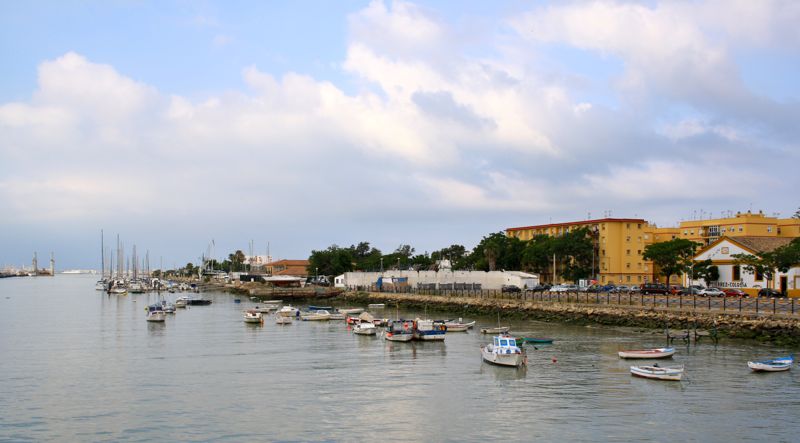 The Beaches
Although El Puerto has various beaches, we spend our time in Valdelagrana where Ale's parents live about two minutes from the water. Valdelagrana isn't the best beach in the world-- the sand is too fine and gets all over you and the razor clams that wash up to shore make it dangerous to walk barefoot sometimes-- but I can't complain! The water is really warm since it is from the bay and the sand dunes are gorgeous. The boardwalk is full of bars and restaurants and everything is reasonably priced, if not downright cheap.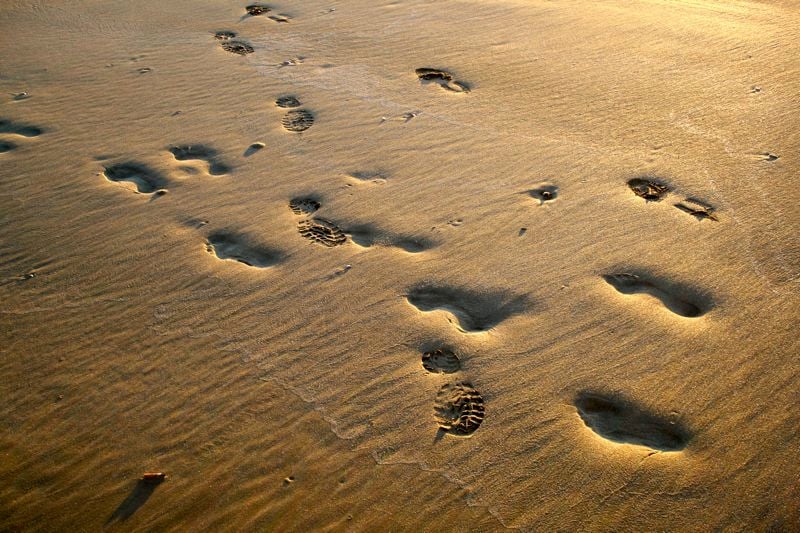 There's nothing better than a run on the beach.
In summer it's crowded, but in winter just peaceful and quiet at 60°F!
Amazing Food!
This is certainly not unique to El Puerto, as amazing food is a staple of Andalusia. When I come to visit I take full advantage by enjoying tapas, cheap beer, amazing gelato, and yummy pastries until I no longer can button my jeans. Then I stop, run on the beach, and eat some more!
Tapitas!
The best churros I've ever had are from El Puerto-- always freshly fried, super crisp, and not oily!
The best ice cream ever: Los Italianos Best flavor: Tejas
Not quite food-- yet! Soon to be delicious, pink pomegranates.
The best Feria I've been to.
It's a bit shabby in comparison to others, but it's also more fun. Forget about private, snobby casetas (fair tents in which people eat, drink and dance) because in El Puerto virtually all tents are public. The music is also a lot more varied. The traditional Sevillanas is popular, but shares the stage with folk music, pop, techno, and reggaeton.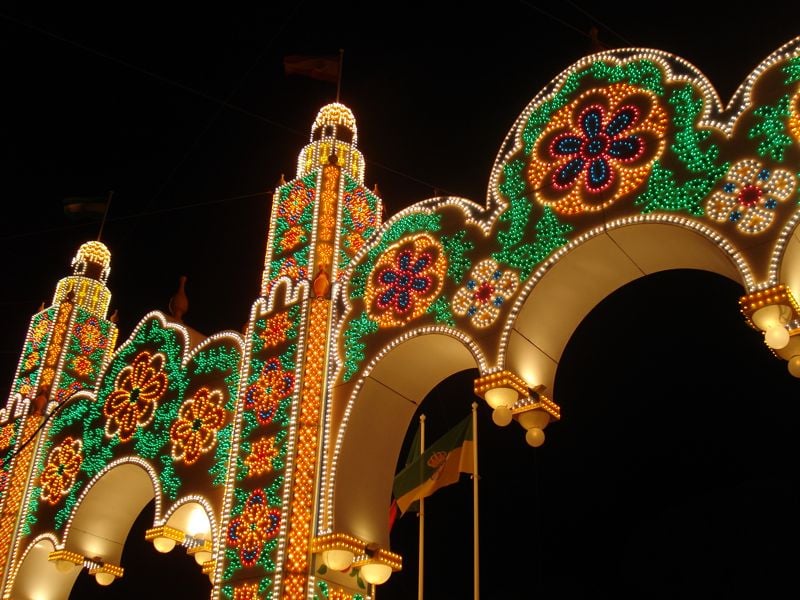 Los Toruños National Park
This was another discovery I made after already spending some significant time in El Puerto. One day, Ale decides to take me to "a small park" near his house. After walking about 10 minutes from his front door, we arrive at a gorgeous natural reserve called Los Toruños. This amazing park has trails along the coast and throughout small salt marshes. You can explore on foot, or rent a bicycle for a few euro. If you get too hot you can make your way to the beach at one of the various points of access.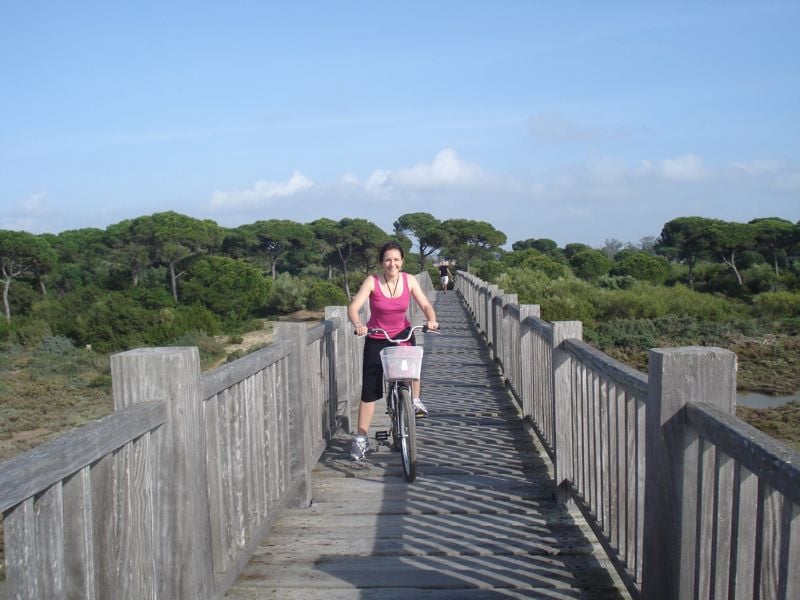 Dorky picture of me on a rental bike!
Dreamy Sunsets
At all times of year the sunset at Valdelagrana beach is gorgeous. I drive Ale crazy taking millions of pictures-- trying to capture the bright, beautiful colors with my camera. Here are some of my attempts!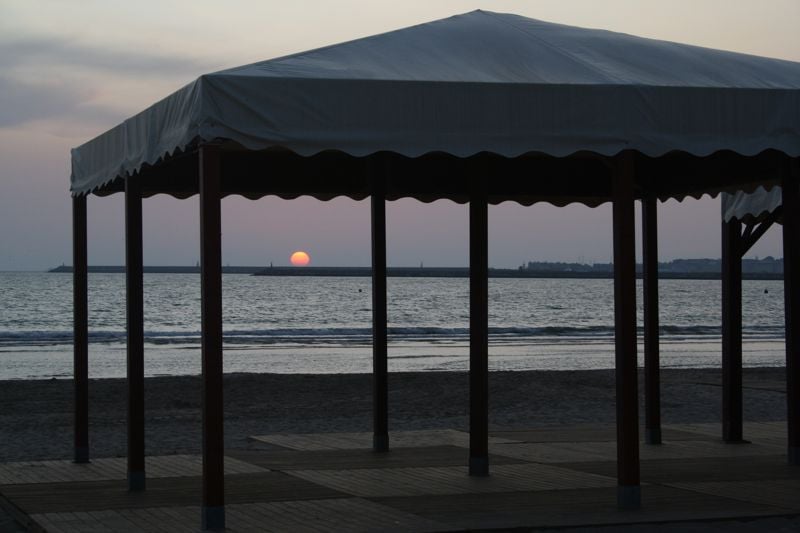 The pink sun sets in September.
My dreamy man at sunset!
Lessons Learned
El Puerto de Santa María is a hidden gem and a fantastic tourist destination. The Spaniards already know this, as they flock to its beaches in July and August. But I think it makes a great trip year-round-- right now it's January and I've been enjoying the 65°F days and bright sun.
I also realize I need to start reading about the places I go with Ale-- otherwise I'm sure I'll miss out on more amazing castles, nature reserves, and local delicacies!
If you live in or plan on visiting Andalusia, make time to stop by El Puerto de Santa María. You won't regret it!
Does anyone know of any other hidden gems in Spain?