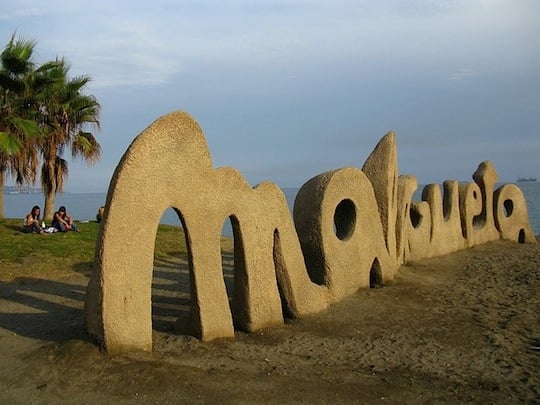 Warm, sunny Malaga-- it's been awhile since I walked your beaches, drove through your breathtaking, whitewashed pueblos blancos, and ate your fresh, delicious food. Luckily, this summer I plan to return, this time with Alejandro for the first time as a couple (can you believe that the other day he asked me where Nerja was?).
As we start to envision our trip, the main thing I am thinking about (as usual) is food, food, and food! In fact, Malaga is famous for three of my very favorite foods from all of Andalusia-- molletes de Antequera, ajo blanco, and espetos de sardinas.
What are these delicacies you ask? Let me explain...
Molletes de Antequera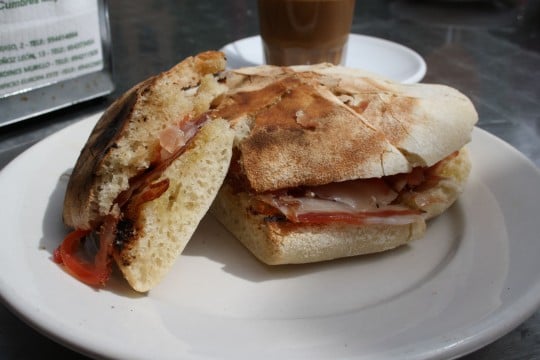 An essential component of my number one breakfast food in Spain, molletes are absolutely perfect with Extra Virgin Olive Oil, fresh tomatoes, and a thin slice of Jamón Ibérico de Bellota. The history of this addictive breakfast bread is fascinating, as food historians believe that the Moors introduced this baked bread to Spain during their reign in Andalusia. Over time, the small town of Antequera became best known for their outstanding quality of molletes and for keeping the tradition alive. They're one of our favorite foods in Malaga without a doubt!
Molletes are usually round or oval shaped, with a soft, spongy texture. They are best when grilled or toasted, covered with your spread of choice and eaten immediately so that they don't get soggy. Here are some typical toppings:
Mollete con aceite: A toasted mollete covered with EVOO.
Mollete con aceite y jamón: A toasted mollete, EVOO, and ham (you have to specify if you'd like Serrano or Ibérico).
Mollete con aceite, tomate, y jamón: As above, but with tomatoes too-- either sliced or pureed into a spread.
Mollete con manteca colorá (colorada): A toasted mollete topped with colored lard (lard with paprika and other spices)-- sounds fattening (and it is) but very delicious!
My advice when looking for hotels in Malaga, skip the ones offering the breakfast buffet and head to a small, local bar. For around 2.50€ you'll likely find a delicious mollete-- and often with coffee included!
Ajo Blanco
Another dish influenced by Spain's Moorish rule (we are in Andalusia after all), ajo blanco is a cold soup, often called the "white gazpacho from Malaga". Made from ground almonds, garlic, stale bread, and olive oil, ajo blanco is the pre-gazpacho, popular long before tomatoes were imported from Spain's conquests in the New World.
Ajo blanco on its own is fantastic, but I especially love it topped with juicy grapes, melon, or peaches. I know cold garlic soup sounds strange to many-- but give it a try, you won't regret it!
Espeto de Sardinas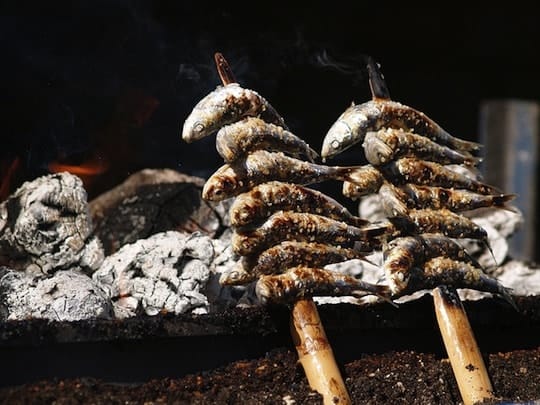 Roasted on spits as the key player in a quintessential Malagueño beachside barbecue, these sardines are the freshest you'll ever try. There is always something to be said for a simple dish done well, and this truly achieves perfection. The espetos de sardinas are most commonly served in beachfront bars called chiringuitos, which generally open seasonally and are as casual as they come. Order a caña and some sardines and I guarantee you will leave happy.
Despite seeming so simple, this dish is harder than it looks at first glance-- you must carve proper spears and know exactly how to hammer them into the sand. The fire can't be too strong or too weak-- and you don't want to let the sardines go dry... So before you try mounting your own beachside barbecue think twice-- and head down to Malaga!
A Place to Visit
Andalusia is an explosion of flavors and Malaga doesn't stray from the standards found in places like Seville and Cadiz. We really look forward to exploring its coasts, mountains, and all of the food we can fit in! Luckily, Malaga is super accessible and flights to Malaga are abundant. Since we aren't too far away, we'll likely be taking the train or a rental car, but in the past we've flown in and out of Malaga while living in Andalusia, and the airport is great.
Word to the wise: Malaga is so much more than its capital city by the same name. Get out of the city and make sure to explore the coast in small towns like Nerja (where there is also an impressive cave) and you must get out into the mountains and check out Ronda and the whitewashed pueblos blancos in the Sierra de Grazalema.
Have you ever visited Malaga? What was the best thing you ate there?
Read More: For in-depth Malaga information check out our Malaga food blog and Malaga food tours!
Photo Credits: Martin Terber (Malagueta), jules:stonesoup (ajo blanco), teclasorg (Sardines)
Pin me!