Today David shares his albóndigas de choco recipe, a classic dish in southern Spain, and one of my husband's favorites!
I always used to get confused by tapas dishes made with "choco". When I first moved to Spain, it seemed like cooks kept putting chocolate in dishes where it didn't belong.
Why would I want fried chocolate or chocolate croquettes?
The most confusing dish was albóndigas de choco. Who would add chocolate to meatballs?
Any reader who speaks Spanish will already have picked up my mistake. It turns out that choco doesn't mean chocolate. And after an embarrassing interaction with a waiter ("but where's the chocolate for my meatball?"), I learned the truth.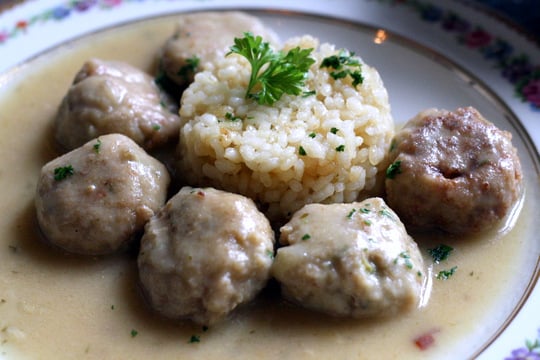 Albóndigas de choco (cuttlefish meatballs) are an Andalusian specialty. You'll find them all up and down the Costa de la Luz, between Cadiz and Huelva. Even as far inland as Seville, they work their way onto the menus of old-school tapas bars!
For the Love of Cuttlefish
Cuttlefish are everywhere in southern Spain, and locals eat them with gusto! They've been fished here for thousands of years, so you can be sure that the recipes have been tried and tested over a long time.
This part of Spain has one of the highest rates of seafood consumption in the world! Per capita, Andalusians eat more seafood than any other Spaniard. Perhaps that's why they have a lot of names for the different foods.
Choco, calamar, sepia, jibia, pota, chipirón, puntillita... these guys have more words for squid-like creatures than Eskimos have for snow! (Though strictly speaking, only chocos, sepias, and jibias are the same animal, albeit in different sizes).
So are squid and cuttlefish the same? Not exactly. But you can substitute squid in these meatballs without a problem!
Chocos tend to be small, perfect for incorporating into fried foods like croquetas. And I love them in meatballs. You can use either fresh or frozen cuttlefish (though fresh is best). And if you get them with the tentacles, chuck them in too!
Cuttlefish Meatballs Recipe (Albóndigas de Choco)
Albóndigas de Choco Recipe: Andalusian Cuttlefish Meatballs
These Spanish meatballs are made extra special by adding cuttlefish to the recipe! They're a staple of Andalusia, where you'll find them on every tapas bar's menu.
Print (images optional)
Pin
Rate
Ingredients
Meatballs
500

g

1 pound cuttlefish or squid

1

small yellow onion

roughly chopped

2

garlic cloves

roughly chopped

½

cup

flat parsley

2

eggs

60

g

2 ounces breadcrumbs

salt and pepper

to taste
Sauce
1

medium yellow onion

finely diced

2

garlic cloves

finely sliced

1

teaspoon

smoked paprika

150

mL

⅔ cup white wine

300

mL

1 ⅓ cup fish or vegetable stock

1

bay leaf
Instructions
Thoroughly clean, rinse, and drain the cuttlefish, and then roughly chop into large chunks.

Place the cuttlefish in a food processor along with the onion, garlic, parsley, eggs, and breadcrumbs. Season with a pinch of salt and pepper, and process to a smooth(ish) mixture (a couple of chunks here and there are okay).

Place the mix in the fridge and leave to chill for at least 30 minutes.

Take the mixture out of the fridge. Flour your hands lightly, and ball the mixture into around 30 meatballs (just over a tablespoon in each). They might seem a little loose, but that's fine! Dredge them in flour and put to one side.

Put a large skillet over medium-high heat, and liberally coat in olive oil (about an inch in depth). When the oil is hot (flick some water in, if it sizzles, it's hot), fry the meatballs 5 or 6 at a time. Fry until golden brown, 3-4 minutes each side. Place on a paper towel to drain and set aside.

To make the sauce, use the same skillet (and same oil) used to fry the meatballs. When hot, add the diced onion and saute until transparent. Add the garlic and smoked paprika, and sautee for another 1-2 minutes or until aromatic.

Add the white wine and bring to the boil. Let simmer for 5 minutes or until the wine is reduced, and add the stock. Simmer until the sauce reaches a saucelike consistency. Season to taste.

Serve the meatballs in earthenware bowls and top with the sauce, as well as some fresh parsley leaves!
Nutrition
Calories:
36.12
kcal
|
Carbohydrates:
3.15
g
|
Protein:
3.38
g
|
Fat:
0.64
g
|
Saturated Fat:
0.18
g
|
Cholesterol:
49.75
mg
|
Sodium:
68.33
mg
|
Potassium:
70.28
mg
|
Fiber:
0.27
g
|
Sugar:
0.6
g
|
Vitamin A:
159.72
IU
|
Vitamin C:
2.78
mg
|
Calcium:
14.88
mg
|
Iron:
0.37
mg
More Spanish Meatball Recipes
What's your favorite Spanish meatball filling? Let me know in the comments below! I serve these cuttlefish meatballs along with an ice-cold glass of Manzanilla sherry wine, but if you have a better pairing I would love to hear it.
Pin me!