For Valentine's Day I bought Ale and I two tickets for a weekend in Valencia. At only 40€ roundtrip per person, I thought, why not? I had heard a lot about the city, which is known for being quite modern and having great public transportation as well as a historic city center. It is also the origin of the famous paella and the home of one of Spain's most interesting festivals, Las Fallas.
An Explosive Greeting
Ale wasn't exactly overjoyed to be traveling again, as he'd just gotten back from a week working in Portugal the night before we left, but once we got there he forgot that he was so tired. You see, we emerged from the metro in the city center surrounded by smoke and explosions, literally, as it was the pre-Fallas celebration called La Masclata.
We didn't know much about Las Fallas or La Masclata but it was obvious that they both had to do with noise, fireworks, and, of course, drinking. After confusingly listening to the end of that day's Masclata we finally caught the bus to our hostel where we started on the real objective of the trip, exploring Valencia's famous museum complex, the City of Arts and Sciences.
Exploring the City of Arts and Sciences
We bought the combination pass and used our student IDs for a 15% student discount. The tickets ended up costing 32€ each and included the aquarium, science museum, an Imax movie, and the special temporary dinosaur exhibit. We started on Saturday with the aquarium since it was what we were looking forward to the most. But before even entering the aquarium we had to take pictures of the really incredible buildings that make up the museum complex. They're super modern and interesting and it's definitely worth going to the park if only to see the architecture!
The aquarium was really fun. It has 10 different exhibits and each one is really well done. My favorite was definitely a huge tunnel where we were surrounded by sharks and other huge fish. It was so interesting to see them so close. We also saw a dolphin show, some penguins, and mating walruses, which was quite interesting!
That night Ale got to chose where we went to eat. He wanted sushi and saw that there was an all you can eat buffet. I really didn't want to eat sushi from a buffet, but he insisted and we went to Feng's. It was an interesting experience. The customers sit at tables that surround a long rotating belt where the chef is continuously adding small plates of sushi, salads, fruit, desserts, etc. You take whatever you want as it passes by. In addition, you can order whatever you want from the menu. It was definitely a good deal, but we left feeling like we'd eaten way too much. I'll stick to sushi a la carte from now on!
On Sunday we went to the dinosaur exhibit, science museum, and Imax Theater. They were each interesting, but didn't really come close to the aquarium. The exhibit "Among Dinosaurs" was boasted to be the largest exhibit of robotic dinosaurs in Europe, but it felt like we were in Animal Kingdom in Disneyworld. It wasn't impressive at all! For the Imax we went to see something about sea creatures in 3D since Ale had never seen a 3D film. The movie was just okay, and the 3D seemed worse than other ones I've seen in the US. Lastly, the science museum was interesting, but tiring and a bit crowded. It was annoying to have to wait to try some of the exhibits. I wouldn't necessarily recommend these parts of the park to visitors; stick to the aquarium!
That night I was once again disappointed by food at an Italian restaurant. I'd wanted to try two other restaurants but they were closed. This one had decent reviews but it fell flat for me. My pasta's sauce tasted like canned soup. Ale's vegetable lasagna was okay, and our burrata (mozzarella) caprese salad was good… but that was completely dependent on the quality of the cheese rather than any cooking skills! After we did have some good, though expensive, cocktails at a bar called Barcode.
Finally, on Monday we checked out of the hotel and left our bags at the train station (a great option and a deal at €3.50 for up to 24 hours) while we walked around the center. It was decorated for the Fallas that start on March 15th. We explored the market and drank horchata, a delicious Valencian drink made with tiger nuts (chufas in Spanish).
We also saw the cathedral and some other pretty churches. At 1:30 we made our way over to the town hall where people had already been waiting a few hours for the start of the day's Mascleta at 2:00.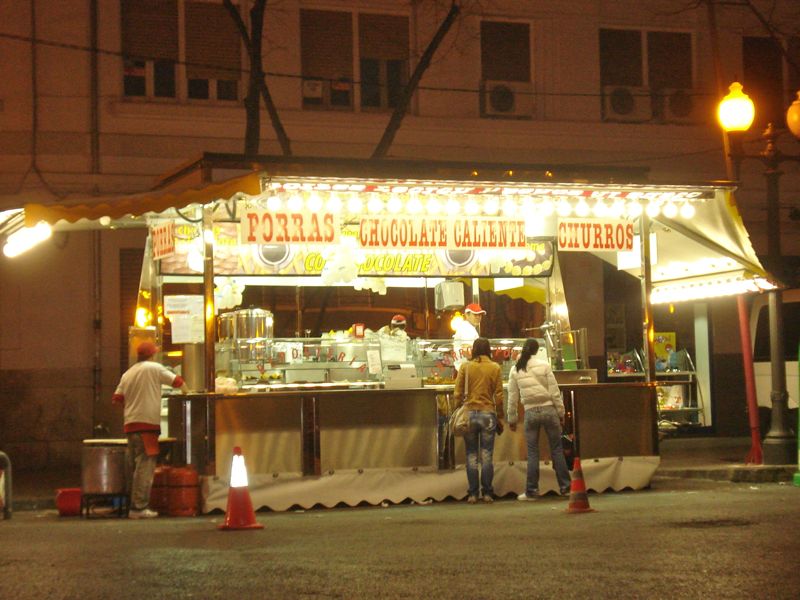 A Memorial to Battle?
Ok, so what is this Mascleta? Well, we didn't really know at the time. What we saw were a bunch of fireworks behind a large fence and lot's of people excitedly waiting. What we heard were loud explosions, building in their intensity until the deafening finale that surrounded observers in clouds of smoke. We both had our theories. Ale was convinced that it was a symbolic reminder of a war battle. He even attests to having seen old men crying (I think they were just sweating). I also thought that is might be war related but wasn't exactly sure why such a loud daily reenactment was necessary.
As it turns out the Valencian people just love to blow stuff up. There was no war, no battle, and probably no people really crying. The festival really began…..
After watching the five minutes of explosions in awe and drinking cheap beer on the street we got something to eat before heading to the Valencia airport. It had been a great weekend in Valencia but we were eager to get back home. Today I'm back in the real world, working and wedding planning, explosion free!
Getting to Valencia
Getting to Valencia is really easy from Seville, Madrid, and the rest of Europe. Here's what I found when researching options:
Flight Options: We ended up flying from Seville with Ryanair, but Easyjet also offers many connections from all over Europe. Both airlines are low cost carriers, and have great deals all year round. I would definitely recommend a February visit, as it was the off season (cheap) but still great weather!
Car Rentals: While we opted for public transportation since we didn't leave the city center, next time we'll definitely be renting a car to explore the coast and surrounding small towns. Renting a car once you arrive is easy, as the Valencia airport has various options. You could also save yourself the trouble and reserve car hire online before getting in, check out Blue Valley Car Hire for great deals.
Renfe: Valencia is also very well connected by train, and there are high speed connections available from Barcelona, Madrid, and Seville. The train is definitely my preferred method of travel, but it can be pricey if you don't book well in advance.
Taxi: Taking a taxi from the airport is a good option if you have a lot of luggage (otherwise try the metro, cheap and easy!). A trip from the airport for two costs around 20€.
Have you visited Valencia? What were your impressions?