Here in Spain, we eat churros often. They make a delicious breakfast and are a special snack at any time of day. This is my authentic Spanish churros recipe for easy homemade churros the whole family will love.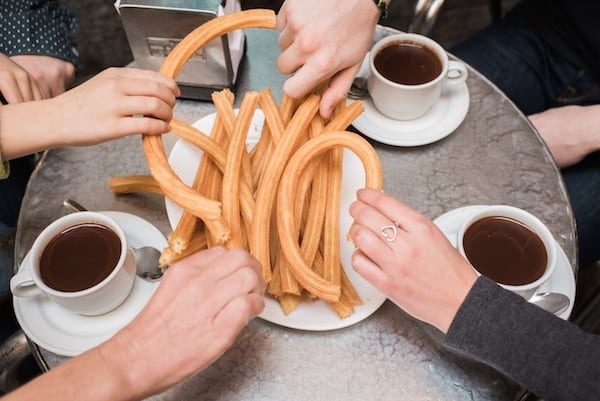 What are churros?
Most people have tried some sort of churro before, but many people don't know exactly what churros are. Churros are simply a type of fried dough made of flour, water, and salt. Churros are especially popular in Spain where they are a part of the local breakfast and snack culture.
You can also find churros throughout Latin America and even the US, as they've become very popular throughout the world.
What is the history of churros?
The history of churros goes back centuries. Some say Spanish shepherds invented them as an easy alternative to baked goods since the dough is easy to make and fry.
Others say the Portuguese sampled them in China and brought the tradition back to the Iberian Peninsula.
Regardless of the origin, churros became a cheap and popular snack food in Spain and it is likely that Spanish immigrants spread the recipe to Latin America, where today they are quite different and often are stuffed with chocolate, dulce de leche, etc. or sprinkled with cinnamon and sugar.
Read more about the history of churros here.
3 Myths about Churros
These are common beliefs about churros that are not true in Spain.
Churros are not served stuffed with chocolate, covered in sugar, or injected with cheese. In Spain, they are served plain, and may come with a packet of sugar on the side or you can order a mug of hot chocolate for dipping and drinking.

Churros with chocolate are never dessert in Spain! Although many restaurants outside of Spain serve churros as a dessert, if you tell a Spaniard that you're heading for churros after dinner they will think you're crazy. Tradition says that churros are strictly a breakfast food or a mid-morning or mid-afternoon pick-me-up snack.

They're not always made fresh. Most places have a secret-- "fresh churros and chocolate" are not made on-site! They are delivered every morning from big bakeries around the city. That's why it is important to go to a churrería (churros shop) for a quality churros experience in Spain.
What are the ingredients in churros?
The ingredients are very simple: water, flour, and salt. The proportions vary and to make porras baking soda is also added.
What is the difference between churros and porras?
I like to say that porras are churros fat cousin. They're another popular type of fried dough that has baking soda in the recipe. They're fatter and chewier than the traditional thick churros. Everyone has their preference between the two -- though I love both!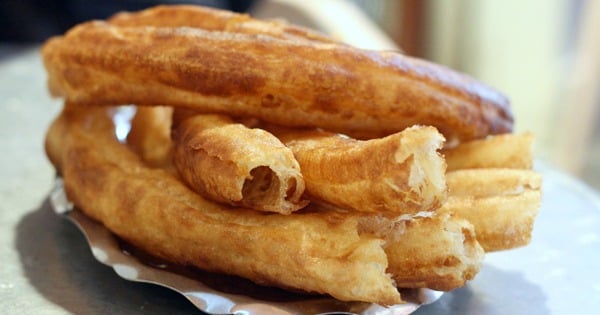 When do you eat churros?
For breakfast (not daily!) think of this like a special breakfast treat like pancakes -- once or twice a week
For mid-morning snack
For afternoon snack (merienda)
For the late-night snack after going out to bars/clubs or when at a wedding -- this is usually around 3am!
What about stuffed churros? Or cinnamon and sugar churros?
These are found in Spain at carnivals these days, but really they are typical in Latin America, where this is how churros have been adapted. You won't find these options at any traditional churros place in Spain.
And the chocolate?
Spanish chocolate is delicious and a part of the national diet! And Spanish hot chocolate is commonly served with churros at churrerías. But often adults will opt for coffee and leave the rich chocolate for the kids. You can make authentic Spanish-style hot chocolate at home with this recipe.
How do you make homemade churros?
Just in case you don't happen to live a five-minute walk from a delicious churrería, these crispy tubes of fried dough can easily be made in the comfort of your own kitchen.
I know this because I recently watched my Spanish friend Sensi whip them up in a matter of minutes with ingredients that almost anyone has in their cabinets. Luckily, I took notes and came up with a great (and easy!) Spanish churros recipe for you.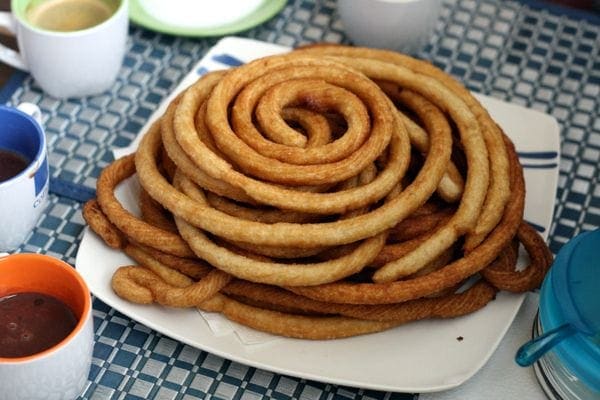 5 Ingredient Easy Churros Recipe
I was surprised to see how easy it is to make churros-- my mother-in-law had always told me it was quick and simple, but I never believed her since she never actually made them herself!
If you want to feel like you are in Spain without actually getting on a plane, this authentic Spanish churros recipe is the perfect solution.
Tip: If using a plastic bag to pipe out the churros proves too difficult, you can buy a churros maker!
Authentic Spanish Churros Recipe (Serves 4-6)
Homemade Churros Recipe
This delicious and authentic Spanish churros recipe is easy to make and only includes four ingredients! You have to try it!
Print (images optional)
Pin
Rate
Ingredients
1

cup

+ 1 tablespoon water

1

cup

flour

Sensi used pastry flour but all other recipes I've seen use all-purpose

1

teaspoon

baking powder

½

teaspoon

salt

¼

teaspoon

cinnamon

not typical in Spanish churros but Sensi used it and it was delicious!

Olive oil for frying

you can substitute vegetable oil if you must, but everyone in Andalusia fries with olive oil
Instructions
Sift the flour and stir in the baking powder, salt, and cinnamon.

Bring the water to a boil, then take off of the heat and whisk in the dry ingredients.

Stir for two-three minutes until the dough is consistent and lump free (you could also beat the mixture with an electric mixer for one minute on a medium speed)

Let the dough rest and cool for about 5 minutes

Fill a churrera (churro maker) or a pastry sleeve with a star tip with the churro dough

Heat the oil to a medium heat and when it's hot enough pipe the dough in a circular motion.

Separate the spirals so that they don't stick and flip the spiral if necessary

When they are golden on the outside take out and let rest on paper towels

Repeat the process until all the churros have been made

Cut the spirals into sticks of churros and serve with hot chocolate or sprinkle with sugar
Nutrition
Calories:
97.02
kcal
|
Carbohydrates:
16.15
g
|
Protein:
2.15
g
|
Fat:
2.54
g
|
Saturated Fat:
0.35
g
|
Sodium:
266.9
mg
|
Potassium:
22.29
mg
|
Fiber:
0.61
g
|
Sugar:
0.06
g
|
Calcium:
42.3
mg
|
Iron:
1.04
mg
Ready to try my homemade churros recipe? Check out the picture tutorial!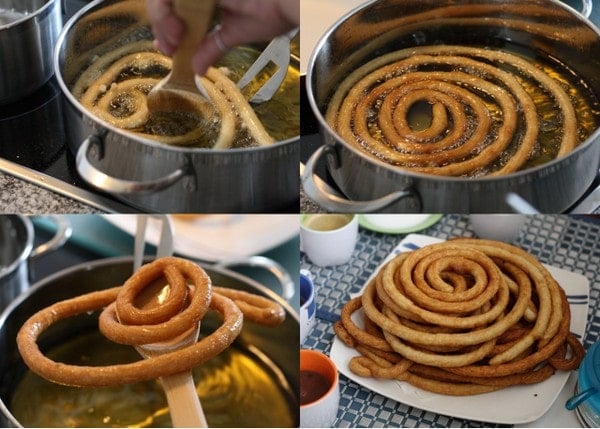 This homemade Spanish churros recipe is easy, quick, and yummy. So next time you are thinking of making pancakes, why not try something new? Enjoy your homemade churros!
Pin me!