Winter is just around the corner and the temperatures in Madrid are already dropping far too low for my comfort. I make sure to never leave the house without a thick scarf and a pair of gloves in my purse-- I'm not a nice person when I'm cold! I've never been the biggest fan of winter weather (one of the reasons I originally moved to Southern Spain was to escape Massachusetts blizzards!) but I have to say that walking around the Madrid on a crisp, sunny day is pretty incredible. The sun beats down on you and the air smells like chestnuts roasting and, to my surprise, it's actually growing on me!
Winter also is the perfect opportunity to explore any of Spain's fantastic mountain regions. There are plenty to choose from, many offering amazing skiing, snowboarding, and even snowshoeing opportunities. I have only visited a few destinations so far, mostly for their hiking trails and quaint little towns (and, of course, their food). Here are three of my favorites, each perfect for a long-weekend escape this winter. Let me know if you have a favorite that I've missed!
Las Alpujarras
We just came back from four days in Las Alpujarras and I can't rave enough about it. For now, let me just tell you it is well worth the challenging drive up twisty mountain roads to be able to experience a few days in this peaceful mountaintop paradise. Las Alpujarras are located on the Southern slopes of Granada's Sierra Nevada Mountains, and are surely one of the most picturesque areas in Spain. You can visit small, whitewashed villages filled with remnants of their Moorish past. The local cuisine is one of the area's most fascinating, with strong Moorish influences such as savory almond sauces and honey drizzled pastries. If the weather allows, you can go hiking through the mountains, stopping for coffees and lunch in the small villages along the way. If there's enough snow on the ground, you can pack your gear and go skiing, as you'll be close enough to some great ski resorts to spend the day on the trails.
Guadarrama
La Sierra de Guadarrama is located about a half an hour outside of Madrid and is the place that I usually go with friends for some fresh air on a regular basis. We usually park our car in the charming town of Cercedilla and, depending on the conditions, take a short hike through the local trails. Once the mountains fill with snow, we eat a hearty lunch in town and then head up to the Navacerrada Ski Resort, where some of us zip up our ski jackets for a day on the slopes, and others (like myself) enjoy sledding followed by hot chocolate in the bar!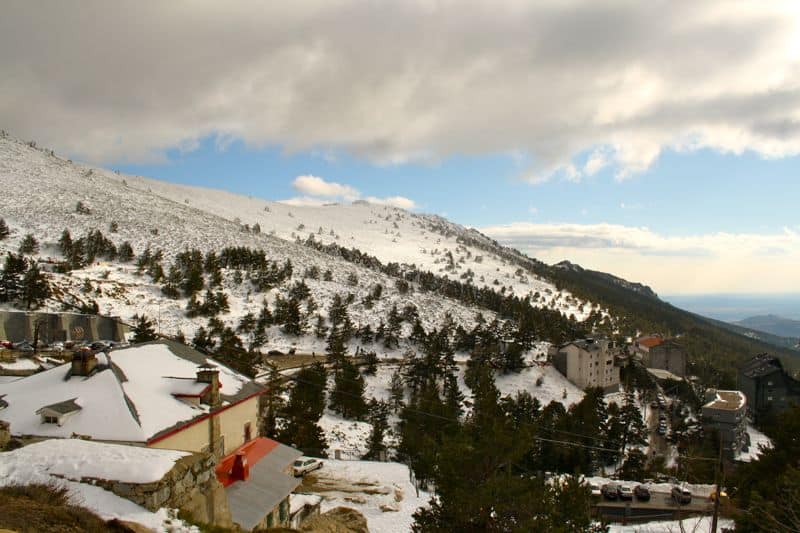 Grazalema
Known worldwide for its breathtaking Pueblos Blancos (White Villages), La Sierra de Grazalema is located in the interior of the Cadiz province and is a must-visit mountain destination in Spain. Driving along on a sunny day, you can stop in village after village, buying local honey, chestnuts, and cured meats as you drive along. It is a place where mass tourism hasn't quite caught on, and you often feel you are the only visitors in town. One of our favorite parts of this area is the stunning town of Ronda, known for its enormous bridge and drastic views of the local landscape.
These are only a few of Spain's many mountain areas worth a visit. Whether looking for a ski trip, winter hiking, quaint villages, hearty food, or simply a combination of it all, you'll find it somewhere in Spain!
I'm always looking for new areas to explore, do you guys have any tips for mountain escapes in Spain?