Today I bring you a special post written by my friend Lauren Heineck, another food and wine loving Lauren living in Spain (we are everywhere!). Lauren and I met last year and she immediately had us signed up for cheese tours and milk farm excursions, allowing me the opportunity to meet some of the area's best local farmers and producers. Lauren has an awesome blog about (mostly) Spanish food and wine and I encourage you all to give it a look-- but be careful when you're hungry!
Lauren talks about where to find some of the best croquettes in Madrid on her tried and true "Ruta de la Croqueta" (Madrid Croquette Route). Not lucky enough to live in Madrid? Check out the Spanish Sabores recipes section to make some at home. 
Madrid is a fascinating and vibrant city whatever way you look at it or whatever time of day you happen upon it. However, when the sun goes down Madrileños get into even more mischief and debauchery - all in good fun! I recently read a statistic claiming that in Madrid there exist more bars per capita than any other city in the world. They are known for, and quite proud of, their resilience for eating, drinking and dancing the night away.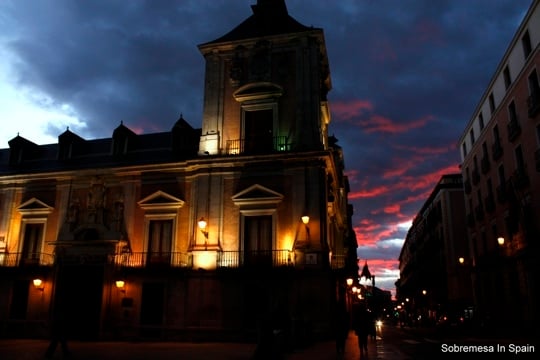 And because I like to split my personality between "go with the flow" and über organized, I forwent the traditional meandering through La Latina and triBall  for a bespoke tapas tour, 'La Ruta de la Croqueta,' otherwise known as The Route of the Croqueta. The idea was to hit the streets, roam our favorite barrios and discover new ones, all in the name of finding Madrid's best croqueta. For those who are unfamiliar with what a croqueta is, it's basically about as Spanish as apple pie is American; for a more detailed recipe and description, read more at Sobremesa In Spain.
8pm meeting point at

Lavapies

metro. The sun is set, the air is filled with a wafting fritura.
DISCLOSURE: Before you continue; A) do not abuse this tour B) act like a local; standing while eating and kindly smiling at others whilst elbowing them and simultaneously claiming 'perdon' until you get those hot croquetas into your possession C) tally the classifications and high marks at the end of a beautiful and fulfilling evening, hereby claiming your favorite croqueta in all the land
Let the games begin!
1. Melo's
Calle Ave María, 44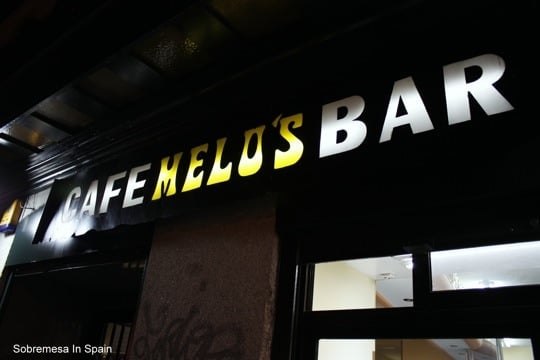 First stop, Melo's. Yes, this is an early time to convene for "dinner," but these place I've scoped out fill-up fast, and if you're not a bit aggressive at the counter, you'll likely lose your opportunity to order. At Melo's think Galician, everything is bigger in Galicia, and you'll see by the portion sizes that these folks don't mess around. We're here for the croquetas de lacón y queso de tetilla (mmhmm, you read that correctly, that's bacon and teat cheese - ask to see a sample of the cheese if you don't believe me). One representative pushes through the crowd and orders cañas (small beers), the croquetas and because we are also feeling adventurous, another house specialty 'la zapatilla,' a deliciously monstrous sandwich fit for a Gallego, pan de pueblo and por qué no?, more meat and cheese -  it's a bit daunting, even Gulliver would not have known how to bite into this sandwich. But I've digressed, the croqueta, also a large specimen, is juicy, milky, warm and a flavor none of us are familiar with - en fin, a success, but we've got bigger fish to fry.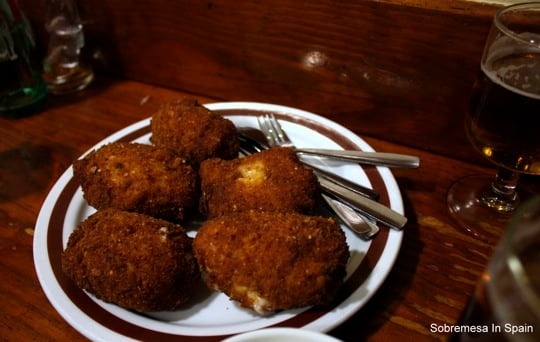 9pm Walk towards

Puerta del Sol

. Avoid the Micky & Minnie Mouse characters if you can.
 2. Casa Labra
Calle de Tetuán, 12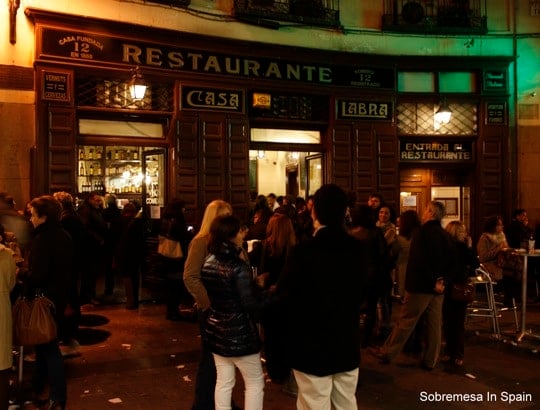 Vámonos, Casa Labra awaits us, and so they say the Socialist party, or at least that's who frequented this establishment after it was founded in 1860. Today, they do much of what they did way back then, they specialize in cod, also known as bacalao. The weather, the hour and the evening will determine the popularity, but this place is no secret, regardless a line will most certainly be awaiting you, curving out onto the street adjacent to El Corte Inglés. In 007 fashion, insist that one of your party members commandeer two high-top tables out front. The other should do the ordering, - and paying! - cañas and vermouths, as well as the cod fritters and of course, las croquetas de bacalao. If dried salted cod is your thing, this could be your main event of the evening, but I'll let you decide.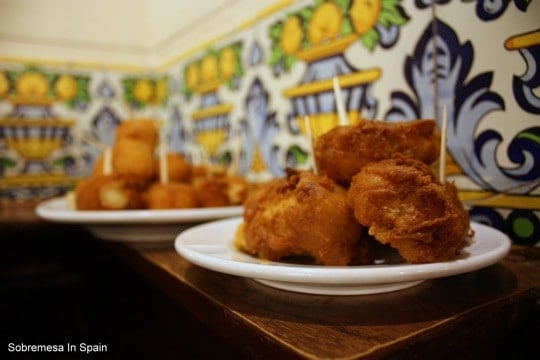 10pm Cross

Gran Vía

and head north towards

Malasaña

.
 3. Casa Julio
Calle de la Madera, 37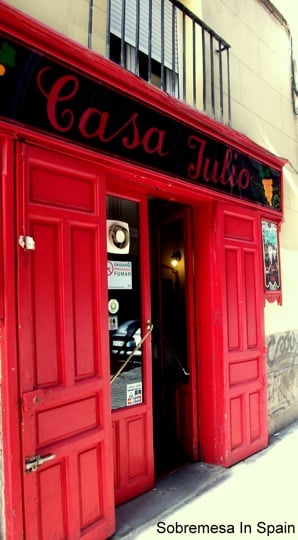 The troops' morale may be low, their bellies tipping on full, could be that the fried nature of their meal is going to their heads, or it could be the fermentation, but we must press on, Casa Julio stands as the final frontier. You'll walk through an otherwise quiet looking set of back streets before you spot from a distance bright red doors and hipsters smoking out front - that's your cue. Push your way inside and get the waiter's (owner's?) attention. I suggest switching to wine at this point, their selection is quite varied, as well as culminating the croqueta contest with 'el surtido,' a mix of the daily offerings of croquetas. More or less one can always expect spinach, blue cheese and jamón, but you may just get lucky and end up with something seasonal like setas (wild mushrooms) or picadillo de la matanza (a pork "blend" from the pig's slaughter usually available in November). The story goes that Bono of U2 was once a regular here, could we have discovered the true origin to Sunday, Bloody Sunday?
It may be that they'll have to roll you out of Casa Julio just as they would roll a croqueta a mano, however, they are pretty good at it.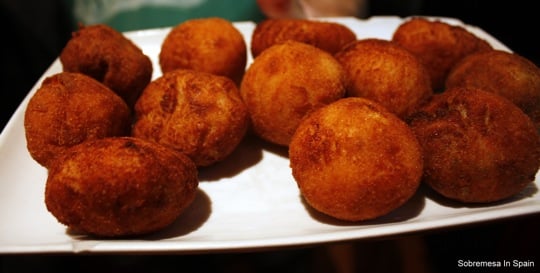 Liked this post?
See more pictures and read more antics and culinary facts at Sobremesa In Spain.
Make yourself a fan of Lauren's newly created Facebook page (yup, she's a bit late to that party!).
And if you find yourself in Madrid, follow along the Ruta de la Croqueta for the best croquettes in Madrid, with this handmade Google Map, a great way to see the town and eat your weight in béchamel.