With only a handful of ingredients, my mother-in-law's traditional Spanish ham croquettes recipe is the best I've ever tried. In only 30 minutes, you can whip up a batch of croquette dough too. It's easier than you might think!
Looking for more tasty croquettes? Make sure to try my recipes for salt cod croquettes and potato croquettes!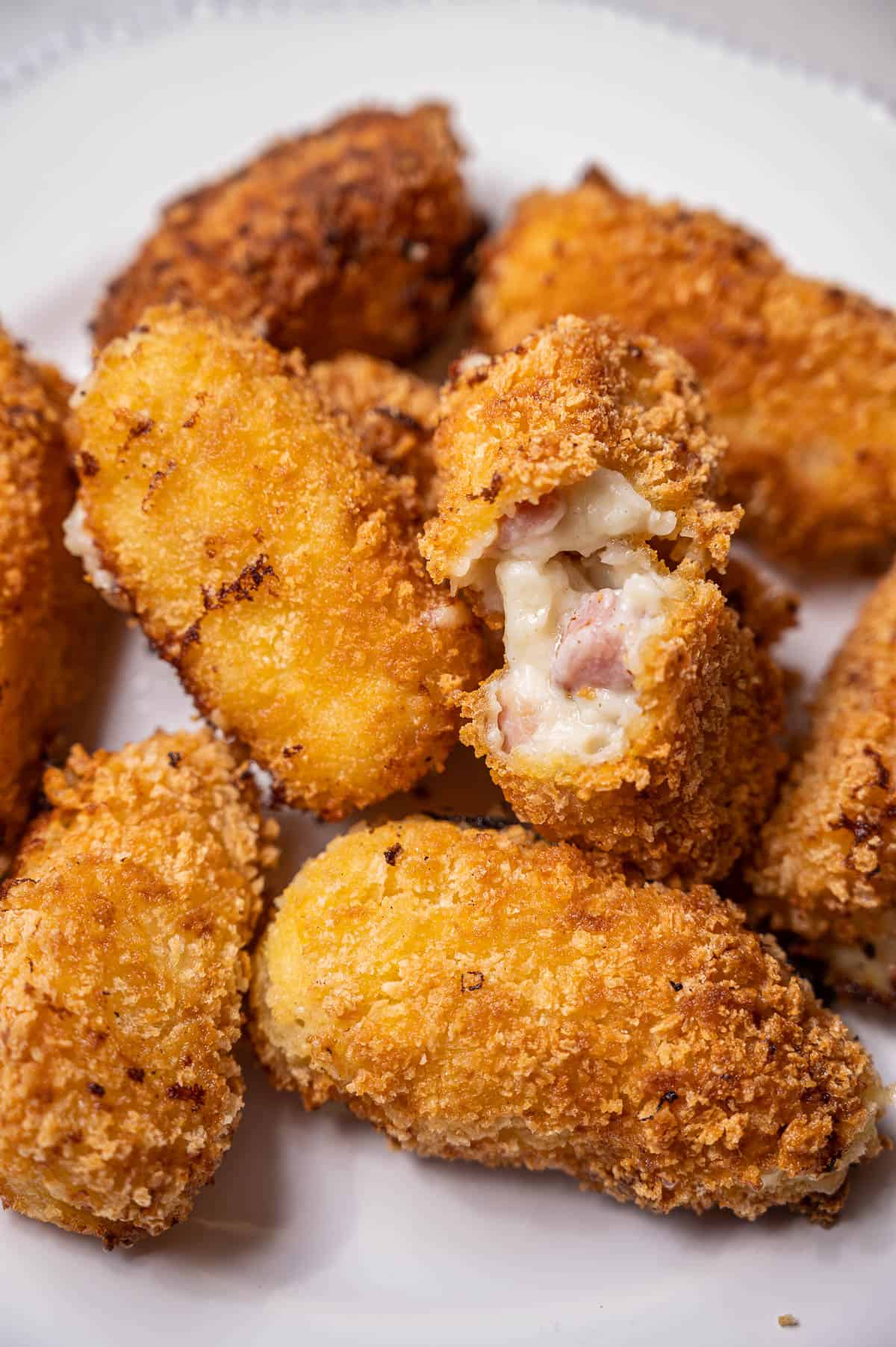 Jump to:
Introduction
Croquettes are small rolls made from a mixture of olive oil, butter, flour, and milk flavored with Serrano ham and deep-fried to crispy perfection. (Although, if you're like the locals in Spain, you might want to try more adventurous flavors, like mushroom or even chocolate!)
Even though they originated as a poor man's food, they have become a beloved tapa throughout Spain. Their creamy filling is bursting with flavor, and leaves many wondering whether they're eating cheesy, ham-flavored mashed potatoes.
Like me, you might be surprised to hear that there isn't any cheese in croquetas de jamón. How can they be so creamy and delicious without it? This recipe proves that the secrets are patience and béchamel sauce!
Now that you know the secret, there's no excuse not to make these easy and tasty tidbits of Spanish goodness!
Why This Recipe Works
These croquettes are never oily or cold in the center.
This recipe will make croquetas that are impossibly light! You'll never guess that flour is the main ingredient.
This is my twist on a family recipe from my Spanish mother-in-law, and it won't disappoint.
Ingredients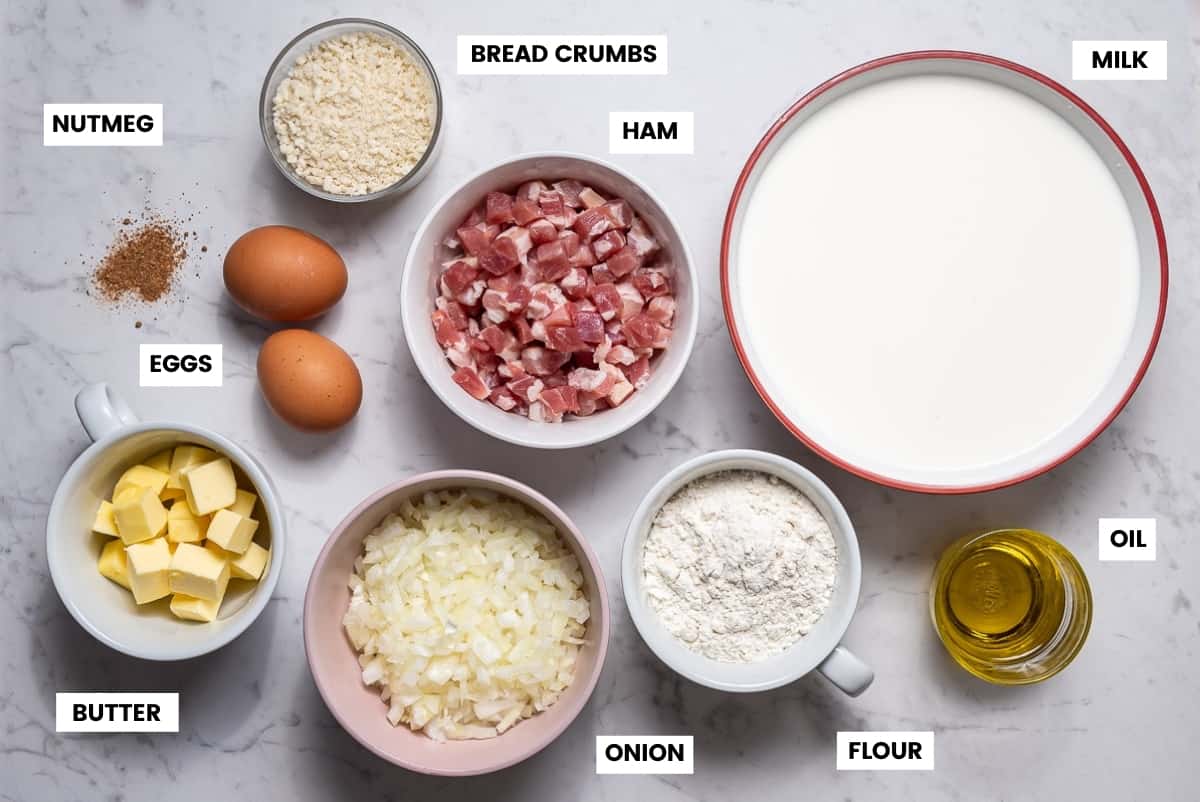 Wondering what ingredients you need to make your own mouthwatering ham croquettes? Here's a few of the key ingredients you'll need!
Serrano Ham: In Spain, we make these croquettes using cured jamón -- either Serrano (most common) or Iberian. Read about the differences here.
Butter: While some recipes use only olive oil, I think that the butter makes the filling much more light and creamy.
Onion: Traditional croquettes always use onion, which adds a great flavor to the mixture.
Milk: Use whole milk, preferably at room temperature. This is not the recipe to try to cut calories!
Breadcrumbs: Use the breadcrumbs of your choice. I personally love making croquettes with panko breadcrumbs -- they get super crispy!
See recipe card for full information on ingredients and quantities.
Substitutions
Ham: You can substitute with the ham of your choice. Prosciutto works well, but any high-quality ham will be delicious.
Butter: I'd recommend a mix of butter and extra virgin olive oil as my recipe instructs, but you could do 100% oil or 100% butter if you prefer.
Frying Oil: Use the best quality you can -- preferably extra virgin olive oil. In Spain, we also fry our croquettes in olive oil, but any neutral frying oil will do if you must substitute.
Flour: I have never experimented using different flours (or gluten-free ones) but I have heard of people being successful with a good GF blend. If you try it, leave us a comment below!
Onion: You could substitute shallots or leeks.
Vegetarian: Try my vegetarian potato croquettes recipe!
How to Make
If you'd like to see the full ingredients and instructions, scroll to the bottom of the post for the printable recipe card.
Making the Dough
The dough for ham croquettes is really easy to make. You just need about 30 minutes and a strong arm. Let's go!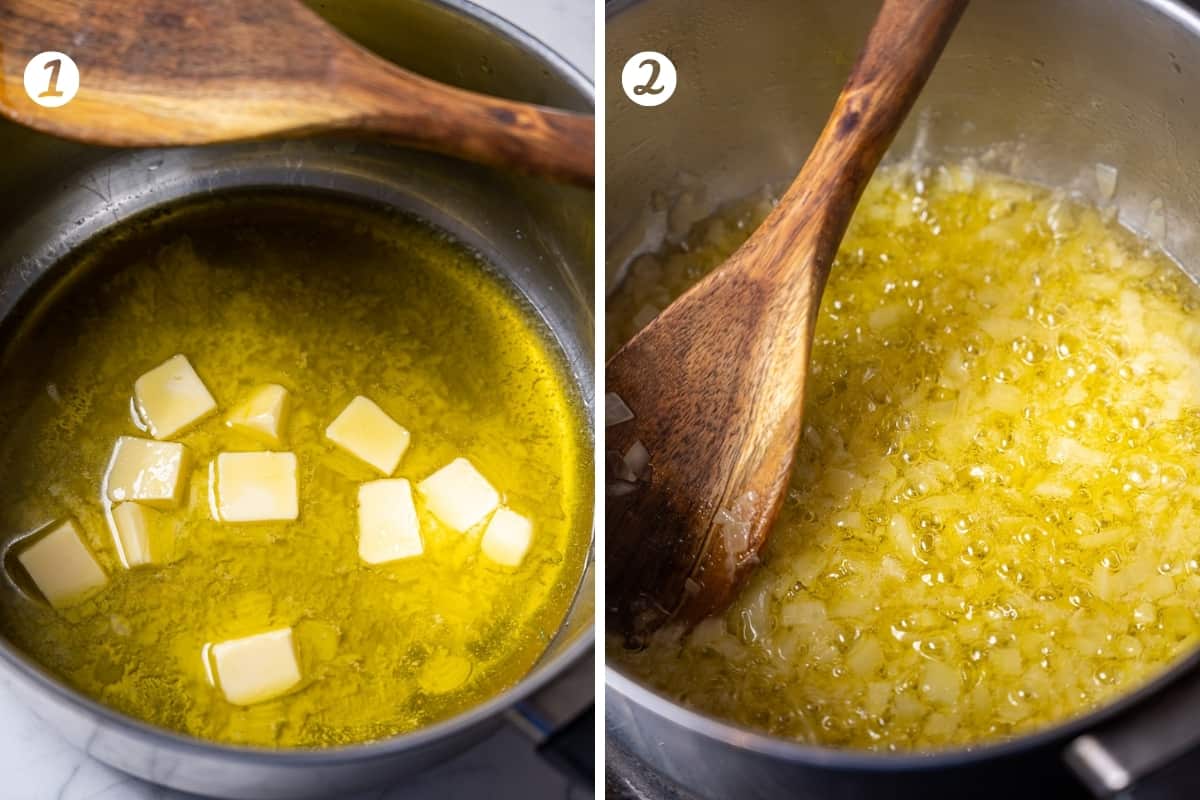 Start by heating the butter and oil in a heavy pan.
When fully melted and hot, add the onions and sauté for about 5 minutes--until just starting to color.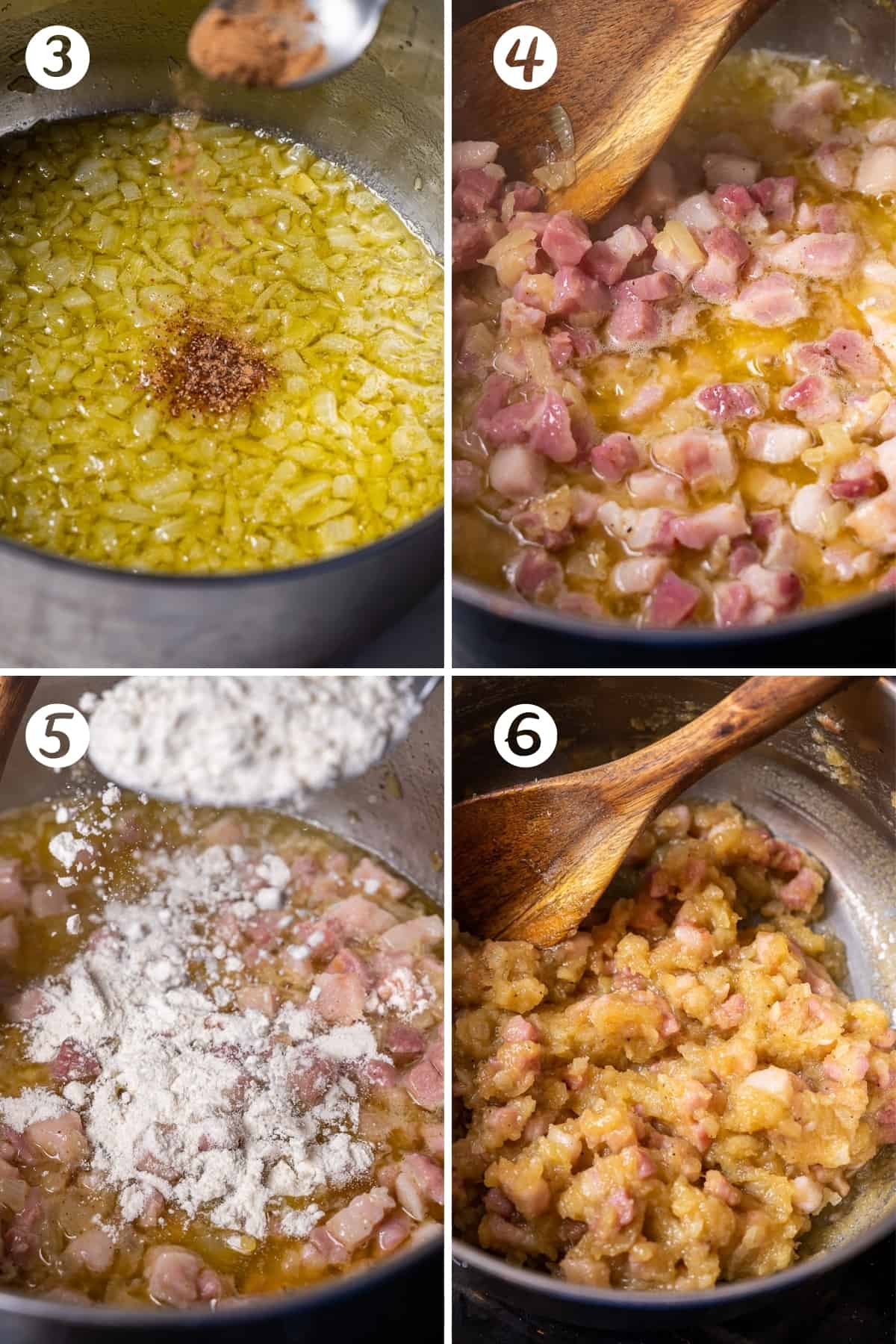 3. Next, mix in the nutmeg and a pinch of salt.
4. Add the diced Serrano ham and cook for no more than a minute.
5. Add the flour and sauté, stirring constantly to cook the flour without burning it.
6. Once the flour has browned, it's time to add the milk.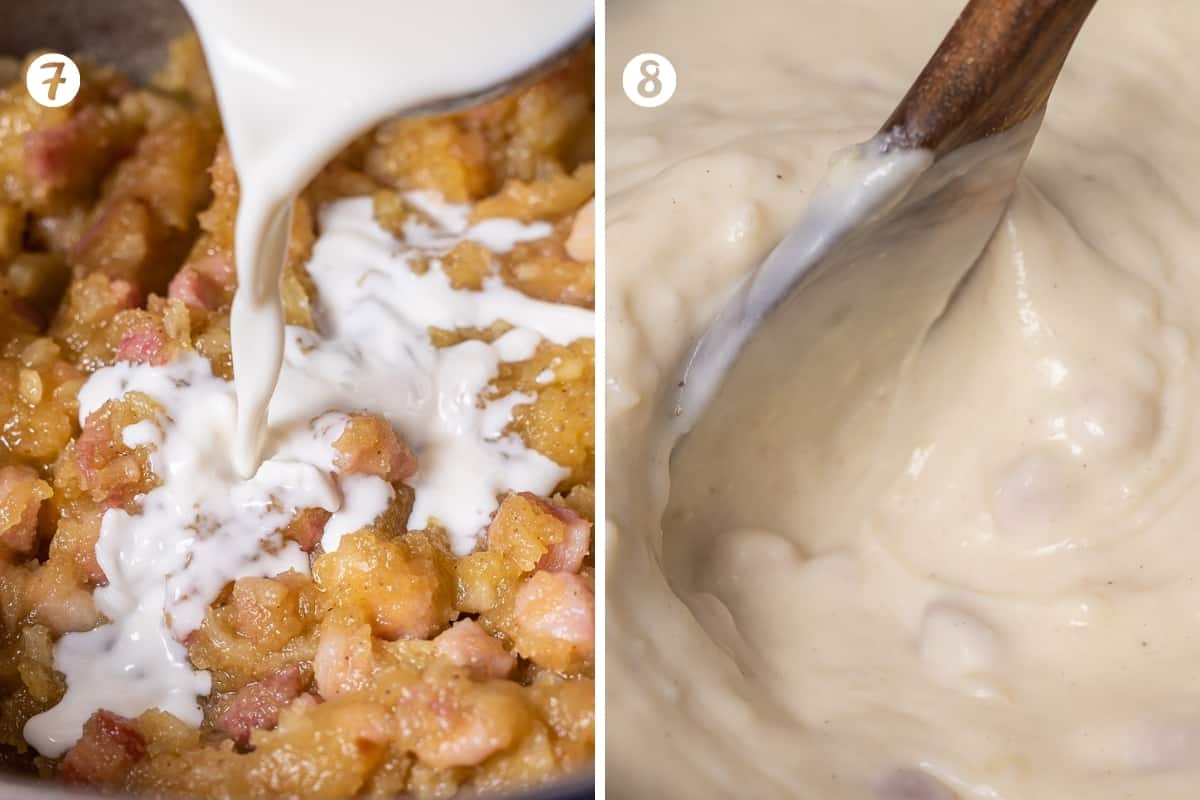 7. Gradually add the milk, stirring constantly, over the next 15-20 minutes. Every time the mixture gets dry, add some more milk.
8. Once all the milk has been added and the dough is creamy and thick, remove it from the heat.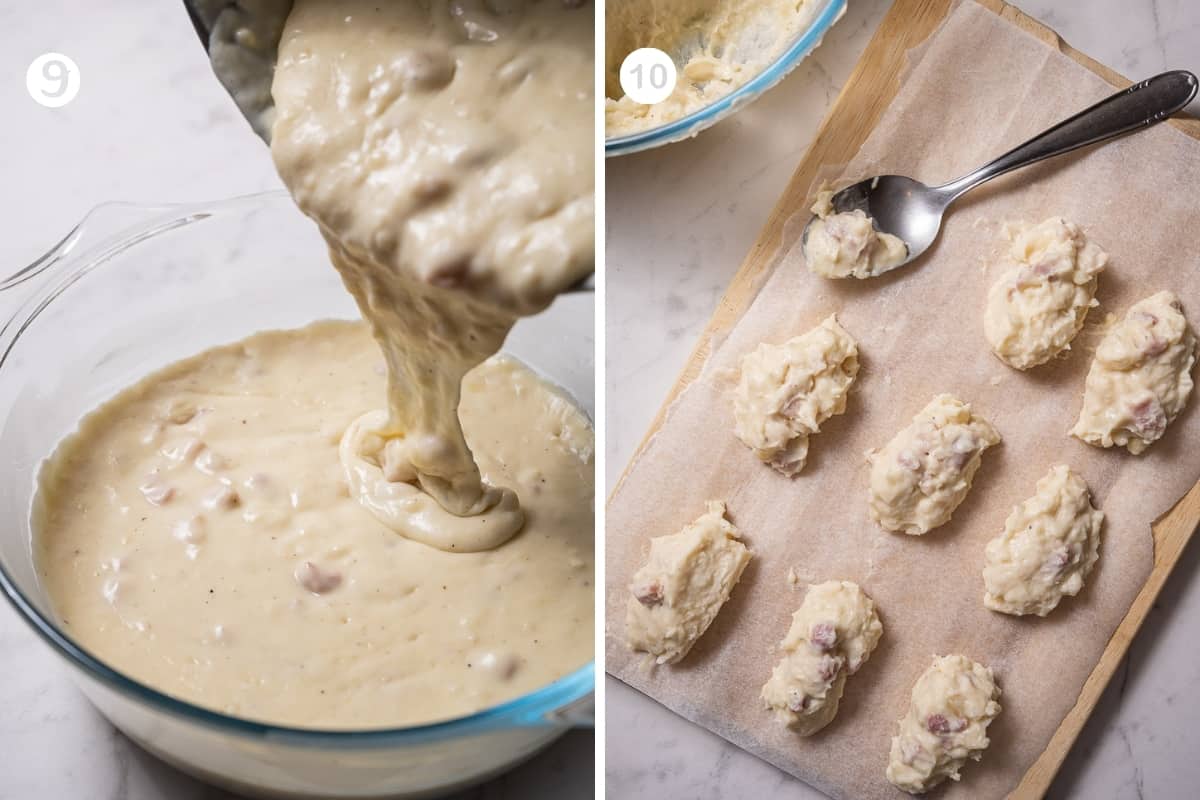 9. Pour the croquette dough into a large bowl, and let it cool to room temperature. Press plastic wrap onto the surface of the dough, and refrigerate for at least 4 hours (ideally overnight).
10. When it's cool, take it out of the fridge and make little logs using spoons or a piping bag.
Breading & Frying
When the dough is completely chilled and you've formed your croquette logs, it's time to bread and fry them!
First, prepare the breading steps of flour, beaten egg, and breadcrumbs in separate bowls. Bread each croquette in flour.
Dip each croquette in egg.
End the breading process by coating the logs in breadcrumbs.
Place on top of wax paper if you wish so they don't stick.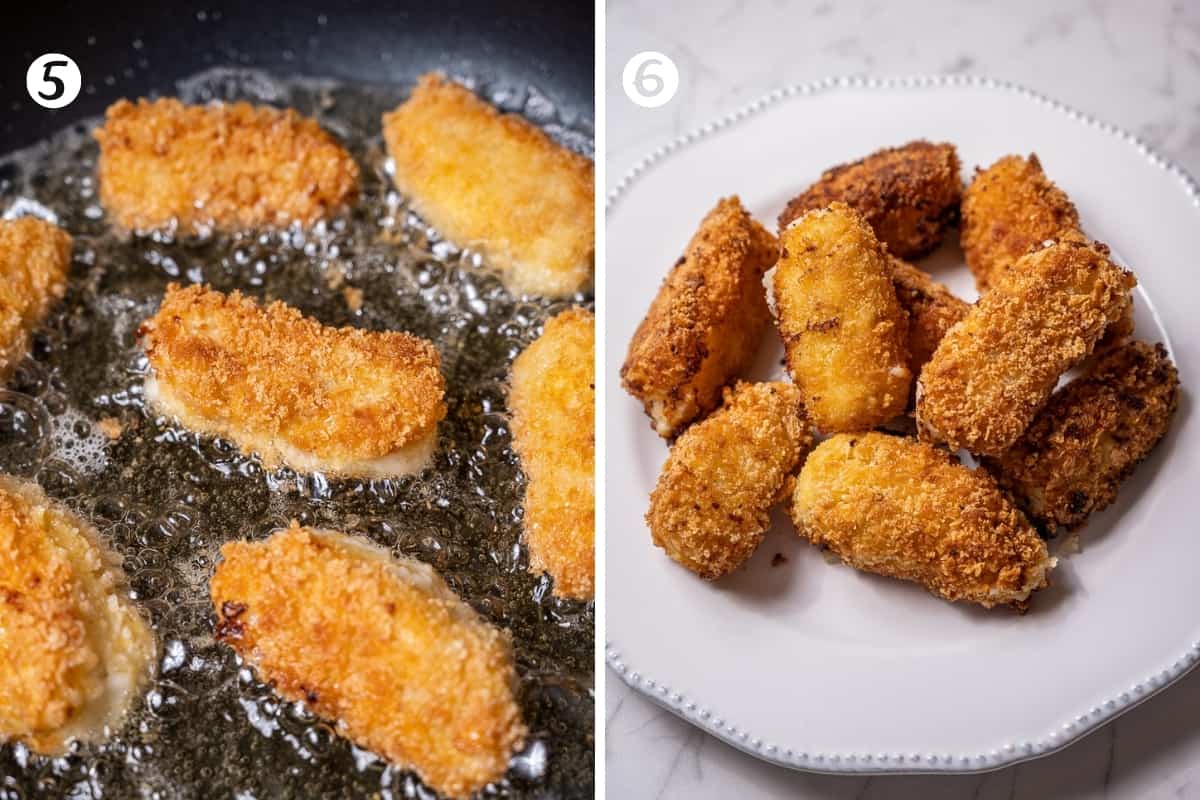 5. Heat olive oil in a heavy frying pan and once hot (but not smoking), add the croquettes. Fry for 5 minutes, turning halfway through to ensure they brown evenly on all sides.
6. Drain on paper towel, and let them cool for a few minutes, then enjoy!
Recipe FAQs
What is Serrano ham (jamón Serrano)?
Jamón Serrano is a type of dry cured Spanish ham. It's one of the most popular types of ham in Spain, in part because it is less expensive than most Iberian ham (jamón Ibérico).
What are croquettes in Spain?
Croquettes in Spain are fried bechamel sauce fritters. They are a way to stretch leftovers by mixing them with creamy bechamel sauce (flour, butter/oil, and milk). Ham croquettes are the most popular variety in Spain, but others include chicken croquettes, mushroom croquettes, and spinach and pine nut croquettes.
Can you make ham croquettes in advance?
Ham croquettes can be made well in advance. After making the croquette logs and breading them, you can keep them in the refrigerator for 24 hours (uncooked) and in the freezer (in an airtight container) for up to three months.
How long can you keep croquettes?
Once cooked, leftover croquettes will last in the fridge for up to three days. You can reheat them in a hot oven (350°F/170°C) for about 10-15 minutes.
Serve
Wondering what to serve with croquettes? Options are endless! Let me tell you about how we eat croquettes in Spain.
On their own! You'll often see croquettes as an option on a menú del día for your main plate. Depending on the size you usually get 3-6 croquettes (often with french fries) as your main meal. They're popular on kids menus too!
As a starter. Croquettes are often served as an appetizer when dining out with a group of friends. They're especially common in Spanish rice restaurants (arrocerías) where you'll get a croquette or two per person before the paella comes.
As a tapa. Croquettes are a common tapa and one I always order when tapas hopping. When eating tapas for my meal I order 2-5 (depending on their size). Read more about what tapas are here and get a list (with recipes) of the top 30 Spanish tapas here.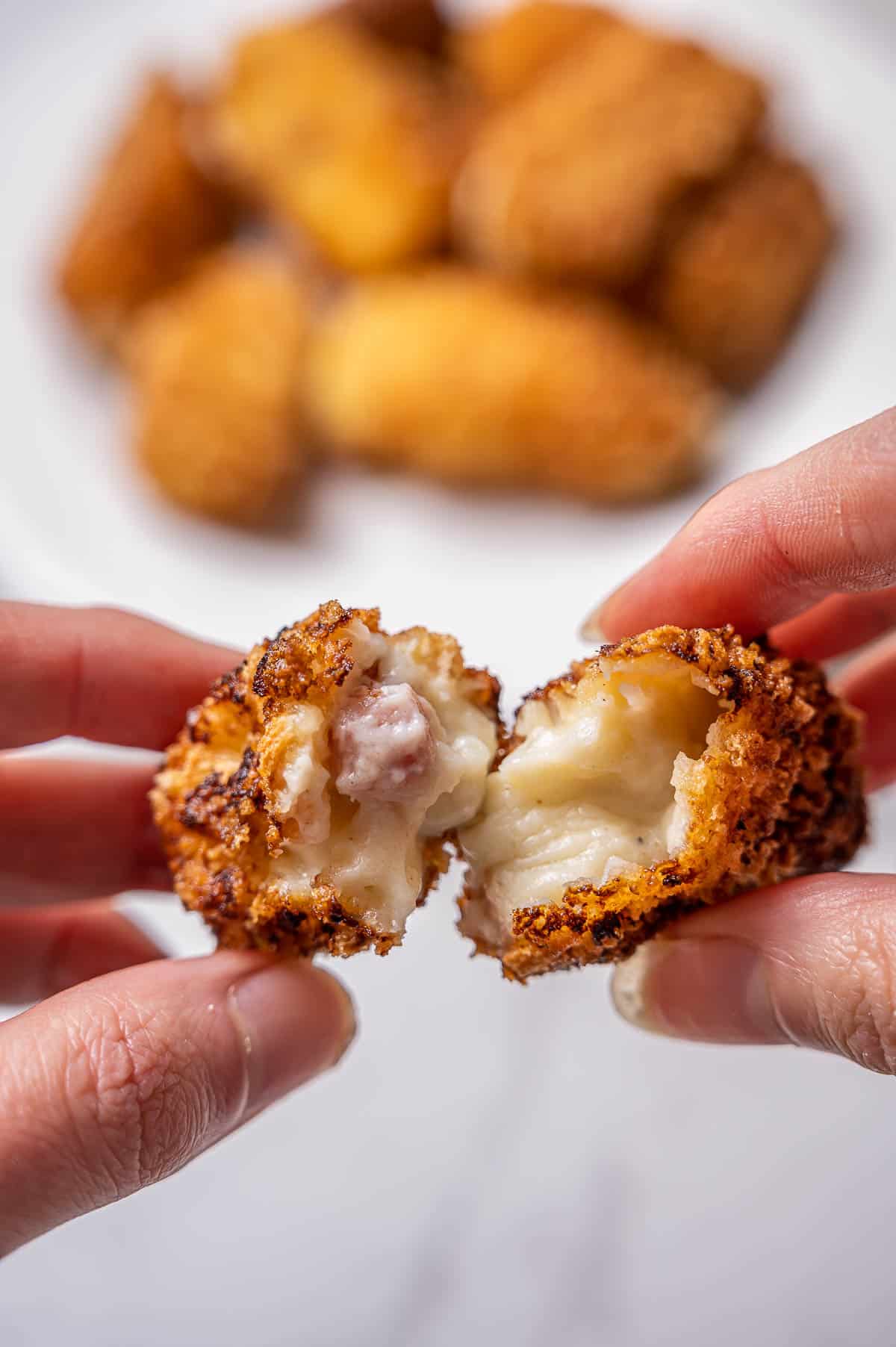 Store
Leftovers: Refrigerate extras for up to 3 days.
Reheating: Place in a hot oven (350°F/170°C) for about 10 minutes.
Freezing: It's best to freeze the croquettes once they're breaded, but before they're deep fried. Seal in an airtight container or zip-top plastic bag and freeze for up to 3 months. Defrost before frying.
Expert Tips
The trick to creamy croquettes is to add the milk very slowly and to stir constantly.
You can substitute prosciutto or Iberian ham for the jamón Serrano -- or any other high quality cured ham.
Chill the dough quickly by spreading it in a thin layer on a cookie sheet and covering with plastic wrap, then freeze for about 30 minutes.
More Spanish Tapa Recipes
If you liked this recipe, please share it with others!
Follow Spanish Sabores on Facebook, Twitter, Pinterest, and Instagram for more recipes and travel tips.
If you've made and enjoyed this recipe, please leave a 5-star review!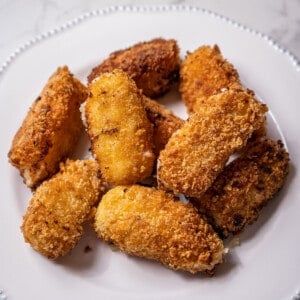 Croquetas de Jamón Serrano Recipe - Traditional Spanish Ham Croquettes
This easy and delicious croquetas de jamón serrano recipe is my mother-in-law's favorite.
Print (images optional)
Pin
Rate
Ingredients
4

tablespoon

unsalted butter

¼

cup

extra virgin olive oil

1

scant cup

all-purpose flour

1

medium onion

very finely diced

4

cups

whole milk

at room temperature

1

pinch

nutmeg

8

ounces

Serrano ham

finely diced

2

beaten eggs

flour

for breading

breadcrumbs

for breading
Instructions
Heat the butter and oil in a heavy pan over medium high heat for about 2 minutes. Add the diced onion and sauté for a few minutes, until it just starts to color, then add a pinch of salt and the nutmeg. (Don't add too much salt, as the Serrano ham is already salty.)

Add the diced ham and sauté for 30 seconds, then add the flour and stir continuously until the flour turns light brown. Don't stop stirring, or the flour will burn!

When the flour changes color, gradually add the milk, stirring constantly. It should take about 15-20 minutes to add it all.

Turn off the heat and let the dough cool to room temperature.

Place the croquette dough inside of a buttered bowl and cover with plastic wrap, making sure the plastic touches the surface of the dough to prevent a skin from forming. Refrigerate for at least 4 hours, but preferably overnight.

To make the ham croquettes, shape them into little logs with two spoons, or pipe the mixture with a pastry bag.

Heat a pan of olive oil on the stove. Bread the croquettes by tossing them in flour, rolling them in beaten egg, and then coating them with the breadcrumbs.

Fry the ham croquettes in the hot oil for 5 minutes, turning them halfway through so they brown evenly. Drain on paper towels to catch excess grease, and let them cool for a few minutes. Enjoy immediately.
Notes
You can substitute prosciutto or Iberian ham for the jamón Serrano -- or any other high quality cured ham.
The trick to creamy croquettes is to add the milk very slowly and to stir constantly. 
Chill the dough quickly by spreading it in a thin layer on a cookie sheet and covering with plastic wrap, then freeze for about 30 minutes.
You can easily freeze the breaded prepared croquette logs. They'll last for three months in the freezer.
If you have leftovers, they'll last up to three days in the fridge. To reheat, place in a hot oven (350°F/170°C) for about 10 minutes.
Nutrition
Calories:
91.9
kcal
|
Carbohydrates:
3.05
g
|
Protein:
4.92
g
|
Fat:
6.85
g
|
Saturated Fat:
2.55
g
|
Trans Fat:
0.08
g
|
Cholesterol:
27.67
mg
|
Sodium:
214.84
mg
|
Potassium:
66.34
mg
|
Fiber:
0.13
g
|
Sugar:
2.27
g
|
Vitamin A:
142.12
IU
|
Vitamin C:
0.34
mg
|
Calcium:
49.98
mg
|
Iron:
0.26
mg
Photography by Giulia Verdinelli