Why Logroño, Spain is an Up and Coming Destination Getaway
By: Elizabeth Carlson of Young Adventuress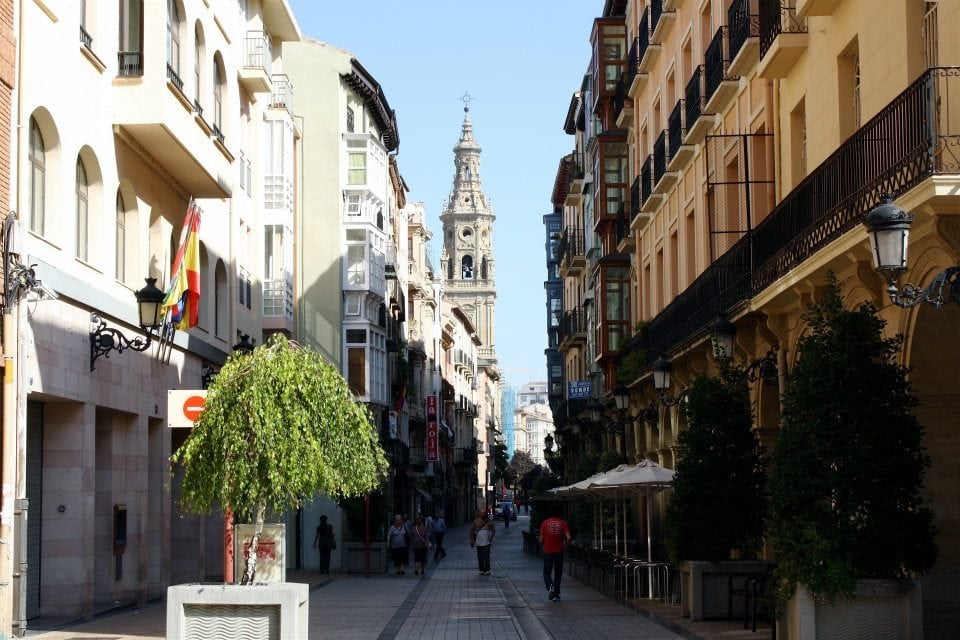 When people plan a trip to Spain, I can honestly say very few of them choose to go to Logroño. This is not because it isn't worth visiting, but rather because few people have heard of it. Well off the beaten tourist trail, Logroño is the capital of La Rioja, a charming, tiny region four hours north of Madrid. Famous for its red wine and for being a stopover on the Camino de Santiago pilgrimage that cuts across northern Spain, Logroño has plenty of undiscovered merits and allures of its own.Perfectly situated between cities like Bilbao, Pamplona, San Sebastián, Burgos and Zaragoza, Logroño is well worth a stop on any trip around northern Spain.
In recent years, Logroño has become an up and coming destination in Spain. After being named one of the top cities to live in throughout Spain, Logroño was also just awarded the prestigious honor of the 2012 Gastronomic Capital of Spain. Unaffected by the mass tourism that has swept across Spain in the past few decades, Logroño feels like a "traditional" Spanish town with a modern twist, especially when it comes to food and wine.
Modern gastro-bars and old-world taverns rub shoulders with each other in and around the old quarter of Logroño. The capital of La Rioja is famous for its pincho bar scene. Pinchos are Northern Spain's take on tapas, small portions of food served up (usually) skewered to a slice of bread. There are hundreds of pinchos to chose from in Logroño, with some bars offering many varieties, while others are famous for just one. They are usually cheap, and when paired with a glass of local red wine, it'll usually cost around 2.50 euros. In the past few years, there has been a new fad of gastronomic pincho bars, places that serve up elaborate, extravagant, and occasionally futuristic (or just plain strange) pinchos, like kangaroo, mushroom and avocado paste or a foam tortilla de patata.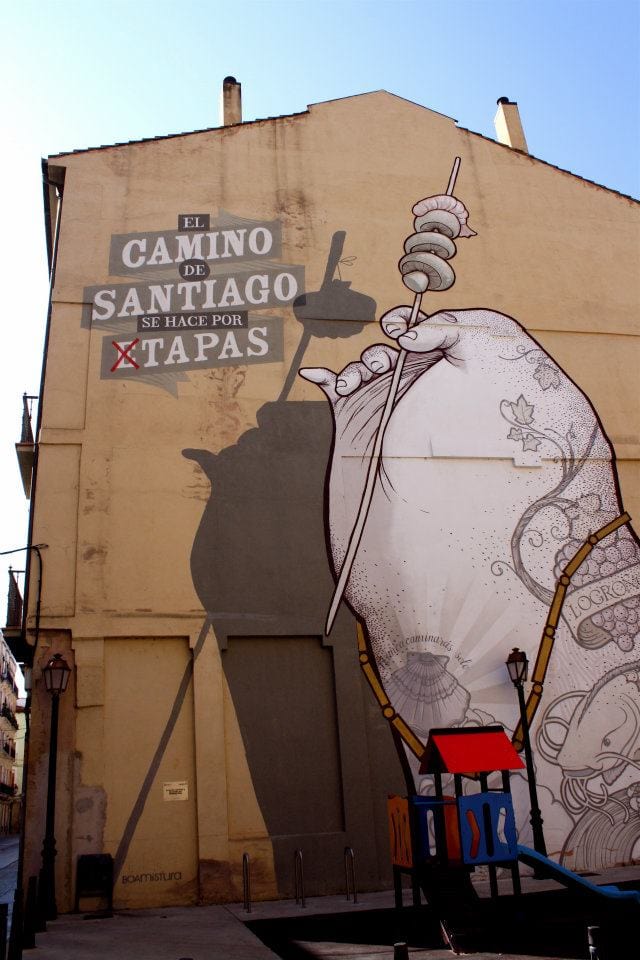 The pincho bars are also clustered around two narrow streets in the old part of town, Calle Laurel and Calle San Juan, right near one another. Going out for pinchos is an inherently social activity; get a group of friends together and go hop around your favorite spots. It's easy to meet people since the bars are so small and the streets are so narrow. I have had many good conversations with people over the famous mushroom pincho at Bar Soriano-- three mushrooms grilled and smothered with a rich and buttery sauce of garlic and olive oil, skewered on a slice of baguette and crowned with a shrimp. Logroño's favorite pincho, el champi is a must if you ever make it up here. Did I mention it only costs one euro?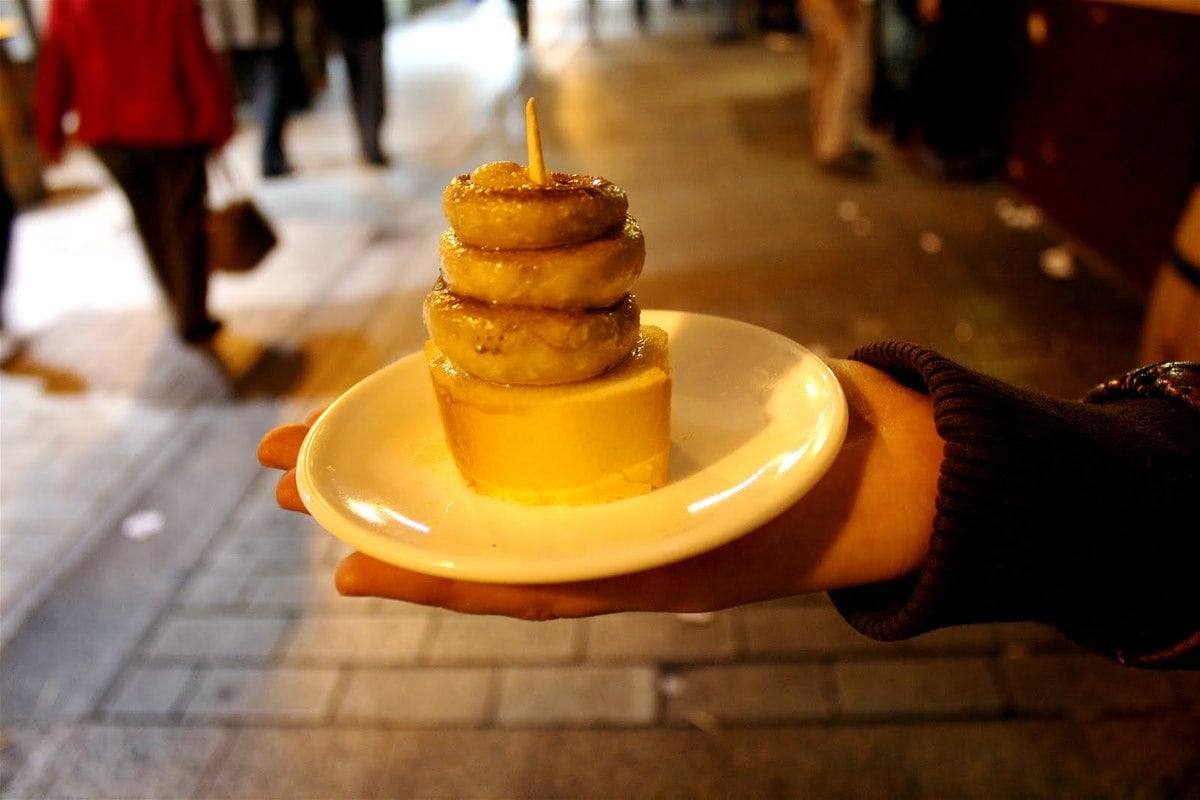 But the best reason to visit Logroño, and what distinguishes it from many other cities in Spain, is the wine culture. Itty bitty La Rioja happens to be one of the biggest wine producing regions in Spain and you can find it everywhere here, from wine-stomping festivals, to the harvest in the fall, to even a wine battle (Batalla del Vino), a massive annual food fight with wine. There are hundreds of wineries to visit in La Rioja, and many in Logroño itself, where you can learn everything and more about wine production. My favorite bodega is just outside Logroño, called Marqués de Riscal. A mix of innovation and tradition, the oldest winery in La Rioja was redesigned by Frank Gehry (the architect of the Guggenheim in Bilbao) a few years ago.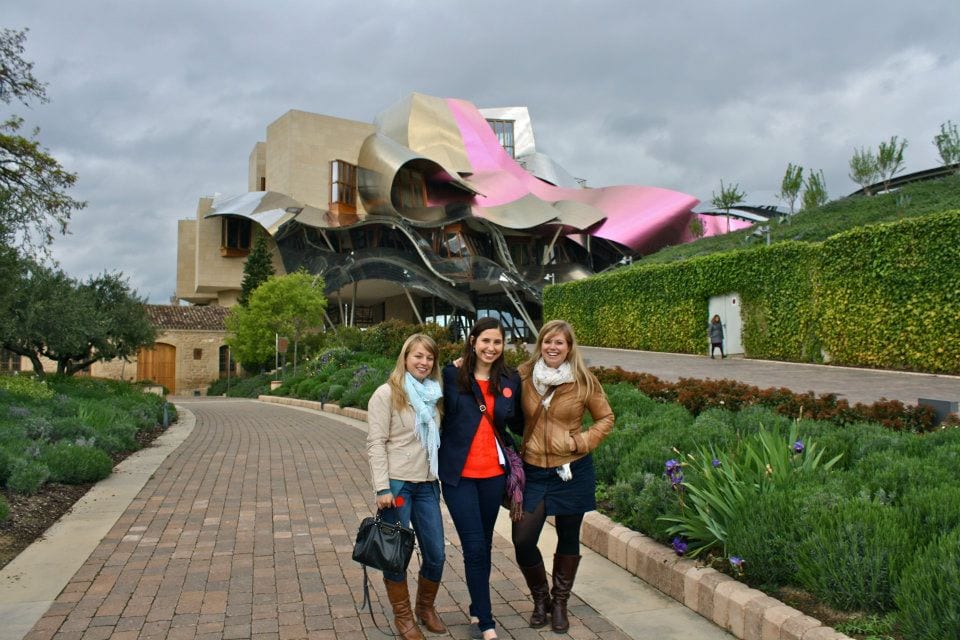 Logroño has a bubbly, chipper attitude and sense of community that I have yet to find in other cities in Spain. Everyone is friendly here and welcoming to tourists and visitors. Logroño is perfectly sized, you can walk everywhere in the city, and you can even walk straight out of the city, as a pilgrim on St. James Way or simply for a nice walk in the surrounding vineyards and mountains. Logroño has fun, young pilgrim hostels, gorgeous luxury hotels and everything inbetween. Beautiful and imaginative architecture combined with narrow medieval streets and quaint shops and cafes, Logroño has it all. Top it off with some of the best wine and food in Spain for jaw-dropping low prices, and you really can't get any better. So if you are looking for an undiscovered city in Spain that oozes charm and tranquility, make sure that Logroño is on your radar.
Liz writes Memoirs of a Young Adventuress which is about traveling and expat life abroad. Four years ago, she said goodbye to the freezing cold New England winters and 'hola' to sunny, warm Spain, and hasn't looked back. Unsatisfied living in the same place for too long, she has called several cities in Spain home, from Salamanca to Madrid, Córdoba and Málaga, and now Logroño in the north.
Pin me!