One of the top places on my list when exploring a new city is always the local market. I love visiting markets as they allow us a glimpse into a city's soul. Local shoppers, quirky vendors a beautiful variety of foods for sale-- these hubs of commerce and conversation are a treasure trove of insight on local culture and customs.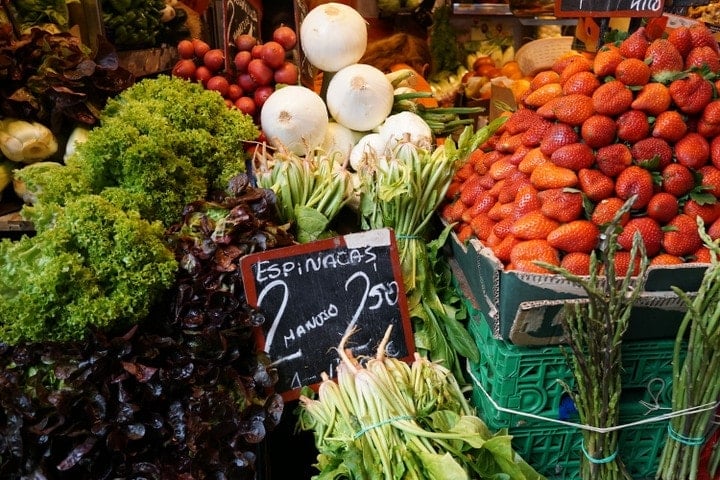 Madrid is home to a whopping 46 municipal markets (and a handful of gastronomic market halls as well) in 17 different districts -- just about every neighborhood has one. And the traditional Madrid markets are much more than places to buy fresh fruits, vegetables, meats, and fish-- markets in all of Spain are community centers.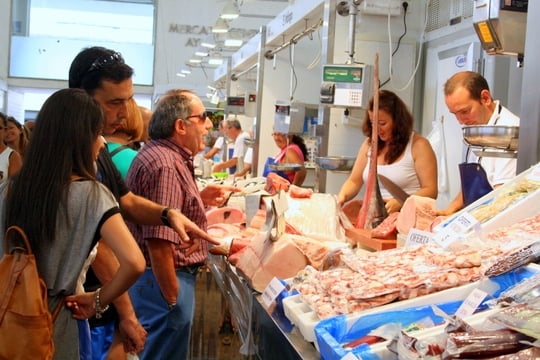 These are places where people know one another, and it's a social experience to come shopping. But the last decade has been really difficult for traditional Spanish markets to survive-- the economic recession in Spain left markets struggling, as their prices can be higher than the surrounding supermarkets (which today are often located inside or next to the traditional markets). Additionally, stallholders keep getting older and the family tradition isn't being taken over by the next generation. They've gone to school to be engineers and lawyers-- their parents didn't want them taking over the business.
Support the Markets in Madrid: Sign up for a Madrid Food Tour and visit and support these unique family-run businesses
But if we have to find a positive side to the recession, it also meant that these fresh-out-of-school engineers and lawyers were looking for work. As were many people from creative industries like graphic designers, architects, and marketers. Many smart people saw this as an opportunity to start something of their own-- or to go back into the family business. Markets like that were half empty five years ago, are now being renewed, renovated, and filled with creative ventures.
Mercado de la Paz
The history of the Mercado de la Paz is a long one-- it was founded in 1879 (though I've also read 1882), which makes it one of the oldest markets in Madrid and also one of the only iron-sided markets that remains today. (The best preserved is the Mercado de San Miguel dating from 1916).The original architectural plans came from someone quite well known-- Alexandre Gustave Eiffel himself.
The surrounding neighborhood, called Barrio Salamanca, is Madrid's Golden Mile-- there are luxury shops surrounding the market on all sides. But when the Mercado de la Paz was first built, Salamanca was still becoming what it is today. This is a neighborhood that was the response to an overcrowded city center, and this extension of the city soon became the place for the wealthy to settle and build homes. It only made sense to build a market to meet the growing population's needs.
The market was remodeled a few times throughout its history-- so it's tricky to imagine the beautiful structure below the facade. But it's interesting that despite being located in such a posh area, the market still attracts a wide variety of clients-- you'll find business people and construction workers rubbing shoulders while having lunch at one of the bars inside.
What to Visit
Carnicería Lalo
Carnicería Lalo is a fantastic butcher shop and deli that's been around for 37 years. The stall is run by Miguel Angel and Jose and they are master butchers and "charcuteros" aka deli men.
Buy: Incredible Joselito acorn-fed Iberian ham (jamón ibérico de bellota) or a juicy aged T-Bone steak-- the very best!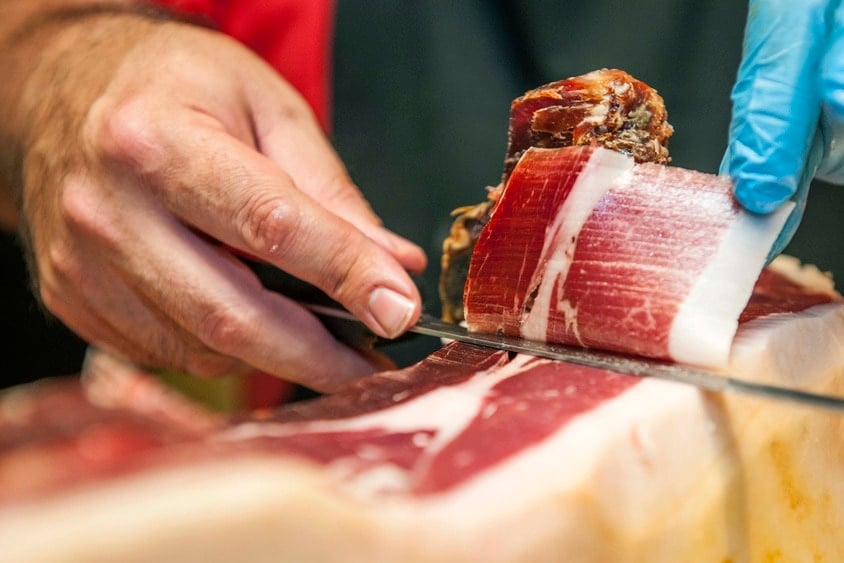 Read more: My guide to jamón tells you all you need to know about this delicacy
Did you know? Most food found in the markets in Madrid comes from MercaMadrid-- an enormous wholesale market on the outskirts of the city-- and, surprisingly, the second largest fish market in the world after the one in Tokyo! Food from all around the country heads to MercaMadrid and is then purchased by smaller suppliers to sell here in the city or elsewhere.
Frutería El Abuelo Pedro
Our tour guests often point out the lack of vegetables on restaurant menus and wonder if Spaniards eat veggies at all. I tell them that the reality couldn't be more different-- just head to any local market and see what people are filling their carts with.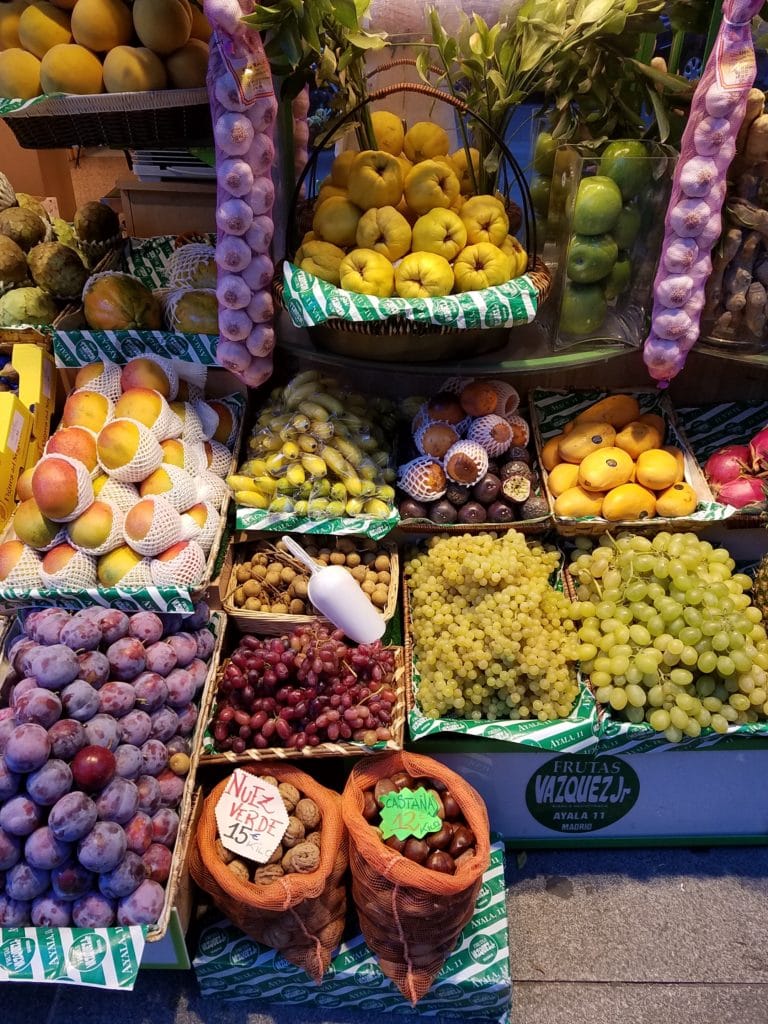 Fresh and seasonal fruits and vegetables are the majority of a traditional Spanish shopping haul-- and Spaniards know when each beloved fruit or vegetable is coming into season. As I write this in early October, we've just started seeing the best of fall's bountry: bright orange persimmons, custard fruits, chestnuts, pumpkin, wild mushrooms, and the last figs of the year.
Read more: Popular vegetarian Spanish tapas
Pescadería José Ramón
The Mercado de la Paz is an incredible place for fish and seafood lovers, as its location smack in the middle of Madrid's "Golden Mile" (think Gucci, Prada, Rolex, etc.) means that the country's best of the best is on display. This is good fun, even if you're not about to splurge on an 80€ lobster! And it's also not to say that things are overpriced-- locals can find all sorts of variety and prices.
If you go, keep an eye out for these specialty items:
Percebes: Gooseneck barnacles from the north of Spain
Cigalas: A delicacy with lots of names in English: scampi, Norway lobster, langoustine...
Carabineros: Bright red jumbo shrimp
Buey de Mar: Brown crab-- delicious!
Atún de Almadraba: Spanish bluefin tuna caught using the ancient Almadraba method
Pulpo: Octopus from the northwest coast of Spain
Learn more: Guide to Spanish seafood
La Boulette
Next, you must visit one of Madrid's best cheese shops. Opened in 1988, La Boulette was one of the first specialty cheese shops in Madrid. They were among the first to bring French cheeses to the capital and to feature small artisanal cheesemakers instead of the huge and industrial brands that had become so popular by that time.
Spanish cheeses are really exciting-- we have over 100 official DO (appellation of origin) cheeses. We are in a country that has many native breeds of sheep and goats (about 10 different species). And we make more sheep's milk cheese varieties than any other cheese producing country.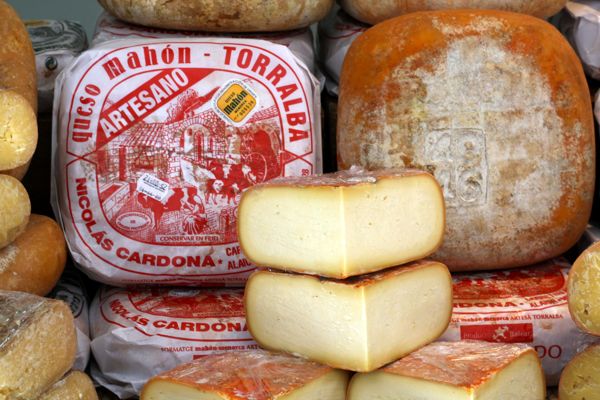 To taste a variety of Spanish cheeses (all raw) I'd suggest ordering a plate of the following:
Arzua: a cow's milk cheese from the north of Spain (Galicia). It's aged for less than two weeks (usually about six days) and is creamy and perfect for melting.
Garrotxa: one of my favorite goat's milk cheeses from the northeast of Spain (Catalonia). It's semi-soft and aged in caves for 4-8 weeks, allowing a layer of velvety mold to form on its surface.
Manchego: This raw sheep's milk cheese is Spain's most famous cheese, and great Manchego (certified with the PDO seal) is unforgettable. It comes from Castilla la Mancha, south of Madrid and is made with 100% Manchega sheep milk. To have the quality seal it needs 60 days to two years of curation.
Cabrales: traditionally a blend of cow, sheep, and goat's milk, Cabrales is a strong blue cheese from Asturias (northern Spain) that people either love or hate. I happen to love it-- and had the pleasure of visiting the Picos de Europa where it is produced. This cheese is aged for months in natural limestone caves, where humidity reaches over 90%. It's a truly incredible product and a true taste of what makes Spain so unique.
Tip: Pair these cheeses with a glass of Spanish wine-- I'd recommend an albariño from Galicia or a glass of crisp cava from Penedes.
Olives
My favorite olive booth in the market has existed since 1949 and been in the hands of the current owner, Miguel Angel, for 25 years. The booth is as picturesque as any, and the variety of Spanish olives, pickled vegetables and canned fish and shellfish is astounding.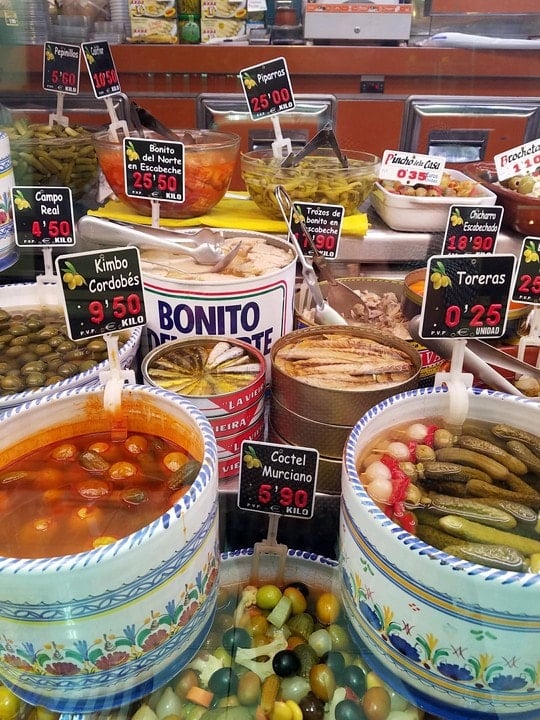 Did you know? Spain has over 260 varieties of olives-- some are used exclusively for making olive oil, but many grace our tables as delicious table olives in different marinades.
Look out for:
Manzanilla Olives: Some of the most common in Spain, and also among the most mild.
Campo Real: The olives from the Madrid area-- very different than other varieties. The marinade includes garlic, thyme, oregano and fennel!
Arbequina: Tiny and delicious olives from Catalonia-- also used for making a fantastic, fruity olive oil.
Read more: Spanish olives 101- 6 Varieties for People Who "Don't Like Olives" to Try
Casa Dani - Tortilla Masters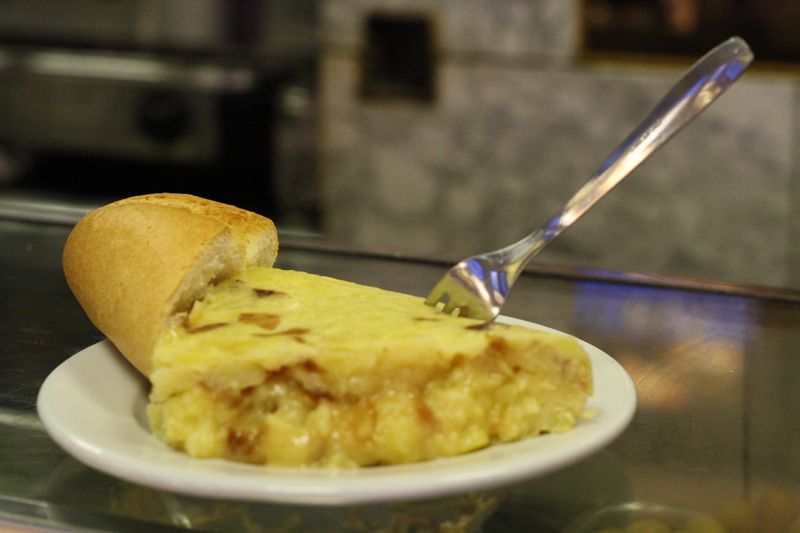 When it's time for a drink, locals head over to one of my favorite places in the city and one of the most authentic bars in town, Casa Dani.
Founded over 20 years ago by husband and wife Dani and Lola, it's now run by Dani Jr. and team-- a true family affair. It's one of Madrid's most popular places for their tortilla, Spain's famous potato and egg omelet. They make about 200 of them a day! They're also known for their menú del día, which is what we call a Monday-Friday fixed price daily lunch menu. There is often a line for theirs-- Lola and team cook traditional food and it changes daily.
Get the recipe: I try to make my tortilla Casa Dani style-- "medium rare" -- here's my favorite Spanish tortilla recipe.
These are only a few of my favorite stalls in Mercado de la Paz-- you'll have to visit for more!
Devour Madrid with us!
For true insider foodie experiences like this, check out my award-winning tour company Devour Tours. We offer food and culture tours throughout Spain, bringing people to hidden gems, family-run businesses, and iconic places too-- but always with a special twist! Our tours are perfect for curious culture lovers-- many people who "don't like tours" have left us glowing reviews. Hope to see you in Spain soon!
Read More: 48 hours in Madrid: What to see, do, & eat!
What's your favorite Madrid market?