Toronto is a food lover's playground, a complete mix of different cultures and cooking styles. Boasting three colorful Chinatowns, an impressive Little India, a delicious Koreatown, a café studded Little Italy, a Greektown and more, eating out in Toronto is truly a trip around the world.
In my opinion, one of the best ways to try a variety of what any city has to offer is by taking a food tour. Usually lasting around four hours, a food tour allows us to explore a neighborhood (or two) of a city, learning about its history and local legends, all while sampling some of the area's best foods. As a food tour owner myself I try my best to experience a food tour in every city I visit.
While visiting Toronto I spent a hot and humid Friday afternoon with the Culinary Adventure Company's Chef Scott Savoie, the founder of the company. He took us around the popular Leslieville and Riverside neighborhoods; an area, he told us, where only twenty years ago people would never have thought to explore. But due to gentrification over the past decade Leslieville has gone from rough and tumble to an artsy hotspot, where some of the best bars, cafés, and restaurants in the city sit side by side.
The food on the Chef Scott's tour was truly top rate, and I say that as someone with high expectations. Here's a look at some of the delicious tastes of Toronto we were able to try on this Toronto food tour:
Butter Tarts
Considered a truly Canadian dessert (despite its similarities with the French tarte au sucre and the British treacle tart), I was surprised that I'd never heard of any of these delicious creations before and was eager to sample something with such a decadent name. Melt in your mouth delicious, sweet as can be, and slightly eggy-- I am now a butter tart fan for life (for better or for worse).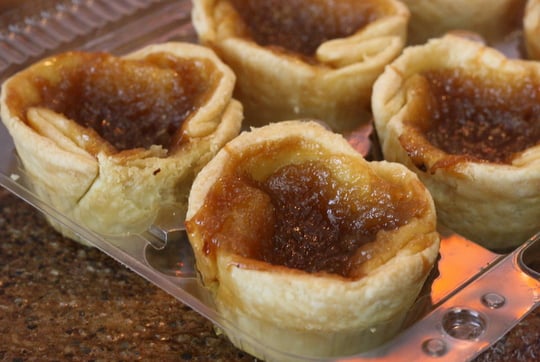 Fresh Baked Breads
A special part of taking a food tour is the opportunity to meet local shopkeepers and food artisans. At St. John's Bakery (a non-profit bakery run by the Saint John the Compassionate Mission) we learned the fascinating story of a homeless man and a preacher who came together to bake Toronto's best bread. I wished I could have teleported the bread back to Spain, where the majority of the country is seriously missing out on homemade goodness. In addition to their great breads we tasted a seriously addicting ginger cookie. I also took a peek into the hot baking room, where employees (often people who have had trouble finding a job due to low levels of English) were busy baking away.
Ontario Wines
The tour wouldn't have been complete without sampling some of the most famous Ontario wines, and they didn't disappoint. We were transported back to our previous trip to the nearby Niagara on the Lake wine region, as we sipped on two local wines well worth trying.
Canadian Cheeses
I could have spent all day tasting the cheeses at the local shop we stopped into. They were each incredibly good, and most were cheeses I was unfamiliar with. I tried one of the best blue cheeses ever (rivaling even some of the Spanish blues I've come to adore) and some of the creamiest goat cheese I've sampled in a long time.
Spanish Olive Oil
Ironically, Leslieville is home to one of Toronto's best olive oil shops. And where does their olive oil come from? Spain, of course! As soon as the owners explained that they work primarily with Spanish extra virgin olive oils due to the high quality, I knew they were to be trusted! We tried a lovely arbequina with a slightly spicy finish.
Sustainable Fish
When a few local chefs grew tired of the fact that there weren't any trustworthy sources of sustainable seafood in town, they went ahead and created the place they'd been looking for. We stopped in to their small fish shop to listen to their story and try some of their daily offerings. We were wooed with pastrami cured arctic char and smoked pickerel. Both were delicious and left me wanting more.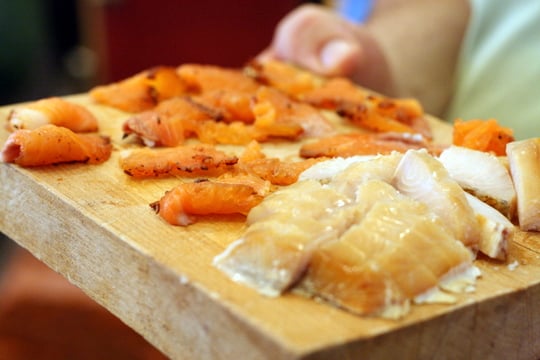 Addicting Ice Cream
The flavors at the local ice cream shop we visited ranged from maple bacon to burnt marshmallow. I settled on coconut lime and spicy dark chocolate-- good choices! They also make their waffle cones from scratch on a little waffle iron in the corner-- wow!
A Mojito with a Twist
I love mojitos and always look to try new combinations, but never have I seen one flavored with date syrup and pomegranate molasses! I didn't know what to expect, but the combination was absolutely delicious, not too sweet and very refreshing.
Lebanese Mezze
We were all pretty stuffed and thought the tour was over when we arrived at our last stop. As we sat down in the newly opened Tabule Restaurant, we couldn't believe our eyes as plate after plate came out of the kitchen. The chef at this new hotspot works with Chef Scott to provide special tasting portions of his delicious dishes, and ensures that all guests leave the tour absolutely stuffed.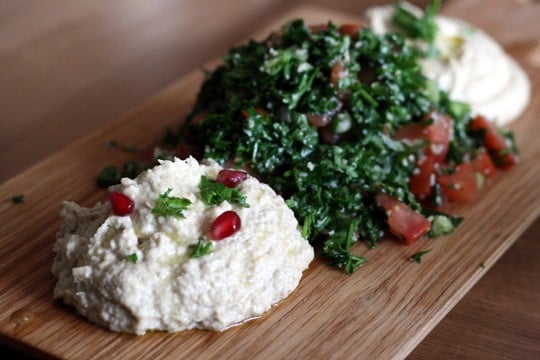 Altogether, I was extremely impressed with this food tour. Chef Scott's business plan is very similar to ours-- like us he pays his vendors full price to ensure quality and a good working relationship. His strategy is definitely working, because everyone and everything was lovely, and his tours usually sell out far in advance!
Local ingredients, dishes influenced by immigrant groups, and a true neighborhood experience, I would recommend the Leslieville food tour to everyone passing through Toronto. I can't wait to return and take another!
Would you sign up for a food tour while traveling?