I remember first trying the deceivingly simple Gateau Basque in San Sebastian. It has since become my go-to café snack on any trip north. Today David shows us how to make this delicious Basque Cake.
The Basques are masters of food.
Cooking is a big deal all over Spain, but nowhere is it quite as revered as in the Pais Vasco. Here, being able to prepare delicious food isn't just a good skill to have, it's required! Not only is Basque cuisine considered to be at the forefront of Spanish fine dining and creative gastronomy, but it's also the most competitive.
Go to the Basque Country and you might be lucky enough to come across a txoko. These are secret societies devoted entirely to cooking. The members gather regularly to prepare fabulous dishes, and try to outdo each other!
So it makes sense that Basque culture would have created its own superhero cake recipe. Enter the Gateau Basque.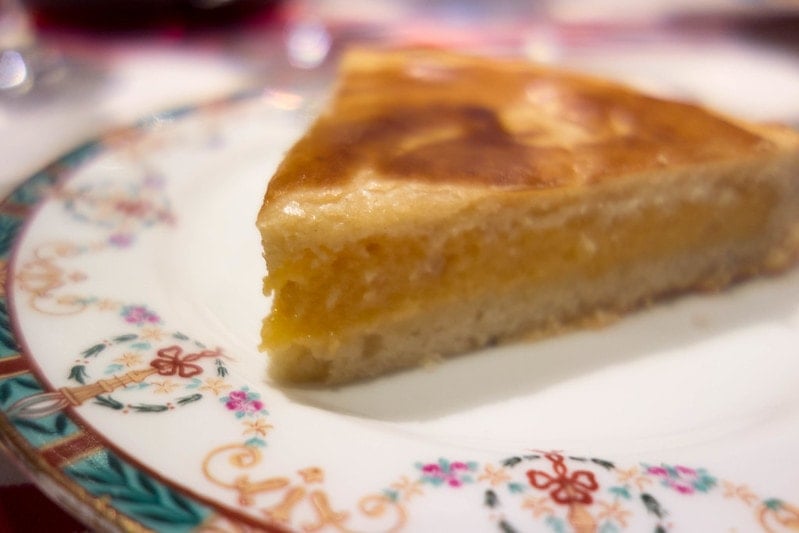 This classic Basque Cake is a staple all across northern Spain and southern France, the traditional lands of the Basque people. It's served by locals to accompany coffee, tea, and as a delicious dessert. Like most Basque cooking, it's based on simple techniques, but takes a few more steps than most classic Spanish cakes. But the extra effort goes a long way to making this cake even more scrumptious.
Layers of chewy cake pastry are filled with a creamy filling in this classic recipe. Look to the top for a hint as to the contents! A cross-hatch pattern means the filling is traditional pastry cream, while a Basque cross means a cherry compote. I go for pastry cream, and berry compote on the side!
Get my gateau basque recipe below!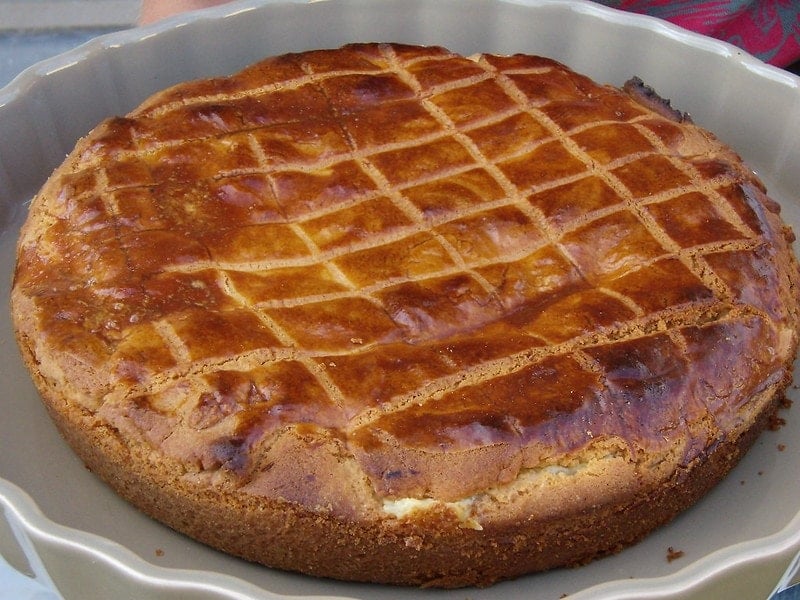 Classic Gateau Basque Recipe
Gâteau Basque Recipe
This recipe for Gateau Basque (Basque cake) is perfect alongside coffee, tea, or anything else for that matter! Only a handful of ingredients make one delicious dessert.
Print (images optional)
Pin
Rate
Ingredients
CAKE MIX
⅔

cups

unsalted butter

¾

cups

sugar

2

eggs

2

cups

all-purpose flour

1

teaspoon

baking powder

1

egg yolk

1/4

cup

whole milk
PASTRY CREAM
1

teaspoon vanilla extract

1

orange

zested

1 ¼

cups

whole milk

1

egg yolk

1

egg

⅓

cup

sugar

¼

cup

all-purpose flour

2

tbsp

cornstarch
Instructions
Start with the pastry cream.
Bring the milk to a boil in a medium saucepan along with the orange zest.

In a separate mixing bowl, mix together the vanilla extract, egg, extra egg yolk, flour, cornstarch, and sugar. It should form a paste.

Add the milk mixture to the mixing bowl and stir thoroughly to combine.

Pour back into the saucepan, place back over heat and continue to whisk. Bring back to a boil and simmer for 3-4 minutes or until slightly thickened, whisking the whole time.

Strain through a sieve into a sealable container and chill in the fridge.
Prepare the cake
Mix the flour and baking powder together in a large mixing bowl.

In a separate bowl, beat the butter and sugar until smooth and creamy.

Add the eggs (not the extra yolk) one at a time, continuing to beat.

Gradually add the flour mixture and mix until smooth and completely combined.

Transfer to a piping bag.

Grease and line an 18-cm (7 inch) cake tin. Lightly dust the base and sides of the tin with flour after lining with baking parchment.

Take the piping bag and carefully pipe a spiral of gateau mix to completely cover the base of the tin. Pipe a single circle around the outside of the tin to a height of just over 2 centimeters (1 inch).

Fill the center of the tin with the pastry cream, smoothing down evenly.

Pipe the remaining cake mix over the top of the pastry cream to seal, making sure the top is smooth and even. Place in the fridge to chill for at least 15 minutes, and preheat the oven to 180°C (350°F).

Take the tin out of the fridge.

Combine the remaining egg yolk and 1/4 cup of milk, whisking slightly to mix evenly. Brush evenly over the top of the cake and use a fork or knife to score a faint diamond pattern on top. Place in oven and bake for 45 minutes.

Remove from oven and allow to cool. Serve by itself or with a fruit jam!
Nutrition
Calories:
454.9
kcal
|
Carbohydrates:
59.55
g
|
Protein:
8.02
g
|
Fat:
20.8
g
|
Saturated Fat:
12.12
g
|
Cholesterol:
157.72
mg
|
Sodium:
101.36
mg
|
Potassium:
148.87
mg
|
Fiber:
1.3
g
|
Sugar:
31.51
g
|
Vitamin A:
763.74
IU
|
Vitamin C:
8.71
mg
|
Calcium:
111.27
mg
|
Iron:
2.03
mg
What do you think of my traditional Gateau Basque recipe? Let me know in the comments below, and tell me if you prefer it with cherry compote instead!
More Popular Spanish Desserts: