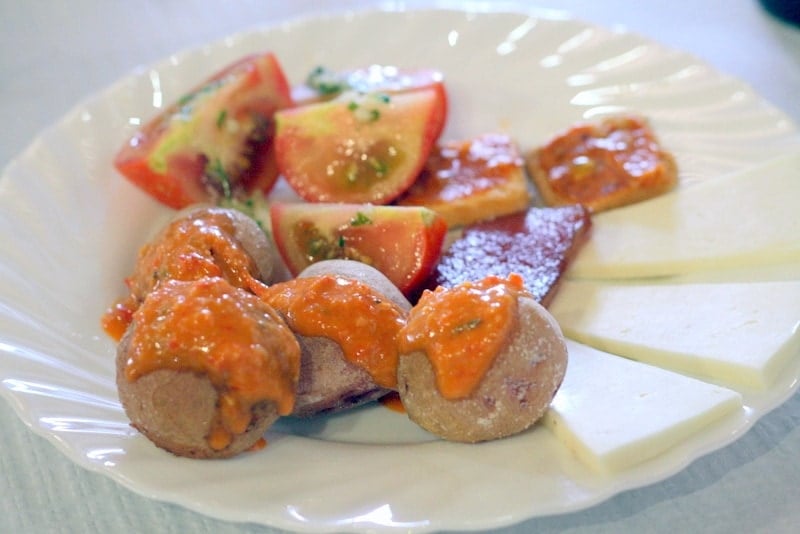 Is there any dish more representative of the Canary Islands than papas arrugadas? These tiny wrinkled potatoes are a must try when visiting the Canaries, and when done the right way are truly delightful.
You can find these little guys anywhere in the Canaries, whether enjoying Tenerife holidays for the family, or a solo escape to the more rugged and undiscovered La Gomera.
But how did salted potatoes become so famous? Potatoes aren't even native to the islands!
That's right-- we actually have the Incas to thank for the most famous dish of the Canary Islands. Around the 1550s potatoes arrived to the Canary Islands for the first time, brought by explorers to the Andes.
At first the potatoes were for show, cultivated in botanical gardens. No one imagined how delicious they could be when cooked.
In the 17th century potato cultivation began on the island, and locals still call the potatoes papas (they're patatas in mainland Spanish), just as they do in the majority of Latin America.
What potatoes do you use?
This is the tricky part. You most likely don't have access to the ideal potatoes to make papas arrugadas. The best of the best are:
You should look for any small, quick cooking potatoes and you'll likely be just fine.
But how do they get so salty?
The best part of papas arrugadas is the salty crust that forms on their skin. The salt is barely visible, but definitely there.
The truly authentic way to make papas arrugadas is by boiling the potatoes in seawater. This is a recipe that came from necessity, as fresh water was often short on the islands, and locals had to make due with what they had. Luckily, their resourcefulness resulted in Spain's best potatoes!
Here is an easy recipe for papas arrugadas, but unless you are on the island and using seawater, they might not taste exactly as you remember from your last Tenerife getaway! Experiment with different potato varieties and salt/water ratios and you should eventually get it right!
Pair these delicious potatoes with the most famous sauces from the Canary Islands, the mojos. Mojo picón is red and slightly spicy, while mojo verde is refreshing and bright green.
Get the recipes! Mojo Picón and Mojo Verde
Canarian Papas Arrugadas Recipe
Papas arrugadas are one of the most famous foods from the Canary Islands. Whether visiting Tenerife, Gran Canaria, or any of the other islands, you'll be sure to taste them!
Print (images optional)
Pin
Rate
Ingredients
1 ¼

pounds

about 1 kg of small, quick cooking potatoes

¼

cup

of coarse sea salt
Instructions
Wash the potatoes well and place them in a large stock pot.

Just cover with cold water and add the sea salt.

Boil the potatoes until just cooked through, about 20 minutes. Add water if too much evaporates.

Pour off the water and rest the potatoes on the stove on a very low heat until all water has evaporated and the potatoes are covered in a layer of sea salt.

Serve with your favorite mojo sauce.
Nutrition
Calories:
109.14
kcal
|
Carbohydrates:
24.76
g
|
Protein:
2.86
g
|
Fat:
0.13
g
|
Saturated Fat:
0.04
g
|
Sodium:
7081.84
mg
|
Potassium:
596.76
mg
|
Fiber:
3.12
g
|
Sugar:
1.1
g
|
Vitamin C:
27.93
mg
|
Calcium:
21.39
mg
|
Iron:
1.17
mg
Best papas arrugadas in the Canaries
Tenerife: They tell me that the ones from Arcon Tapas in Puerto de la Cruz, Tenerife are to die for! I've also heard Bodeguita Canaria in Santa Cruz de Tenerife is worthwhile.
Gran Canaria: La Marinera in Las Palmas de Gran Canaria is said to be excellent.
Lanzarote: The small town of Yaiza is famous for the traditional bars in its main square.
Have you visited any of the Canary Islands? Where did you try papas arrugadas?