These quick and easy potato croquettes are infused with the delicious flavor of Manchego cheese for a Spanish twist on a classic. My irresistible potato croquettes recipe is perfect for dipping in spicy bravas sauce, tangy alioli, or creamy romesco. This cheap and easy recipe is a family favorite in my house -- my kids and husband can't get enough!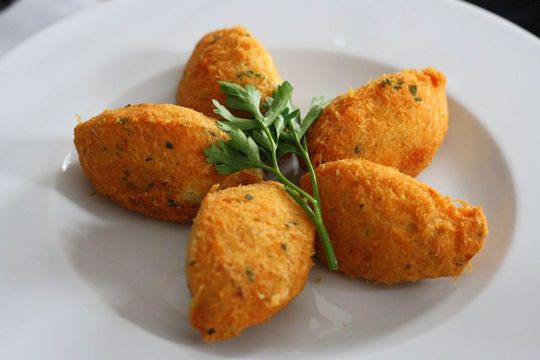 Croquettes are one of the most popular Spanish tapas. And while Spanish ham croquettes reign supreme, there are plenty of other options worth seeking out. From dark black squid ink croquettes to delicious and creamy cod croquettes (my favorites!) -- the sky is the limit. There are even dessert croquettes in some modern places!
But one of my favorite croquettes recipes is actually simple potato and cheese croquettes. And the main reason? They're quick!
These are ready in no time (the longest wait is boiling the potatoes) whereas for more traditional croquettes you have to wait for the bechamel sauce to cool down (which takes at least four hours in the fridge).
So when I want to make these, I simply boil a few potatoes in advance, and then the actual croquettes process takes only about 20 minutes! Well worth the effort I'd say.
The most classic potato croquettes have nothing but potato and egg, but I like these ones because they have delicious Manchego cheese as well. If you are a cheese lover (like me) add extra. Not into cheese? Just omit! And if you want to go crazy you could also add some Spanish jamón and/or some champiñones al ajillo (garlic mushrooms) to the mix. These are super versatile -- go crazy!
Key Ingredients
Key Ingredients: Potatoes, egg, salt, pepper, cheese, flour, breadcrumbs, and oil.
Watch This Recipe
Ingredient Notes & Substitutions
These potato and cheese croquettes are super versatile -- make them your own!
Potatoes: Don't use new potatoes - go for something like Russet or Yukon Gold. The texture will be better. I also highly recommend investing in a potato ricer (like an enormous garlic press for potatoes!). This is also a tool needed to make homemade gnocchi (by the way!). The ricer helps the potatoes stay light and fluffy, a key to a good potato croquette.
Spices: These are very simple -- just salt and pepper. But feel free to mix things up with a bit of cayenne -- curry powder (while not at all traditional) is also delicious.
Cheese: I love these with Manchego cheese. The flavor isn't overpowering, but it's definitely there. I add ¾ cup shredded cheese to the recipe, but you can add less (for an even subtler taste), omit altogether, or add more!
Breadcrumbs: I used classic store-bought breadcrumbs here, but feel free to make your own or mix things up with panko with extra crunch!
Oil: Use virgin or extra virgin olive oil to fry if able (it's what we use in Spain and one of the reasons our fried foods are still healthy!). If you must substitute use a neutral oil like sunflower or canola.
Additions: The best part of these croquettes is how easy they are to adapt! Add jamón, chorizo, extra cheese, sauteed mushrooms... the sky is the limit!
Serving Suggestions
I love these croquettes as a starter, or as a part of any Spanish tapas feast. They can be part of a full meal, or a simple snack (and are delicious any time of day -- even for brunch!). If you like sauces with your fried foods, these go well with any Spanish sauce -- try them with homemade bravas sauce, alioli, mojo picón, or even romesco sauce.
More Easy Fried Tapas Recipes
If you're already heating up the oil to fry these croquettes, why not add a few more tapas to the menu?
Hungry for more? Sign up for my free weekly newsletter and receive a new Spanish recipe once a week! Join today and get my FREE Spanish ingredient essentials guide!
Potato Croquettes Recipe - Traditional Spanish Recipe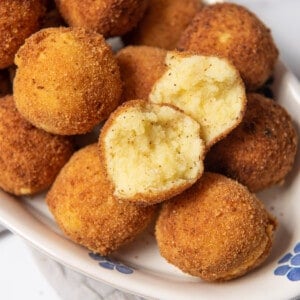 Potato Croquettes
Creamy potato and cheese croquettes are easy to make and a delicious snack any time of day.
Print (images optional)
Pin
Rate
Servings:
20
croquettes (approx.)
Ingredients
1.5

lbs

potatoes

(680 grams) Yukon Gold and Russet both work well. Boiled until soft (about 20-25 minutes), riced or mashed, and left to cool.

1

egg

beaten

2

teaspoon

salt

I recommend adding the salt before the beaten egg so that you can taste the filling and make sure to season properly. I tend to add a bit more salt but two teaspoons is a good starting point.

1

teaspoon

black pepper

Same thing with the pepper -- I often add two teaspoon but I love the flavor of black pepper in these!

¾

cup

grated cured Manchego cheese

(about 60 grams) You can sub any cured sheep's milk cheese here for a similar taste, though Manchego is absolutely perfect!

½

cup

Flour

as needed for breading process (start with about ½ a cup, or 60 grams)

2

eggs

beaten (for the breading process -- if your eggs are large you might be able to use only one with a splash of water)

¾

cup

Breadcrumbs

100 grams. You can probably use less but I like having plenty to bread a few at a time.

olive oil

for frying (olive oil is preferred and does affect the taste -- but if you must substitute use a neutral oil such as sunflower).
Instructions
Wash and peel the potatoes and cut them into equal sized chunks if they are large.

Cover them with cold water and bring to a boil.

Add salt and boil until a butter knife pierces through easily.

Strain all the water and pass through a potato ricer (preferred method) or mash until just mashed -- you don't want to make them dense here (which is why the potato ricer is worth investing in!). Let them cool.

To make the croquette filling, mix the riced potatoes with the beaten egg, salt, pepper, and cheese. Do not overmix. If you want to taste the filling for seasoning, just add the egg as the last step.

Next, while heating a pan full of olive oil on the stove, pass the croquettes through the three step breading process. First, cover them in flour, then in beaten egg, and, finally, in the breadcrumbs.

Deep fry the croquettes in hot olive oil (if available) or vegetable oil/sunflower oil if not. They should take 3-4 minutes to brown. You can also pan fry them in less oil, flipping halfway through, but make sure they cook evenly on all sides.

Let the potato croquettes rest on paper towels and serve hot with dipping sauces if desired.
Nutrition
Calories:
82.29
kcal
|
Carbohydrates:
10.38
g
|
Protein:
3.27
g
|
Fat:
3.05
g
|
Saturated Fat:
1.41
g
|
Polyunsaturated Fat:
0.28
g
|
Monounsaturated Fat:
0.78
g
|
Trans Fat:
0.01
g
|
Cholesterol:
29.09
mg
|
Sodium:
289.54
mg
|
Potassium:
162.35
mg
|
Fiber:
0.98
g
|
Sugar:
0.47
g
|
Vitamin A:
60.17
IU
|
Vitamin C:
6.7
mg
|
Calcium:
59.12
mg
|
Iron:
0.67
mg
This potato croquettes recipe is my go-to tapas dish for a fun party, and kids love them too! They may be time-consuming, but worth every bite!