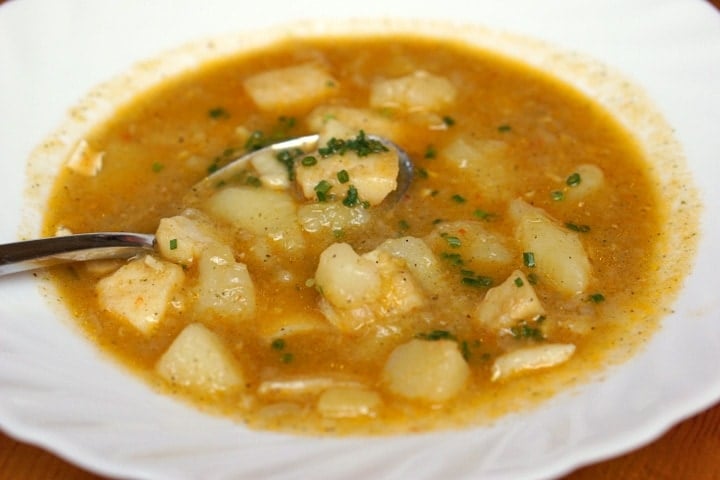 Salt cod, or bacalao in Spanish is one of the world's most fascinating foods. So interesting, in fact, that Mark Kurlansky wrote a fantastic book about it that won the prestigious James Beard Award. On my food tours people often ask why we still eat salt cod. Wouldn't it be easier to simply buy the fresh stuff? The answer is yes and no...
Salting and drying cod creates a flavor and texture that fresh cod doesn't have. So really, you almost have to consider them two separate foods. Unfortunately, the demand for salt cod coupled with advances in fishing technology means that Atlantic cod isn't a sustainable fish to enjoy today. The only cod that I'm aware is currently considered sustainable is northeast Arctic cod (usually from Norway). Luckily, this is what is often available in Spain today.
I enjoy cod a lot, but keep in mind where it's coming from when I buy it. Spain is still a large consumer of salt cod today (it was once the largest consumer in the world), so there are plenty of dishes featuring bacalao to be found. Most recently I learned how to make a delicious and simple cod and potato stew while on a culinary vacation with Esme Tours. Here is Chef Esmeraldo's fantastic recipe.
Ingredients
¼

cup

extra virgin olive oil

1

large onion

diced

1

leek

diced

2

sprigs of fresh rosemary

1

lb

dried salt cod

desalinated (you can buy any part of the cod, but for maximum flavor go for the lesser cuts (not the loin).

4

medium red potatoes

peeled and rinsed and then cut into wedges

1

cup

homemade shrimp stock

can substitute store bought if necessary

Approximately 2 cups of water
Instructions
To desalt the cod
Place the cod in a big bowl and cover with cold water. Change the water about four times a day over the span of 24-48 hours. Salt cod varies in how much time it needs to desalinate and some people say the only way to know if it's ready is to taste a small bit.
To make the shrimp stock
The shrimp stock is easy to make if you have about 20 shrimp shells (heads included) handy. Put them into a large baking dish and cover with aromatic vegetables (onion, leek, celery, bay leaf, etc.) and a couple of tablespoons of tomato paste. Cover with cold water and roast in a 300°F oven for about three hours, covered in foil.
To make the stew
Heat the olive oil in a heavy pan and when hot (but not smoking) add the diced onion and leek and sauté over a medium heat for about five minutes.

Add the rosemary and the chopped desalinated salt cod and sauté for another five minutes.

Add the potato wedges and cover with ½ cup shrimp stock and two cups of water (or enough water to cover the potatoes and cod).

Bring to a slow boil and then lower to a light simmer. Cook until the potatoes are tender, about 20 minutes.

Adjust seasoning with salt and pepper and serve piping hot. Watch out for small bones when eating.
Nutrition
Calories:
624.97
kcal
|
Carbohydrates:
40.37
g
|
Protein:
75.9
g
|
Fat:
16.59
g
|
Saturated Fat:
2.49
g
|
Cholesterol:
172.37
mg
|
Sodium:
8247.66
mg
|
Potassium:
2702.69
mg
|
Fiber:
4.49
g
|
Sugar:
5.28
g
|
Vitamin A:
669.71
IU
|
Vitamin C:
26.99
mg
|
Calcium:
222.19
mg
|
Iron:
4.99
mg
Once you start eating salt cod, there's no looking back. Let's hope that our governments are able to take the necessary actions to replenish salt cod numbers in the Atlantic-- if not the world is missing out on one of the most delicious fish!
What's your favorite salt cod recipe?
I learned this dish with Chef Esmeraldo at Esme Tours Spanish cooking retreats-- highly recommended!