Before living in Spain I'd had my fair share of fried calamari (I still miss the Rhode Island style squid I grew up on — dripping in butter and spicy banana peppers), but I'd rarely eaten calamari (or squid or cuttlefish for that matter) any other way.
Here in Spain the preparations are endless, and among the top cephalopod dishes you'll find calamares en su tinta (calamari in a rich sauce made of its own ink), albóndigas de choco (cuttlefish "meatballs"), and guiso de chipirones y patatas (squid and potato stew).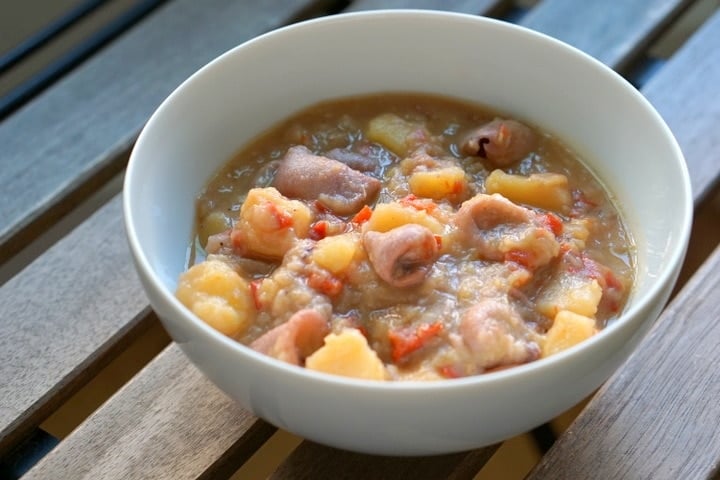 And while a squid and potato stew recipe might not sound like comfort food to some people, it sure is for anyone who grew up here in Spain! It's a dish that isn't too much fuss, but it develops delicious flavors and is perfect when served for a hearty Spanish lunch.
Here's my traditional squid and potato stew recipe (guiso de chipirones con patatas). You can make it with any cephalopod — calamari, cuttlefish, etc.
Traditional Spanish squid and potato stew recipe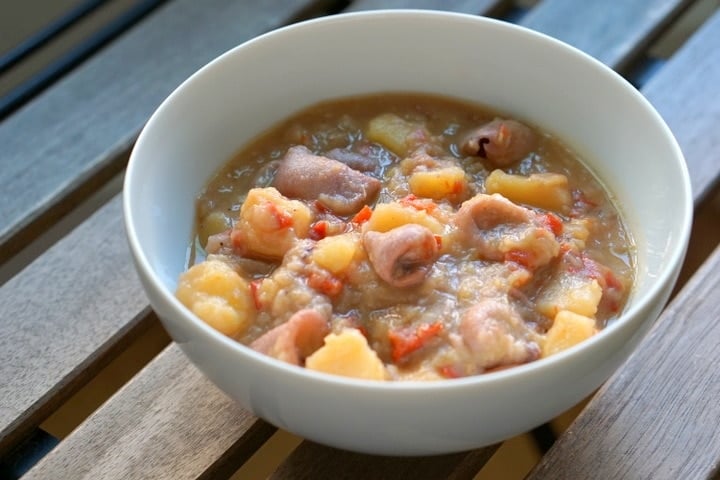 Squid and Potato Stew (Guiso de Chipirones con Patatas)
This delicious squid and potato stew is a classic Spanish dish that you should try!
Ingredients
1

kilo

2.2 lbs of squid/calamari/cuttlefish (I used chipirones here in Spain), whole - or 600g (1.3 lbs) of pre-cleaned squid rings

2

medium onions

diced

1

large red pepper

diced

2

cloves

of garlic

minced

Extra virgin olive oil

2

bay leaves

1

cup

of dry white wine or sherry

I used manzanilla sherry

1.5

cups

of fish or shrimp stock

2

cups

of diced potatoes

about 4-5 potatoes
Instructions
Clean your squid and cut into 1/2 inch chunks. Be sure to rinse off any sand. Save a few ink sacs for flavor if you want. *You can also use pre-cleaned and prepared squid rings.

In a large, heavy pot heat about 1/4 cup of extra virgin olive oil and add the squid to quickly brown on all sides.

Remove the browned squid and add the diced onion and pepper. Saute over a medium heat until cooked through, about 10 minutes.

Add the garlic and cook for about 3 minutes.

Add back the squid and the white wine. Cook for a couple of minutes.

Add the stock, bay leaves, and potatoes. Bring to a boil.

Cover and lower the heat to a slow simmer.

Cook for about 30 minutes, or until the potatoes are tender.

Season with salt, pepper, and cayenne if you want a spicy kick.

Enjoy with a cold glass of white wine (or manzanilla sherry!)
Nutrition
Calories:
429.01
kcal
Carbohydrates:
36.2
g
Protein:
42.11
g
Fat:
7.2
g
Saturated Fat:
1.44
g
Cholesterol:
582.5
mg
Sodium:
475.53
mg
Potassium:
1242.72
mg
Fiber:
3.87
g
Sugar:
5.74
g
Vitamin A:
1201.68
IU
Vitamin C:
74.96
mg
Calcium:
113.37
mg
Iron:
2.92
mg
More delicious Spanish stew recipes:
What do you think? Will you try my squid and potato stew recipe any time soon? What's your favorite squid dish?