Today I share my mother-in-law's famous apple olive oil cake recipe. This is one of my all-time favorite afternoon snacks and a delicious example of a Spanish cake. The moist, delicate olive oil cake and tart apple flavor make the perfect combination.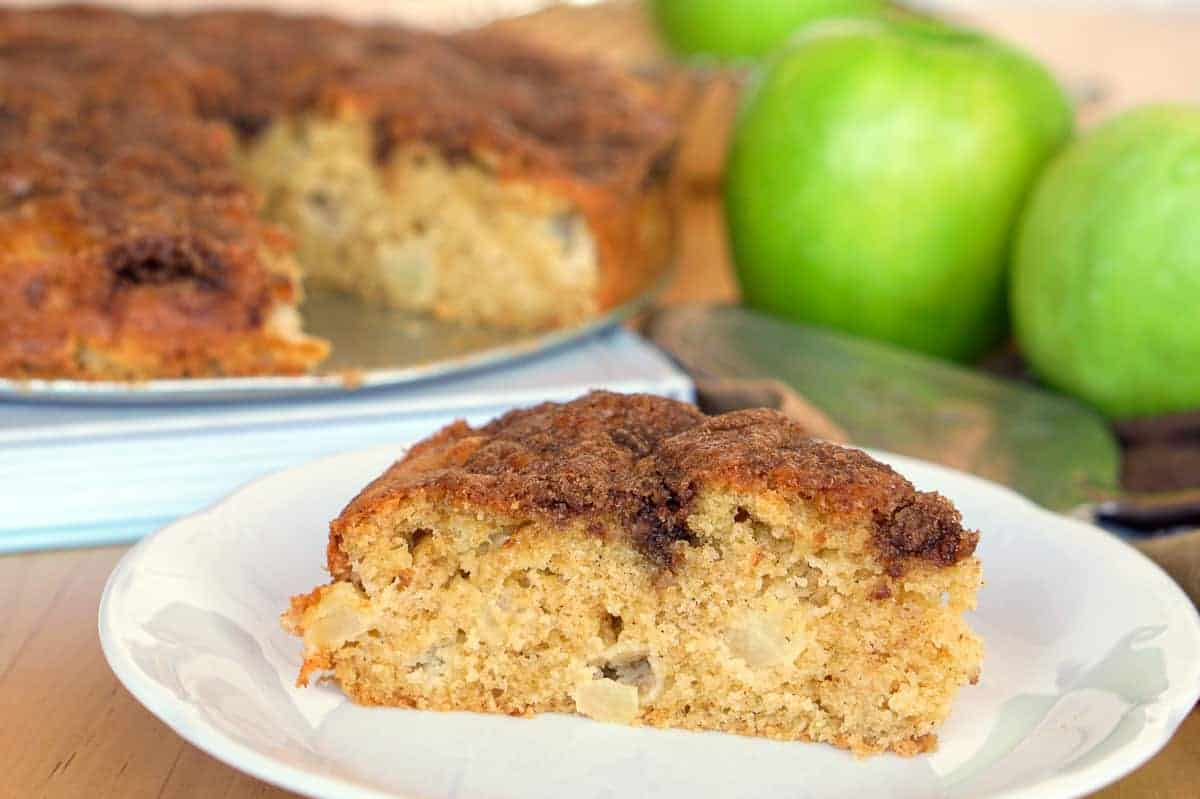 The first time I tried this delicious Spanish apple olive oil cake was when I was feeling quite sick. It was many years ago and I had a bad case of the flu. I barely knew my mother-in-law at the time (my husband and I had just started dating), but since he had to work long days I went to stay with my in-laws and Antonia nursed me back to health!
One of the first things I could eat was this apple olive oil cake. It was actually brought over by my mother-in-law's best friend-- but since then we've made the recipe our own!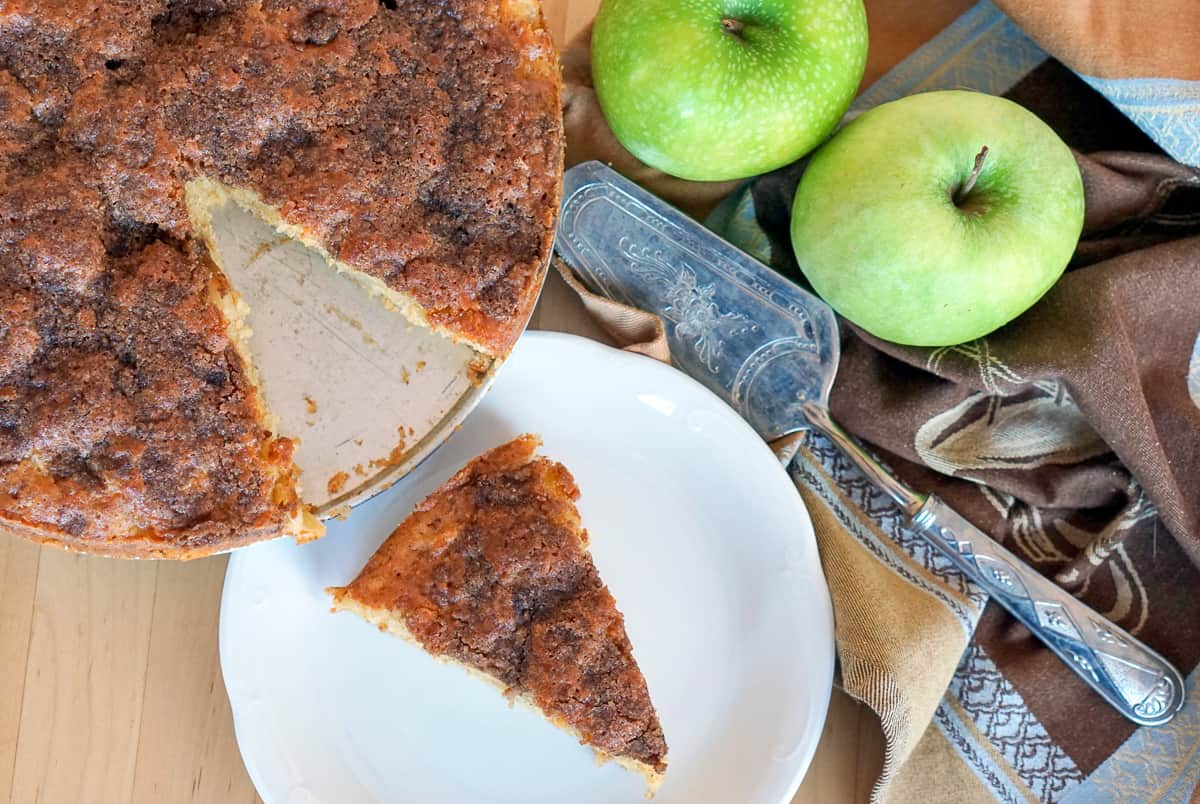 The best thing about this apple olive oil cake recipe is how simple and quick it is to make. Most likely you already have the ingredients on hand.
Key Ingredients
Olive Oil: In any Spanish olive oil cake the quality of the olive oil makes a huge difference. I'd recommend using a good quality extra virgin olive oil for this recipe. The more delicious the olive oil, the more delicious the cake!
Choose a fruity and nutty olive oil rather than something grassy and spicy. This will achieve a moist apple cake that will have everyone going back for seconds!
Read more: All About Extra Virgin Olive Oil
Apples: I always use green apples when I bake because I think their tartness plays nicely with anything sweet. But feel free to use the apple of your choice.
Sugar/Sweetener: You can sweeten this cake with sugar or with a mix of sugar and honey. You could also substitute some brown sugar or molasses, and reduce the sugar by ⅓ if you don't like your cakes too sweet.
Flour: I love mixing less refined flours into my cakes. Here I use ¼ cup of spelt flour, but you could use whole wheat flour or simply stick with 100% all-purpose flour or cake flour.
Cinnamon Crumb: You'll notice I've included the instructions for an optional cinnamon crumb. This is not traditional, but sometimes I'm craving something sweet and apples and cinnamon is a delicious combo! But if you'd like a lighter snacking cake, omit the crumb for delicious results.
Recipe Tips & FAQs
Can you use olive oil in desserts?
It depends, but in recipes that call for vegetable oil you can always substitute olive oil. If you don't want a strong olive oil taste, make sure to opt for a more subtle variety. But if you'd like a stronger flavor there are plenty of delicious olive oils to choose from.
What does olive oil do to cake?
Cakes baked with olive oil tend to be moist and light with an even crumb. The olive oil can also give a subtle flavor and aroma, but it will depend on the variety used. Olive oils range in flavor depending on the variety of olive they are made from. Some are quite neutral (perfect for baking when you don't want to taste the oil) and others give a beautiful fruity, nutty, or even spicy flavor. Note that these can be overpowering if that is not what you had in mind.
Is olive oil healthier than butter?
Yes, especially if you are using extra virgin olive oil. Butter is an animal fat and contains a lot of saturated fat that is not heart healthy. Olive oil, on the other hand, has significantly less saturated fat and is high in monounsaturated fatty acids (the type that help lower your "bad" LDL cholesterol). Olive oil has lots of antioxidants and anti-inflammatory properties as well.

Serving Suggestions
This cake can be enjoyed any time of day as a snack, warm or cold, I'd recommend it with a steaming cup of café con leche, or -- if you want a really sweet afternoon pick me up -- a glass of Spanish hot chocolate.
There's also something about this cake that makes it one of my go-to picnic cakes. It's the perfect cake to wrap up and take on the go!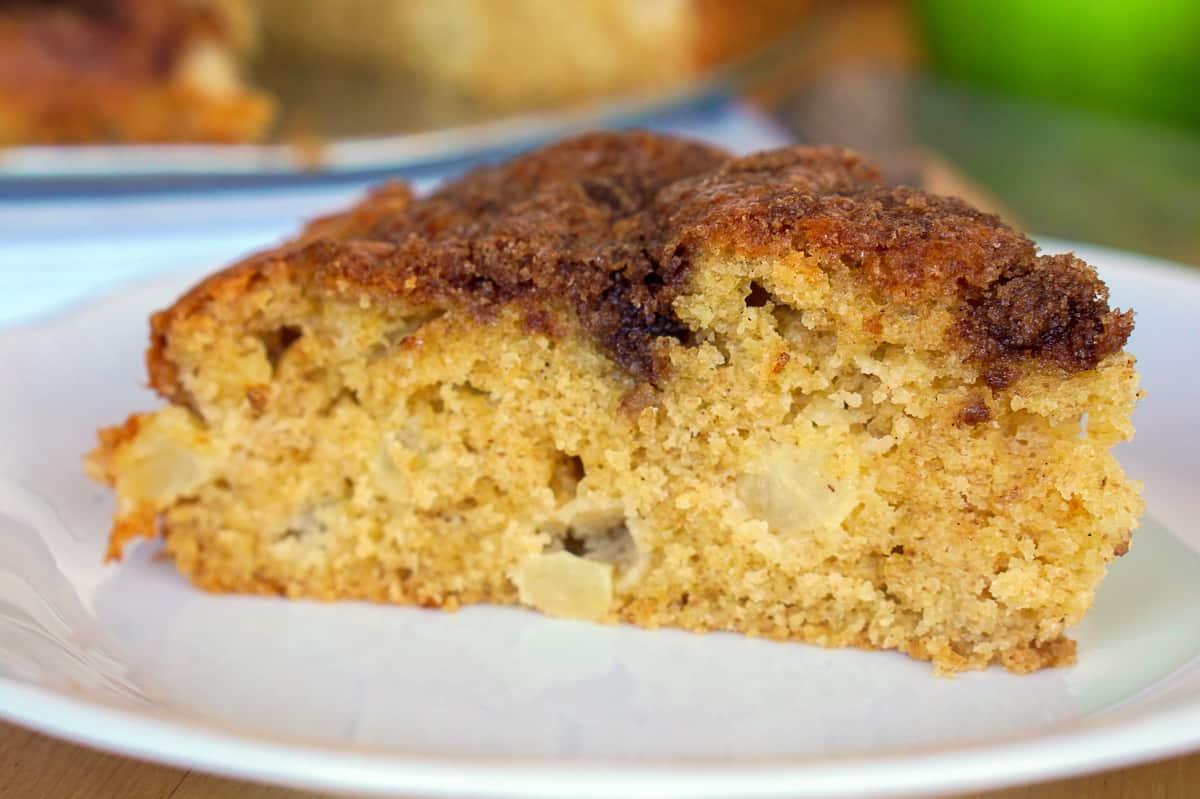 More Spanish Cakes
Hungry for more? Sign up for my free weekly newsletter and receive a new Spanish recipe once a week! Join today and get my FREE Spanish ingredient essentials guide!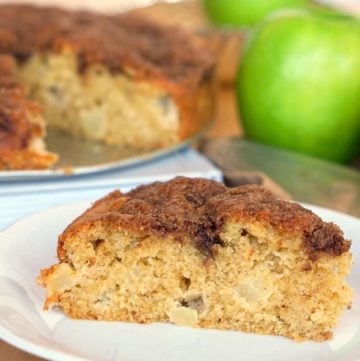 Apple Olive Oil Cake Recipe
Try this delicious Spanish apple olive oil cake recipe with a crisp cinnamon crumb on top.
Print (images optional)
Pin
Rate
Ingredients
Apple Olive Oil Cake
1.5

cups

of cake flour

(180 g) you can also use all-purpose flour

¼

cup

of spelt flour

(30 g) optional - if not just add another ¼ cup of all purpose flour

¼

teaspoon

of salt

2

teaspoons

of baking powder

¾

cup

of granulated sugar

(150 g)

¼

cup

honey

(60 ml) optional - if not just add another ¼ cup of granulated sugar

3

large eggs

1

scant cup

full-fat unsweetened Greek yogurt

(220 ml)

⅔

cup

of Spanish extra virgin olive oil

(160 ml) I used a fragrant hojiblanca

1

large green apple

diced small (I use green apples, but you can sub your favorite)

Powdered sugar to top the cake

unless making the crumb below
Optional Crumb Topping
¼

cup

butter

(60 g) at room temperature

½

cup

brown sugar

(90 g)

¼

cup

flour

(30 g)

1

tablespoon

cinnamon
Instructions
Preheat your oven to 375°F (190°C) and then grease and flour a 9½ inch (24 cm) cake pan.

In a medium sized bowl mix together the flour, spelt flour, salt, and baking powder.

In a separate bowl, beat the sugar, honey, and eggs on medium-high speed with a hand mixer for about two minutes.

Now, whisk in the Greek yogurt on low speed.

Finally, add the olive oil by slowly drizzling it in while mixing on low.

When combined, fold in the flour mixture by hand using a rubber spatula. Stop mixing as soon as everything is combined-- you don't want to over mix.

Fold in the diced apple just until incorporated.

Pour the batter into the greased and floured cake pan.
Optional Crumb Topping
For the crumb, in a small bowl, mix together the flour, cinnamon, and sugar.

Add the room temperature butter and mash with the back of a fork. You want to make a chunky paste with plenty of crumbs.

Cover the cake with this mixture.
Baking Instructions
Bake about 50 minutes in a preheated (375°F/190°C) oven (or until a toothpick inserted in the middle comes out with only a few crumbs).

Take your cake out of the oven and let cool for at least 20 minutes before removing from the cake pan. Right before serving dust with powdered sugar (unless you used the crumb topping, in which case the additional sugar isn't necessary!)
Nutrition
Calories:
415.46
kcal
|
Carbohydrates:
55.09
g
|
Protein:
4.8
g
|
Fat:
20.74
g
|
Saturated Fat:
5.38
g
|
Trans Fat:
0.19
g
|
Cholesterol:
61.31
mg
|
Sodium:
206.89
mg
|
Potassium:
84.39
mg
|
Fiber:
1.81
g
|
Sugar:
34.63
g
|
Vitamin A:
225.67
IU
|
Vitamin C:
0.91
mg
|
Calcium:
78.23
mg
|
Iron:
1.07
mg
Update Notice: This post was originally published on February 26, 2019 and was republished with new text and photos on March 11, 2021.
What do you think? Will you be trying my apple olive oil cake recipe sometime soon? It's too easy not to give it a go!