Spain's Best Sandwich (& Best Deal): El Serranito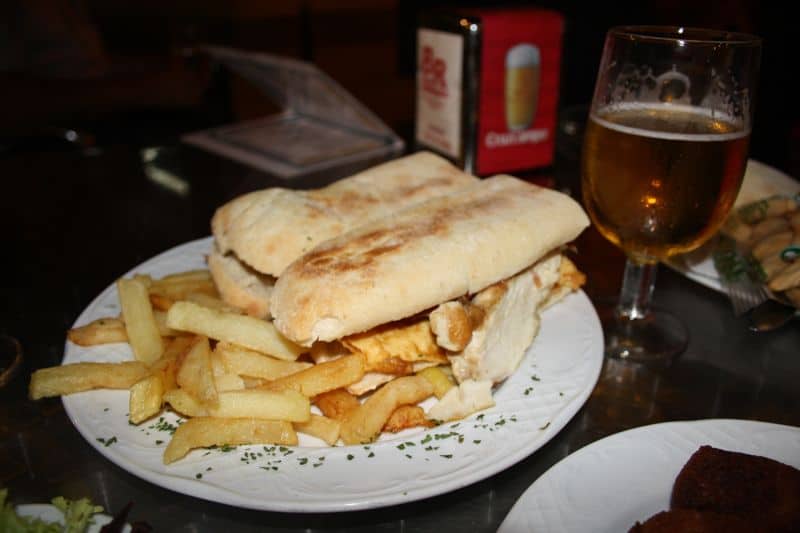 Have you ever eaten a sandwich so good that while enjoying it, the world just seemed a better place? I have! Spain's Serranito, when made the right way, is quite possibly the most delicious sandwich Spain has to offer. It is guaranteed to brighten up any day, won't put a dent in your budget, and will leave you feeling full and satisfied.
What is the Serranito?
Prepared the way I enjoy it, you have something like this: a delicious fresh baguette lightly toasted, topped with thin slices of Iberian pork, a whole fried green pepper, thin cut Serrano ham, a hint of fresh tomato, a fried egg, and garlic mayonnaise.
Where Can I Get a Serranito?
Unfortunately for many, this delicious sandwich is not typical throughout all of Spain. Like countless delicious Spanish foods (and most of my favorites), it comes from Andalusia, where it is typical bar fare in Seville and Cadiz. I found this out the hard way, after weeks of searching the bars of Madrid and not being able to find my beloved Serranito anywhere!
Yet if you happen to be lucky enough to be in Seville or Cadiz, you have no worries. You can find the Serranito in virtually any bar, often for around 3-4 euro. And if you are not so fortunate as to be in Andalusia at the moment, you can easily prepare this delicious Spanish sandwich at home.
If you've never tried a Serranito sandwich, you are missing out. I recommend you visit Spain ASAP, head down to Seville or Cadiz, and order one with a few cold beers. If that is absolutely impossible, make your own at home—what are you waiting for!
El Serranito: The Best Sandwich Ever!
Have you ever eaten a sandwich so good that while enjoying it, the world just seemed a better place? I have! Spain's Serranito
Print (images optional)
Pin
Rate
Ingredients
A small baguette

or other hearty bread with a good outer crust

2

green frying peppers

such as Italian peppers

2

Thin slices of pork loin

or chicken breast if you prefer

About 3 slices of Serrano ham

or another cured ham like prosciutto

1 to

mato

1

beaten egg

Extra virgin olive oil

Ali Oli sauce

garlic mayonnaise
Instructions
Cut a horizontal slit in the green peppers and fry them in the olive oil. Remove them and sprinkle with salt.

Next, pan fry the pork or chicken in a bit of the olive oil.

Lastly, cook the beaten egg as you would cook an omelet with no filling (which is called a tortilla francesa in Spanish).

Slice the bread in half and toast it if desired.

Cut the tomato in half and rub it all over both sides of the bread.

Pour a bit of extra virgin olive oil on one side of the bread and spread a layer of ali oli sauce of the other.

On top of the ali oli side, put the omelet, then the peppers, the meat, and the ham. Close, press down and enjoy!
Nutrition
Calories:
581.94
kcal
|
Carbohydrates:
51.07
g
|
Protein:
49.03
g
|
Fat:
19.13
g
|
Saturated Fat:
4.68
g
|
Cholesterol:
260.43
mg
|
Sodium:
623.59
mg
|
Potassium:
1484.16
mg
|
Fiber:
8.17
g
|
Sugar:
14.05
g
|
Vitamin A:
8713.97
IU
|
Vitamin C:
320.78
mg
|
Calcium:
102.35
mg
|
Iron:
4.77
mg