From refreshing gazpacho to creamy ajo blanco, these are the cold Spanish soups you need to try!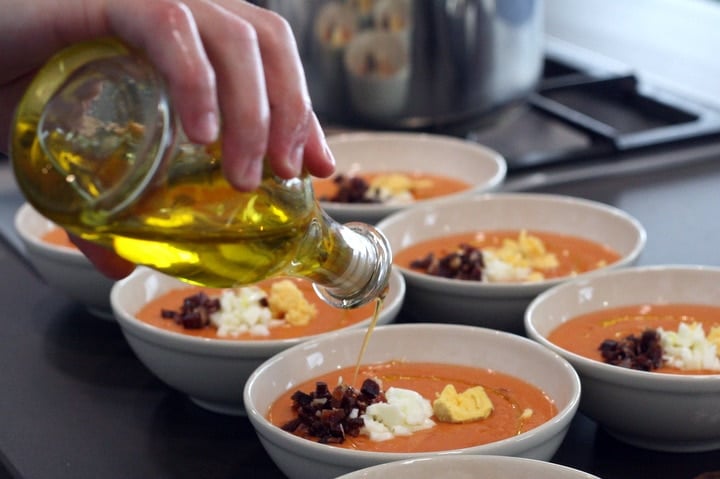 When I first moved to Spain my experience with cold soups was quite limited. I blame this on the chef I once worked with who made "gazpacho" that looked more like Mexican salsa.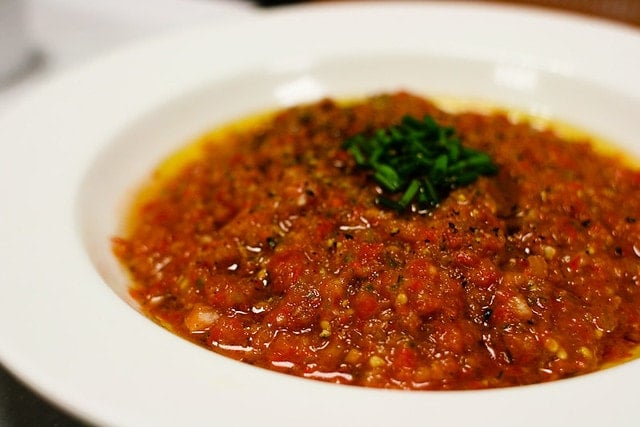 But upon arrival, I started seeing cold soups everywhere, and I soon realized that 40°C summers (104°F) were a good enough reason to give cold soups another chance.
Nowadays I'm always on the lookout for a new cold soup recipe. I have a list of variations on gazpacho to try, and will never tire of my mother-in-law's famous salmorejo.
Whether you are just getting into cold soups or you're a lifelong fan, here are my top cold Spanish soups you must try.
6 Cold Spanish Soups
1. Traditional Gazpacho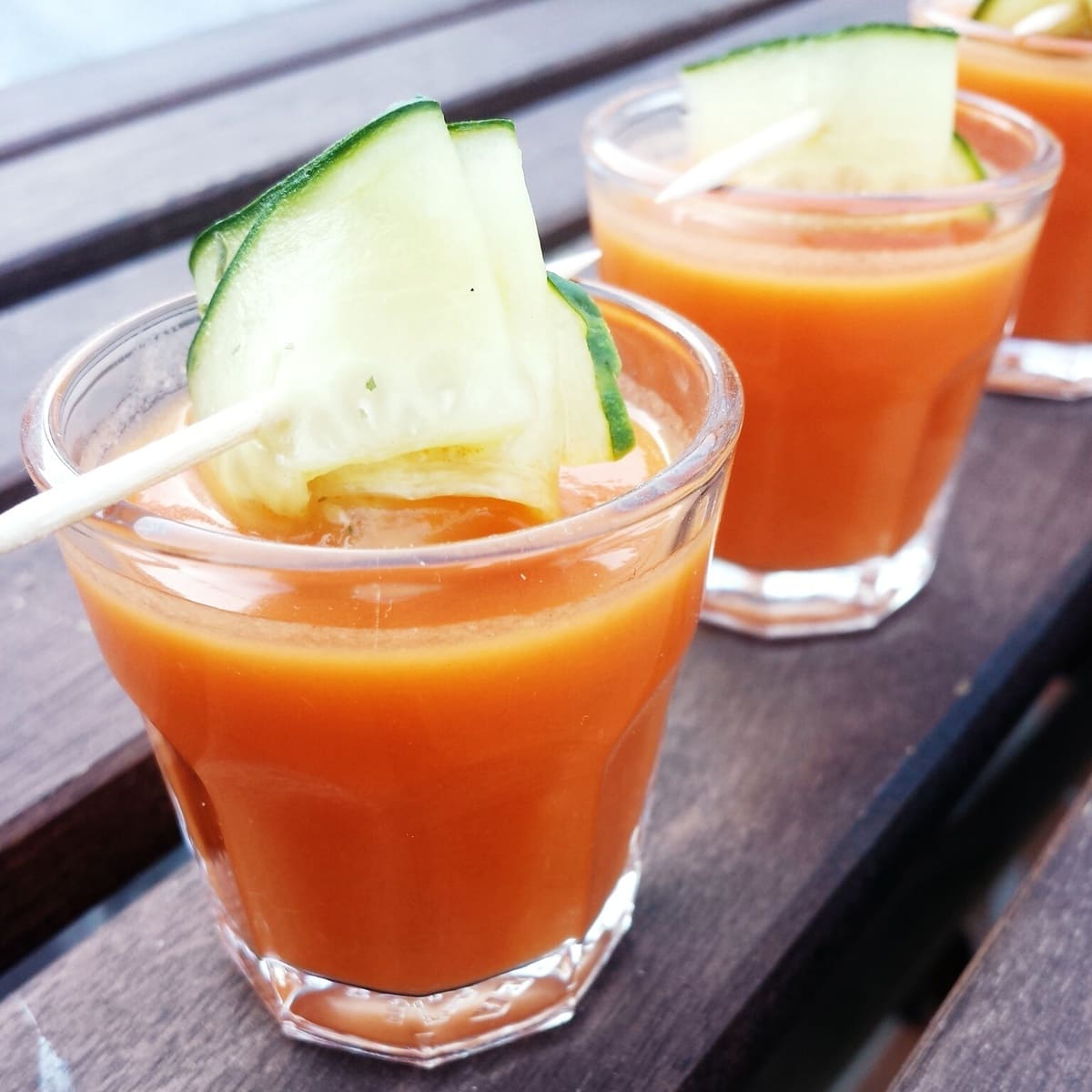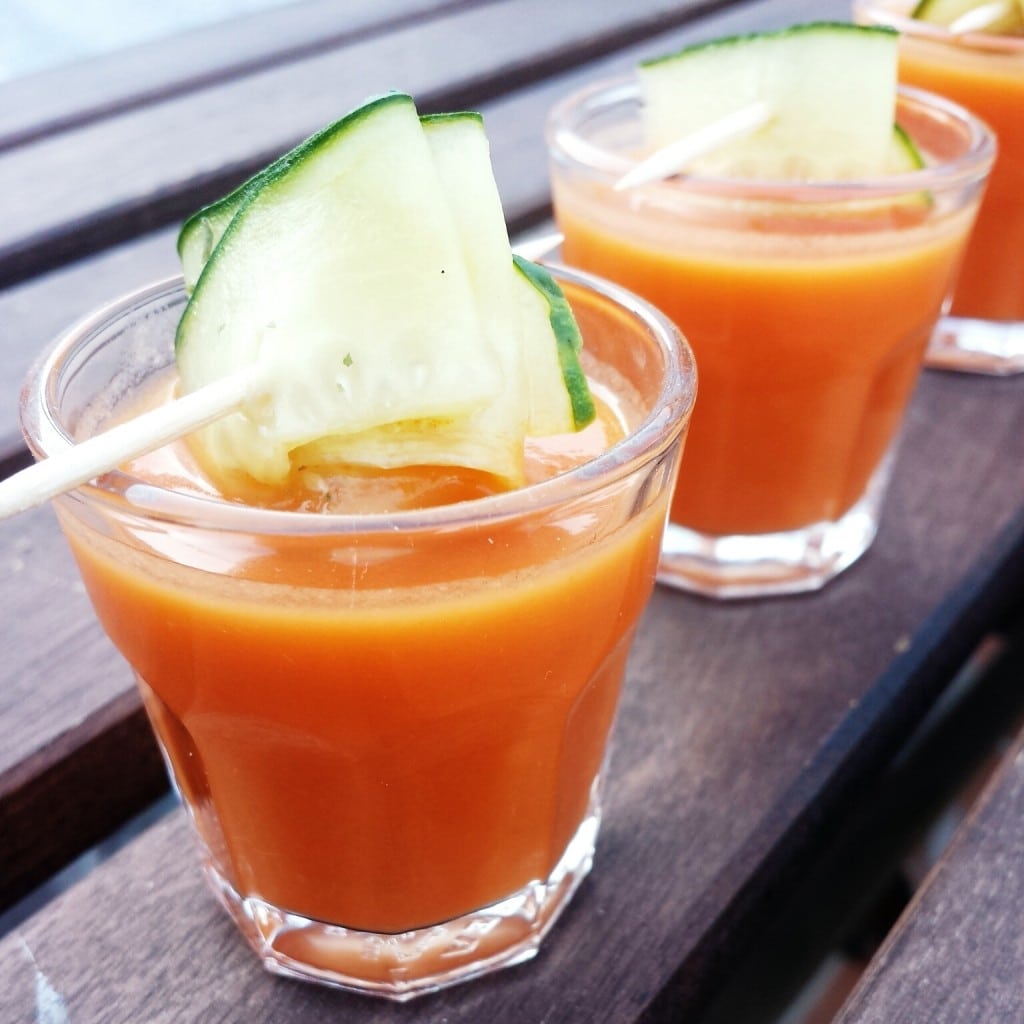 I'm a big believer in starting with the basics, and in Spain that means gazpacho. But authentic Spanish gazpacho is a far cry from my former chef's chunky mess-- true gazpacho is a fully blended vegetable soup that's so light it is often served in a glass instead of a bowl.
What I love about gazpacho is how easy it is to make. Throw the vegetables into the blender, season, EVOO and vinegar, blend and chill. And the result (when using quality vegetables) is the definition of healthy meets delicious.
Here in Spain, we drink a glass of gazpacho in summer any time of day. I especially love a cold glass to start the day right -- or before lunch as an aperitif before the big meal (vermouth also does the trick!).
Get the Recipe: Classic Spanish Gazpacho
2. Watermelon Gazpacho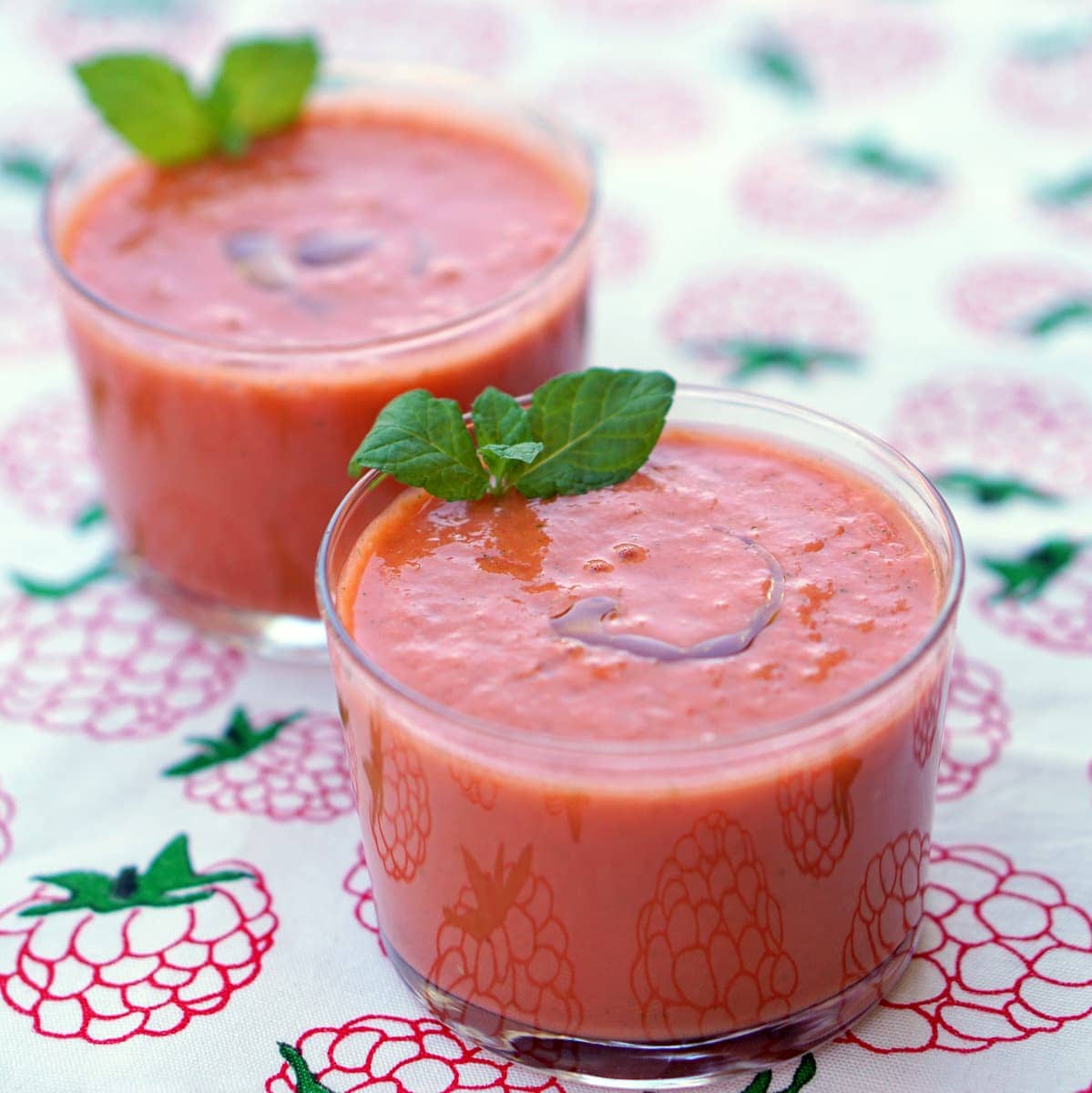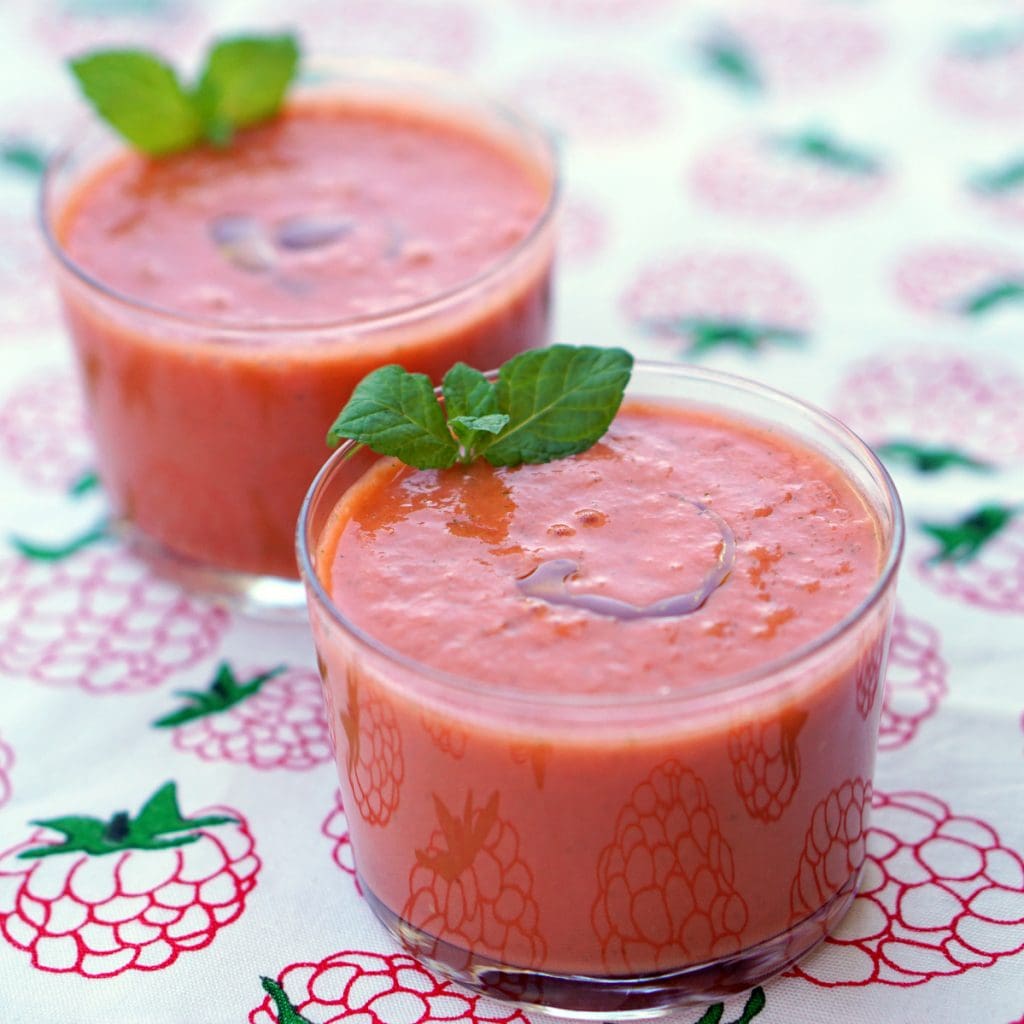 Let's continue on the gazpacho theme. Once you fall in love with the classic recipe, it's time to make some tweaks. When summer comes, there's nothing I love more than having the fridge constantly stocked with sweet, ripe watermelon. And a great use for it is to use it to add a sweet touch to your gazpacho.
This watermelon gazpacho recipe is a delicious twist on the classic, and just as easy. It uses ripe watermelon and fresh mint to take your gazpacho to the next level. If you love cold soups with a touch of sweetness, this one is for you.
Get the Recipe: Watermelon Gazpacho Recipe
3. Green Gazpacho
The last gazpacho recipe on the list is this healthy and delicious green gazpacho. I first tasted green gazpacho at a cozy café in Barcelona, and have been hooked ever since. The vibrant color, bright flavors, and amazing taste made me strive to recreate it at home.
After a few experiments, I came up with a recipe that uses green tomatoes (which are really common here in Spain), cucumber, green bell pepper, avocado, and herbs to get that beautiful color and fresh flavor.
Get the Recipe: Green Gazpacho Recipe
4. Ajo Blanco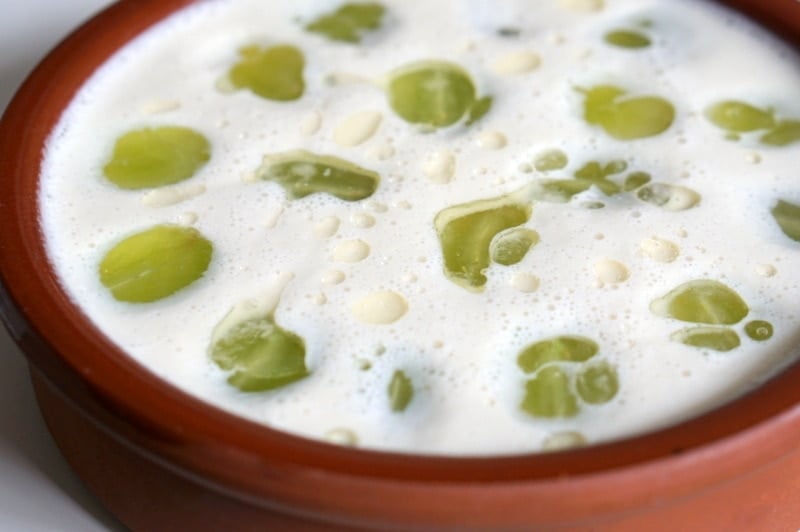 Once I braved my cold soup fear (and fell in love) I was up for anything. So when I saw ajo blanco (cold garlic soup) on a menu, I decided to risk vampire breath to try something new.
And I'm so happy I did! While ajo blanco does use raw garlic, it is perfectly balanced with the other flavors-- the most prominent of which is Marcona almonds. The sweet almonds are blended with extra virgin olive oil, stale bread, sherry vinegar, and garlic, and then served topped with green grapes (traditionally). They say ajo blanco was likely the precursor to Spain's tomato based cold soups (before tomatoes were brought over from the Americas).
Get the Recipe: Ajo Blanco Recipe
5. Traditional Salmorejo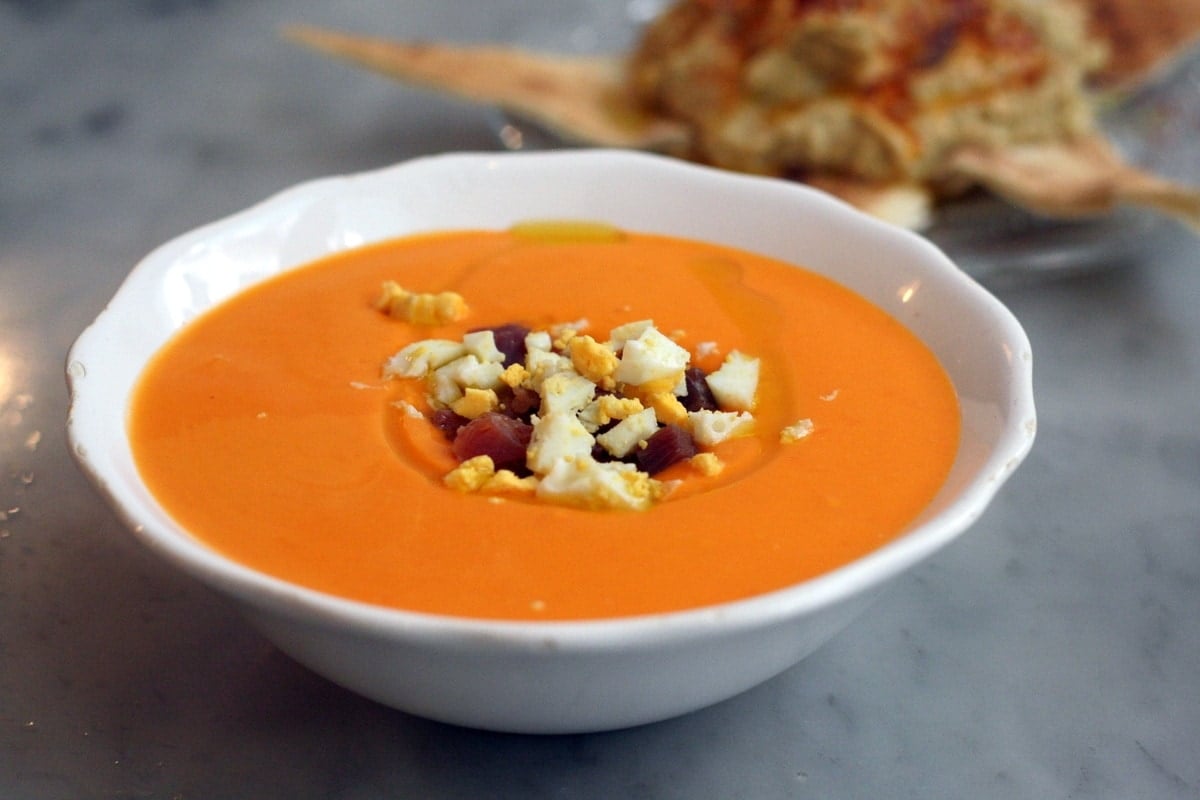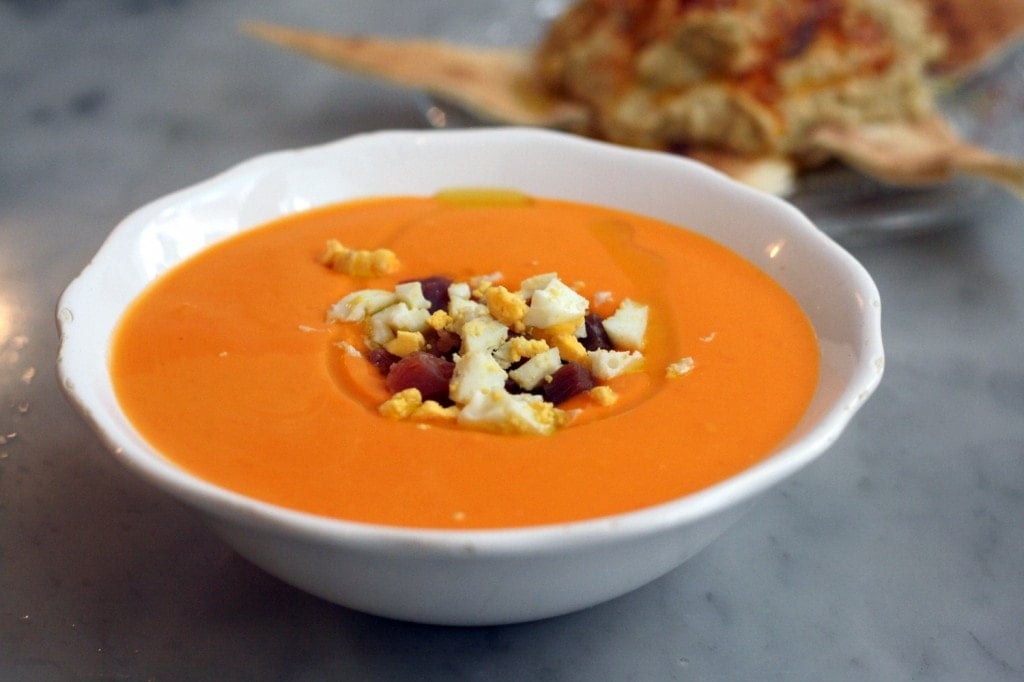 Traditional Spanish salmorejo topped with hard-boiled egg and cured jamón is quite possibly my favorite Spanish food. I love each and every ingredient and when they come together the results are magical. The addition of hard-boiled egg makes this cold Spanish soup creamier than its cold soup cousins, and the salty jamón on top is a real treat.
You can read all about how I discovered salmorejo through my mother-in-law below-- and try her famous recipe!
Get the Recipe: Salmorejo Recipe
6. Beet Salmorejo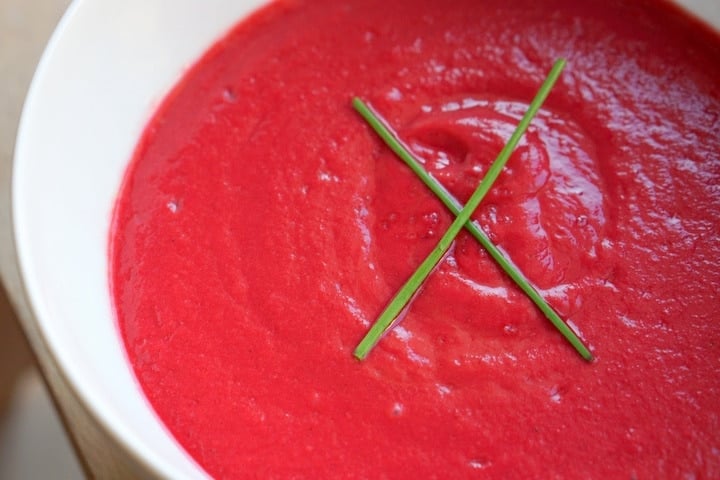 One of my favorite twists on salmorejo is the addition of bright red, earthy beets. This combination substitutes freshly boiled beets for the majority of the tomatoes, and adds in freshly squeezed orange juice as well. The result is a healthy, delicious and bright purple bowl of goodness -- which you can top with an assortment of delicacies such as smoked sardines, tart green apple, and goat cheese. 
Get the Recipe: Cold Beet Salmorejo Recipe
What's your favorite warm weather soup? Are you a cold soup lover (or convert!) like I am?