Ever wondered when Spaniards eat breakfast? And what about lunch or dinner? Spanish mealtimes can be confusing, but this guide will show you exactly when (and what!) to eat throughout the day in Spain.
If you're from someplace like the US, chances are your stomach will start rumbling around noon. If you were back home, it would be lunchtime.
But here in Spain, noon is an eating dead zone. It's too late for morning coffee and Spanish pastries but too early for lunch. In fact, most restaurants won't even start cooking for another hour and a half!
The conundrum of when to eat in Spain is nearly as tricky as figuring out the difference between the dozens of types of Spanish cured meats. It may also be one of the most important questions you can ask before coming to Spain.
Getting Spanish mealtimes wrong means relegating yourself to tourist-trap restaurants or reheated bar food. Getting them right means stepping into a world of culinary delight.
Here's a breakdown of when we eat throughout the day in Spain, what we eat at each meal, and what kinds of dining establishments to head to for each.
Breakfast #1: 7–9 AM
Don't expect to see any big desayunos (breakfasts) in Spain. There are two morning meals here, and the first is quite small. In fact, many people in Spain skip their first breakfast altogether, opting instead for only a quick cup of coffee or warm chocolate milk before heading out the door for work.
This early in the morning, breakfast options for those of us that do start the day with nourishment are limited almost entirely to carbs.
Some typical Spanish breakfast foods for the first meal of the day include:
Croissants (plain, buttered, or filled with chocolate, cream, or jam)
Other pastries such as Mallorcan ensaimadas
Any number of sweet baked goods (cookies for breakfast, anyone?)
A small bowl of cereal
That starchy goodness is typically washed down with one of Spain's many different coffee drinks (café con leche is a popular choice) or a glass of freshly squeezed orange juice.
Where to eat it: Most Spanish people eat their first breakfast at home. If you're visiting and need to eat out, this is a great time to stop by a bakery or pastry shop to pick up something sweet and quick.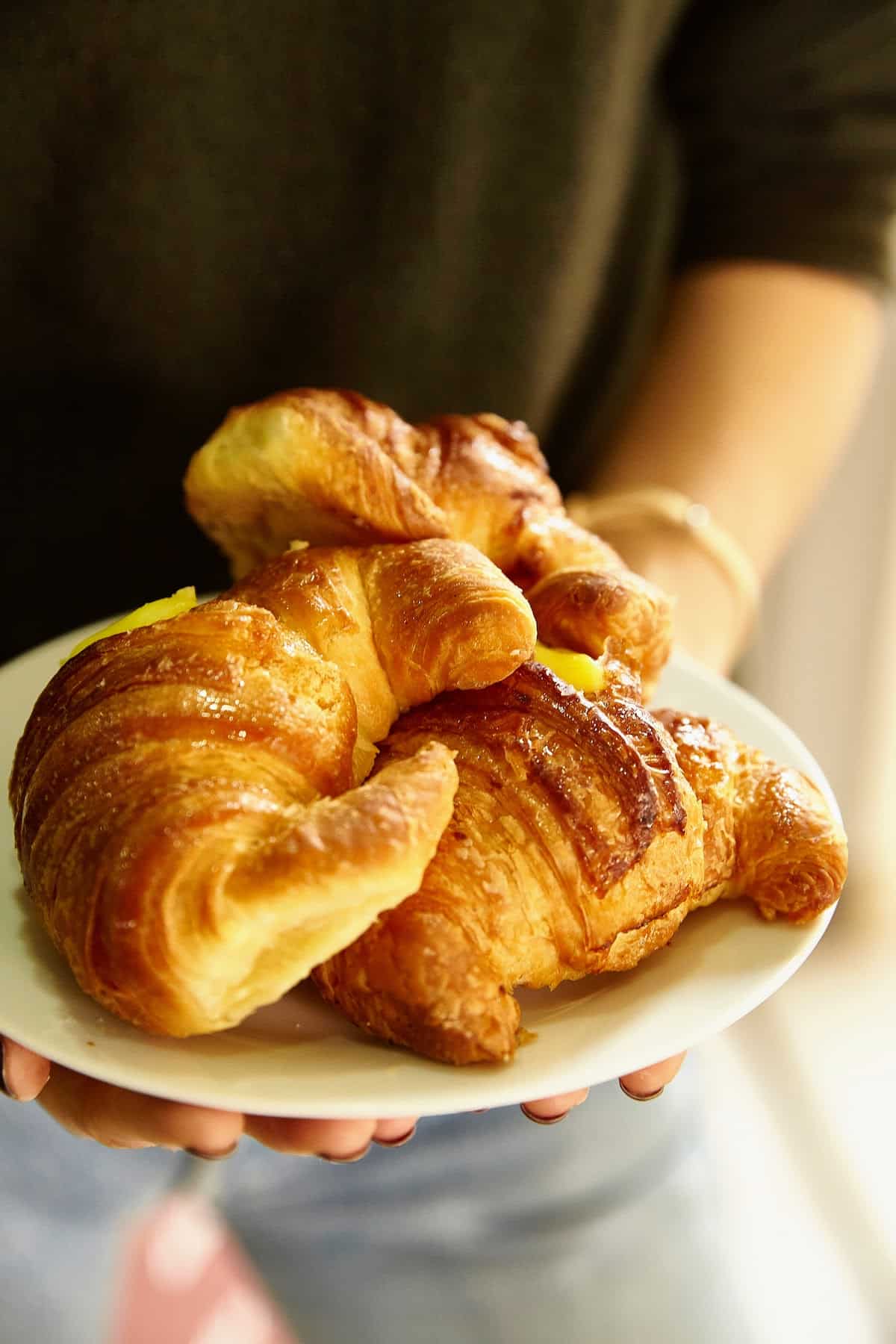 Breakfast #2: 10–11 AM
By the time mid-morning rolls around, it's time for the second Spanish mealtime and something a bit heartier. Depending on where you are in Spain, you may hear this meal called desayuno (just like the first breakfast) or almuerzo.
For working adults this morning snack almost always involves another coffee or perhaps a juice. In Catalonia, it's not uncommon to drink cava for breakfast, too!
The food options are a bit more filling, making this second breakfast the perfect way to bridge the gap between the first morning meal and Spain's famously late lunch.
Some common choices for breakfast #2 in Spain include:
Simple magdalenas (muffins flavored with citrus and olive oil)
Toasted bread with tomato, olive oil, and (sometimes) cured ham
A slice of tortilla de patatas—a common choice in Madrid and northern Spain, and the only time you'll see eggs as a breakfast option!
Any number of sandwiches, from the Catalan entrepà de botifarra stuffed with local sausage to Andalusia's bite-sized montaditos de pringá made with the leftovers of the previous day's pork stew
Where to eat it: At this time of day, many Spaniards will head to their local café-bar (a sort of cross between the traditional Spanish bar and a coffee shop). Until about 11 a.m. you'll find them bustling with office workers and newspaper-reading old men.
Lunch: 2–3:30 PM
The third (and arguably most important) of all Spanish mealtimes cannot be missed. Lunch is such a big deal in Spain that in many places it's simply called la comida (literally "the meal") as if it's the only meal that actually counts as food.
Spanish lunchtime is food paradise. Most restaurants open for lunch around 1:30 p.m. and the crowds start pouring in around 2 p.m. On weekends, tables will stay full until well past 4:30 as friends and family keep talking long after the meal is over, a custom known as sobremesa.
A few common staples you'll see on Spanish lunch menus include:
Where to eat it: This is the time to head to a sit-down restaurant, the vast majority of which offer a menú del día, or fixed-price lunch special.
This set menu typically offers three to six options each for both a first course and a second course. Those two courses plus bread, a drink, and either dessert or coffee have a set price of about €10–16 in Madrid and even less in smaller cities and towns.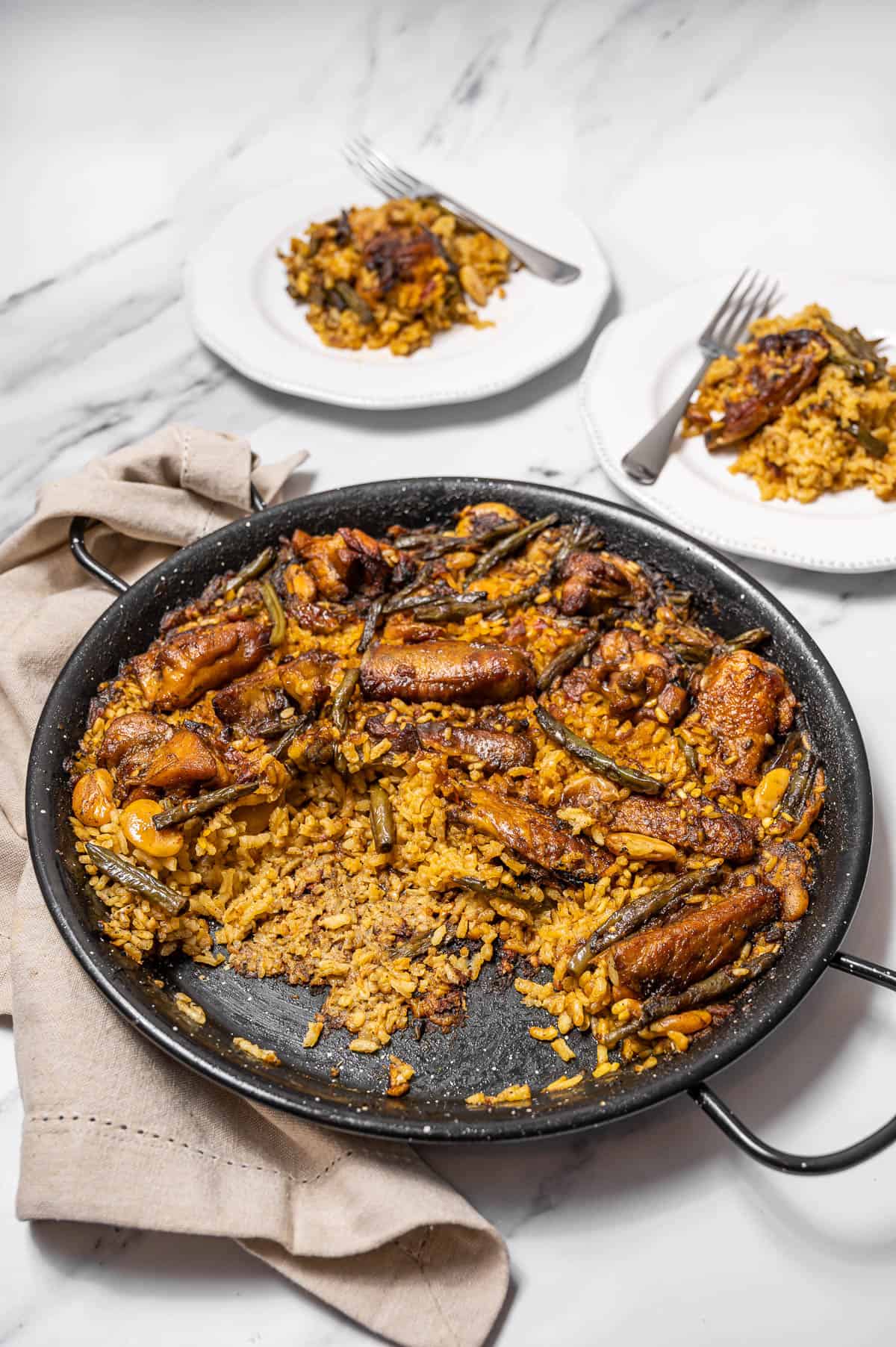 Merienda (Mid-Afternoon Snack): 5–6:30 PM
Merienda, the fourth Spanish mealtime, is a mid-afternoon snack that can help tide you over between lunch and dinner. The social element of merienda is just as important as the food itself. This is the time when friends meet to grab a coffee and abuelas gather in cafés to gossip.
This snacking period is practically sacred among Spanish kids. As people get older, they may not always have the option to merendar every day (especially during the work week). That said, it's still a beloved custom that many Spaniards enjoy whenever they can!
The fare for the mid-afternoon snack is usually sweet, but there are some savory options as well:
Where to eat it: You can enjoy merienda at a café or bakery, or even at a bar!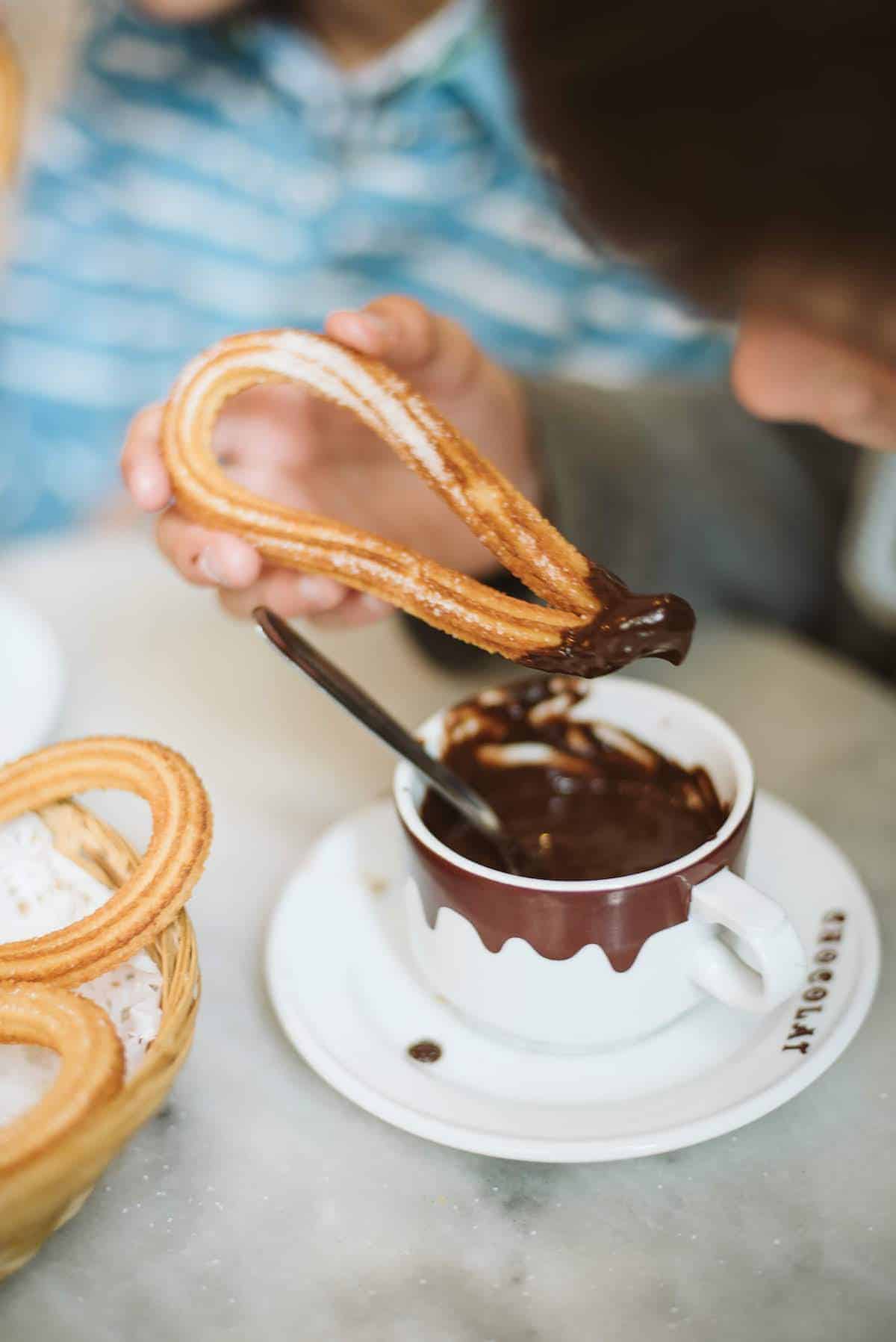 Aperitif & Tapas: 8–10 PM
The real fun of eating in Spain begins later in the evening, when the sun dips below the horizon and the tapas and pintxos bars begin to open. In many parts of Spain, people will enjoy a quick bite and drink to open their appetite before dinner. This is known as an aperitivo (aperitif).
A word of caution: It's difficult to find authentic Spanish dinner food before 8:30 p.m. At the typical American or British dinnertime of 6–8 p.m., few—if any—kitchens at sit-down restaurants are open. Instead, this is prime tapas time.
Going for tapas can range from one quick drink before dinner to spending the entire evening going to three or four bars and having some tapas at each. People often eat tapas standing up at the bar rather than at a table.
While the size, style, and price of tapas vary from region to region, in many parts of Spain it's common to get a free tapa when you order a drink. This is often simply a small dish of olives or potato chips. However, in some cities like Granada, it's common to get a small cooked dish!
In other cities, like Seville and San Sebastian, tapas (or pintxos) usually cost around €2–6. These tend to be larger or more elaborate than the free tapas served in other parts of the country.
If you're headed out for tapas in Spain, here are a few typical options you might dig into:
Where to eat it: Head out to your nearest tapas or pintxos bar to enjoy a Spanish aperitivo. You can simply stay there and enjoy one drink and a tapa, or go barhopping for a full tapas feast!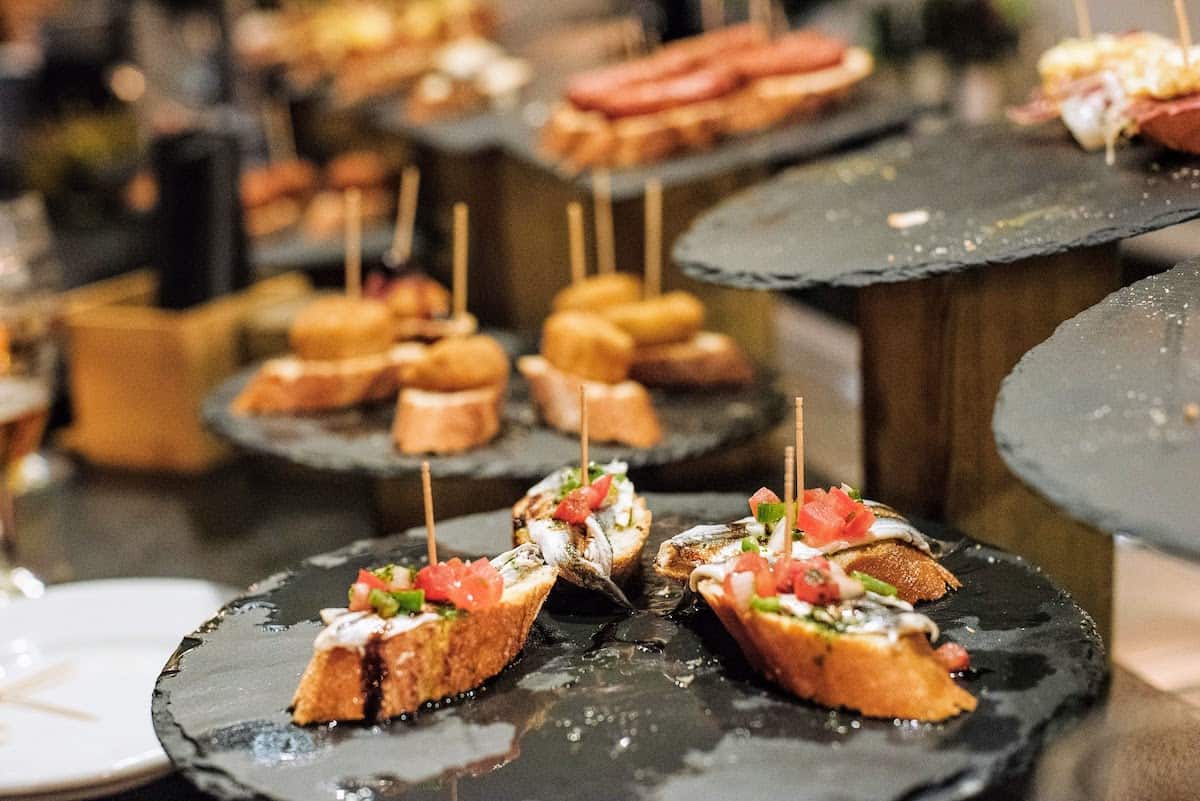 Dinner: 9–11 PM
Dinner in Spain may be late, but as with all Spanish mealtimes, it's definitely worth waiting for.
Cena, or dinner, is usually much lighter than it would be in many other countries. If eaten at home, a Spanish dinner often consists of a salad; a plate of cured ham, sausages, or aged cheese; or even just yogurt and a piece of fruit.
Restaurant and bar dinners are another story. While there are certain foods that you'll almost never find on dinner menus—pasta, rice, lentils, or lamb, for example—Spain has a huge variety of dinner options. For example:
Tortilla de patatas, Spain's ubiquitous potato omelet
Huevos rotos, a dish of fried potatoes topped with fried eggs that are then "broken" to let the yolk spill over the whole thing
A simple and delicious salad
Where to eat it: If you're eating out in Spain, you can head to a restaurant for dinner—or simply continue your tapas crawl across various bars!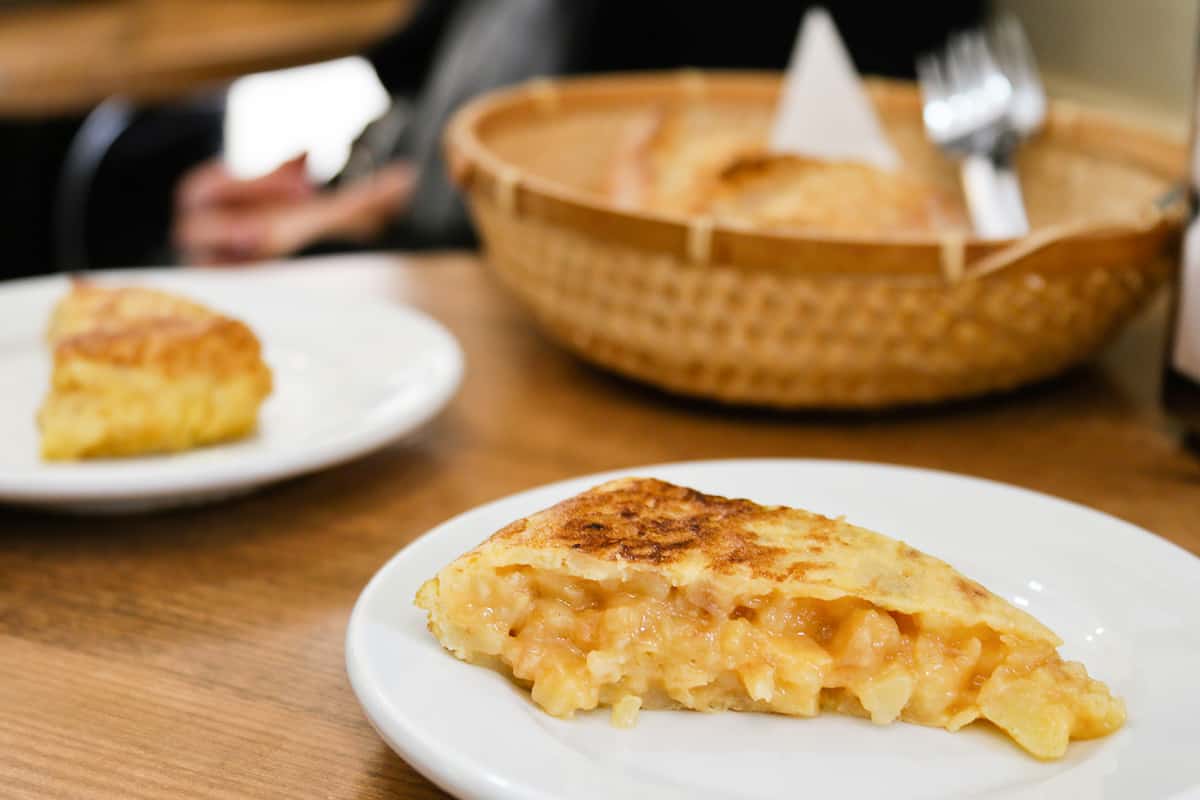 Spanish Mealtimes FAQs
Why do they eat so late in Spain?
Spain's famously late mealtimes are due to the fact that the country has been geographically in the wrong time zone since World War II! After the time zone changed, Spaniards kept eating at the same time with regard to the position of the sun in the sky.

Previously, lunch would have been around 1 p.m. and dinner around 8, but since the country moved forward an hour, those times are now 2 and 9 p.m., respectively. (Interestingly, 1 and 8 p.m. are the common mealtimes in Portugal—which is in Spain's original time zone.)
How many meals are there in Spain?
Most people in Spain eat between four and six meals per day, though it can vary depending on the location and everyone's individual schedules.

These Spanish mealtimes typically include a light bite and coffee first thing in the morning, a more substantial "second breakfast," a hearty lunch, a mid-afternoon snack or merienda, tapas or an aperitif, and a light dinner.
What is a normal Spanish breakfast?
Many people in Spain actually eat two breakfasts! The first is usually something light and sweet, such as a pastry or cookies. The second breakfast, eaten around mid-morning, is often toasted bread with tomato and olive oil, a slice of potato omelet, or a small sandwich.
When would a Spanish person have a merienda?
Merienda is Spain's mid-afternoon snack. It's typically enjoyed between 5 and 6:30 p.m., but can be eaten at any time between lunch and dinner.
Hungry for more? Sign up for my free weekly newsletter and receive a new Spanish recipe once a week! Join today and get my FREE Spanish ingredient essentials guide!