Ever wondered when Spaniards eat breakfast? And what about lunch or dinner? Spanish mealtimes are confusing, but Amy breaks it down for us, ensuring you'll know exactly when (and what!) to eat in Spain.
It's noon and my stomach is rumbling. If I were back home in Texas, it would be lunch time. But here in Spain noon is an eating dead zone. It's too late for morning coffee and Spanish pastries but too early for lunch. In fact, most restaurants won't even start cooking for another hour and a half!
The conundrum of when to eat in Spain is nearly as tricky as figuring out the difference between the 22 types of cured Spanish meats.
It may also be one of the most important questions you can ask before coming to Spain. Getting Spanish mealtimes wrong means relegating yourself to tourist-trap restaurants or reheated bar food.
Getting them right means stepping into a world of culinary delight.
Spanish Mealtimes 101
Desayuno (Breakfast): 7 a.m. to 9 a.m.
Spaniards are many things, but early risers is not one of them. It's nearly impossible to find a coffee shop that opens before 7 a.m. in Madrid. In smaller cities, the espresso starts flowing even later. Many people in Spain skip eating a desayuno altogether, opting instead for only a cup of coffee or hot chocolate milk.
This early in the morning, breakfast options for those of us that do start the day with nourishment are limited almost entirely to carbs.
Spanish breakfast foods include:
a toasted baguette with olive oil and crushed tomato (my personal favorite)
croissants (plain, chocolate-filled, cream-filled, or grilled a la plancha with jam),
any number of sweet baked things (cookies for breakfast, anyone?)
That starchy goodness is typically washed down with café con leche (espresso with milk) or a glass of fresh-squeezed orange juice.
The work day in Spain typically begins at 9 a.m. when breakfasters drift away from their cups of café con leche, at least for an hour or two.
Almuerzo (Mid-morning snack): 10:30 a.m. to 11 a.m.
With scores of people having started the work day on an empty stomach, by the time mid-morning rolls around those grumbling stomachs demand a return to the neighborhood café for a coffee/cigarette/muffin break. Despite what I learned in high school Spanish class, this mid-morning snack is often called "almuerzo."
For working adults this morning snack often consists of another coffee or perhaps a juice. People might snack on a muffin or even a croissant layered with ham and cheese. For school-aged children this morning snack is sacred. As soon as that recess bell rings, everything from bars of dark chocolate to whole ham and cheese sandwiches materialize from students' backpacks.
For people visiting Spain, I like to think of this morning snack a second breakfast. Coffee and pastries are super inexpensive, especially in the morning, and addictively delicious. If you had your first breakfast in a bakery, try second breakfast in a traditional bar, or vice versa. Until about 11 a.m. you'll find them bustling with office workers and newspaper-reading old men.
La Comida (Lunch): 2 p.m. to 3:30 p.m.
This, the third and most important meal of the day, cannot be missed. Lunch is such a big deal in Spain that it's called "la comida" or "the meal" as if it was the only meal that actually counted as food.
Spanish lunch is food paradise. Most restaurants open for lunch around 1:30 p.m. and the crowds start pouring in around 2 p.m. Tables will stay full until well past 4:30. On weekends the post-lunch sobremesa (after meal conversation) can last nearly until dinnertime.
The vast majority of lunch restaurants have a "menu del dia" or menu of the day. This set menu typically offers 3 to 6 options for a first course and either meat or fish as a second course. The two courses plus bread, a drink (usually wine, beer or a soda) and either dessert or coffee have a set menu price of about €9 to €14 in Madrid– less in smaller towns. Menus del dia are a fantastic way to try excellent traditional dishes for a great price.
Merienda (Mid-afternoon snack): 5:30 p.m. to 7:30 p.m.
The mid-afternoon snack, la merienda, in Spain often has more to do with socializing than eating. This is the time when friends meet to "grab a coffee" and old women gather in cafés to gossip. The fare for the mid-afternoon snack is usually sweet (churros with chocolate, pastries, ice cream) or cured (a small sandwich with Iberian ham, chorizo sausage or cheese).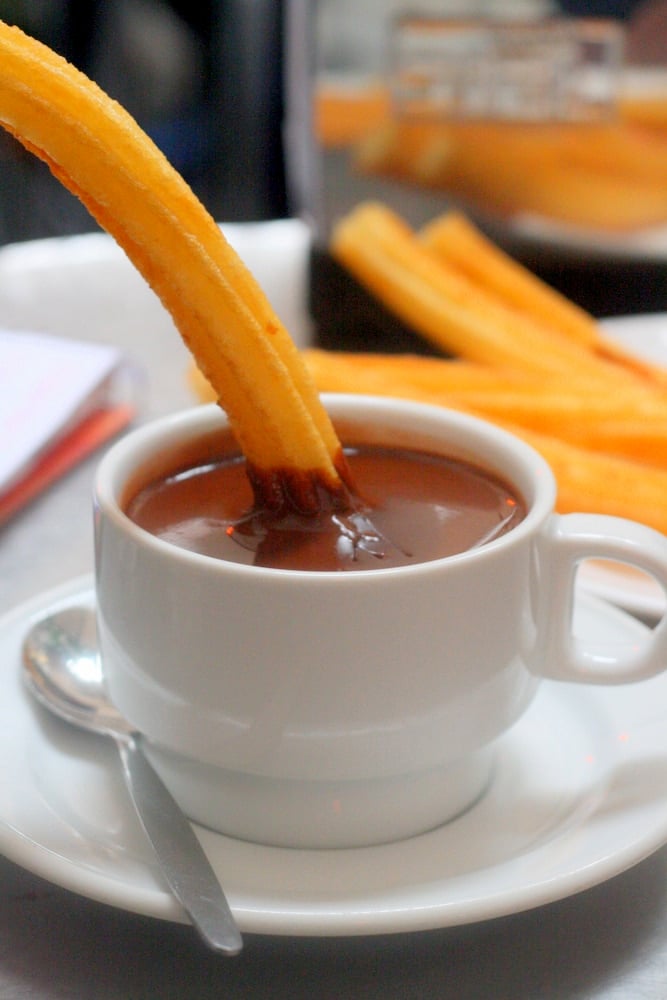 Unlike a typical post-work happy hour, drinks at this time in Spain are almost always non-alcoholic (or sometimes a beer–which is kind of the same thing here in Spain!). They tend to save the wine and spirits for a few hours later, at tapas time.
La hora del aperitivo (Tapas Hour): 8:30 p.m. to 10 p.m.
The real fun of eating in Spain begins around 8:30 in the evening, when tapas bars begin to open. A word of caution: it is difficult to find authentic Spanish dinner food before 8:30 p.m. At the typical American or British dinner times of 5 and 6 p.m. few if any restaurant kitchens are open. Trust me, it's worth the wait!
As the sun heads into the horizon, the Spanish head into the tapas bars. While the size, style and price of tapas vary from region to region, in most parts of Spain it's common to get a free tapa when you order a drink. In Madrid, tapas range from a bowl of potato chips to a heaping plate of fideuá, a kind of pasta paella. In Seville and the Basque Country, tapas cost anywhere from 1€ to 4€. These tapas tend to be larger (as in Seville) or more elaborate (as in the Basque Country) than, in other parts of the country.
Check out our Seville tapas guide for the best eats in Seville!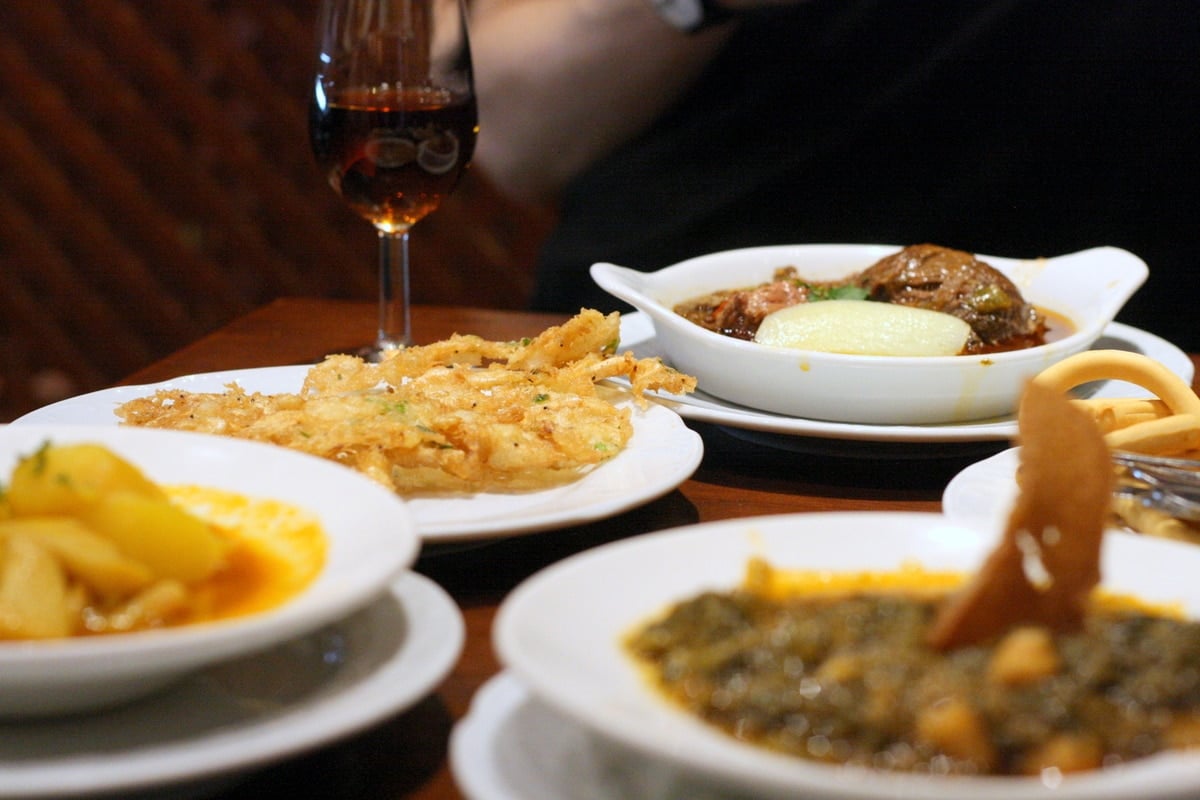 Going for tapas can mean one drink before dinner or spending the entire evening going to three or four bars and having one or two tapas at each. Tapas are often eaten standing up at the bar. Many restaurants are divided into two sections: a standing tapas bar in the front and a sit-down dining room in the back.
La Cena (Dinner): 9 p.m. to 11 p.m.
Dinner in Spain may be late, but as with tapas, it's definitely worth waiting for. Dinner is usually much lighter than it would be in the U.S. or Britain. If eaten at home, a Spanish dinner often consists of a salad, a plate of cured ham, sausages or aged cheese, or even just a yogurt and a piece of fruit.
Restaurant and bar dinners are another story. While there are certain foods that you will almost never find on dinner menus — pasta, rice, lentils or lamb, for example– Spain has a huge variety of dinner options. Eggs, for example, are a decidedly dinner food in Spain. Perhaps the crown jewel of Spanish dinners is the tortilla de patata, or Spanish omelet, made from egg, potato and onion. Other popular dinner dishes include: cured meats like Iberian ham or cured sausage, huevos rotos (fried potatoes topped with fried sunny-side up eggs) or croquetas (lightly battered and fried béchamel mixed with diced ham, mushrooms or cheese).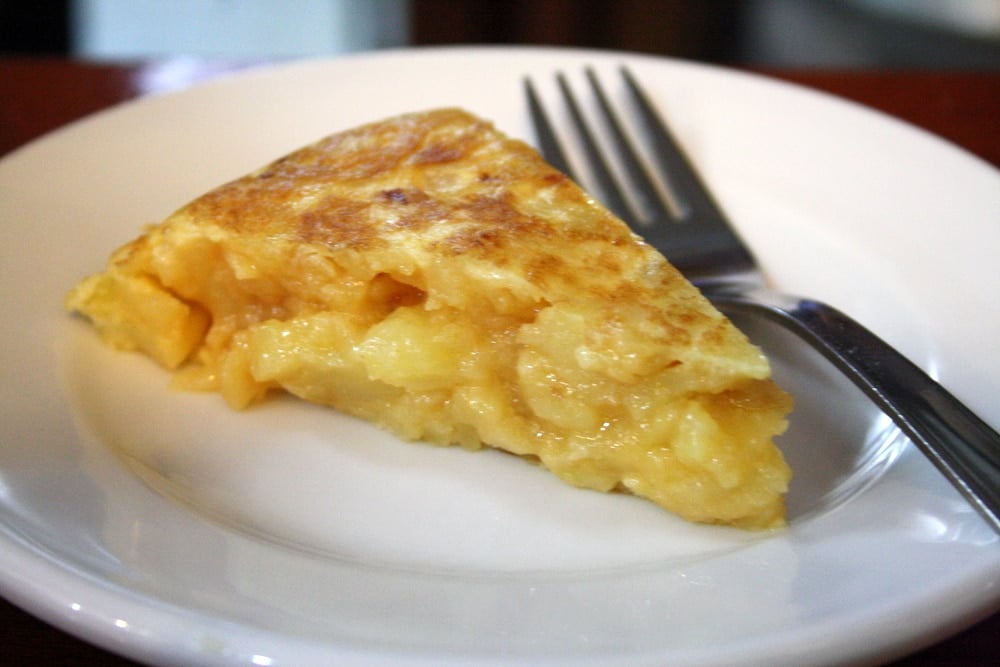 Traditional Spanish dinners are almost always a shared meal. A group of friends will order a variety of raciónes, or large plates, to share. The general rule is to order one ración per person. The waiter will set it in the middle of the table and everyone will dish a few spoonfuls or forkfuls onto their own plate. This style of eating is fantastic if, like me, you have a terrible time deciding what to order!
Have you ever had trouble figuring out Spanish mealtimes while traveling in Spain?
For more Spanish mealtimes 101 when visiting Spain, check out Devour Spain food tours! Delicious food tours and tapas tours in Seville, Barcelona and Madrid.
Pin me!