Today David shares the history of Spanish olives—which are quite possibly Spain's most important fruit! Read on to learn all about the different types of olives, what they're used for, and how to enjoy them.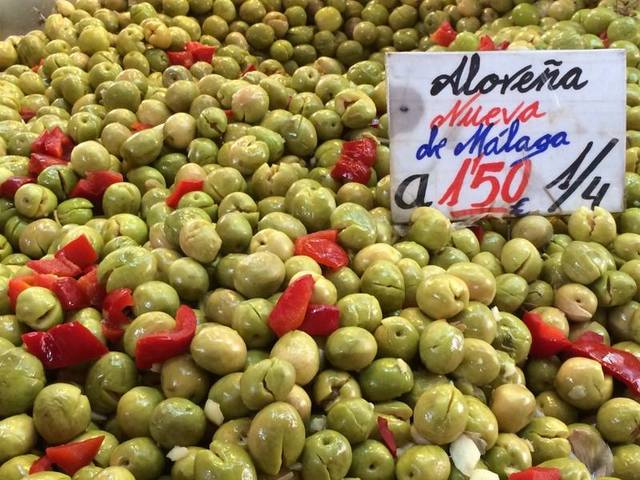 I didn't like olives when I moved to Spain.
As a kid, I'd always thought that they were too bitter, too salty, too gross! If they were on a pizza, I picked them off. If they were in a bowl, I pushed it away. So when I moved to Spain, I figured they were just something I'd refrain from ordering.
In Seville, I tried to continue avoiding olives in my day-to-day life. But it turns out that in Spain, that's pretty much impossible! These babies are everywhere. Locals chow down on olives at any time of the day or night, and it's weird to go a day without ingesting olives in some way—whether whole or in oil form.
I quickly learned that if I wanted to stay in Spain, I would have to get used to olives! If I was lucky, I thought, I'd even start to enjoy them.
Several years later, olives are now one of my favorite foods! They're my preferred snack, and if I could only eat olives and nothing else, I think I'd live a happy life.
But why are olives in Spain so ubiquitous? Are there different types of Spanish olives, and if so, which are best? And most importantly, how should you eat them? Today I'm going to answer all of these questions and more. Let's dive in!
Olives and Spain: A Classic Combination
Spain has loved olives for longer than most places. The first olive trees were brought to Spain more than 3,000 years ago by the travel-loving Phoenicians, the same people who supplied Spain with its first grapes! Clearly, we have a lot to thank them for.
From their home in modern-day Lebanon, the Phoenicians spread the trees throughout the Mediterranean. In Spain, the first trees were planted in southern Andalusia, which is still the capital of Spanish olives today!
Under the Romans, olives continued to flourish, though they were mainly used to make oil to be shipped around the empire. Olive trees live a long time, and some of those Roman olive trees are still producing fruit today!
When the Moors invaded Spain in the eighth century, they prized olives and olive oil as some of the best foods in the country. The Spanish word for oil, aceite, is even derived from the Arabic word for olive juice: al-zait.
By the time the Christians expelled the Moors from the country in 1492, the dominion of olives in the Spanish diet was cemented.
Nowadays Andalusia produces more than half of the country's supply of olives, and the bulk of its olive oil too. And that's no small feat, given how many olives Spain produces!
Not content with just growing them, the country also wants to share its love of olives with the world. Today, more than half of the planet's olive oil comes from Spain.
Spanish Olives: The Ones to Know
But which Spanish olives are best? In a country that has literally hundreds of types of olives, how do you know which one to choose?
In reality, you don't always have a choice. Most bars only have one type of olive that they serve to customers. But if you're buying your Spanish olives in bulk, there are a few you should look out for.
1. Manzanilla Olives
One of the most popular varieties in the country is the Manzanilla olive. It's most common in the south, where many cities have their own local styles and sub-varieties. They're fleshy and meaty, with a mild and not-too-bitter flavor.
Commonly marinated with wild herbs, Manzanilla olives are a great snack, and go perfectly with a glass of crisp fino sherry! Their all-around appeal also makes them one of the best olives for people who "don't like olives"!
2. Hojiblanca Olives
If you're looking for olives with a kick, then Hojiblancas are for you. These olives have thicker skin than most varieties, giving them a sharp and spicy note. As well as being a great snack, they're often turned into oil that's famous for its peppery, nutty flavor.
3. Gordal Olives
Gordal (or "fat") olives are named for their unusually large size. At around 6 grams each, they're one of the biggest olives in Spain!
They're even meatier than the Manzanilla variety, and are perfect for stuffing. If you like your olives with a bit of cheese or pickled pepper inside, you'll be right at home with a Gordal.
4. Campo Real Olives
This variety is most commonly grown around Madrid, and is one of the most popular olives in the capital. Its thin skin means that the flavor is pretty mild, making it perfect for marinades!
You'll find Campo Real olives seasoned with an aromatic brine of fennel, marjoram, oregano, bay leaves, and cumin. They're a must-try while in Madrid.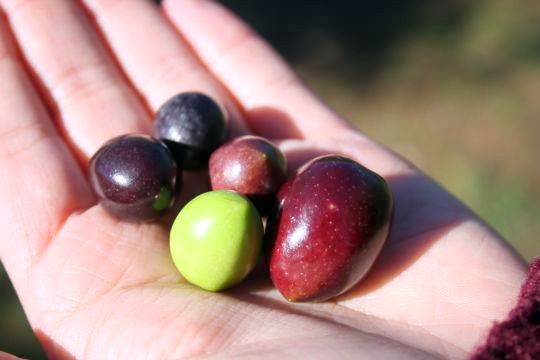 5. Cacereña Olives
The Cacereña olive is a bit different. Unlike other Spanish olives, these are left to ripen on the tree until they've turned completely black.
As the olives oxidize, they lose their green color, as well as their bitter and vegetal flavor. The result is that these olives have a rounder, sweeter flavor, which pairs perfectly with the saltiness of their brine.
6. Malagueña Olives
Are you one of those people who love bitter foods? If so, you'll want to try some Malagueña olives in Spain. These meaty olives from Malaga are smashed open before curing, to help the brine get deep into the fruit.
The curing process is sped up, and the aromatic flavors are stronger than usual! This is a Spanish olive that packs a punch.
7. Aragón Olives
These small black olives from Spain's eastern coast can be hard to find. They're usually only served where they're grown, in the area around southern Aragón and Catalonia.
But if you can get your hands on them, you're in for a treat. Another example of an oxidized olive, these babies can be addictively sweet and nutty!
How to Eat Spanish Olives Like a Local
Now that you know which Spanish olives to try, how exactly should you eat them? I'm not talking about the perfect way to chew them, but the best way to enjoy them like a true Spaniard.
In Spain, locals often eat olives as a snack or simple appetizer. At many Spanish restaurants, you'll get a small tapa of olives for free when you order glass of beer or wine! They're the perfect way to start a meal, or a great salty snack to contrast with a cold beer or fino sherry.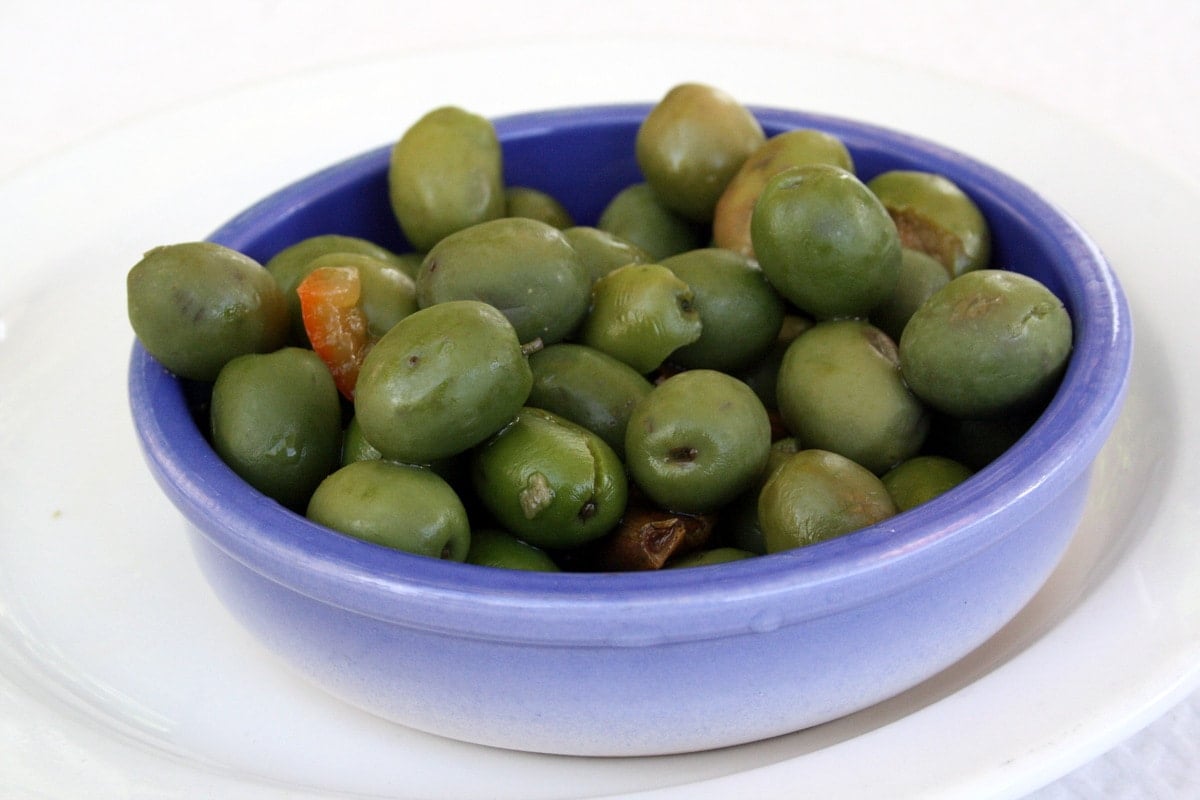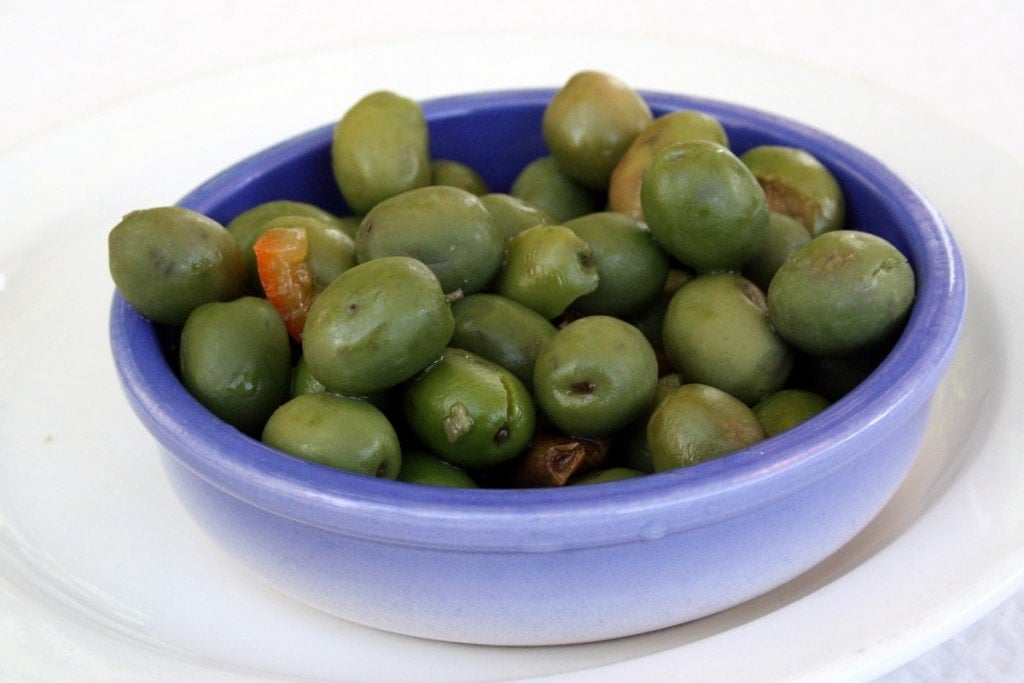 In Andalusian cuisine, olives are also used as an ingredient in plenty of salads and simple tapas. I'm a massive fan of ensalada malagueña: a typical Malaga salad with salt cod, onion, potato, hard-boiled eggs, olives, and oranges.
Farther north, locals go nuts for gildas. These skewers of green olives, pickled peppers, and salty anchovies are the pintxo of choice for bar-hoppers in the Basque Country. Their sharp and salty flavors make them the perfect pairing for a glass of sweet local vermouth!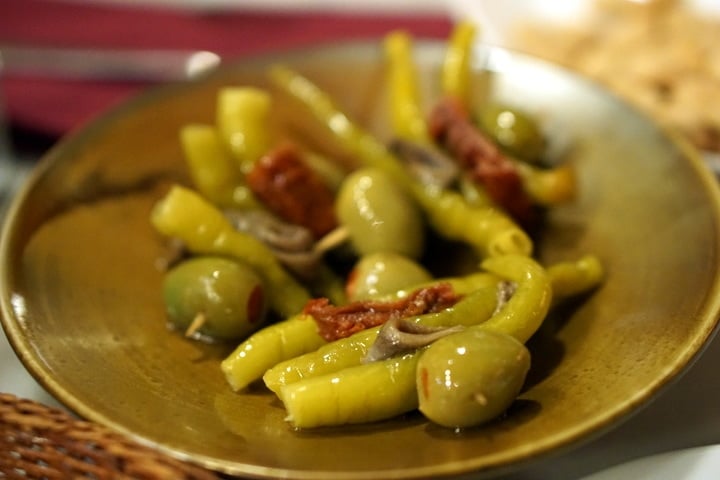 Spanish Olives FAQs
What types of olives are grown in Spain?
Spain grows more than 250 different olive varieties (close to 300, according to some sources). A few of my favorites are Manzanilla, Hojiblanca, Campo Real, Gordal, and Cacereña—but don't stop there! There are dozens upon dozens of Spanish olives to try.
What makes Spanish olives different?
Spain produces superb olives for several reasons. There's a long history of olive cultivation here, with ancient trees and traditional techniques that have been perfected over the centuries.

Spain also has ideal climate conditions for growing certain kinds of olives. Finally, the sheer variety of types and the cultural importance placed on them is a big part of what makes Spanish olives unique!
What is the best kind of Spanish olive?
That totally depends on your tastes! Some Spanish olives are sweeter, saltier, nuttier, or more bitter—and everyone has their favorite. That said, Manzanilla olives are among the most popular and iconic varieties. If you're looking for a crowd-pleasing Spanish olive, they're a safe bet.
Hungry for more? Sign up for my free weekly newsletter and receive a new Spanish recipe once a week! Join today and get my FREE Spanish ingredient essentials guide!