Today Melissa shares her tips for the best free tapas in Madrid! Any you'd add?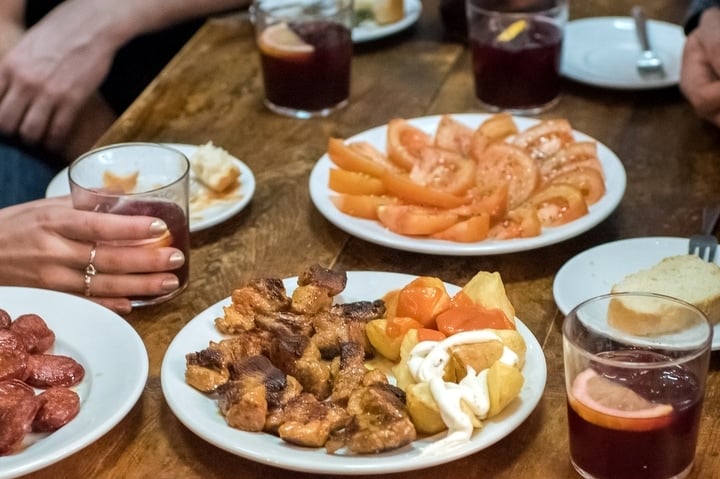 If there's one word that sums up both the reputation and reality of Spanish culinary culture, it's tapas. Tossed around everywhere from the traditional taverns of Madrid to avant-garde eateries in NYC, the concept of tapas is quickly conquering the globe.
In its simplest definition, tapas refers to a plate of food that's meant to be shared among diners; essentially an appetizer. But dig a little deeper and you'll find there's much more to it. The first tapas supposedly consisted of slices of bread topped with cured meat or cheese that were used to cover glasses of sherry, in order to keep out flies (appetizing, right?).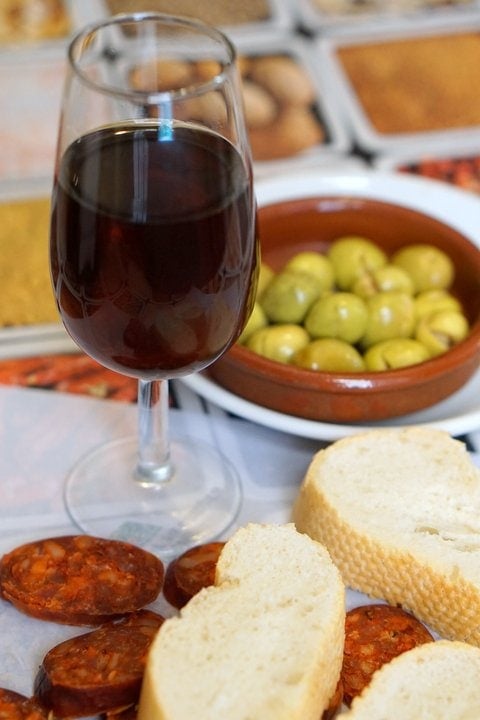 See also: Madrid Tapas Tours
Herein lies one of the most important characteristics of truly authentic tapas: they're free. It's customary to serve some type of snack along with each drink ordered in a Spanish bar. Nowadays, however, that usually means a simple bowl of potato chips, olives, or even gummy candies.
The places that keep up the tradition of serving an actual plate of food with every round of drinks are few and far between, especially in big cities. The culture of free tapas is alive in Granada, in the southern region of Andalusia. But even in Madrid, you can find the remnants of this custom—as long as you know where to look.
The best free tapas in Madrid
Here's a list of some of the most famous spots for free tapas in Madrid, plus a few well-kept secrets. Take yourself on a tapas tour of the city and try them all for yourself!
See also: Madrid Tapas Guide
El Tigre
This is probably the most well-known place to get massive portions of free tapas in Madrid. Located just a couple blocks from the main thoroughfare of Gran Vía, Sidrería El Tigre draws both tourists and broke college students in droves.
Order a pint of beer for a few euros and you'll be served a heaping plate of croquettes, fried potatoes, pinchos, or even paella. The focus here is certainly quantity over quality—but if you're hungry and on a budget, there's no better place to be.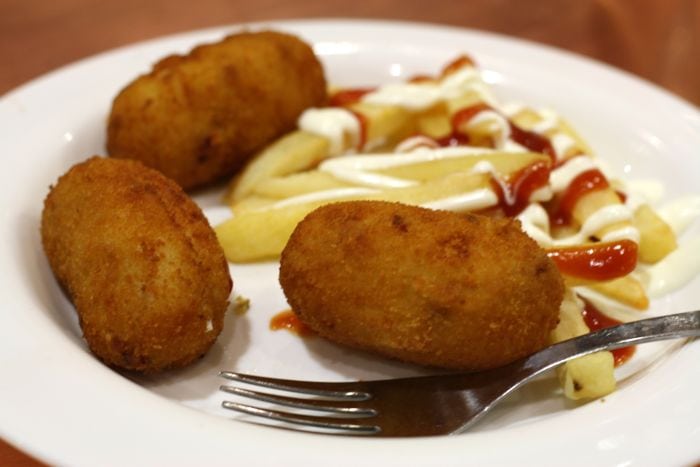 El Respiro
Right down the street from El Tigre, this bar has become somewhat of a second-choice spot if its more famous neighbor is full. But it deserves a visit in its own right. Crispy fried eggs, glistening padrón peppers, huge slices of sausage, patatas bravas... sometimes the simplest pleasures are also the tastiest—and the cheapest.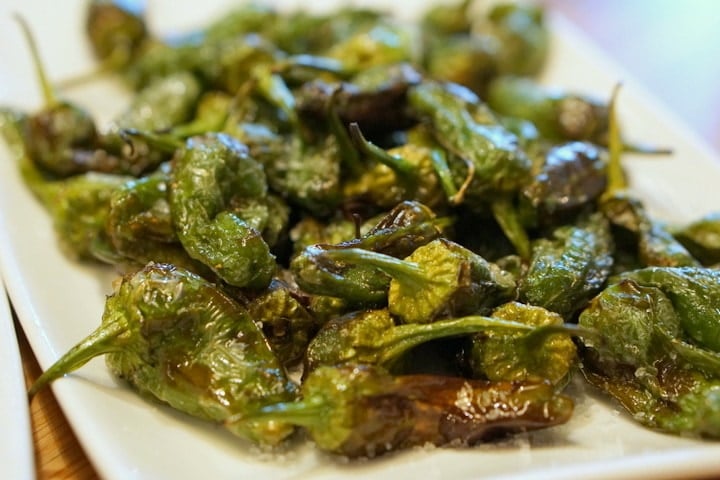 Entre Cáceres y Badajoz
Far from the touristy madness of Gran Vía, you'll find this traditional spot near Goya where you can have the true tapas experiences.
I went here one Saturday afternoon with a group of friends. No sooner had we sat down than the waitress had served us a round of cañas, without saying a single word. A few minutes later a giant plate of fried potatoes and chistorra was dropped onto the table. No questions asked.
See also: The Top 12 Must-Try Spanish Foods
Petisqueira
Order a caña (or two!) at this local favorite and see what they give you de tapa. Offering some of the best free tapas in Madrid, you might get anything from a mini hamburger to delicious huevos rotos. This popular spot tucked away near the Tribunal metro station is worth a visit-- though be warned, it fills up at prime times.
Luckily, it's one of the larger tapas bars on this list, and a full dinner for under ten euros is too good an offer to pass up.
Bar La Rosa
Located on the bustling Ronda de Atocha in Embajadores, this place is known for its delicious Spanish tortilla. Order a drink and they'll bring you a slice of it, perched atop a piece of crusty bread.
Here, the drinks are cheap and the tapas are plentiful, ranging from ham and chorizo to octopus and olives. It may not look like much from the outside, but Bar La Rosa is a perfect example of how you should never judge a book—or a Spanish bar—by its cover.
Do you have any favorite spots for the best free tapas in Madrid? Share them in the comments!