Why the Food in Bilbao is Worth the Trip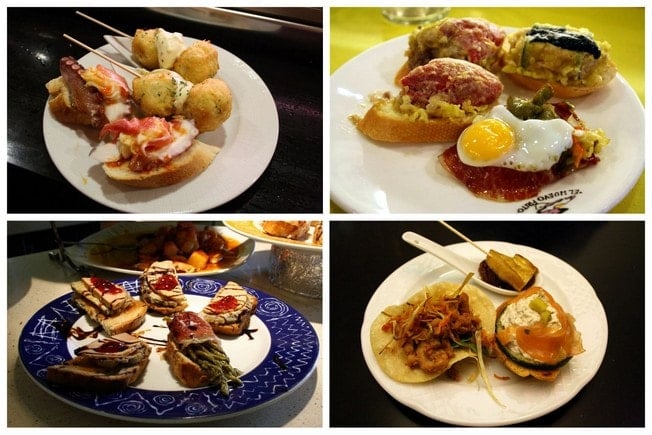 Bilbao, Spain is only a few short hours from Madrid, and easily accessible by car, bus, plane or train. We visited Bilbao last month (read about what to do in Bilbao) for our first anniversary and absolutely loved discovering this fascinating city, filled with art, culture and, of course, food! I was so excited to finally make it to this world-famous region of Spain, where pintxos (Basque style tapas usually served on a toothpick) are known for being extra creative and always delicious. What I wasn't expecting from Bilbao, was that the pintxos were also incredibly cheap; we usually paid only 1.00€ to 1.50€ per pintxo. I wish they had those prices here in Madrid.
The food in Bilbao really made the trip memorable, and we definitely ate our weight in pintxos while drinking our weight in crisp txakoli wine.
Take a look at our trip, pintxo by pintxo!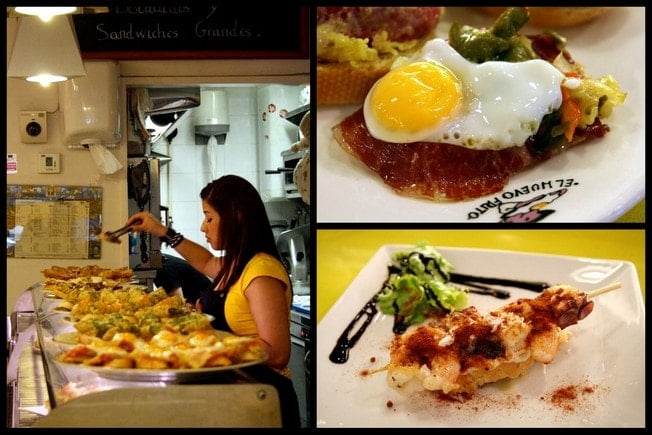 These pictures are from our first stop for pintxos in Bilbao, where we stumbled upon the pintxo bar El Huevo Frito (The Fried Egg). At this point, I was near tears I was so hungry (it was about 7:30 p.m. and we'd last eaten at 9:00 a.m.) and I had to stop myself from ordering one of everything. The superstar pintxos (pictured above) were:
Fried quail egg over Serrano ham and tempura vegetables on a mini toast
Melt-in-your-mouth grilled octopus and shrimp with homemade alioli sauce, smoked Spanish paprika, and a drizzle of balsamic reduction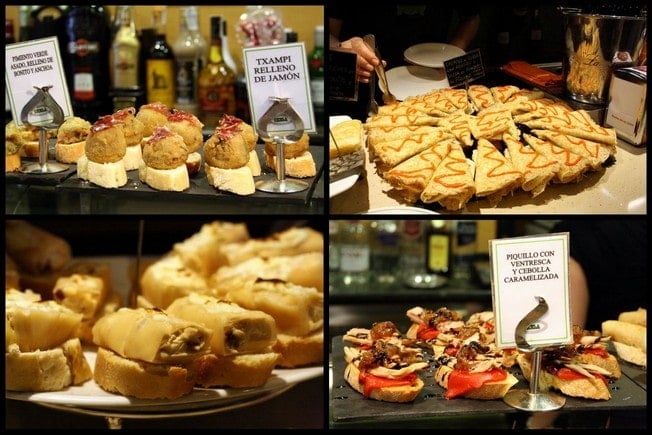 What distinguishes pintxos from tapas is the fact that the are usually served on a small piece of bread, and often have a toothpick holding everything in place. Here are some classic pintxos we tried that didn't disappoint! (Clockwise from top left).
A flavorful fried mushroom stuffed with cheese and Serrano ham
Crepes stuffed with minced mushrooms, cheese and drizzled with a roasted red pepper sauce
A typical toast with a piquillo pepper (a mild roasted chile pepper) and topped with tuna belly, caramelized onion and balsamic reduction
A delicious leek, stuffed with cream cheese and bacon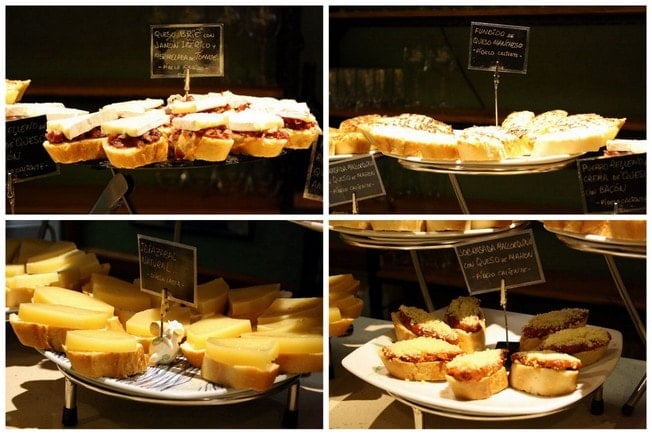 Spanish cheeses and charcuterie are often so delicious on their own that modifying them in any way would be a sin. Here we have some very simple, yet incredibly memorable, product centered pintxos. (Clockwise from top left).
A thick slice of high-quality Iberian cheese and Iberian ham are served over a toast covered in sweet tomato jam
Melted Manchego cheese on toast
Sobrasada topped with Mahon cheese
Delicious Idiazabel cheese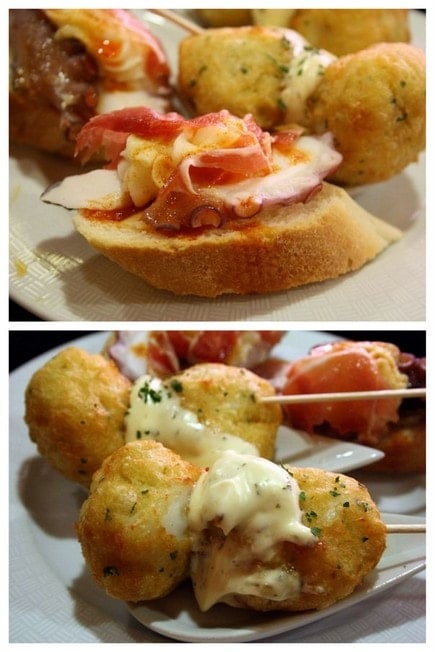 Here we have my absolute favorite pintxos of the trip. Both from Bar Irrintzi, these alone are worth going back for!
Thin sliced octopus and Serrano ham, drizzled in extra virgin olive oil and topped with smoked Spanish paprika
Salt cod fritters topped with homemade alioli sauce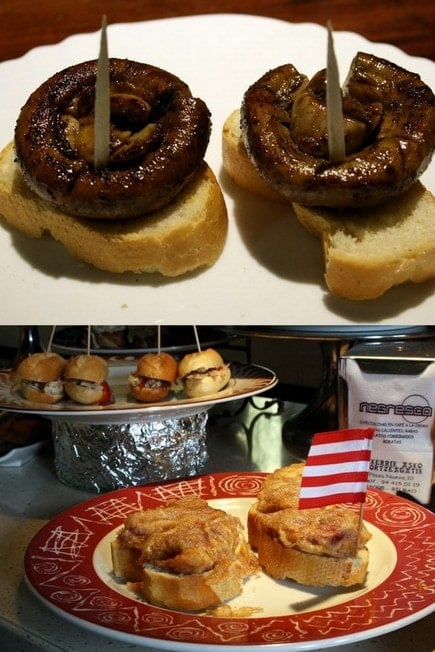 Last but not least, here are some patriotic pintxos to finish up. Simple fried mushrooms on bread don't sounds like much, but they were surprisingly flavorful. On the bottom we have a fried seafood fritter, which was also fantastic.
Txakoli
None of these pintxos would have been quite so delicious if they hadn't have been accompanied by crisp and refreshing txakoli wine. A slightly sparking white wine from the Basque country, txakoli is the perfect pairing for the majority of pintxos. Just watch out, txakoli goes down easily and it's easy to keep ordering more!
Where to eat in Bilbao
The following list of Bilbao pintxo bars will ensure that you fall in love with pintxos while visiting Bilbao. Thanks to Christine and Liz for some of the recommendations!
El Huevo Frito: Calle Maestro Garcia Rivero, 1 Bilbao
Bar Okela: Calle Maestro Garcia Rivero, 8 Bilbao
Bar Gaztandegi: Calle Maestro Garcia Rivero, 10 Bilbao
Irrintzi: Calle Santa María, 4 Bilbao
Café Iruna: Calle Berástegui, 6 Bilbao
Bar Negresco: Plaza Nueva 10, Bilbao
Bar Motrikes (for the grilled mushrooms!): Calle Somera, 41 Bilbao
Overall, the food in Bilbao is simply outstanding and the city is well worth a visit, if only to pintxo hop around town!
Which pintxo would you like to try?
Pin me!